Stewart Lee presents John Cage's Indeterminacy, Cafe OTO |

reviews, news & interviews
Stewart Lee presents John Cage's Indeterminacy, Cafe OTO
Stewart Lee presents John Cage's Indeterminacy, Cafe OTO
Is the avant-garde po-faced? An attempt to prove otherwise
Wednesday, 26 September 2012
John Cage enjoying the "make me one with everything" joke
John Cage is funny: this much we know. The deadpan prankster at the heart of 20th-century artistic experimentalism was always about the inadvertent punchline, the chuckle that comes from unexpected disjunction, the relief that comes from reminders of the absurdity of reality, as much as he was ever about any engagement with progress, technology, the transcendent. It's entirely natural, then, that Stewart Lee (pictured below), who has spent his whole career reaching outwards from the comedy circuit towards the avant-garde, should want to present his work.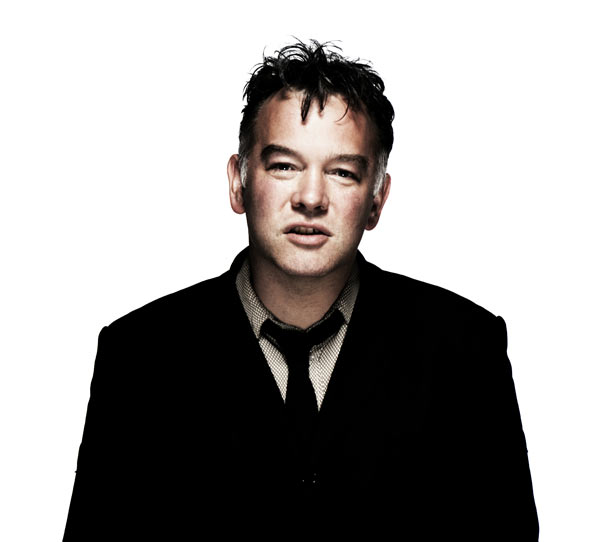 It was good to see Cage's work presented at Cafe OTO, the east London venue usually home to abstract electronica and rugged improv. Not to say that the OTO crowd were rough-and-ready as such – on the contrary, they were part and parcel with the gentrification of the area that the venue has spearheaded – but it was certainly nice to have a bit of milling around, a bit of heavy drinking and all the unpredictability that implies, and a bit of street noise from outside added to the random elements of the performances, rather than having a crowd sitting in neat rows having absurdity and randomness performed at them as can happen in traditional concert venues.
The performances played to the crowd. There was no breaking of the fourth wall or otherwise tinkering with space; it was all about performance or, in the subversive spirit of cage, the performance of the act of performance. Thus, Alan Tomlinson and Steve Beresford's duet that began the show was improvisation laughing at itself, a collision of the sublime and the ridiculous, trombone and piano sliding around one another's capabilities, threatening at various points to either fight or mate but ultimately putting their arms around each other in a spirit of camaraderie: a true antidote to the deathly seriousness that can come with high improvisation, without ever being merely wacky.
The solo piano improvisation by Tania Chen (pictured left) that followed, without breathing space, had none of the ridiculous about it but plenty of glimpses of the sublime. It was music as sport, meditation and geometry, an endless flow of bodily shapes and sounds creating one another as Chen accosted the keyboard and the inner workings of the instrument with inhuman precision but very human indeed sense of narrative. Tomlinson's take on Cage's Programme: Solo for Sliding Trombone went straight back to the ridiculous: the missing link between Schoenberg and Vic Reeves, the gruff northener mused on Cage's method then delivered an exhibit of some hundred or so various tones that could be made using his instrument, done with pratfalls, comic hubris and a love of sound for sound's sake.
The main event, though, was Stewart Lee reading the 90 micro-stories from Cage's 1959 Indeterminacy LP and performance, in random order as required by Cage, with clonks, parps, blurts and crinkles created by Chen and Beresford with a variety of sound-making devices. The text of Indeterminacy is Cage colliding the spectacularly arch with the genuinely naïve in a space of Zen suspension: fragments of memories of encounters with the down-home and the high-art, namedropping spectacularly ("We were expecting to stay for a while with Peggy Guggenheim and Max Ernst") then returning to the mundane, each tale presented with a non-punchline that holds just short of going "makes you think, doesn't it?"
It was done well, the shaggy-dog-tale nature of the piece quite frequently working as virtuoso abstractions by Chen and Beresford (pictured right) constantly brought attention to the present moment rather than to the moment of writing or memory alluded to in the text. Lee, for the most part, was a consummate deadpanner, able to give the stories new shapes with his Midlands drawl, especially as the piece wore on and its hypnotic qualities seemed to work on him as much as on the audience – but he couldn't help being a comedian, certain words like "lady" causing his natural stand-up's sarcasm to warp the gently undulating recitation and break Cage's spell. Still, breaking the spell and the revelation of method is all part of Cage's way, so maybe that was for the best – maybe those faults are where the oddness of the work showed through most. Either way, they were pretty funny.
Listen to Cage's original Indeterminacy recording
Lee, for the most part, was a consummate deadpanner, able to give the stories new shapes with his Midlands drawl
rating
Share this article
Subscribe to theartsdesk.com
Thank you for continuing to read our work on theartsdesk.com. For unlimited access to every article in its entirety, including our archive of more than 10,000 pieces, we're asking for £3.95 per month or £30 per year. We feel it's a very good deal, and hope you do too.
To take an annual subscription now simply click here.
And if you're looking for that extra gift for a friend or family member, why not treat them to a theartsdesk.com gift subscription?