Siglo de Oro, Allies, Shoreditch Church |

reviews, news & interviews
Siglo de Oro, Allies, Shoreditch Church
Siglo de Oro, Allies, Shoreditch Church
Christmas music from far and wide glowingly sung by a young, rising, gifted British choir
Wednesday, 10 December 2014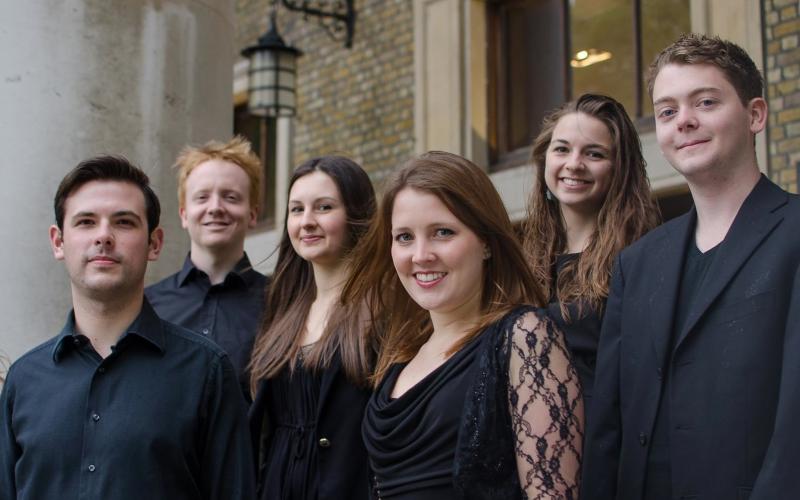 Fresh faces, fresh voices: members of Siglo de Oro
Black Friday, Cyber Monday, Greed Tuesday: they all vanished from memory once the first notes of Siglo de Oro's Christmas-themed concert started. This young British choir, now six years old, began with what's already become a modern classic, Jan Sandström's magical setting of Es ist ein Ros entsprungen, where the first staggered entries open like a fan and we drift thereafter in slow-motion bliss.
Not for the first time, not for the last, I gave thanks to Spitalfields Music's Winter Festival for offering balm in a whirling world.
In terms of packaging, Patrick Allies' choir, formed when he was a student at King's College, London, did not offer their audiences anything new. The 14 singers stood in black with the four vocal registers in scatter formation – a tactic ideal for fostering ensemble glue and a blended sound, and weeding out any wimps. But the structure of the concert's Christmas narrative, chopped into blocks marked "The Rose", "The Mother", "The Mystery" and "The Light", was refreshing. So was their repertoire's width, with Hildegard of Bingen at one end and Eric Whitacre, ten centuries later, at the other. Only a motet from Cristóbal de Morales was manufactured in Spain during the Spanish Golden Age that gave the choir its name, but, hey, we're for diversity here.
Even better were the 16th-century items, with voice parts woven in cat's cradle counterpoint
Best of all – and this is a virtue that never grows old – Siglo de Oro sang with a precision and glow that radiated through every crevice of Shoreditch's noble if slightly peeling St Leonard's Church. Their eyes rarely strayed from watching their conductor, and the fruit of this was constantly clear in their laser-like entries and trim attack. Solo women voices singing in Hildegard's O viridissima virga came in different strengths, it's true, but once united they shone a strong, even light. They could hire themselves out as a human torch.
Choosing between their performances, personal preference must come into play. In the contemporary material, I wriggled a bit during Morten Lauridsen's O magnum mysterium, the musical equivalent of a chocolate cream with a few crunchy bits on top, and was grateful they picked one of Whitacre's least waterlogged pieces, the brief and resonant Lux Aurumque. But I loved the see-sawing rhythms and exultation of Giles Swayne's Magnificat I, triumphantly un-Anglican. Even better were the 16th-century items, with voice parts woven in cat's cradle counterpoint and sopranos, the icing on the cake, ethereally singing on top. Those old composers knew about stunning endings, too. With its shifting dynamics, beautifully controlled here, the concluding Amen in Robert Parsons' Ave Maria soared up to the sun, then came to rest on the moon. Another take-home memory is the final repeated Alleluias in Lassus's Omnes de Saba, simple in texture, but oh so haunting.
Along the way, just enough carol favourites were slipped in to remind us of the comforts of home, like Howells' A Spotless Rose, and Cornelius's The Three Kings, eloquently threaded with Ben McKee's solo. Opinions might divide on the merits of the encore, Andrew Carter's arrangement of The Twelve Days of Christmas. Too cute by half for me. But as a general principle I'd happily hear Siglo de Oro sing on every day of the year.
Siglo de Oro sang with a precision and glow that radiated through every crevice of Shoreditch's noble if slightly peeling St Leonard's Church
rating
Explore topics
Share this article