Seong-Jin Cho, St John's Smith Square, London |

reviews, news & interviews
Seong-Jin Cho, St John's Smith Square, London
Seong-Jin Cho, St John's Smith Square, London
Spellbinding moments from the International Chopin Competition winner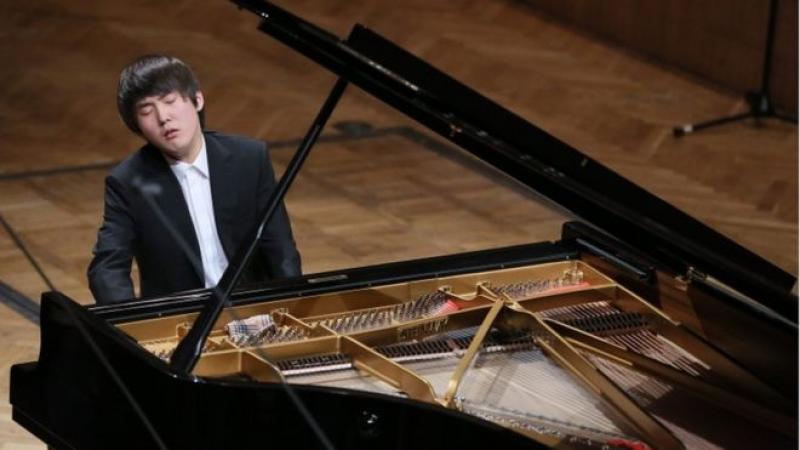 Seong-Jin Cho in Warsaw
It's always heartening to see a full house for a debut recital, though when expectations run so high, the stakes for the pianist can be dangerously raised. No worries at St John's Smith Square, though, for Seong-Jin Cho.
The diminutive, young South Korean musician who took the platform in front of a capacity crowd last night made waves last autumn upon winning the International Chopin Competition in Warsaw, and his first recording (on DG) likewise whetted appetites for his first visit to the Southbank Centre's International Piano Series, which is currently being held at St John's while the Queen Elizabeth Hall is closed for refurbishing.
Cho offered an all-Chopin programme, unsurprisingly (more surprising is that the series is presenting three all-Chopin recitals in a row – still, it's great that people like Chopin so much). This was a taster-menu approach, with one item apiece from seven different genres, but that made for good contrasts. And what emerged was playing that increased incrementally in sophistication and poetry with the musical challenges of the works. At his finest, Cho's mix of imagination, pacing, balance and control produced moments of spellbinding sonic art.
If there is minute detail in Cho's playing, there is also a satisfying sense of the bigger picture There's a wonderful anecdote about Daniel Guilet, founding violinist of the Beaux Arts Trio, who was a student at the Paris Conservatoire while the elderly Gabriel Fauré was its director. Hurrying across the foyer one day, the young man accidentally encountered Fauré, who asked where he was off to. Violin lesson? Ah, said the director, so he would learn to play fast and loud. But to play slow and soft: that is the really difficult thing... Opening with the austere cantabile of the C minor Nocturne Op.48 No.1, Cho proved at once that he is a master of this skill: he can find a world of meaning within one quiet note, or spin a melodic line with a pianistic voice ranging from full-throated open clarity to a hushed "covered" tone that wouldn't disgrace a top Lieder singer. The final recitative-like moment in the F minor Fantasy, before the music dissolves into its last soft whirlpool, hung in the air like a spectre – you hardly dared breathe.
That was worth 10 of the supposedly crowd-pleasing works with which the recital's two halves respectively concluded – the A flat "Heroic" Polonaise for the first, the B flat minor Scherzo for the second. The Polonaise's rousing introduction and the louder bits of the scherzo were the only times in this recital in which Cho sounded as if he could not simply be himself; he can carry them off with as much aplomb as anyone else, of course, but the qualities that make him special and distinctive are best shown in more personal moments, where, one senses, he can speak genuinely and from the soul.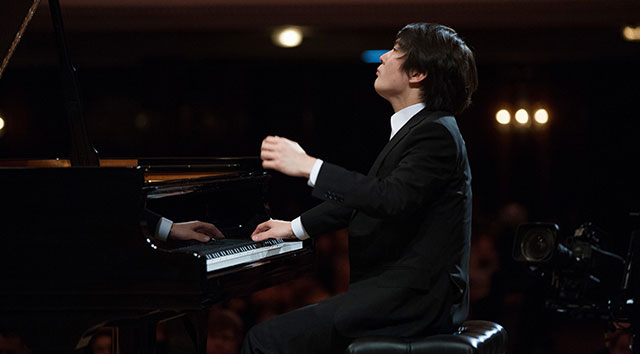 The Four Mazurkas Op.33 were a case in point: each a thought-out, finely etched poem. Cho (pictured above by Bartek Sadowski/The Fryderyk Chopin Institute) has a wonderful way of caressing a phrase with real affection and in No.2 he let the octave echoes of one tender figure dream back at it, both contemplative and playful. No.3 was full of innocent high spirits; these vanished for an unsettling, almost visionary account of the more substantial No.4. But if there is minute detail in Cho's playing, there is also a satisfying sense of the bigger picture. Passagework is never purely digital (in any sense) but serves long lines, patterns and textures; his phrasing and direction has argument, structure and point.
No doubt, though, that the highlight of the concert was the Sonata No. 2 in B flat minor, the "Funeral March". Much nervous tension and refulgent beauty of tone characterised its first two movements; but the march itself offered an even rarer magic. At the return of the theme after the central section, Cho explored the balance of melody and accompaniment so that the latter, its overtones allowed to resonate like the tolling of bells, came into focus and receded once more, mixing the colours of the palette with pedal and tonal control into something that made this ultra-familiar piece sounded radically new – though with no sense of contrivance. The ghostly unison finale was all line, shape and atmosphere.
For encores, no more Chopin, simply the Sarabande from Bach's G major French Suite No.5, pure and songful; and Schubert's E flat major Impromptu Op.90 No.2, its long streams of triplets sounding "like pouring oil". I look forward to hearing Cho do Mozart one day.
A standing ovation for a supremely sensitive 21-year-old with gorgeous tone, playing a Schubert impromptu? Maybe there's still a deity up there after all.
The qualities that make him special and distinctive are best shown in more personal moments
rating
Share this article