Prom 72: Kraggerud, BBCSO, Litton |

reviews, news & interviews
Prom 72: Kraggerud, BBCSO, Litton
Prom 72: Kraggerud, BBCSO, Litton
Despite large forces, sweetness and light were the keynotes in Nielsen and Ives
Thursday, 10 September 2015
Carl Nielsen (right) and his brother Albert at one of their childhood homes in 1925
Queen Margrethe II of Denmark attended Nielsen's 150th birthday concert earlier this year in Copenhagen's glorious new concert hall. Her grandparents were there at the premiere of Nielsen's blithest work, his cantata Springtime in Funen on 1921.
Our own dear Queen has never shown such interest in music, but all the same last night's Prom celebrated the day on which she became our country's longest reigning monarch with Gordon Jacob's fanfare-laden arrangement of the National Anthem. Then it was off with a gust of fresh air into national celebrations of a far quirkier nature by the greatest of Danish and American composers.
Springtime in Funen is a sparkling gem, a neatly-proportioned celebration of the very special island on which Nielsen was born as aphoristic, as clear and at moments as philosophical as his little masterpiece of autobiography about his early life, My Funen Childhood (its English translation disgracefully remaining out of print in this anniversary year). The various solos are lovely, artistic refashionings of the kind of quasi-folksongs he wrote which ever Dane seems to know and love; highlight among the three soloists' contributions were the three verses of the tenor's "The mild day is bright and long" so deliciously varied by Ben Johnson.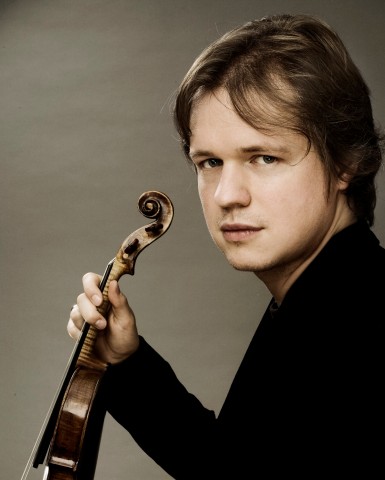 Even more treasurable, perhaps, are the orchestral links and especially the clarinet refrain to "The Blind Fiddler" – a portrait of a character young Nielsen knew well – executed with all his usual nuanced phrasing by the BBC Symphony Orchestra's James Burke. And the moment to shed a tear or two is the a cappella male voice chorus of elders who "bend towards the dust and long for rest eternal". The BBC Singers were matched for clarity by the boys and girls of Tiffin School(s), who should have been thrown an extra bone in the shape of Nielsen's simpler songs to balance the American hymns of the concert's second half. Maybe there wasn't a Dane in sight, but this all felt easily authentic under Andrew Litton's unaffected baton.
For experience versus innocence, we had the equally natural outpouring of Norwegian violinist Henning Kraggerud (pictured above by Observatoriet/Simax Classics) in Nielsen's Violin Concerto (actually an earlier masterpiece of 1911, but still a work of maturity where the style is always the man). It's not surprising given the almost constant flow of solo line that Kraggerud used a score, which meant a turning away from the side of the hall on which I was setting so that the tone didn't always project effortlessly. But his character came through so vividly as he duetted happily with BBC woodwind so far back on the platform, and the cadenzas proved stunningly unorthodox. As is most of the piece: you just have to go with the flow in the first part, but you know where you are with a rondo theme of memorable, utterly Nielsenesque distinction. A jacket discarded some way through said it all: Nielsen's music has to be unbuttoned, and this lovable performance certainly was. Kraggerud never collected his jacket onstage, but he did return to play an encore that has stuck in my mind - and how often can you say this of a new piece? - the Postlude No 10 from a work I have to hear, his own Equinox.
Charles Ives's wildly ambitious, polytonal and polyrhythmic Fourth Symphony was the zenith of the programme in scale and ambition if not necessarily in substance (the composer pictured left in old age). Not premiered until 1965, over a decade after the composer's death - odd that the programme note didn't enlighten us on its fascinating assemblage - it's a piece made for the spaces of the Albert Hall and has had no shortage of performances here. Litton's had an extra piquancy for being prefaced by four of the American hymns embedded as hooks in the symphony's denser-textured movements. These simple national treasures were sung with focused zest, and American vowels to match, by the superb Crouch End Festival Chorus before Litton, assisted by second conductor Fergus Macleod and his spectral, moveable ensemble, plunged straight into Ives's chorus-dominated first movement. The segue reinforced memories of a similarly daring Proms programme from the Danish National Symphony Orchestra in which Ligeti flowed without applause into Kraggerud's briskly ethereal performance of Tchaikovsky's Violin Concerto.
The Albert hall haloed to perfection, fortunately not to murk, the vintage Ives mixture of seemingly amorphous density with snatches of band music and popular songs. If the ambitious cosmic finale doesn't really add to what's been said in the vortex of the second movement, where trumpets swayed their parade music, the very tonal, even old-fashioned slow-movement "Fugue" (very much with inverted commas) between them was oddly moving. Sweet and tender, in fact, were the keynotes of this remarkable Prom, for all its massing of forces.
Read theartsdesk's reviews of other concerts from the BBC Proms 2015
Litton's Ives Fourth had an extra piquancy for being prefaced by four of the American hymns embedded as hooks in the symphony's denser-textured movements
rating
Share this article