Prom 46: Znaider, Danish NSO, Luisi |

reviews, news & interviews
Prom 46: Znaider, Danish NSO, Luisi
Prom 46: Znaider, Danish NSO, Luisi
Legendary Brahms playing flanked by a cornucopia of 150th birthday Nielseniana
Nikolaj Znaider: peerless in Brahms
Praise be to Carl Nielsen. Praise always, of course, to one of the greatest symphonists, and happy 150th birthday (again), but gratitude on this occasion is due to a programme mostly lining up Nielsen works rare and familiar, for getting me to the Albert Hall to witness a surely unsurpassable performance of the Brahms Violin Concerto. The sound quality, the near-perfect intonation with which Nikolay Znaider wields his Kreisler Guarneri "Del Gesù" is only the half of it; hearing such close work with an orchestra and conductor equally alert to every small detail without ever losing sight of long lines is the kind of thing I can only count on the fingers of one hand in terms of the total concerto experience.
It helps that Znaider recently conducted Nielsen's Third Symphony in Odense and will return to this superb team, the Danish National Symphony Orchestra who gave such a corker of a Prom five years ago, to tackle Bruckner's Ninth Symphony this coming season. Even so, as he turned to listen to his compatriots between playing in the Brahms, he must have been impressed by the minutest gradations of tone and expression wrought by their Principal Conductor in waiting, Fabio Luisi (pictured below) – a deservedly busy man also heading Zurich Opera and the Met.
Brahms's first movement is easy to get lost in, but the adventure was so beautifully charted by this team that I found myself literally on the edge of my seat throughout – and especially so in the relatively unfamiliar cadenza. Given Znaider's gorgeous-toned instrument I'd assumed it was that of the Guarneri's most distinguished previous owner, Fritz Kreisler; apparently it was Heifetz's, and Znaider did its even more ferocious torrents of double-stopping proud. The cadenza could afford to be frenetic, because in the calm that follows the violin's high line was sublimely interwoven with the chain of wind solos, pointing the way forward to the ineffable Adagio. I doubt if there is a principal oboist in any orchestra with a brighter, sweeter or fuller sound than the DRSO's Eva Steinaa; her playing brought tears to the eyes every inch as much as Znaider's in the lyrical moments.
After the sheer joy of the finale, Znaider returned, telling us that there was more to Denmark than "Lego and pastries" - as if we didn't know - and dedicating his encore to his colleagues while flying in the face of a daft BBC veto of "no more Bach" - "better to ask for forgiveness later than permission before" - by playing a Bach Chaconne. Pure introspective perfection, and if, as Alexandra Coghlan rightly noted here recently, you tend to remember a violinist's Bach encore at the Proms more than the performance of the concerto, that's never going to be the case here. All this was the stuff of which legends are made.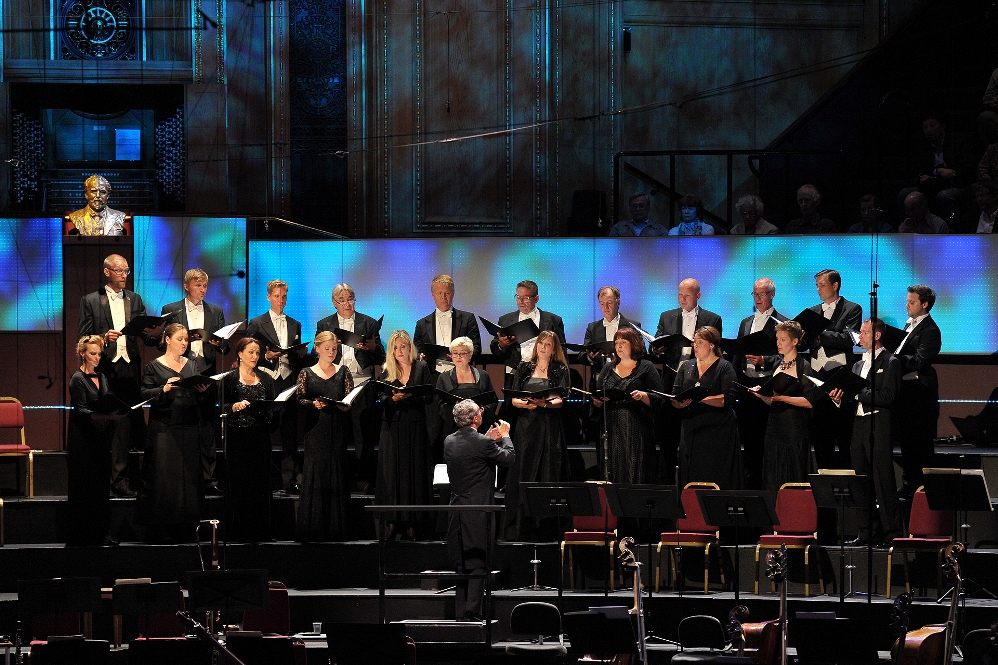 Generous helpings of Nielsen more than filled the measure of this three-hour concert. The glorious Danish horns saluted the sunrise of the Helios Overture, a perfect symphonic movement, against a near-inaudible double-bass pedal, flashing quality before pearly string playing. We could, perhaps, have done without the late Three Motets, which despite reflecting Nielsen's own mortality through their choice of psalm texts and irreproachable counterpoint could be by any fine composer; but they were equally irreproachably performed by the Danish National Vocal Ensemble (pictured above).
Where but at the Proms would you find a professional Danish choir of nearly 100 allied to the Boy and Girl Choristers of Winchester Cathedral, large orchestra and two perfect soloists – soprano Anna Lucia Richter and tenor David Danholt (pictured below) – for a 25-minute piece? You'd think that a "Hymn of Love" inspired by a Titian painting would be a sensuous wallow, but sensuousness is one thing not in Nielsen's armoury.
Besides, the Titian painting was not a voluptuous Venus but The Miracle of a Jealous Husband (illustrated in the programme, but its connection to the work wasn't mentioned in the note). Hymnus amoris, which I so narrowly missed hearing in Copenhagen on Nielsen's birthday earlier this summer, is a sweetly innocent, mostly bright narrative of the four ages of sacred and profane love. That made it a perfect curtainraiser to "The Four Temperaments" of a mature masterpiece, the Second Symphony.
Much is made of the portraits of choleric, phlegmatic, melancholy and sanguine characters Nielsen saw in an inn, but the four movements are surely aspects of his own personality, serious even when seemingly joky, and Luisi made the most of the thematic links between the dreamy walking pace of the "Allegro comodo e flemmatico" and the "Andante malincolico", unfurling a line with all the masterly control of a born Bruckner and Wagner conductor.
More surprising was his ability to rollick, and if the Albert Hall isn't the right place to catch all the fiery detail of the outer movements, the "Danish Elgar" peroration could only remind us of a potted Pomp and Circumstance (the proudly ennobled finale rtheme at the very end even resembles the trio of Elgar's Second March). There could only be one encore, since Sakari Oramo had taken the pell-mell Overture to Nielsen's comic opera Maskarade on the First Night of the Proms: Maskarade's "Dance of the Cockerels", a perfect showcase for the Danes' and Luisi's deft dancing, with original touches in the central sequence from an equally original, absolutely world-class ensemble.
Watch the performances of the Helios Overture and the Second Symphony on BBC Four on Sunday
Read theartsdesk's reviews of other concerts from the BBC Proms
The glorious Danish horns saluted the sunrise of the 'Helios' Overture, a perfect symphonic movement
rating
Share this article
Subscribe to theartsdesk.com
Thank you for continuing to read our work on theartsdesk.com. For unlimited access to every article in its entirety, including our archive of more than 10,000 pieces, we're asking for £3.95 per month or £30 per year. We feel it's a very good deal, and hope you do too.
To take an annual subscription now simply click here.
And if you're looking for that extra gift for a friend or family member, why not treat them to a theartsdesk.com gift subscription?