Lachenmann Weekend, Southbank Centre |

reviews, news & interviews
Lachenmann Weekend, Southbank Centre
Lachenmann Weekend, Southbank Centre
Forbidding German composer supplies a weekend of manna from heaven
Who knew that so much could be done with the back of a violin? Or that the metallic screw at the heel of the bow could play little melodies? Or that the frog could pluck as interestingly as a finger? (Probably not the instruments' insurers.) And had someone just turned on the Southbank boiler? No. The cellist had simply started to bow his tailpiece.
I can't think of any composer who can make you think that you've been short-changed by the entire history of music. I kept thinking how eternally unimaginative all the great composers had been (save a few exceptions) to have stuck so rigidly to that portion of the instrument that elicits the most obvious sound. How foolish of them not to realise the wealth of noise that literally lies behind and beneath these notes. In his solo cello piece
Pression
(1969-70) Lachenmann forces the fearless Oliver Coates
(pictured right)
to investigate three-dimensional playing, shoving the bow below the strings to that four-sided box between fingerboard, bridge and body, a space normally only encountered by clumsy six-year-olds.
Which gets to the nub of the music. Lachenmann's objective is to reclaim the clumsiness of the six-year-old. To return all those forbidden sounds that beginners chance upon when starting out - when knocking into the bridge or sleep-walking over the fingerboard or cack-handedly playing the violin body as if a fifth string - to the fold and to show how beguiling this noise and mess can be if tended to with the same professional attention and care as one would, say, a legato. This aim is made explicit in his piano solo work, Ein Kinderspiel (1980), performed on Saturday afternoon by the BFG-figure of Lachenmann himself, which recovers many of the extraordinary overtones and penumbras of sound that are only available to a child's untutored attack.
But there's more to Lachenmann than the uncloaking of a Martian rainbow. There is a marrying of these textures and colours to structure. Instead of pitting two harmonic centres against each other - as, for example, the Classical greats did - timbral blocks are instead forced to battle it out. In Schreiben (2003), a large orchestral work that the London Sinfonietta under the direction of Brad Lubman was giving the UK premiere of last night at the Royal Festival Hall, there are at least three fierce encounters: between a sustained and staccato texture, between the pure tone and the complex tone and between what for Lachenmann is rich melody-making and mess. And, for the architects among us, there was a satisfyingly larger arc, too, that moved the music from complex noise to pitched sound and back.
Many works seemed interested in a simple exposition of texture, often moving from one colour to another almost encylcopaedically. His First String Quartet (1972) squeezes every last possible timbre out of the three instruments and acts almost as a manifesto in extended technique. Even sounds that we might have thought we knew inside out - such as the pizzicato - are complicated. Most intriguingly for a statement of intent like this is its extraordinary softness. And with many of the sounds registering on the level of a quintuple pianissimo, critics' nibs and audience members' rumbly stomachs were vying for attention.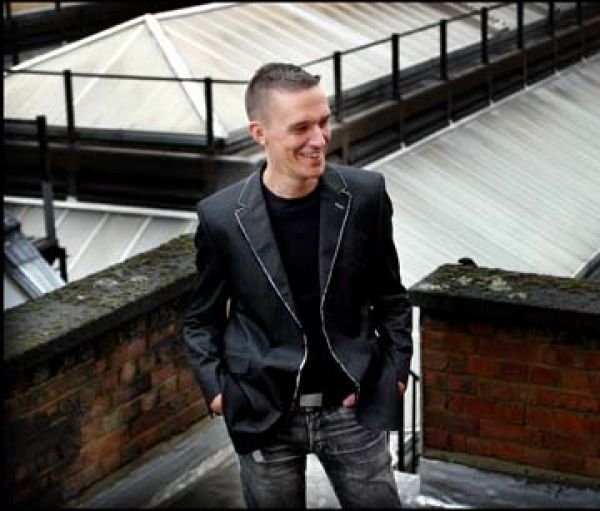 Structurally we never stray too far from discernible forms; the arc, the variation, the repeat are all here lurking in amid the jungle. There is even a Mozartian coda to his Third String Quartet (2001), a rollout into a dance-like final phase that rattles off into nowhere, as if the activity is carrying on elsewhere. But despite the modicum of structural and even rhythmic conventionality the works all ultimately balk at a return to full orthodoxy. There are brave attempts. There are gatecrashing recitatives in
Schreiben
- strange, almost electronic, complex sounds from solo percussion which nearly speak to a melodic script - and in the piano concerto,
Ausklang
, performed with great concentration by Rolf Hind
(pictured left)
and the London Sinfonietta, which moves and builds with conviction from one epic textural terrain to another, the set-up is in the traditional lone-figure-against-changing-landscape mould.
But ultimately no instrument takes the plunge and returns to earth. And how happy we all were for that. I cannot say my enthusiasm was sustained throughout all of Lachenmann's works. There are limits to extended technique. I got very lost in Got Lost, an offshoot from his opera Das Mädchen mit den Schwefelhölzern, a baffling and messy vocal meditation that contains far less original or extended techniques than are to be found elsewhere.
And there were reminders that you can have too much variety as you can have too much of the same. Sticking that in here can become as boring as sticking that in there. Still, the vigorous new intimacy between musician and instrument seemed healthy. Lachenmann's music is as much therapy as art, reacquainting musicians with their instruments, audiences with their ears. And it delivers this therapy (to musician and audience member alike) through discovery. My personal discovery of the weekend was the softly roaring sweep that emanated from a quartet of percussionists who were all charged with rubbing two polystyrene blocks against each other in Ausklang. It's what I imagine the sound of heaven to be like. And, best of all, you can perform it with your friends in your living room.
Explore topics
Share this article