Kuusisto, London Chamber Orchestra, Ashkenazy, Cadogan Hall |

reviews, news & interviews
Kuusisto, London Chamber Orchestra, Ashkenazy, Cadogan Hall
Kuusisto, London Chamber Orchestra, Ashkenazy, Cadogan Hall
Elegies abounding in Elgar and Sibelius, but the encore was the biggest tearjerker
Pekka Kuusisto: a Sibelius Violin Concerto unlike any other
Tears were likely to flow freely on this most beautiful and terrible of June evenings, especially given a programme – dedicated by Vladimir Ashkenazy to the victims of the Grenfell Tower fire – already prone to the elegiac.
It could hardly be otherwise with the music of
Elgar
and
Sibelius
, two Europeans with a penchant for introspection whose works Ashkenazy knows well. What ended up nearly breaking us, though, was an encore – none I've heard has ever been more astonishing – by that ever unpredictable
violinist
Pekka Kuusisto.
He told us he'd planned to play a "jolly Finnish folksong", but that wouldn't be right under the circumstances; so he gave us instead his own apparently improvised reflections on a Finnish children's song, "The Guardian Angel". Where did it come from? Out of an ether created by a tissue of sounds and harmonics, I know not how exactly, brought into unison focus with the sweetest whistling. Such magic can only be experienced, not described.
Kuusisto's Sibelius Violin Concerto was unlike any other I've heard. Expecting the usual tricky negotiation of a treacherous canyon and a glacier, we got a walk in the park. It seemed as effortless as that for Kuusisto – well, everything bar the fiendish passage in the finale, heard twice, which in my experience only Viktoria Mullova has managed flawlessly – and though there was an avoidance of late romantic intensity, two withdrawals into near-silence in the outer movements wrought their own enchantment. What fun, too, to see some distinguished orchestral violinists – Gina McCormack among them – visibly relishing Kuusisto's idiosyncrasies.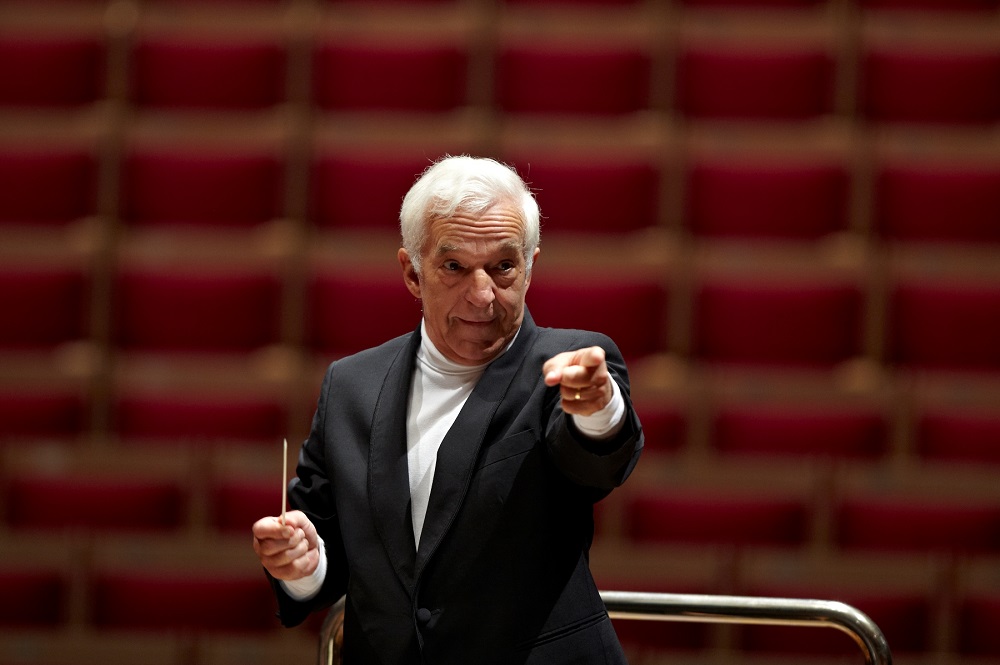 The London Chamber Orchestra strings distinguished themselves at the start in Elgar's Introduction and Allegro, the right balance of sadness, nostalgia and – once the initially featherlight central fugue got under way – intense anger. To hear all the violins suddenly taking up what Elgar called his "Welsh tune" halfway through was a real heart-in-mouth moment. Cadogan Hall acoustics suit a full string orchestra well, the resonance of double basses going right through you.
Heartbreak at the other end of the dynamic scale came in Sibelius's strange meditation The Bard – a difficult work to programme, short and until the brief unleashing of trombones never showy, but so poetic and with perhaps the most enigmatic harp solo in the repertoire, exquisitely taken by Deian Rowlands. Full credit to Ashkenazy (pictured above by Keith Saunders) for knowing where to place it in a programme of works which, fascinatingly, all begin in a minor key and end, however tentatively, in the major.
Sibelius and Elgar were musical citizens of the world, but both knew how to tap in to their native wood notes at the deepest level. That's true even among the portraits of Worcestershire society folk and others in the universal genius of the Enigma Variations. It's a demanding work for all facets of a conductor's technique; Ashkenazy caught the humour but not the levitational moments – and a cue for will-o-the-wisp Dorabella went completely over the string players' heads as they turned the page. Understandably premature on Ashkenazy's part: he wanted continuity and missed it here, but picked up a few seconds later as if nothing had happened (which as far as the musicians were concerned seemed to be the case).
A few moments of untogetherness suggested a rehearsal or two more of this tricky music might not have gone amiss, and Ashkenazy's attempt at rubato felt a bit unnatural at times, not least in the theme itself, but his heart was, as always, in the right place. Above all he made sure that the singing line guided "Nimrod", avoiding any hint of the placid parochial in what is after all a portrait of a German (AJ Jaeger of Elgar's publisher Novello), inspired by a German's slow movement (in Beethoven's "Pathétique" Sonata). Not, perhaps, a performance to merit the unmodified rapture of a rather too much all-of-a-kind audience, with a penchant for protracted, uncovered coughs in the wrong places, but a generous conclusion to a well-planned programme that took on even greater resonance than originally intended.
Expecting the usual tricky negotiation of a treacherous canyon and a glacier, we got a walk in the park
rating
Share this article