Kristian Bezuidenhout, Freiburg Baroque Orchestra, Wigmore Hall review - fires of London |

reviews, news & interviews
Kristian Bezuidenhout, Freiburg Baroque Orchestra, Wigmore Hall review - fires of London
Kristian Bezuidenhout, Freiburg Baroque Orchestra, Wigmore Hall review - fires of London
Uplifting Purcell and Handel in expert German (and Australian) hands
Wednesday, 23 November 2022
Black Forest delights: the Freiburg Baroque Orchestra
A dream pairing of the Freiburg Baroque Orchestra and early-keyboard wizard Kristian Bezuidenhout marked St Cecilia's Day at the Wigmore Hall with a programme that celebrated music made not in the Black Forest but beside the Thames.
Both halves of their concert matched works by Purcell with the fruits of Handel's early years in London. The German period-instrument stars, with a gifted group of home-grown singers, were directed from the harpsichord (and Baroque organ) by the South African-born Australian fortepianist. Together, they managed to make a cosmopolitan case for musical continuity in the capital as centuries and dynasties changed.
Thanks in part to the high-level consistency of the ensembles (vocal and instrumental) in all these works, we heard the pioneer Purcell handing on his baton to the multi-talented German incomer. The acclaimed Freiburg band can put on a more spectacular, pyrotechnic show than last night's performance. Here, though, they mostly sought a calmer mood of rich mellow beauty and restrained power, anchored in the full-toned, crisply marshalled strings and garnished with an array of distinctive voices, singing together as a solid team.
The singers – sopranos Grace Davidson and Rachel Redmond (pictured above), alto Alexander Chance, tenors Samuel Boden and Hugo Hymas, bass David Shipley – stood behind the players and Bezuidenhout as he led the ensemble and supplied the continuo. In the Wigmore's accommodating acoustic, the voices seldom sounded distant or muffled; but a little front-stage action would not have gone amiss.
In "Welcome to all the pleasures", Purcell's 1683 ode for St Cecilia's Day, the overture announced the heft, depth and tautness of the Freiburg strings, led by concertmaster Péter Barczi. Here, and later on, Chance – at the top of the scores – and Shipley – at their base – delivered plenty of flavourful, idiomatic singing, packed with character and colour sustaind through long, firm lines. After a couple of short string morsels from Purcell's dramas, his "Hosanna in the highest" – with its pulsing ground bass – again offered Shipley and Chance a platform for some invigorating vocal drama, as the airy glitter of the high voice theatrically joins the earthy grandeur of the low. Purcell's G minor "Chacony", among the earliest of his mighty, ominous bass figures, led into Handel's sixth Chandos Anthem, "As pants the hart". It gave soprano and tenor parts (Hymas and Redmond) their own place in the limelight, with crisp, tight diction and balanced, burnished tones. Ann-Kathrin Brüggeman's tender, keening oboe made the first of the Freiburg woods' many savoury contributions to the orchestral mix.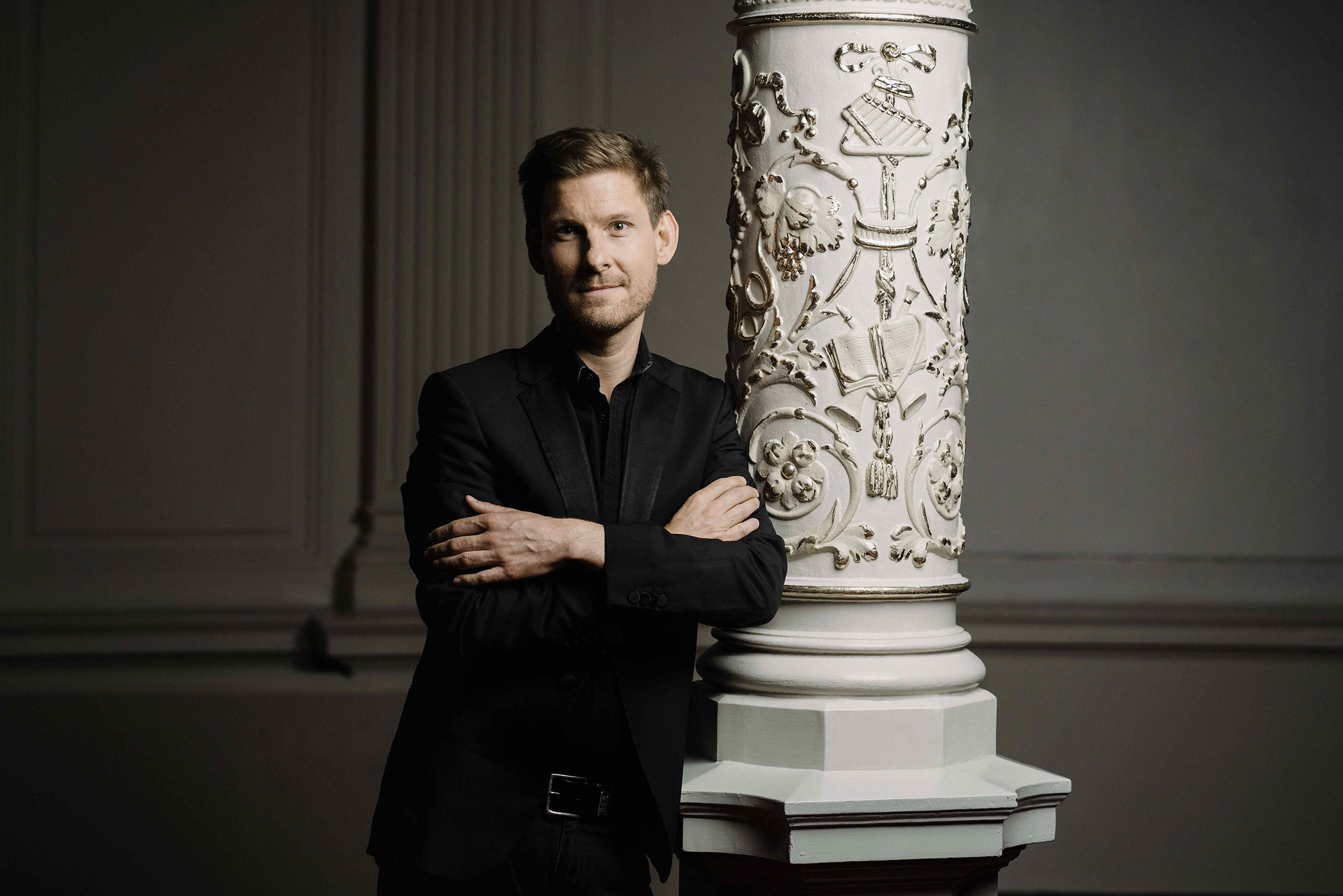 The voices gripped and soared, even if Bezuidenhout (pictured above by Marco Borggreve) rather blocked the view. On the whole, his alert direction and continuo playing saw this multi-keyboard virtuoso take on an ego-free supporting role throughout. Still, the impressive band of singers he gathered might have been seen more prominently, rather than just pleasurably heard.
Bezuidenhout's art as an arranger found an outlet in his orchestral expansion of Handel's Trio Sonata in G Op. 5, with its borrowings of stand-out pieces from Athalia and Radamisto. We could appreciate the rounded, driving, grounded Freiburg sound in all its depth and sheen, the sturdy but refined violins and violas offset by warmly expressive cellos and powerhouse basses. The evening closed with a showcase for the entire company, singers and players alike. Purcell's "Who can from joy refrain?" was written as a birthday ode for the young Duke of Gloucester – Princess, later Queen, Anne's son – in 1695: an audible forerunner of Handel's show-off excursions into the royal-anniversary genre. The "pleasing, shining, wondrous day" of Nahum Tate's rather overblown text surged and crested in sparkling waves of harmony that made these half-dozen singers sound like a belting crowd. Jaroslav Rouček's natural trumpet danced deftly, even cheekily, along its exposed wire of high-risk obbligatos as lutenist Ulrik Gaston Larsen added his telling, delicate touches of colour.
If Chance's sculpted, sensuous alto lines threatened again to steal the show, the lustrous soprano duo of Davidson and Redmond more than held their own in a closing chaconne where everyone, singers and players, can dazzle in their turn. Such a little princeling (the Duke would die aged 11); but such magnificent music, performed by the Freiburgers and friends with poise, flair and conviction. On occasions like this, Purcell's loss aged 36 can feel just as calamitous as Mozart's.
On occasions like this, Purcell's loss aged 36 can feel just as calamitous as Mozart's
rating
Explore topics
Share this article