Kempf, Devin, St Petersburg Philharmonic, Sinaisky, Symphony Hall, Birmingham review - aglow but not alight |

reviews, news & interviews
Kempf, Devin, St Petersburg Philharmonic, Sinaisky, Symphony Hall, Birmingham review - aglow but not alight
Kempf, Devin, St Petersburg Philharmonic, Sinaisky, Symphony Hall, Birmingham review - aglow but not alight
Rich romanticism and spirited solos in Rachmaninov and Mahler
Saturday, 02 February 2019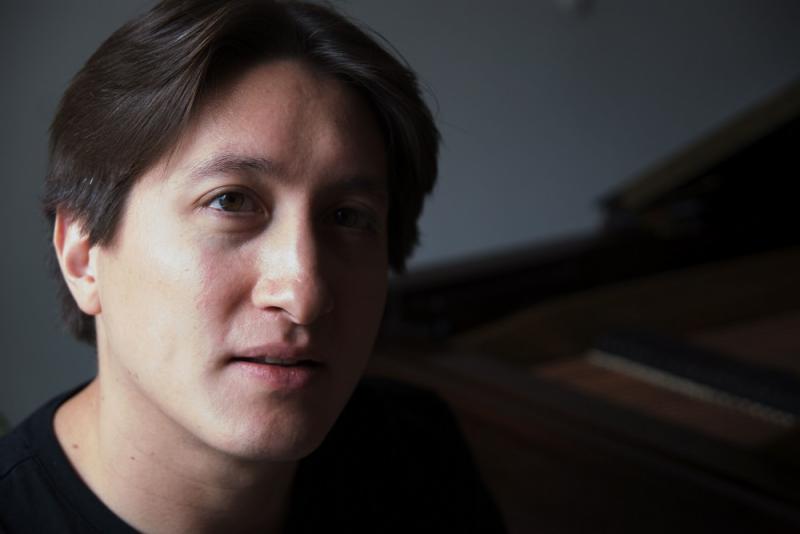 Freddy Kempf: intensity and animation
In the fourth performance of their UK tour, with Vassily Sinaisky replacing an indisposed Yuri Temirkanov, the St Petersburg Philharmonic gave a warm and rousing performance at Symphony Hall, Birmingham.
Prokofiev
's First Symphony – written in "classical" style as a homage to Haydn – saw the orchestra start off with a deep and meaty tone, which gave a welcome depth to some of Prokofiev's music, though it proved a bit bulky for many of the symphony's light touches.
The orchestra's interpretation of the work was certainly more rooted in the romantic era than the classical. Sinaisky's conducting was unobtrusive, though by no means passive, as he led the orchestra in a sure, steady tempo. The opening of the third-movement Gavotte – marked non troppo allegro – was certainly not too fast but didn't feel much like a dance, either. There was a cumbersome feel throughout that weighed down much of Prokofiev's lighthearted jollity.
British pianist Freddy Kempf was the soloist in Rachmaninov's Third Piano Concerto. His dynamic playing saw to it that the work soared, bringing out a vast palette of colour from the keyboard. The first movement's ferocious cadenza was particularly enriched, delivered with intensity and animation. The tone from the orchestra was equally opulent, with lower strings in particular adding serious beef. Dialogue between players and soloist was well balanced, the dark hues of a gorgeous, treacle-tinged tone perfectly suited to Rachmaninov's music.
Closing with Mahler's lyrical Fourth Symphony, the orchestra was on fine form, with thick brushstrokes from the strings, tight percussion and playful woodwind. Everything here moved towards an unusual finale, the song "Das himmlische Leben" (The Heavenly Life) with its naive text from the collection of German folk poetry Des Knaben Wunderhorn (The Boy's Magic Horn). The first three, purely orchestral, movements, all have nods to the fourth's song in some way; influences of nature and folklore also abound. Sinaisky rounded off the first movement's jovial conclusion with a sparkling flourish before plunging the orchestra into the symphony's eerie scherzo.
The third movement, marked "restful" began with rocking, dreamy string passages, though lost some stability towards the end. The navigation of Mahler's complex harmonic landscapes felt laboured, and intonation turned sour a few times at the turning point of a modulation. Soloist in the symphony's final movement was Irish soprano Anna Devin (pictured above), who sang with an easy clarity, conveying the innocence of the child singing of the heavenly vision. The text's darker elements, though, could have been illuminated a little more. References to the first movement are heard in the fourth, and were equally spry, with keen brass and vivid strings. This was, for the most part, a solid performance, which certainly set the music aglow, though at times lacked the clarity needed to really set it alight.
Kempf's dynamic playing saw to it that the work soared, bringing out a vast palette of colours
rating
Share this article