Kavakos, Bullock, LSO, Rattle, Barbican |

reviews, news & interviews
Kavakos, Bullock, LSO, Rattle, Barbican
Kavakos, Bullock, LSO, Rattle, Barbican
Unabashed freedom and sensuality in an all-French affair
Thursday, 14 January 2016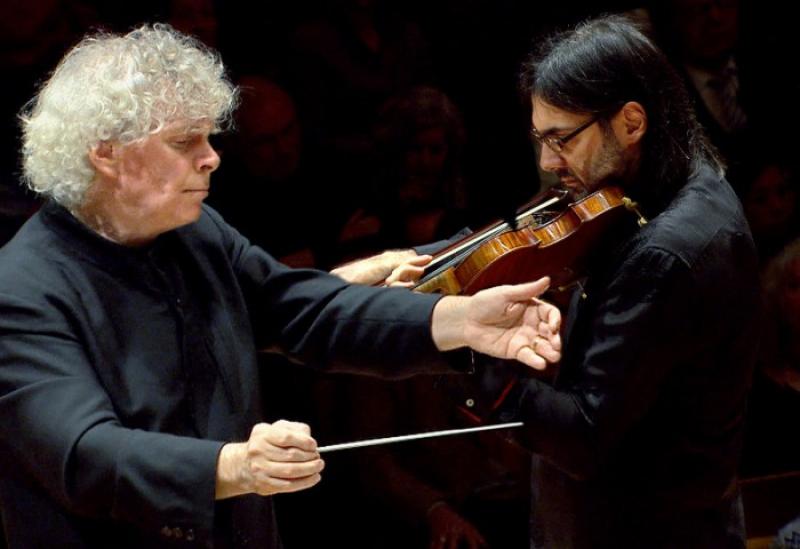 Sir Simon Rattle and Leonidas Kavakos: an eloquent duo in the dreamscape of Dutilleux's 'L'Arbre des Songes'
If the London Symphony Orchestra sounded simply magnificent in this programme of 20th century French music, it was their restraint that caught the ear rather than the demonstration of an orchestral engine at full throttle for which they are justly renowned.
Tonal refinement and fastidious attention to detail were the key signatures of the evening, as they had been for Debussy's
Pelléas et Melisande
at the weekend.
These are known particulars of Sir Simon Rattle's conducting, too. The Second Suite from Ravel's Daphnis and Chloe is something of a Rattle showpiece, last encountered in London when he brought the Berlin Philharmonic to the Proms in 2012. While dawn breezes flutter overhead in flutes and clarinets, the bass line is unfolded as entangled limbs are stretched in easy, quite possibly post-coital languor. So far, so familiar. Thereafter, however, the performance took wing on its own terms, with a disciplined freedom given only to the world's finest orchestras under a conductor who, having worked closely at the minutiae of tuning and balance in rehearsal, has the confidence to step back and let them play.
The concert-opener was another Ravellian homage to the antique spirit, Le tombeau de Couperin. Skirls of harpsichord figuration in oboe, harp and strings did unusual honour to the original object of Ravel's affection, and by extension to the spirit of the work as a war-stained act of memory. At the Prelude's close, a muted bugle called unmistakably from sad shires – tristes champs, perhaps. In the following wrong-note Forlane, the basses landed on a perfect cadence like a pile of new books on an old sofa, with a dusty sigh.
The closing 'Flamboyant' gathered laugh-out-loud, gasp-for-breath momentum
The tendency to slip into a musical brown study is an even more defining characteristic of L'arbre des songes – The Tree of Dreams – by Henri Dutilleux, born in 1916 while Ravel was driving ambulances along the Western Front. It's a violin concerto in all but name, resistant to all the clichés of the genre, and to sensible appreciation, teeming with detail and glinting with orchestral half-lights no less than Dutilleux's more modernist contemporaries – not least Pierre Boulez – but holding out a promise of narrative continuity that is teasingly withdrawn. If ever a work captured those moments of elusive clarity just before and after sleep, L'arbre des songes is it. Leonidas Kavakos has played the work in recent years with the LSO under its previous music director, Valery Gergiev. Now afforded the backing of superfine textures conjured by Rattle's direction, he was more eloquent than ever.
As part of Gergiev's Dutilleux season, the LSO last played Métaboles just five years ago – could that be said of another major orchestra in a postwar classic? – and this fast-moving concerto for orchestra is home territory for Rattle, where he builds rhythmic tension with a sure, showman's hand. Together, they were tongue and groove. The closing Flamboyant gathered laugh-out-loud, gasp-for-breath momentum.
Julia Bullock joined Rattle and eight members of the LSO to prise open the kernel of the concert. The Four Hindu Poems by Maurice Delage are as delicately suggestive as they are rarely heard. Adam Walker's opening flute solo led us down the path of "Asie" from Shehérezade, and Bullock's defiant pose for the second song invited the subtitle of "L'Indifférent", but Delage could do more than photocopy Ravel. He distils a mood, even a whole aesthetic, as Webern did for Mahler. The last two are hardly more than wisps of melody. They left behind just the gentlest impress of dissonance and a distant thrum of sitar and tabla played through Western instruments, like a late-night story of adventures out East told over a glass of chartreuse.
The performance took wing on its own terms, with a disciplined freedom given only to the world's finest orchestras
rating
Explore topics
Share this article