'For him, maestro was an ironic term': Sir Colin Davis remembered |

reviews, news & interviews
'For him, maestro was an ironic term': Sir Colin Davis remembered
'For him, maestro was an ironic term': Sir Colin Davis remembered
We ask some great classical performers what the conductor meant to them. And add our own memories
'Nobody likes it very much. Except me.' Sir Colin Davis conducts the Missa Solemnis
Still the tributes come thick and fast, celebrating the greatest performances of the public figure who is remembered with the most universal affection and admiration this week (and on this day). We asked some of the top musicians to focus on an event, a meeting or a recording which made a special impact on them.
Ian Bostridge, Imogen Cooper, Sir John Eliot Gardiner, Daniel Harding, Stephen Hough, Steven Isserlis, Dame Gwyneth Jones, Vladimir Jurowski and the Royal Opera's David Syrus give warm and wonderful insights on what made Sir Colin not just a supreme conductor but also a rich and complex human being. Then
theartsdesk
contributors select their favourite Davis performances and CDs. A postscript follows from European Union Youth Orchestra President Joy Bryer. No need to silence the bells for this one.
IAN BOSTRIDGE
Sir Colin was one of those conductors who worked a sort of magic. As a moulder and inspirer of symphonic structure, of course. But also - and this is where I found him such a wonderful collaborator - in the enabling of singing line. His beat was not a beat at all, there was nothing commanding or vertical or peremptory about it. It was a circular, flexible, subtle mind in motion, weaving a very particular sort of enchantment. And it always left you feeling you were singing better than you had ever thought you could.
Over so many wonderful projects - a film of the Britten Serenade, War Requiems, the Nuits d'Eté in New York - I remember especially the ferocity which he conveyed to the chorus at the end of Les Troyens in London in 1994, vowing eternal hatred to the Romans; and the delicate sleight of hand by which he introduced the Governess into her haunted garden in The Turn of the Screw at the Barbican in 1997. I shall miss him hugely.
IMOGEN COOPER
I write this in Budapest, with the spring sun on the Danube, colours vivid and blossom at last showing itself. But the world seems quite a different place without Colin. Impossible to believe that that dignified, humorous, private but emotional man is no more. He questioned so much about life, and in recent years seemed - but I may be wrong - to be reconciled to not necessarily having the answers. He let things be, he let the music be, but the sheer love and lasting wonder he had for it hardly made him other than a passionate advocate and presence on the platform. In latter years he sometimes took a while to get going; I remember our last performance together in Boston, the Mozart C minor piano concerto, K491, a run of performances. The first one was maybe a trifle staid, and I ventured to gently say so in whatever words came to mind. Those eyes twinkled - "Ah," he said. "I conducted like an old man!" The next evening was electric; passionate, dark, and fast. I shan't forget it.
Nor shall I forget him. He was a light in my life however irregularly - concerts, lunches, laughter, this deep connection with life, this humanity. Now his spell of bad health is over, may he rest in peace.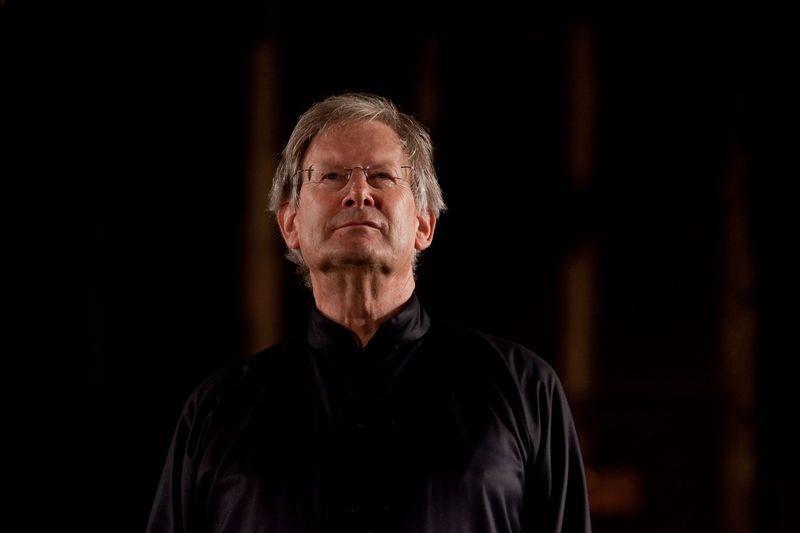 JOHN ELIOT GARDINER
I'm really sad to hear of Colin's passing. How typical that at a time when there is all this hype about Mrs T there's been nothing on the radio or TV news about someone who brought so much unqualified cultural goodness to this country and inspired generations of young musicians with never a whiff of the acquisitive me-first ethos of la Thatcher.
I owe a huge amount to Colin ever since I first met him as a 14-year-old, when I called on him at his home in Princedale Road in 1958 asking his advice on what was needed to train to become a conductor, then played and sang under his baton in five different Berlioz works in Chelsea Opera Group in the Sixties, owed him my first chance to conduct an opera at Covent Garden in 1973, and attended countless of his concerts with the LSO, BBCSO, Royal Opera House Orchestra and so on. Stravinsky, who is on my mind at the moment [he is to conduct the LSO in Apollo and Oedipus Rex to celebrate his 70th birthday next week], was of course one of his great composer-heros (along with Mozart, Berlioz, Dvořák and Sibelius). What I loved most about Colin's conducting was his rhythmic zest allied to a beguiling lyricism and a matchless humanity to his interpretations.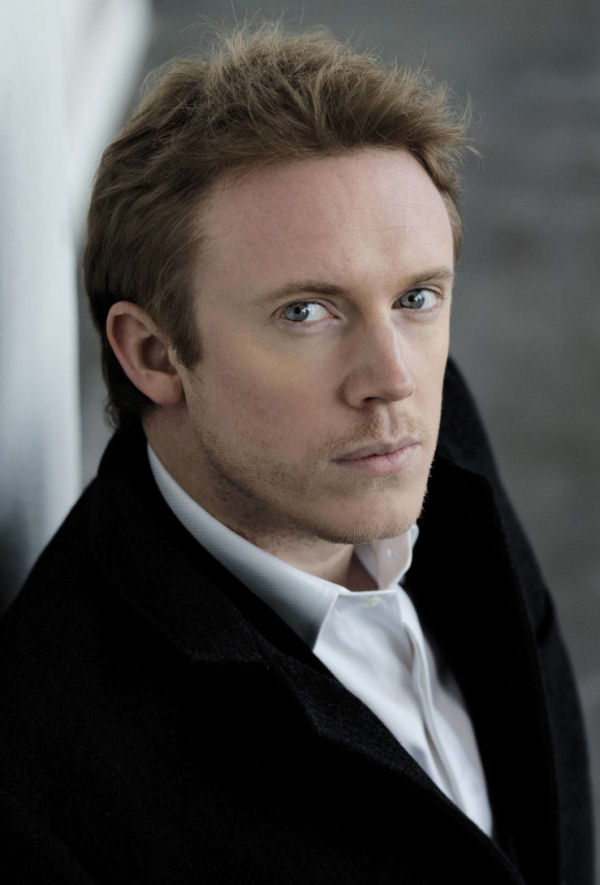 DANIEL HARDING
It's hard for any of us who only experienced Sir Colin in his later years to imagine that once he was, in his own words, "a furious young man with…an unbridled temper". I cannot think of any conductor who better represents the ideal of the collegial and endlessly wise figure that we all aspire one day to be. Conducting is ferociously difficult and horribly frustrating for those of us who are at the beginning of learning how it all works. Sir Colin was a master of making it all seem so obvious and effortless.
My father had LPs of his glorious Figaro recording. I listened to, and conducted along with, these records countless times as a young boy. I marvelled that a man with such an normal name could be such an important musician! As a teenager I fell in love with Berlioz thanks to his unparalleled recordings. The Romeo and Juliet recorded with the LSO in the late 60s is still one of my all time favourite recordings of anything. He had a way with Berlioz of making the music seem so utterly right, without ever underplaying the wildness and abandon. The perfect Berlioz conductor, and who could ask to be more than that?
The stories of his knitting, his wicked enthusiasm for whisky, his readiness to do the ironing for the music students living next door... A furious young man he may have been, but today he is remembered in so many anecdotes that recall his warmth, simplicity, generosity and completely extraordinary musicianship. Sir Colin set standards for all of us who hope to follow him and we will not manage to live up to them, either musically or humanly, but we will remember him as we try.
STEPHEN HOUGH
Under a dark purple Dulux Silk ceiling, a smell of joss sticks in the close air, and surrounded with posters of T. Rex (the singer with curly hair, not the dinosaur with razor-sharp teeth) I discovered classical music - through Michael Tippett conducted by Colin Davis. I never listened to classical music in my early teens but I did play the piano, and one of the pieces I brought to my teacher Gordon Green was Tippett's gritty Second Sonata. I have to admit that the screech of its dissonant opening and the mosaic wanderings of its experimental form were amongst its attractions and I looked forward with a naughty schoolboy's glee to observing the impression it would make on my elderly teacher Mr Green. "Well, my dear boy," spoke his smiling lips from behind the white goatee. "I don't understand this piece at all, but I think it's wonderful that you're learning it." Gordon was an open-minded man who once admitted to my father that he thought Tony Benn would have been a good prime minister.
I bought the only record I could find of the sonata - by John Ogdon (who had also been a student of Gordon's) - and on the other side was Tippett's Piano Concerto conducted by Colin Davis. The sonata intrigued me but the concerto intoxicated me, its lush upholstered orchestration supporting themes both languorous and ecstatic. It was a turning point for me and I bought more Tippett LPs, all of them conducted by Colin Davis, and fell in love with music.
The posters eventually came down, the purple ceiling was re-painted (with difficulty) with white paint, and Sir Michael conducted by Sir Colin remains for me one of the most powerful evocations of my turbulent teenage years in the turbulent 1970s.
STEVEN ISSERLIS
I remember a winter tour in Britain with Sir Colin during which he was never parted (except on stage) from his sheepskin coat. It made a great impression on me, since it so perfectly summed up his genial English eccentricity. Also, I remember him getting quite giggly at a couple of after-concert parties at which the red wine was flowing nicely; and at one of these parties, I remember him rebuking me severely for implying that Mozart's Divertimento for string trio was more beautiful than profound (he was probably right).

Then, by agreeing to conduct it, he made my dream of a St Matthew Passion with an orchestra of friends come true. It was quite an event: Joshua Bell leading, Francois Leleux playing first oboe, and so on. Colin's tempi were unfashionably slow, which ruffled some musical feathers - but it was so deeply felt! That was quite a special event - at the Cheltenham Festival in Michael Berkeley's time, in Gloucester Cathedral. It was broadcast live, and the tempi were so slow that the BBC's schedule overran by 45 minutes! He was always completely charming and courteous - he will be very much missed.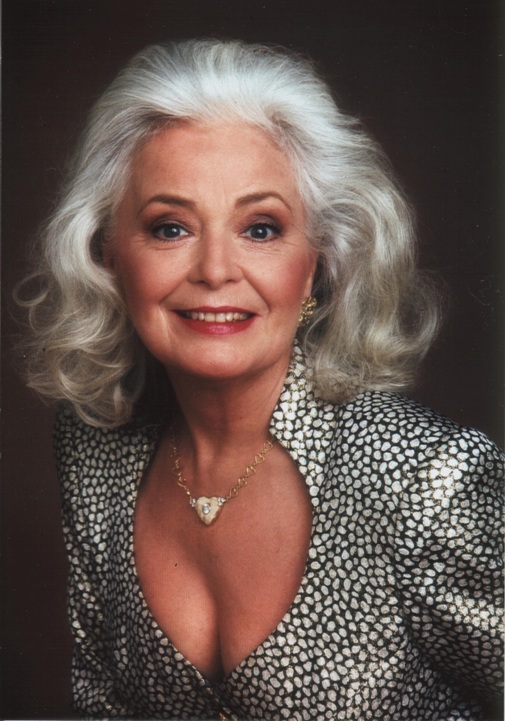 DAME GWYNETH JONES
The first time I worked with Colin Davis was at the Royal Opera in a beautiful Zeffirelli production of Don Giovanni in July 1967. I was singing Donna Anna for the first time and was so lucky to have Colin in the pit. His Mozart was superb and his calm support helped one to soar effortlessly in the long pianissimo phrases of "Non mi dir". In November of the same year we worked together again at the Garden, this time on Fidelio. The performances were great and Colin's tempi made the drama vibrantly alive and uplifting, which made me look forward so very much to the next performances with him and Jon Vickers in 1970. I was quite disappointed to find that his tempi had become very slow, which made it very difficult for the performance to take fire.
Colin came to my dressing-room to wish me luck before the second performance; he seemed rather downcast and said he was sorry he was not as good as Klemperer, who just been performing the opera and had had glowing reviews for his slow tempi. I ressured him that this simply was not true, he should not listen to his critics: "the performances we did together last time were simply incredible and your tempi were dramatically thrilling. Just believe in yourself and do what you feel is right!" A big smile came over his face and with a loud cry he leaped up and was suddenly hanging like a gleeful monkey on my door. "Colin, be careful!," I cried. He jumped down, gave me a big hug and went happily down the corridor to conduct a fantastic performance.
In 1977 Colin was the first British conductor to conduct at the Bayreuth Festival. It was a production of Tannhäuser which had been, unfairly, a political scandal when it was new in 1972., probably because Götz Friedrich had just come from East Germany. The audience came equipped with whistles and all hell was let loose at the end! Erich Leinsdorf had had great problems controlling the chorus in the second act, not only because of the pit being so low; but also because the stage set was built extremely high. I was a little worried that it might also be difficult for Colin; but he was immediately at ease in the pit and conducted fabulous performances there, which have fortunately been documented on DVD.
A firm friendship developed between Colin, Götz and myself and we next worked together on two new productions of the Ring at the Royal Opera House. The first was very technical and really quite dangerous to work on and the second set the action in a tunnel [the famous "time tunnel"], which Götz had done in Berlin. These performances, together with unforgettable performances of Tristan und Isolde with Jon Vickers and another new production of Tannhäuser at the Royal Opera between 1978 and 1984 confirmed that Colin was one of the most important conductors of our time. He was totally humble - sometimes I wished that he would be more decisive and show more authority - but in his quiet, modest manner he often achieved better results than those who chose to make a scene.
On the podium he became a different person; the music spoke through him and he was able to inspire and unite the performers on the stage and in the pit. The chemistry was right between us and I feel very privileged to have been able to share the joy of so many magical moments with him, where we experienced the sublime ecstasy of the Holy Art of Music.
I and my husband [conductor and pianist Adrian Müller] saw dear Colin last year in May, in Vienna at breakfast in our hotel, the Imperial. He was reading Schiller and was there to conduct a concert and I was there to sing Herodias [in Salome]. He looked very lost and forlorn and told me that Shamsi [his second wife] had died.
We were very sad to hear of his death; but had heard that he was very ill and I think he had probably lost the will to live; because of Shamsi's death. We worked so much together and I loved and admired him tremendously!
VLADIMIR JUROWSKI
I remember vividly Sir Colin Davis in conducting masterclasses in Dresden in the early 1990s. He would come regularly to conduct his beloved Dresden Staatskapelle, as he had done even in the time of the Berlin Wall, and he was already then a highly revered figure in Dresden. From time to time he would give masterclasses on specific works at the "Hochschule für Musik". I remember one which was dedicated to Sibelius's Seventh and another one on Beethoven's Eroica. In the introductory part he could speak for hours about the works he loved so much and knew so well as though he had composed them!

What an imaginative, colourful language he spoke! He had a pretty fluent German, but it was always richly spiced with English idioms. I remember also his recollections of older conductors, those he saw perform in his youth - Boult and Klemperer in particular. He was always very generous and patient with us -- young and unexperienced students as we were – while he observed us fumbling with the student orchestra, but at the same time he insisted on the absolute faithfulness to the score.

I remember that on the first day of his Sibelius masterclass Sir Colin was apparently quite impressed with my ability to play piano from the full score (I volunteered to illustrate the class musically) and probably much less impressed with my rather insecure conducting of a difficult scherzo-passage in the middle of the symphony the day after. As I stepped down from the podium, covered with cold sweat and shaking, I felt the need to tell him it was actually my first time ever in front of a symphony orchestra (which it was!!). And with an inimitable gleam in his eyes, slightly bemused but still full of empathy, he compassionately shook his head and said only "Poor guy!"

Unfortunately I never had a chance in my later life to thank him for the unique experience of having been taught by him, even though it was a brief episode. He was a great musician, a generous teacher and an incredibly warm and sympathetic human being. Thank you, Sir Colin!
DAVID SYRUS
On the day Colin started as Music Director at the Royal Opera I started as a fledgling répétiteur. He was my first and most stimulating professional teacher, and I am still constantly referring back to what he taught me, more than four decades on.
He believed every language could be sung with line, and he set up a powerful collaboration with Ubaldo Gardini, the language coach for our Italian repertory, while welcoming back into the working life of Covent Garden Reginald Goodall (marginalised in the Solti years) to advise him on his first Ring cycle with Götz Friedrich. In those rehearsals it was Götz who talked music, Colin who talked text, the ideal Wagnerian synthesis! But language was absolutely central to Colin; more than any conductor I've ever known he found the rhetoric in accompanied recitative, which gave his Mozart a thrilling muscular quality and energised his Berlioz (not to mention the first two chords of the Eroica.)
He was heroic, searching, spiritual in the great pieces - Fidelio, Tristan, Grimes - and how central to his quest was Jon Vickers in all three operas. But he could also take a second-rank piece and make you believe it was a masterpiece. (Vickers again, in Samson et Dalila, for instance.)
Most of all, though, he taught us humility towards the works themselves and towards colleagues. He was staggeringly erudite, but he never flaunted his knowledge. He was very funny, always ready for good exchange of ideas (though if it was about appoggiaturas, you'd run up against a brick wall eventually). His technique was formidable. If something went wrong in rehearsal he'd refuse to talk about it; we'd play it again and with a flick of the wrist he'd solved the problem.
If you offered him a new take on a piece of phrasing he'd try to use it. I'm thinking of those long staging sessions where at the piano you get the chance to experiment, so often do sections get repeated. If you chanced on some tiny new nuance and he liked it he'd smile quietly and almost certainly incorporate it into his vision next time round. He made you feel valued. For him the word "maestro" was an ironic term; it was banned in his company.
The modesty and humanity of the man drove all his music-making. We all heard it, we tried (in vain!) to analyse it, and we loved him for it. We all have favourite memories. I still hear especially the radiance of his Tippett, the sprung step of his Stravinsky. But maybe it was in irreverent but life-loving Mozart that he found his most perfect musical soulmate.
Colin was the first British conductor to conduct at Bayreuth. He took me there as an assistant, an act of great generosity, followed by many other trips abroad together on recordings and productions. He was relaxed and enabling in the recording studio, and it was good fortune that his best years coincided with the heyday of the recording industry. Those glorious performances remain to us: Hänsel und Gretel, Les Troyens, The Knot Garden. Let's remember him with those, and see again this kindly, generous man smiling at us.
Overleaf, theartsdesk's writers remember Sir Colin
EDWARD SECKERSON
A few words of reflection on the extraordinary career of one of our most prized musical exports, a man who in his own words graduated from something of a firebrand into a wise man so mellow and softly spoken that merely the sound of his voice was strangely therapeutic. I remember in one of my first interviews with the great man my trendy voice-activated micro-cassette machine kept shutting off because it was convinced he had stopped talking. He suggested that it had a low boredom threshold. (Pictured above, Sir Colin Davis with members of the Gustav Mahler Jugendorchester at the BBC Proms; below, conducting the Missa Solemnis in the same season. All colour images on this page by Chris Christodoulou.)
My first memories of him were dramatic ones on disc: a scorching Stravinsky Oedipus Rex from the old Sadlers Wells source and a Beethoven 7 with the Royal Philharmonic on mid-price EMI which drew astonished plaudits from the critics and laid to rest the notion at that time that budget priced discs were rarely if ever superior to their full-priced equivalents. This Beethoven 7 was red in tooth and claw and when, in a comparatively recent live interview with Sir Colin at the Royal Opera House, I reminded him of it he remarked that in those days he was probably not as well behaved as he might have been in getting things the way that he wanted him. His early encounters with the London Symphony Orchestra – who were eventually to embrace his glorious autumn of music making – were turbulent to say the least. "A pretty ferocious bunch of pirates" was how he described them noting the absence of women bar one who smoked a pipe! Very Sir Colin – vaguely sexist but charming with it.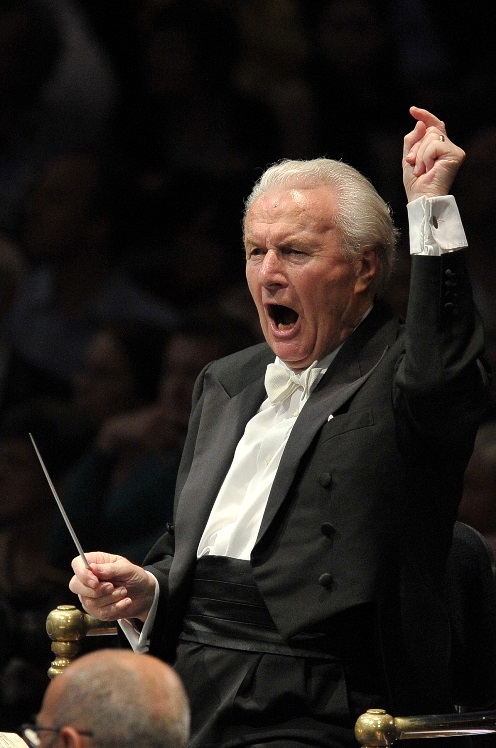 That interview was extraordinarily satisfying – a real musical debate in which Sir Colin's long held passions like Mozart, Berlioz, and Sibelius were graciously shared. He had a way of airing his enthusiasms by seeking to elicit a response from his audience. Of Mozart's Le nozze di Figaro he said "Isn't this the greatest opera ever written? It surely is, isn't it?" Of Sibelius' 6th Symphony he said (and I remember the words well) "Isn't the opening of this symphony the most magical polyphony we have?" When talking about Sibelius' "unfathomable" bass lines he was gently complimentary about my adding that they were sunk too deep to fathom. He was even only mildly reproving when I suggested that his beloved Berlioz was not such a good librettist!
Sir Colin's own conducting was solid and rigorous with a sound that seemed to come up through the bass lines, through one's feet and body. It was unashamedly well-fed and yet still formidably athletic. He eschewed the leaner and hungrier "period" approach to the mainstream classics – he favoured a fleshier sound and more deliberate tempi and could be stubbornly old-fashioned in that regard. I remember him speaking of "a great public racket" when referring to Beethoven's Missa Solemnis. His Beethoven was positively hewn from the rock-face of the 18th century.
And yet, as set in the old ways as he was (one would never get him started on one-voice-to-a-part Bach), he was remarkably open to new experiences and late discoveries – like Carl Nielsen. Imagine embarking upon the awfully big adventure of those six remarkable symphonies so late in his life. He had turned 80 when he made the decision to explore them and as for "that Shostakovich chap" there were pieces there that really fired him (the 10th Symphony), others that were perhaps a bit "pictorial" for his taste.
For such an untheatrical, mild-mannered man his love of opera, though selective, was great: Wagner, of course, the best of Verdi, and much of the 20th century from Tippett (the memorable premiere of The Knot Garden) and Britten to Berg and Stravinsky and, of course, Berlioz. Turning to concert performances later in life he was effectively endorsing what we had known all along – that in his view the best productions were in our imagination. Sir Colin wasn't that receptive to the theatre of opera except where it related to the music.
Towards the close of that last public encounter with him I asked him to what he attributed his extraordinary virility. "Better ask my wife", he said, "it's something to do with those rice dishes she cooks." Her death in 2010 devastated Sir Colin. His decline was fast and visible and as potent a reminder as one could imagine of the proverbial broken heart – except that in this case it really was. In the window of his Highbury home he kept a human skeleton – a constant reminder of our mortality, he said. Interesting that he chose to do all his interviews in that corner of the room.
Sir Colin hated the media circus surrounding classical music today. He loathed the marketing, the selling, the image-making. He honestly couldn't relate to the idea of charisma as a performing attribute. His charisma was his inner calm and the idea that getting out of the way was ultimately the best you could do for a piece of music.
ALEXANDRA COGHLAN
We all have our own set of musical normals – those absolute points of reference against which we measure all other interpretations and performances, consciously or unconsciously. The recordings of Colin Davis (pictured left in 1995 by Clive Barda) were not only some of the first I encountered while discovering and studying music, but also some of those I return to most frequently, newer options only heightening my early preference in most cases.
The 1971 Figaro with Jessye Norman is a Davis classic in every sense, bounding with love of the music and its drama, affectionate but just the right acerbic side of indulgent. And then there are the two great operatic collaborations with Jon Vickers – Les Troyens (surely the masterpiece of Davis's extensive Berlioz rehabilitation) and Peter Grimes. The latter is as naked and brutal an account as exists, with Davis's Sea Interludes finding the same edgy beauty as Vickers' "Now the Great Bear".
In concert I struggle to look beyond Davis's performance of Beethoven's mighty Missa Solemnis at the Proms. The London Symphony Chorus supported him with complete conviction as he continued a life's quest to instill audiences with the same love and respect for the work that he so clearly feels himself. Here the terrifyingly joyous "et resurrexit" threw itself off its musical precipice with unequalled bravery, and Sarah Connolly's mezzo throbbed so reassuringly through the quartet sections.
As a symbol of Davis's career, his refusal to abandon the challenges of this remorseless work couldn't be bettered. Determination and sheer labour allied to continuing musical curiosity came together in a man whose legacy is immeasurable. Whether in persuading audiences to return to the remoter corners of Berlioz or to Nielsen symphonies, or to revisit old friends like the Mozart operas with new ears, he succeeded in getting us not only to listen but to really engage. Perhaps our tribute in return should be a renewed determination to learn to love the Missa Solemnis. "Nobody likes it very much. Except me," Davis was recently quoted as saying. Let's all pledge to keep trying to, to refuse to be awed into dislike by its hulking complexity and seriousness. I can think of no better way to honour one of Britain's finest musicians.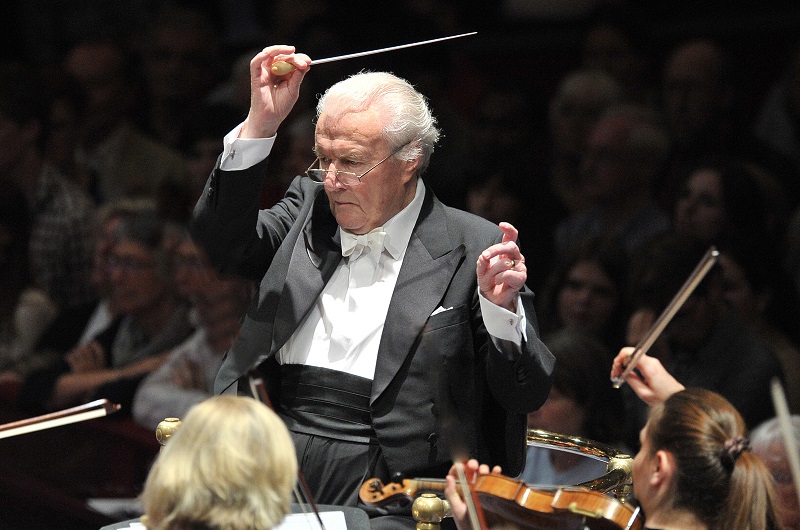 GRAHAM RICKSON
Davis always seemed a benign, twinkly presence on the podium. I still vividly remember several Proms he conducted with the Bavarian Radio SO in the mid 1980s. He gave us Stravinsky's Symphony in Three Movements in a performance full of balletic grace as well as violence, and he reversed the order of the middle movements of Bruckner 7. He received predictable flak for this, but it worked nicely, balancing out the symphony's top-heavy structure. I got to know the Sibelius symphonies through devouring Davis's 1970s set with the Boston SO, back in the distant days when public libraries lent LPs along with books. The performances still stand up well – and they're much better recorded than the later Barbican Hall performances with the LSO. I acquired many more Davis recordings in subsequent years – glorious late Dvořák symphonies and the three big Stravinsky ballets with the Concertgebouw Orchestra among the best. But the two recordings I return to most are on elderly vinyl, and both of music by Tippett, who adored Davis as an interpreter. Davis's reading of Tippett's effervescent, dynamic Second Symphony is punchy and lyrical by turn, and leaves you wondering why such a fabulous piece is so rarely heard. Probably because it's almost impossible to play this well. Even better is the unhinged opera The Midsummer Marriage, a work which usually leaves me scratching my head in bafflement. Davis knew how to make Tippett's angular vocal lines sing, and the recording is suffused with a hazy, fuzzy feelgood glow.
DAVID NICE
Flicking through the huge list of Sir Colin's performances at the Royal Opera House makes me realize how many operas I must have seen there conducted by him. Berg's Lulu not long after the world premiere of its three-act version and a double bill of extraordinary Zemlinsky operas with Kenneth Riegel giving the performance of a lifetime as Oscar Wilde's Dwarf stand out because of the occasions. But I guess it was La Clemenza di Tito in which the musical personality was most impressive, making me appreciate the muscularity and broad uplift of his Mozart - even if that became a little solid in later years.
Similarly elevating was a Beethoven Eroica with the Bavarian Radio Symphony Orchestra at the 1986 Proms. I could feel myself levitating from my standing place in the Arena as the finale just got bigger and broader. Later he brought the Dresden Staatskapelle in, among other things, Reger's exhilarating Variations and Fugue on a Theme of Hiller, which was listed on a Royal Albert Hall leaflet as the "Hitler Variations".
Maybe I wouldn't take any of his recordings to a desert island, as I certainly would in the case of much-missed Sir Charles Mackerras. You can't compare incomparables, though, and I do adore the woody German playing of the Staatskapelle Dresden as well as the perfect cast on his 1992 Philips version of Humperdinck's Hänsel und Gretel. The LSO Live performances of the Elgar symphonies are among the most searching, too (his Second was my stereo choice on Radio 3's Building a Library, even if Boult in 1944 goes at a more exhilarating lick).
I always admired him for not overdoing the rep – he tended to steer clear of Russian 20th century music, he said, because it "smacked of the circus". But his Tippett was always enlightening – not that it has much competition on CD or downloads, more's the pity - and we have alternative versions of his peerless Berlioz, thanks to the LSO Live label in the concert-performance era as well as the sometimes more impetuous Covent Garden originals.
It was a pity outstanding tenor Giuseppe Sabbatini didn't understand the role of the orchestra's label and withheld his permission for the first run of concert Benvenuto Cellinis to be issued, and maybe Sir Colin's first, 1994 LSO Troyens was even more incandescent than the second which made it to disc, especially for the early appearance of a young Ian Bostridge in the exquisite song for Hylas. At least all these Berlioz interpretations in two different stages are there for posterity. His selective taste in new music was impeccable to the last, too, when he found a worthy British successor to Tippett in the biggest scores of James MacMillan.
ISMENE BROWN
I must endorse Alexandra's encomium for Sir Colin Davis's Missa Solemnis at the 2011 proms - an experience all the more moving because all participants, conductor, soloists and chorus, were gradually wilting with the effort of conveying this vast and emotionally pulverising work. You felt life's eventful journey, the energy and controlled freshness of the start, the mastery and absorption by all in the middle, and - as in real time - the increasing determination of everyone, tired as they were becoming, to make it to the end in glory. I am not sure many conductors could be so brave as to let real-time effort become part of the artistic drama, but it was wholly Beethovenian, and it was the factor that put this performance beyond any other I've heard of the Missa Solemnis (which I suspect is much more popular and loved than Davis himself thought).
I can't think of Colin Davis as in any way an "elitist". He was the most humane of musicians and I admired above all his way with singers - he struck me as understanding choruses with a great and rare sensitivity. He treated the London Symphony Chorus as a multi-fibred instrument of many human beings, where no timbre is entirely predictable all the time, and he seized on that variability as an asset.
Not for him the perfectly burnished choral machine, driven by an F1 conductor purring through gears and volume changes, but the sound of many voices, the flames of human life. Most chorus members are amateurs of course, and it was Davis's mark as a total musician that he utterly identified with that love. He used it to achieve some unforgettable occasions where music filled the hall and belonged to everyone.
Next page: more photos and a postscript on Sir Colin's work with young musicians from EUYO President Joy Bryer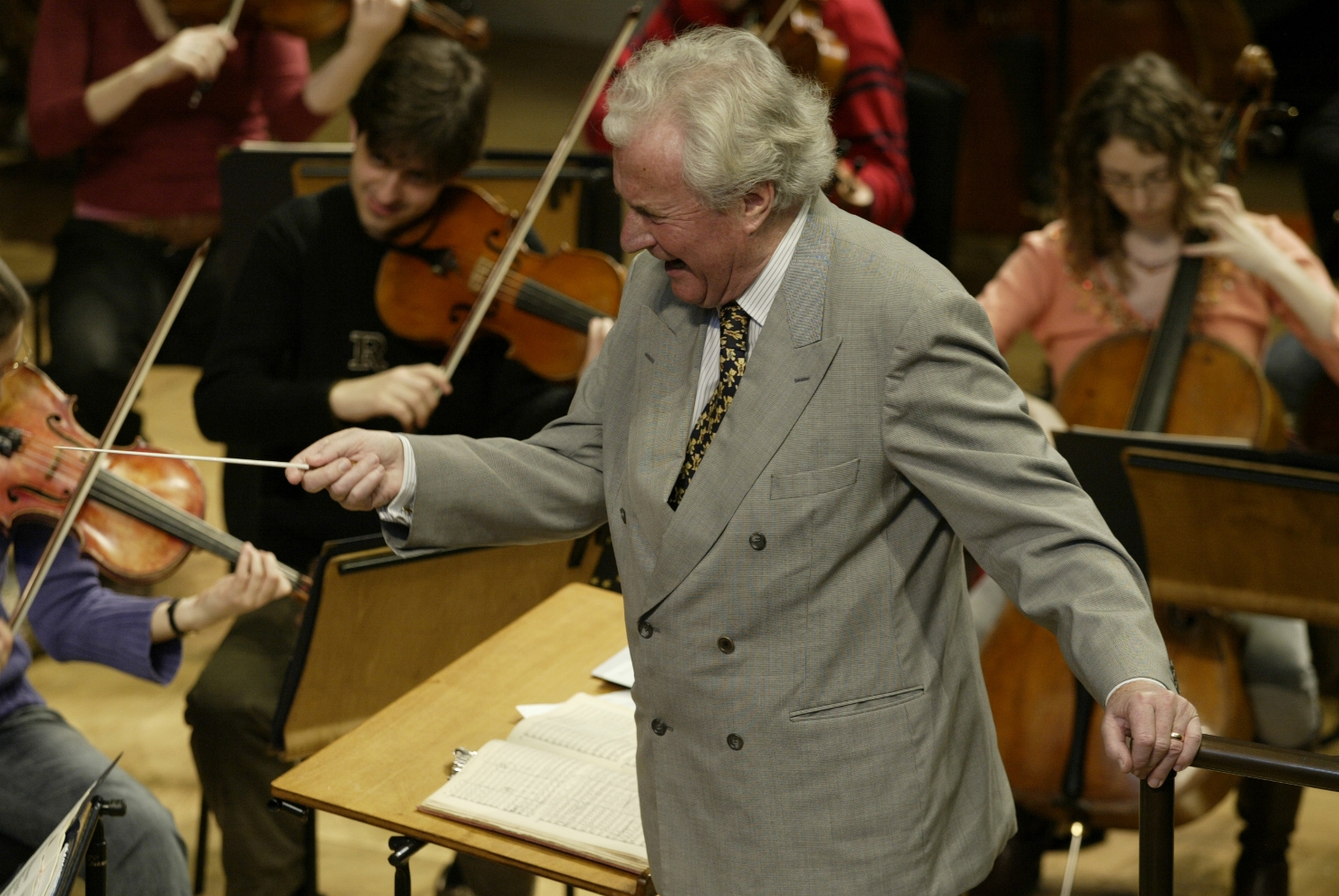 JOY BRYER, President of the European Union Youth Orchestra, remembers Sir Colin's passionate work with this very special team of players
Sir Colin's teaching and conducting of our young musicians brought them to musical heights they could not even imagine themselves. His warmth, great charm and complete lack of affectation, so rare in our circle, will forever be remembered.
I can picture Colin: tall, handsome, with a shock of white hair, knitting a cardigan for himself, with smells of his wonderful cooking, writing in his book-lined library. He has left with our young musicians the greatest interpretations of Berlioz, Brahms and Sibelius.
I loved him, Shamsi and his five children dearly, as we all did over the many years.
Photos of Sir Colin Davis conducting rehearsals and a benefit concert for the EUYO at Cadogan Hall in 2005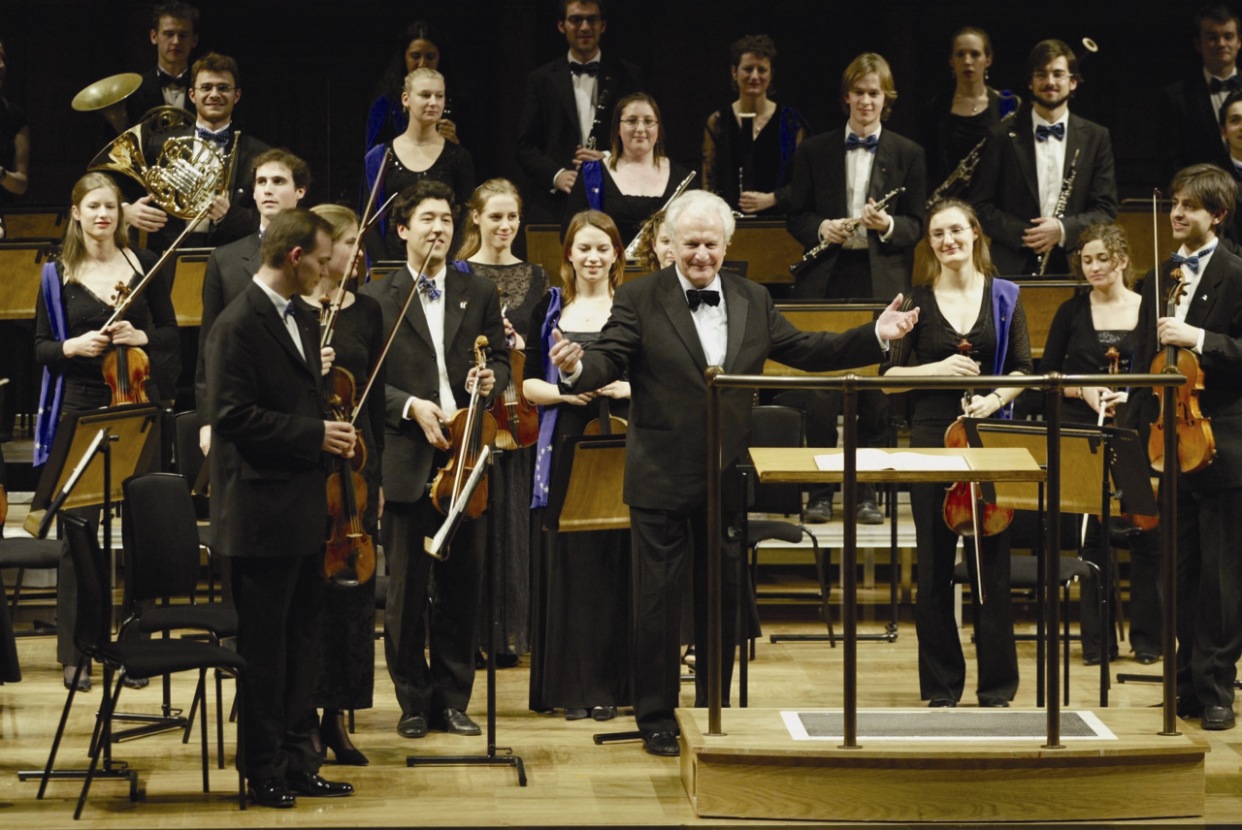 His beat was not a beat at all, there was nothing commanding or vertical or peremptory about it
Explore topics
Share this article