East Neuk Festival 2016 |

reviews, news & interviews
East Neuk Festival 2016
East Neuk Festival 2016
Elegies and emotional highs from distinguished visitors to the Fife coast
Schoenberg six: young players from the East Neuk Festival Retreat with mentor/performer Krzysztof Chorzelski (second from left) outside Kilrenny Church
All the best festivals develop organically, with a guiding hand from the best directors. When I first came to the East Neuk Festival two years ago, on its 10th anniversary, it was already a special case, thriving on the spirit of place and including an all-day Schubertiad from top international artists, many of whom were returning because they loved this special peninsula of the Fife coast so much.
Since then a weekly "Retreat" for outstanding young artists guided by superlative coaches has started yielding unmissable special concerts, and beloved visitors have come for longer, three- or four-day residencies.
East Neuk's main man, Svend Brown, doesn't make a thing of themes: no Shakespeare this year, and the centenary of the Battle of the Somme was commemorated only due to another of the festival's special commissions involving the community, Pulitzer Prize winning David Lang's Memorial Ground. Instead, there is a fluent connection between concerts. Mendelssohn was one focus, with the young Americans of the Calidore String Quartet returning after last year's revelatory (for me) performance of his last, anguished F minor Quartet to feature all six over three concerts. He was companioned by composers who influenced him – Bach – and who were influenced by him – Schumann, who then took over the reins in two later concerts – and the elegiac quality continued in the commemorative Somme concert (pictured below: Paul Hillier rehearsing local choristers in Memorial Ground).
After one of last year's highlights, Retreat musicians' perfect and sophisticated performance of Mendelssohn's Octet, arrival halfway through the festival to catch the second and last of their successors' concerts this year was essential. Rewarded, too, by more sheer perfection in the shape of Schoenberg's Verklärte Nacht under the guidance of the Belcea Quartet's Krzysztof Chorzelski, taking the role of second viola.
The sheer charisma of the firsts in each department drove home what an opera for sextet Schoenberg's furious-tender music-drama truly is. Though it's essentially about the woman of Richard Dehmel's poem who's forgiven by her lover for being pregnant with another man's child, there are three rather than two taxing main roles – for soprano (violinist Savitri Grier), mezzo (viola-player Diyang Mei, pictured below at Retreat rehearsal) and tenor (cellist Laura van der Heijden). Their anguished and, ultimately, transfigured singing was perfectly integrated into a unified and surely unsurpassable interpretation of spellbinding dynamic extremes.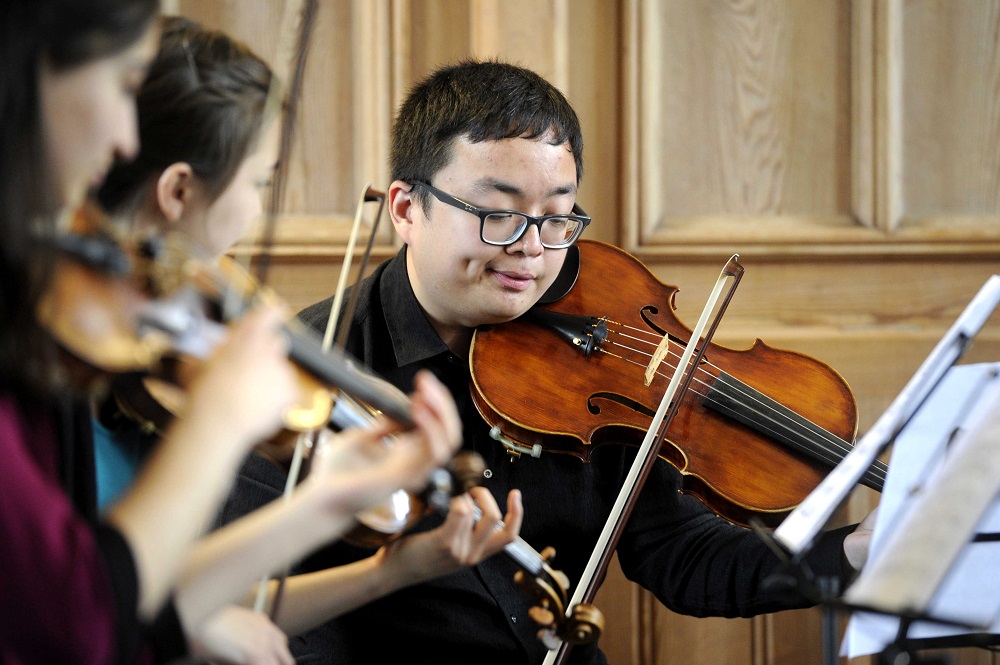 But then so, too, were the other main chamber performances. The Calidores' Mendelssohn introduced me to masterpieces I should have heard live long before this. The first in order of composition was the E flat Quartet, easily the most profound work ever composed by a teenager: perfectly poised and voiced here with the special role for the viola underlined in advance by a brilliant talk from Richard Wigmore, illustrated by the Calidores. Mendelssohn's special brand of joy, in the shape of the D major Quartet Op. 44 No. 1, came as much-needed relief at the end of a long, intense day, following on the heels of Christian Zacharias's lucid, centred but hyper-intense readings of Schumann's Op. 111 Phantasiesstücke and the numbers of Kreisleriana tumbling into one another with no breaks.
As for the Calidores' grand finale, the searing tragedy of the final quartet composed between the death of Mendelssohn's sister Fanny and his own broke our hearts even more decisively than in last year's revelatory performance. There is some respite here in the elegiac Adagio, but the Calidores (pictured below in Kilrenny) tore through the rest without much pause between movements as if possessed.
Sorry indeed not to have caught the other three quartets in the series, I found myself a "demi-cyclist": leaving behind half of Opera North's Ring cycle for this unmissable experience, catching only half of the Mendelssohn series. I'd also like to have heard young German pianist Joseph Moog's first two concerts. His big solo recital kicked off the exhausting day with the high noon of Tchaikovsky's colossal Grande Sonata, cleverly flanked by Mozart's D minor Fantasia - its opening arpeggios among the most futuristic sounds of the 18th century - and Debussy's L'Isle Joyeuse, dancing in grand style. Moog is a pianist very much in Zacharias's mould, producing a grounded, centred, full tone with orchestral resonance in the lower depths, but he's capable of refined sensitivity too, poetically displayed in the encore, Rachmaninov's bitter-sweet Etude-Tableau Op. 33 No. 8. A perfect gentleman to have at a festival, too, an enthusiastic talker who convinced me at the lunch afterwards to go and listen to Reger's Piano Concerto which he'd just played in Germany.
Moving from the nerve-centre of the festival, Crail Church, which Moog judged to be the perfect acoustic for a piano recital, to the simple interior of Kilrenny Church just along the coast, the intensity continued with the ever-electrifying Pavel Haas Quartet (pictured below at the end of their afternoon concert). They made the most rhythmically energetic case possible for Martinů's Third String Quartet - only one of his mature thumbprints detectable in each highly-charged movement of this 1929 hard-hitter - and anticipated Mendelssohn's total tragedy with the gentler elegy of Dvořák's Op 34 Quartet; impossible to listen to a performance of this sensivity without finding the music, at least in part, a response to the deaths of two of his children.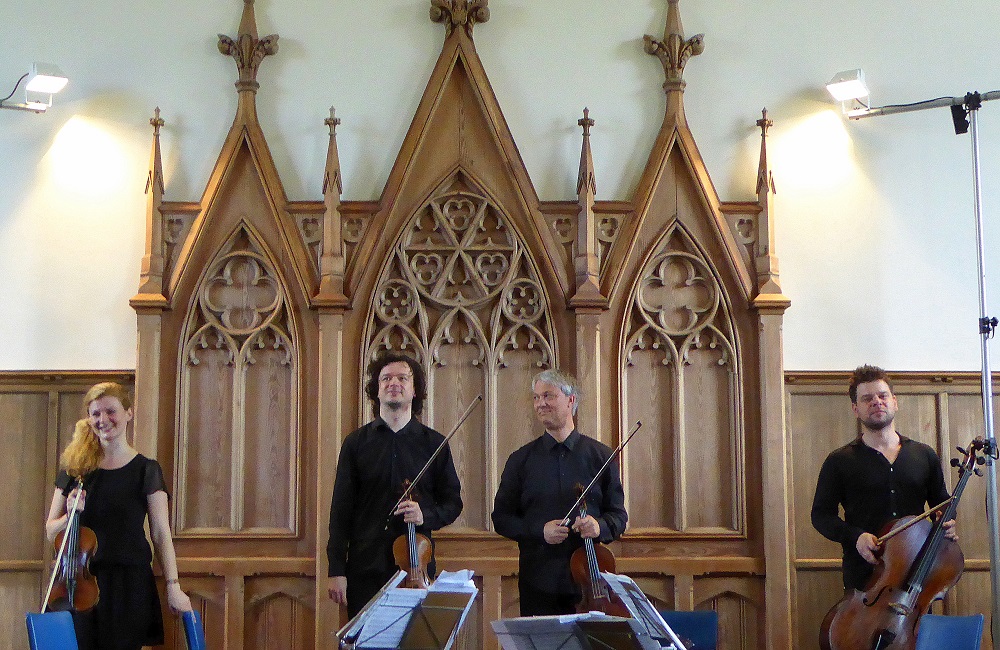 The pure bliss and radiance of the "American" Quartet centred the Haases' appearance in the following night's Crail concert: not difficult to understand why this exuberant performance crowned by the magisterial playing of Veronika Jaruskova pleased the festival crowds most of all. It came after four of Chopin's darkest Mazurkas, introduced in inimitable style by Zacharias. Wise choices all, and no sensitive pianist would omit one of the two A minor minor specimens featured here, Op. 17 No. 4, with its opening and close drifting in space. Schumann in extrovert mood allowed Zacharias and the Pavel Haases to let their hair down even further in the Piano Quintet, though the poetry and mystery of one of Schumann's most original slow movements gave us more pause for sombre thought.
This was no put-your-feet-up day for performers and listeners either. The Memorial Ground concert in the Cambo Estate's fabulous Potato Barn found Lang's premiere offset by extensive sunsets. First came four of Parry's masterly late Songs of Farewell, usually territory for young professional choristers but authoritatively shaped by the Scottish Chamber Orchestra Chorus under the obviously talented Gregory Batsleer. Then the SCO's peerless first horn, Alec Frank-Gemmill, extrapolating James MacMillan's Canto V from its original music theatre context as a moving Last Post. If the main event didn't quite hold on to its moving Somme-commemoration premise, that was because the hauntingly abrupt lines from Theatre of Voices, the groundswell "Hymn" from local choristers of all ages and the not always audible texts taken from regional memories needed something else to add to the mix after the first 10 minutes.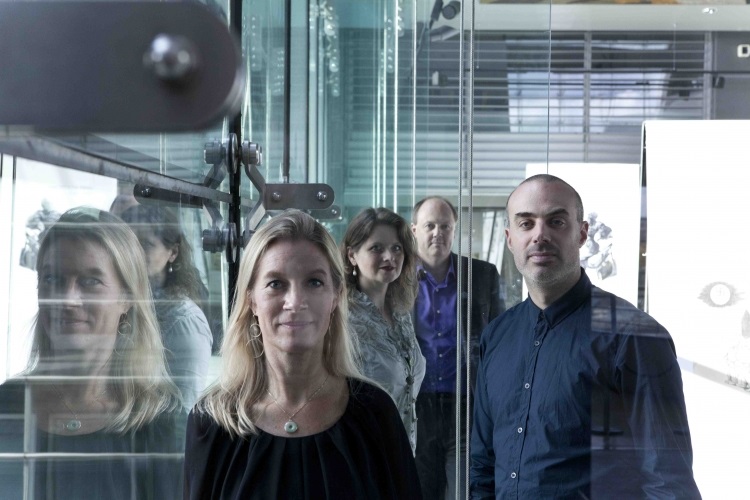 Which is why Lang's The Little Match Girl Passion holds the attention across its varied short movements. The very idea of equating the horrible suffering of Hans Christian Andersen's abused child-worker with the Passion of Christ was a strong one; what seals the work's success are the many earworms Lang achieves in his word-setting, above all in the "Have Mercies", as fine a Kyrie as anyone ever composed. Theatre of Voices, whose recording won a Grammy Award (can't wait to hear it), handled voices and instruments between the four of them with infinite tact and refinement. Pictured above: mezzo Signe Asmussen, soprano Else Torp, tenor Christopher Watson and bass Jakob Bloch Jespersen.
This was an unforgettable haunting to follow the robustness of speechy high jinks from Cage, Cathy Berberian (the hilarious kaleidoscope of noises in Stripsody) and Ernst Toch, whose "Geographical Fugue" is a deserved classic amongst choral singers; less often heard are its two short predecessors in Speaking Music of 1930, possibly receiving their UK premiere in humble Kilrenny Church. As a bridge between the playful-serious and the profound, all of it engagingly presented by ToV artisic director Paul Hillier, Maxwell Davies's perfect miniature Lullaby for Lucy gave us a chance to hear straight a cappella singing in the place which suits it best.
Too few festival regulars came to this, as engaging a concert as any in the festival, but the Potato Barn was packed for the final concert with Zacharias conducting the Scottish Chamber Orchestra. Cellist Julian Steckel, another visitor who had given two performances earlier in the week, engaged headlong, and with perfect pitch, in Shostakovich's First Cello Concerto, Frank-Gemmill on blistering form as his co-soloist; but this was most remarkable as teamwork that sounded so wonderful throughout the dynamic range in what must be the classical world's most surprising acoustical triumph. Wooden potato crates behind and a raised platform may have helped further, but I'd already been amazed by how good Sibelius's Seventh Symphony had sounded here two years earlier (pictured below: the audience gathers in the barn before the final concert).
Schumann's Second Symphony might seem like an unlikely finale, but Zacharias wrought wonders in it analogous to his clear, heartfelt, unfussy piano playing. The first movement flew like an arrow, raising none of the usual questions about its material, and with the Adagio poignantly failing to reach far beyond its memorable heart-sighs, the way the Finale at last released a pure-song theme which has been earworming me ever since really did make a crowning glory to a festival of unparalleled musical riches.
We also got the perfect song without words as encore, the very short slow movement of Mendelssohn's Reformation Symphony, before emerging into the sunshine and mud of the farmyard and going our separate ways for another year. The next ENF looks more unmissable than ever, with that greatest of all living Schubertians Elisabeth Leonskaja gracing the scene. She was attracted by the idea of daily sea bathing in the ice cold North Sea, and I can recommend it as a tonic for mind and spirit to absorb or perform the major musical treasures that suit the festival so well.
Some Crail concerts recorded for future broadcast (tbc) on BBC Radio 3
Mendelssohn's final quartet broke our hearts even more decisively than in last year's revelatory performance
Share this article