Classical CDs Weekly: Mahler, Mozart, Vaughan Williams |

reviews, news & interviews
Classical CDs Weekly: Mahler, Mozart, Vaughan Williams
Classical CDs Weekly: Mahler, Mozart, Vaughan Williams
Mozart from Norway and a trio of symphonies
Invigorating and never sentimental: Christian Ihle Hadland plays Mozart
Mahler: Symphony no 9 Los Angeles Philharmonic Orchestra/Gustavo Dudamel (DG)
This new, live, Mahler 9 sounds impressive – microphones are closely placed and you really feel in the thick of things. Dudamel's intakes of breath are clearly audible but not intrusive. His first movement is outstanding. The timings are expansive, but the pace doesn't slacken. Each precipitous climax is paced with mature skill, the tension cannily ratcheted up. There are moments when you genuinely think that it'll all end happily, making the third, funereal crisis a shocker, Dudamel's raucous trombones putting paid to any optimism. There's more to this piece than bleak nihilism, and the symphony's tenderness and sweetness are well expressed, brilliantly so as the first movement's nostalgic principal theme sings out for the last time. It's really, really good, and Mahler anoraks will fondly recall Giulini's similarly broad 1970s recording.
Mahler's easily overlooked inner movements shine here. There's plenty of earthy affection and humour in Dudamel's ländler, every woodwind chirrup and bassoon fart pointed with delectable care. The Rondo Burlesque's energy is as gleeful as it is sardonic, and superbly played. Perhaps the closing Adagio is a little less affecting; beautifully controlled and sculpted but somehow lacking the emotional punch of Abbado's sublime recent DVD account. Dudamel's final minutes are calm, consolatory, but not tear-jerking. Orchestral playing is superb.
Watch Gustavo Dudamel rehearse Mahler 9 with the LA Phil: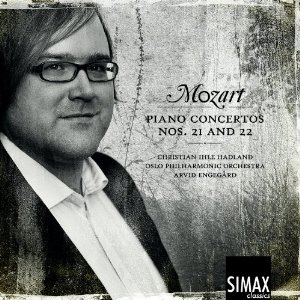 Mozart: Piano Concertos 21 and 22 Christian Ihle Hadland (piano), Oslo Philharmonic Orchestra/Arvid Engegård (Simax)
This immaculately produced disc contains scintillating readings of two genial Mozart piano concertos. Ihle Hadland's polished, witty playing suits the music's character perfectly. Marvellous too to have both works accompanied so richly by a downsized Oslo Philharmonic under Arvid Engegård. Period-performance purists should listen carefully to the orchestral winds and horns in K482 and reflect upon what they might be missing. The Oslo players are fabulous, particularly a pair of fruity bassoons – characterful when issuing their riposte to the orchestra's opening flourish, later cheekily embellishing the Rondo's main theme. Hadland plays a first movement cadenza provided by Britten for Sviatoslav Richter. Stylistically it doesn't quite fit, but it's a fascinating listen, at one point lurching boldly into the 20th century before neatly reassuming Mozartian garb.
Hadland doesn't undersell either concerto's grandeur. K467's first movement has just the right amount of pomp and wit. The over-familiar slow movement, used by a thousand telephone call centres, is played at a flowing tempo. There's a sonorous plucked bass, and the piano line sings. Hadland's last movement sparkles. All is invigorating, never sentimental. Sublime, in other words.
Vaughan Williams: Symphonies 5 and 8 Hallé Orchestra/Sir Mark Elder (Hallé)
Vaughan Williams's outwardly serene Symphony no 5 is a difficult work to get right. In sloppy hands it can suggest a turgid sermon by an ageing rural clergyman. All that moseying around in hazy D major can soon become distinctly tedious. Which is why Sir Mark Elder's recording does succeed; he manages to inject a hint of drama into the static opening movement and brings the Scherzo to life, its pale wind phrases floated over frenetic, gossamer string writing. This Romanza's cor anglais solo is sweetly played, and the Passacaglia's climax sounds like a choice moment from a certain ballet score composed by Vaughan Williams's one-time teacher Ravel.
The late Symphony no 8 is an underrated charmer of a piece, premiered by this orchestra in 1956. Many of the Hallé's players were distinctly underwhelmed by the work's modest dimensions, coming soon after the epic Sinfonia Antarctica. Elder plays up the symphony's offbeat battiness, the inner movements nicely showcasing this orchestra's wind and string sections in succession. An ensuing, percussive Toccata will have you either scratching your head or skipping round the room in delight. It's wonderful – trust me.
Britten's cadenza is a fascinating listen, at one point lurching boldly into the 20th century before neatly reassuming Mozartian garb
Explore topics
Share this article