Brockes-Passion, AAM, Egarr, Barbican review - fleshly Handel for our earthbound times |

reviews, news & interviews
Brockes-Passion, AAM, Egarr, Barbican review - fleshly Handel for our earthbound times
Brockes-Passion, AAM, Egarr, Barbican review - fleshly Handel for our earthbound times
Neglected oratorio offers a seasonal alternative to Bach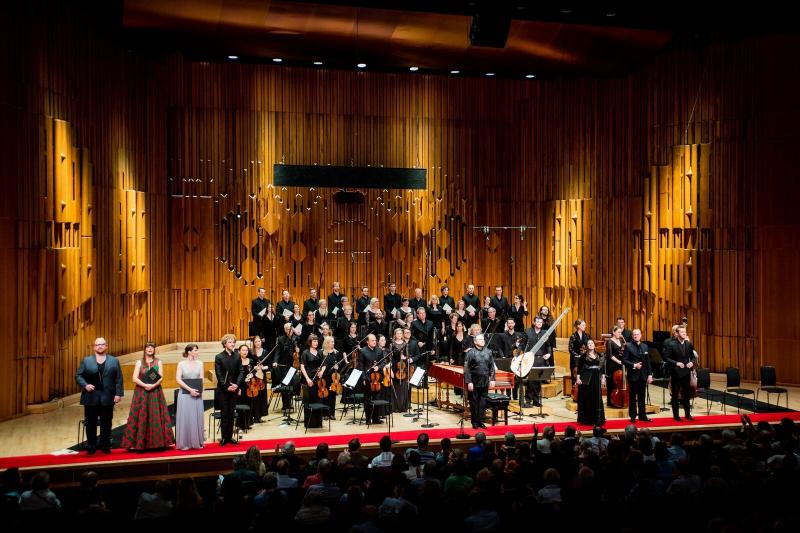 Handel's Brockes-Passion sets the same text popularised by Telemann and Matheson
Whips, scourges, sinews, blood and pus: where Bach's two Passions lament from a contemplative distance, Handel's plunges right to the bone, to the cruel, tortured death that is the heart of the Easter story.
Perhaps that explains the work's recent neglect. While Easter Week in London annually offers more Bach Passions than you can count on both hands, Handel's – a model and influence for Bach's later works – has been all but silent. But with this performance from the Academy of Ancient Music maybe the tide is turning – troubled times finally bringing the beautiful horror of Handel's Passion into focus.
Premiered exactly 300 years ago this week, the Brockes-Passion – a setting of poet Barthold Heinrich Brockes's popular Passion oratorio, which dissolves all four Gospel accounts into vivid if sometimes rather moralising poetry – looks on the Crucifixion with an opera-composer's eye for drama. While Bach's action emerges veiled, mediated through the Evangelist, no fewer than nine soloists give Handel's narrative first-person immediacy.
Probably composed in 1715, some 15 years before Handel would turn his focus to oratorio, it's an experimental work that binds together two separate but intersecting layers of drama: the action of Jesus, Judas, Caiaphas and Peter, and the reactive, contemplative responses of the Daughter of Zion and the Faithful Souls. The effect is of cutaways – the music cinematic in its swift repositioning, now zooming in close enough to see the sweat on Jesus's brow, now stepping back to transform the bleeding stripes on his back into a rainbow. The lens even pivots directly onto the audience, heavily implicated and directly addressed by Brockes' uncompromising text.
Splitting soloists into two groupings – one in front, one behind the orchestra – Richard Egarr and the AAM seemed to highlight this, but placement muddied the waters. Characters were forced to interact with those standing at some distance behind them, underlining the work's artifice rather than its natural flow, obscuring some of the detail from the back row, including Cody Quattlebaum's warm and all too human Jesus (pictured above). His "Mein Vater, Mein Vater" pleaded for mercy with disarming simplicity and restraint – a yielding foil to the chilly, metallic beauty of Tim Mead's Judas.
Handel's interest in Judas is curiously limited. Instead he spends time and care drawing out the vacillating Peter, whose denial and subsequent self-loathing is much the more intriguing betrayal. One of a trio of fine tenors – Evangelist Robert Murray, Faithful Soul Nicky Spence (a Wagnerian fox in Handel's baroque henhouse – erupting first into thrilling rage before later floating tenderness on the very surface of his glorious beast of a voice) and Gwilym Bowen (pictured above) as Peter – Bowen's bright, agile voice emerged with new fragility, bringing out the brittle, impetuous quality of this disciple. The lonely despair of his "Nehmt mich mit, verzagte Scharen", its vocal line briefly abandoned by the orchestra, wrung the heart.
If there's a weakness to Handel's drama it's in the female commentary on the male action. Elizabeth Watts (pictured below) made much of the verbal drama of the Daughter of Zion, but even with its 16 arias and several extended, cantata-like episodes, the role still feels isolated – an official voice in a personal, human narrative. The same is true of the soprano Faithful Soul (sung here by Ruby Hughes, sounding a little out of sorts) and Mary (Rachel Lloyd) with her single aria.
Like so many of the soloists, the chorus are also underused, providing turba interjections and just a handful of dutiful chorales, but never quite stepping forward as Bach's do to speak for us all. The Choir of the AAM were as crisp as the band under Egarr's direction, with special mention for solos from leader Bojan Cicic and oboist Leo Duarte, whose new edition also enabled this project.
With a recording from the same forces shortly to be released and Duarte's edition as a jumping-off point, will further performances follow? I certainly hope so. Handel's Passion may not have the transcendent quality of Bach's, but it has an earthiness, an urgency to its telling that answers a different – no less important – need.