Boris Giltburg, Queen Elizabeth Hall |

reviews, news & interviews
Boris Giltburg, Queen Elizabeth Hall
Boris Giltburg, Queen Elizabeth Hall
Idiosyncratic depth in shadowlands Rachmaninov, Prokofiev and Ravel
Boris Giltburg: huge imaginative range
Among the diaspora of younger-generation Russian or Russian-trained pianists, there are at least four whose intellect and poetry match their technique. Three whose craft was honed at the Moscow or St Petersburg Conservatories – Yevgeny Sudbin, Alexander Melnikov and the inexplicably less well-feted Rustem Hayroudinoff – have made England their home.
Boris Giltburg - the youngest of the group with a fifth, Denis Kozhukhin, close on his heels - left Moscow for Tel Aviv when he was a child and has had a different training. Coltish and capricious at times, his imagination may yet turn out to be the most comprehensive, as a near-apocalyptic spectacular with two out of three encores lightening the mood with sheer effervescence, proved last night.
The last few minutes of Ravel's La Valse, though, are as unambiguously terrifying as anything in 20th century music
It's even tempting to go overboard and say that Giltburg's individuality matches the three major pianist-interpreters of their own music on the programme (Rachmaninov pictured below by Leonid Pasternak, Prokofiev and Gershwin; Ravel and Sibelius stand outside that charmed circle, but the transcription of La Valse sounded as if it could only have been written by a virtuoso). The sequence of Rachmaninov's ten Op. 23 Preludes was an awfully big adventure only partly in this world, beginning in veiled anxiety with two-note figures obsessing around a mid-range disquiet and ending with perfect peace.
Not only did Giltburg make sense of the psychologically satisfying contrasts between the composer's many facets of his own personality, moving without a pause from one to another; he also reflected Rachmaninov's wayward mastery in rounding off each pieces. And in terms of artistry – with lack of the usual pedal mashing on last chords almost incidental, but so satisfying – that's the sign of a great artist. If the poise of the D major idyll and the drama of the ensuing G minor cavalcade anchored the nervous disposition of the whole, it was the flight of the eighth prelude which truly dazed and deliciously confused this particular soul.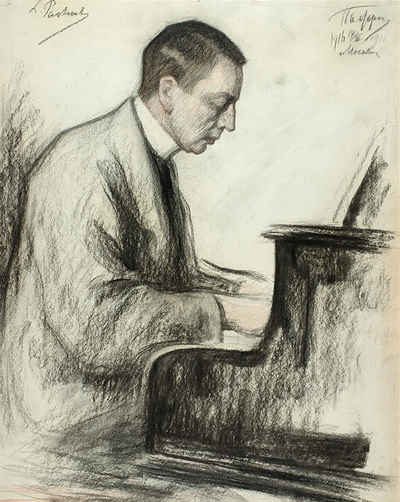 Only one thing slightly worried me and continued to do so in the second half – the lack of real brilliance in the right-hand treble. Was this Giltburg's own imbalance or a shortcoming of the otherwise rich, colour-friendly Fazioli piano on which he plays? Possibly neither; a colleague who wasn't writing up the concert told me that from his seat on the other side of the hall, the fault if any sounded like an over-brilliant top and a less distinct bass.
The last wasn't a problem for me in ferocious tramplings of troubled introspection of Prokofiev's Eighth Piano Sonata. Clarity of inner lines charted the – by the 1940s - sadder and wiser Prokofiev's rich interior life; the point in the opening Andante dolce where time freezes came as a voice from another planet. It was a shame, though, that Giltburg rushed another tolling figure in that first movement and the central juggernaut of the dazzling finale. I didn't buy the Ashkenazy quotation in Harriet Smith's programme note relating it all to the war, but the shattering conclusion tallied with hers: "Prokofiev's triumphant ricocheting coda is surely as mocking and emotionally ambiguous as anything to be found in Shostakovich".
The last few minutes of Ravel's La Valse, though, are as unambiguously terrifying as anything in 20th century music. On the way to the abyss, his third version of this dazzlingly-scored tone poem – "a painting of a ballet", as Diaghilev labelled it – sounded so Lisztian, with invented swirls including a whole-tone newcomer changing the perspectives of the orchestration we usually hear so radically, that I had to check whether or not Giltburg had added virtuoso touches of his own (update, contradicting the original report: he had). What a neat rejoinder to give another unfamiliar piano version as the first encore, a more chaste edition of Sibelius' Valse triste.
So in effect we had a chain of dances – minuet (Prokofiev's second movement), tarantella (his finale) and two waltzes. Giltburg then broke into a frenetic galop, the panicky flight of Red Riding-Hood from the Wolf in the sixth of Rachmaninov's Op. 39 Etudes-Tableaux – this pianist must give us the whole masterpiece next time – before relaxing into another transcription, his own at last, from Gershwin's fabulously insouciant four-hand piano roll version of "That Certain Feeling". Giltburg contorts himself into so many odd positions to get the sounds he wants – most alarmingly as a version of the Caterpillar as illustrated by Tenniel for Alice's Adventures in Wonderland, curved over the keyboard – that it was good to see him so upright, free and easy in another style he adopts to the Fox Trot manner born.
The point in Prokofiev's Eighth Sonata where time freezes came as a voice from another planet
rating
Explore topics
Share this article