BBC Proms: Bernstein - Mass
BBC Proms: Bernstein - Mass
A Proms first, and possibly last, for Bernstein's musical mash-up of a Mass-setting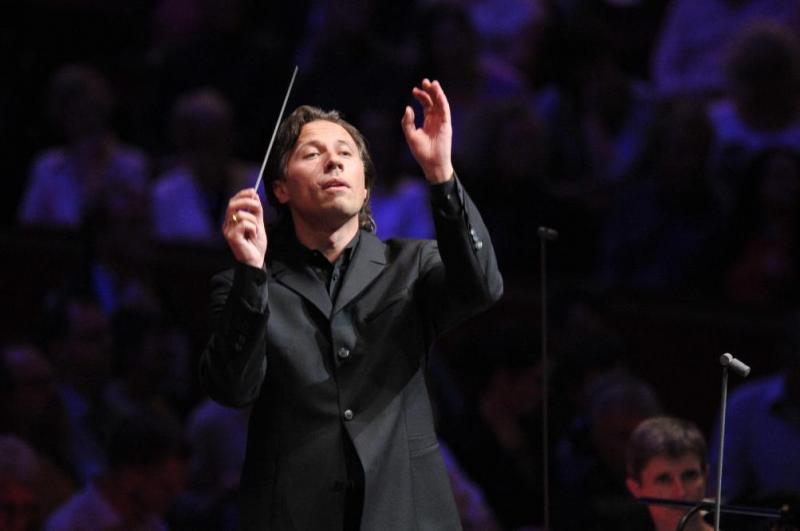 Kristjan Jarvi: instilling pace and direction into Bernstein's baggy score
Why so many empty seats at last night's Prom? Bringing together several choruses, a percussion-augmented orchestra, dancers, actors, rock-band and children's choir, Leonard Bernstein's Mass is surely a Proms dream – a genuinely eclectic work with something for just about everybody. But even as some 11 different Welsh ensembles sung, jived, clapped and shouted for our entertainment yesterday, there was no getting away from the issues with Bernstein's ageing, mongrel score.
Part oratorio, part music-theatre, part liturgical rite, Mass is an awkward work to assimilate, let alone stage. Unlike the choreographed pyrotechnics of My Fair Lady earlier this season, director Thomas Kiemle opted for a minimal approach in this, the piece's first full performance at the Proms. Only the Street People (students and alumni from the Welsh College of Music and Drama) with their bright clothes and highly characterised episodes, broke out of the choral ranks to groove and interact centre-stage (pictured below).
It's hard to find the composer of West Side Story among the self-consciously modish posturings of Mass
These young singers – most appearing as soloists – were astonishingly good. Even with amplification the Royal Albert Hall is a beast of a venue for voices still (or recently) in training, but these distinctive and assured performers tackled everything from contemporary classical episodes, Gospel (Ronald Samm's rousing Preacher was a stand-out), rock and music-theatre to give Mass the authentic stylistic heterogeneity it so desperately wants.
The work's narrative sees the Celebrant (a baritone soloist, sung here by Morten Frank Larsen) and his obedient congregations abandon the simplicity of true faith (the sub-pop "Simple Song" opener) in their ever more convoluted worship. Things reach a head somewhere around the Agnus Dei, when the Celebrant's authority subsides into a mad scene of fragmented doubt and even more fragmented musical ideas.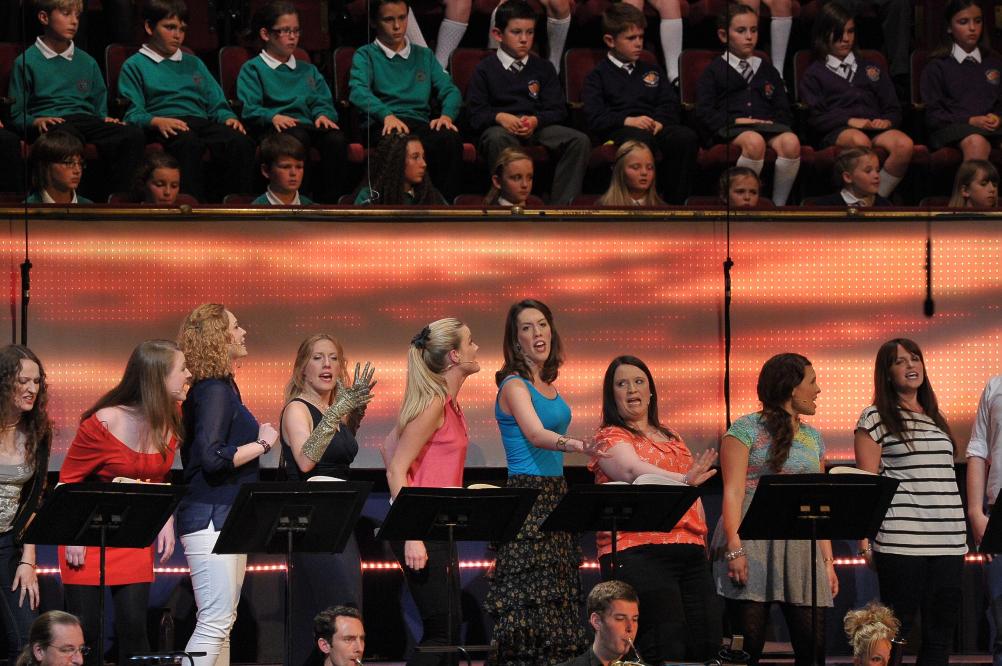 A pastiche of modernist operas (and a poor one at that) this protracted section unbalances an already overloaded work till recovery is pretty much impossible. It's hard to find the charming, inventive composer of West Side Story among the self-consciously modish posturings of Mass. Just as a big riff gets into its stride, or a solo song begins to tickle the imagination we are thrust onwards into something else, something new, something different. Even in a hall that can take the sheer volume and impact of the forces it all gets a bit wearing, like being shouted at by the cast of a United Colours of Benetton advertisement for two hours.
By no stretch of the imagination is Larsen's Celebrant the "young man of mysterious simplicity" the composer had in mind. His is a voice with plenty of character at the bottom, bringing a certain weary gravitas to bear, but struggling painfully at the top. If the psychological collapse and rebuilding is to be convincing the Celebrant needs to move from absolute vocal strength to faltering; when he starts with gripped and raspy top notes it rather undermines Bernstein's spiritual journey.
There's also a distinct lack of swagger to Larsen, who turns blue notes into rococo pastels and turns Mass into a much more classical work than it actually is. I can't have been the only one wishing that Jubilant Sykes (arguably the best living exponent of the role) and Larsen had swapped concerts, giving Larsen Tippett's more formal A Child of Our Time last week.
Who better to conduct this rhythmic sway-fest than Kristjan Jarvi. Keeping not only his forces but his own exuberance under control, he did his to invest even Bernstein's baggiest moments with direction. The young members of choirs and the orchestra (a composite of the BBC National Orchestra of Wales and the National Youth Orchestra of Wales) responded adroitly to his pacing, and brought all the freshness Bernstein surely had in mind when conceiving his forces.
I'm not sure I'll be campaigning for a follow-up performance any time soon, but Mass is a work that was made for a Proms airing. The space, the mood, the spirit of the festival chimes perfectly with Bernstein's vision, even if his music doesn't quite keep up.
It all gets a bit wearing,like being shouted at by the cast of a United Colours of Benetton advertisement for two hours
Explore topics
Share this article