Melzer, Albion Quartet, Birmingham Town Hall review - songs without words
Melzer, Albion Quartet, Birmingham Town Hall review - songs without words
A quartet recital for a new century, if only we knew what it said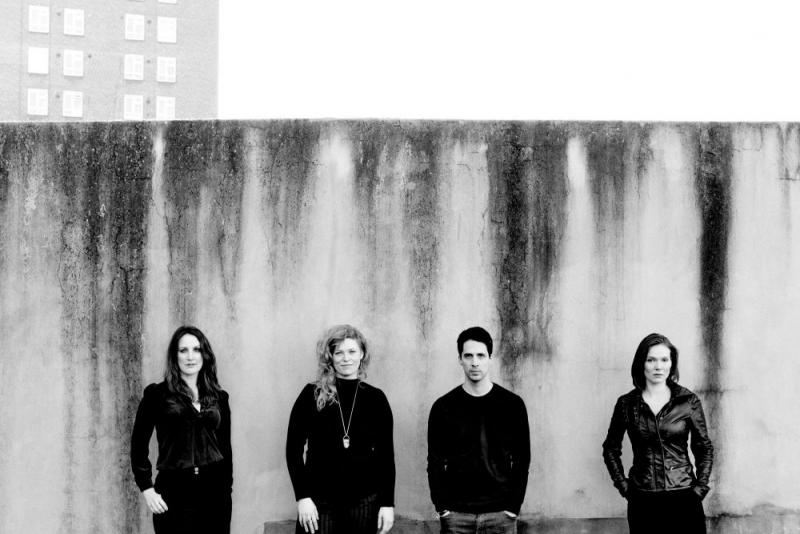 The Albion Quartet: doing their own thing
This was a fascinating, unexpected prospect; instantly appealing to anyone who's ever wondered about the string quartet's niche in the 21st-century musical ecosystem.
Two practically new song cycles for soprano and quartet – Kate Whitley's
Charlotte Mew Songs
(2017, but extended earlier this year) and Kate Soper's
Nadja
(2015) - framed the Third Quartet (1938) by Elizabeth Maconchy. The performers, the Albion Quartet, have already won something of a reputation for doing things differently. A relatively new ensemble, formed in 2016, they're led by Tamsin Waley-Cohen, one of an growing number of outstanding young soloists who clearly feel that chamber music offers them a different kind of creative fulfilment.
In short, it was the kind of evening that concert promoters call "brave", and I counted fewer than 50 audience members dotted about the 1100-seat Birmingham Town Hall. No matter: quality over quantity, and all that. But having earned all that Class A karma, the promoters promptly holed the evening under the waterline by omitting to provide either surtitles or printed texts for the songs - even though most of the authors were out of copyright, and there was ample space in the programme book. A minor detail? Sadly, no: with a classical singer, even one who articulates as clearly as Caroline Melzer (pictured below) did tonight, you can expect to lose a good third of the text, and usually more. So unless we're going to treat the poetry as a disposable extra in a sort of vocal concerto, the words need to be made available. Alternatively, concert promoters should refund half of the ticket price: after all, they've deprived their audience of half of the work. For now, and with sincere regrets to the performers, it reduced the overall experience from a four-star to a three-star occasion.
The loss was most acute in the Charlotte Mew Songs – a work that lives by the tension between literal meaning and poetic atmosphere, and deploys its musical resources with powerful economy. In the opening Sea Love, Ann Beilby's unaccompanied viola sketched an airy seascape whose horizons would have been familiar to Britten. The gales of Vaughan Williams's Wenlock Edge blow through the ruthless ensemble swirls of The Farmer's Bride, while pizzicato figures pattered like raindrops across Absence, the fifth of the six songs. Whitley's use of silence is reminiscent of Judith Weir, though the sense of command, and the air of quiet menace in the sparser passages is all her own; as is the deceptively sophisticated way in which she places the vocal line on top of, or amid, these deftly-etched images. Melzer's tone was as luminous and expressive as the quartet's; her response to the text (as far as I could tell) nuanced and alert. I'd like to have said more.
Hoping for greater audibility, I moved to the centre of an empty row for Nadja: but here, perhaps, the meanings of individual words genuinely did matter less. There's an extraordinary verbal cadenza near the end where the quartet break into a babble of overlapping speech while Melzer soars above them: impossible to argue, at this point, that meaning trumps sonority. The opening song – from Sappho by way of Tennyson – begins with surging polytonal cascades of string sound and long, oscillating vocal melismas, gradually blossoming into Straussian swoops of ecstasy.
The second of the three songs evokes Ovid's Echo and Narcissus; the finale comes from André Breton; and Soper makes both these worlds bristle with sonic colour. Melzer whispered, whistled, clapped her hand to her mouth and drawled in sprechgesang; the Albions matched her gesture for gesture, in glinting, iridescent harmonics and scrunchy sul ponticello. This was real vocal chamber music, with Melzer leaning towards her colleagues, or artfully merging her voice with Nathaniel Boyd's cello before peeling away in microtones: an effect that sweetened, rather than soured, the prevailing atmosphere of kaleidoscopic sensuality. Still, it would have been nice to have read the words that underpinned such vivid musical imagery.
Having played with superb refinement in the vocal works, the Albions delivered Maconchy's taut single-movement quartet with a lyricism and verve that bordered on the insouciant. But why shouldn't a work as knotty as this (think Bartók meets Walton) sound beautiful? The four players moved together, thought together, and – taking their lead from Waley-Cohen's lightly worn virtuosity and gloriously smoky sound – locked onto Maconchy's overcast textures and rhythmic impulse with an ease that made it all feel inevitable. And over far too quickly, too: though if there's one thing that this concert proved, it's that the Albion Quartet sees chamber music as something infinitely more interesting than an end in itself.
the Albion Quartet sees chamber music as something infinitely more interesting than an end in itself
rating
Explore topics
Share this article