The Rosenkavalier film, OAE, Paterson, QEH review - silent-era muddle expertly accompanied |

reviews, news & interviews
The Rosenkavalier film, OAE, Paterson, QEH review - silent-era muddle expertly accompanied
The Rosenkavalier film, OAE, Paterson, QEH review - silent-era muddle expertly accompanied
Superb salon-orchestra playing redeems Strauss's lazy work on a meandering silent film
Rosenkavalier rewritten: the Feldmarschall (Paul Hartmann) restrained by his wife (Huguette Duflos) while Sophie (Elly Felicie Berger) and Octavian (Jaque Catelain) look on
Let's face it, Robert "Cabinet of Dr Caligari" Wiene's 1926 film loosely based on Strauss and Hofmannsthal's 1911 "comedy for music" is a mostly inartistic ramble. Historically, though, it proves fascinating. The composer mostly left it to Otto Singer and Carl Alwin to cut and paste large chunks of his opera, adding four old pieces and one new one - a major contribution to the art of through-composed scoring for silent film (Shostakovich's wholly original New Babylon music came three years later). Strauss's "house poet" saw the chance to shed new light on fascinating characters and to encourage a wider audience to go and see the opera, but was eventually sidelined as lesser talents took over, a familiar story in the world of cinema. The decor was by Alfred Roller, who designed the opera's premiere production.
This is the first time most of us will have witnessed the film accompanied live by 14 players in the salon arrangement, though sound and vision have long been available: the film on a DVD, not widely distributed, of the print used last night issued by Film Archiv Austria with the full Staatskapelle Dresden conducted by Frank Strobel, and the salon version, with a slightly different combination of instruments than the one assembled here by artistic director Thomas Kemp, as recorded by ensemble 13 baden-baden under Manfred Reichert (Strauss the conductor's 1926 selection from the opera is essentially a suite of operatic excerpts, though using an augmented version of the Tivoli Orchestra he had conducted for a London screening). I and other critics well remember holding up intertitles for a Crusaid event, also in the Queen Elizabeth Hall, in the early 1990s.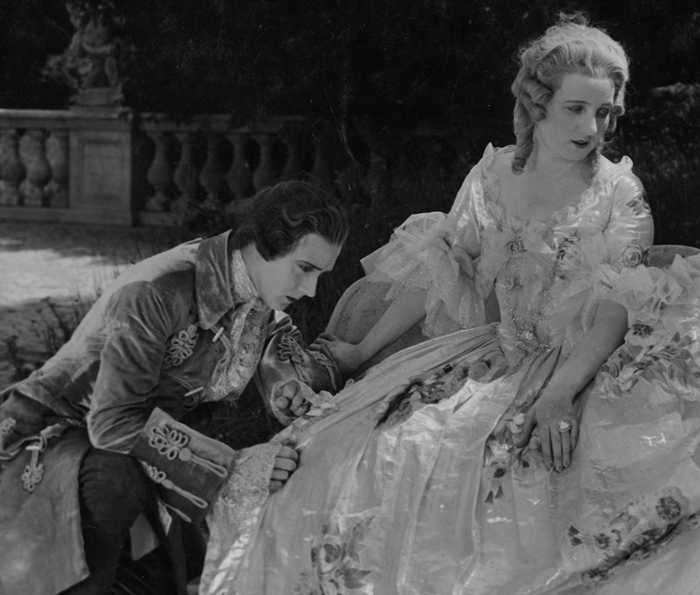 The main point here, though, is that the Orchestra of the Age of Enlightenment worked their socks off for more than two hours in high style, perfectly synchronised in the vivacious conducting of Geoffrey Paterson. The pace, of course, tells us much about how briskly Strauss expected the score of Der Rosenkavalier to be taken. You couldn't grumble too much that little of the music other than the Presentation of the Rose fitted the purpose for which it was originally composed when there was such expressive beauty, not least from violinists Colin Scobie and Dominika Feher in such perfect accord.
The pleasure taken in sound and spirit mitigated so many odd mismatches on Strauss's part: the Marschallin's black page boy never gets the "right" music, though he does appear, while the dialogue between Octavian and Sophie before the celebrated trio, luminously chamber-orchestrated here, serves an unlikely scene where the Count is still snogging the Marschallin even though he's pledged to Sophie (scene pictured above), to name but two examples.
Wiene's faltering pace and jumping around different Viennese venues - good to see, of course - is mitigated by some fine if broad-brushstroked acting on screen. The master is the comic-relief Baron Ochs of Michael Bohnen, who actually sang the role and whose eyebrow-waggling puts one in mind of a plump Spike Milligan. Our introduction to him on his run-down country estate includes a witty introduction of his favourite waltz on a hurdy-gurdy (harmonium on stage). Taking a good lesson in comedy is Jaque Catelain as Octavian - yes, a young man rather than a mezzo, which actually makes the comedy of cross-dressing as maid Mariandel (Catelain pictured below with Bohnen) rather funny.
Least well served by the film version is the Marschallin, shorn of her wider meditations on the passing of time; all Huguette Duflos has to do is be permanently on the point of fainting. Her husband the Feldmarschall, absent in the opera, gets a big part in the handsome personage of Paul Hartmann, though that entails a pointless battle scene for which Wiene must have blown a huge budget on a superfluous few minutes.
There are some witty Hogarthian touches - the Commission for Morality, for instance, a cluster of wigs - and though the eighth reel is missing, the 2006 reconstruction made it possible for the extant music to be played with some visual hints, and allows the last three minutes of the opera its head.
It was generous of the OAE to give us a bonus - the four early songs Strauss composed as a wedding present for Pauline de Ahna, plus - odd idea - the Presentation of the Rose as Music Minus One, with Sophie's part but not Octavian's. Could they not have brought in a promising mezzo from one of the London colleges?
No matter when Charlotte Beament (pictured right) made such radiant sense of it all, soaring above inappropriately crude chamber arrangements of the songs' orchestral writing by Arnold Wilke (really, a piano and timpani at the start of "Ruhe, meine Seele"? Doubled lines for the violin solo of "Morgen"?) Here is yet another world-class lyric soprano from the British stable, following close on the heels of Louise Alder, whose Sophie I'll be seeing in the revival of Richard Jones's Glyndebourne Rosenkavalier on Sunday. As an interesting parergon or side work last night's oddity certainly whetted the appetite for the real thing. And let's not forget the appropriateness of the glib happy ending, in contrast to the opera, for this weekend: the Prince and Princess live happily ever after, and even the scandalmonger/paparazza finds a mate to join in the fun.
The eyebrow-waggling of Michael Bohnen's Ochs puts one in mind of a plump Spike Milligan
rating
Explore topics
Share this article
Subscribe to theartsdesk.com
Thank you for continuing to read our work on theartsdesk.com. For unlimited access to every article in its entirety, including our archive of more than 10,000 pieces, we're asking for £3.95 per month or £30 per year. We feel it's a very good deal, and hope you do too.
To take an annual subscription now simply click here.
And if you're looking for that extra gift for a friend or family member, why not treat them to a theartsdesk.com gift subscription?