Barbara Kingsolver: Unsheltered review - too many issues |

reviews, news & interviews
Barbara Kingsolver: Unsheltered review - too many issues
Barbara Kingsolver: Unsheltered review - too many issues
Two families, two eras, and the failure of the American Dream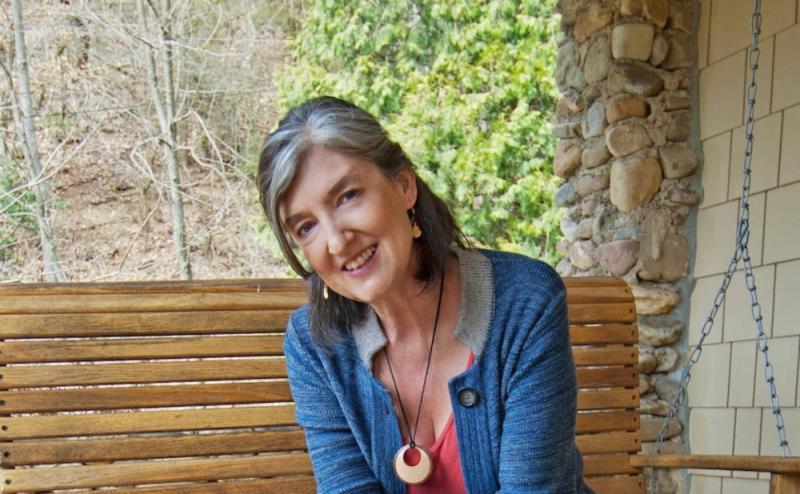 Barbara Kingsolver: at home on her farm in southwestern Virginia
"When men fear the loss of what they know, they will follow any tyrant who promises to restore the old order." Mary Treat, the real-life 19th-century botanist who is one of the characters in Barbara Kingsolver's eighth novel, could be talking about modern America. In fact she's referring to the reluctance of the American public to accept Darwin's evolutionary theories in the 1870s.
It's also a time, post Civil War, when the country is ruptured and "its wounds lie open and ugly". But does that mean we can compare that era with our own?
Unsheltered is set in Vineland, an actual New Jersey town that was founded as a utopian, alcohol-free community in the 1860s by a dodgy property developer (and later murderer) called Charles Landis. It is centred round two parallel families, one 19th-century and one present-day, who are living in the same crumbling house, falling apart because it was built without a solid foundation. The centre cannot hold. Like the American Dream.
Sounds promising, perhaps, but the problem is that Unsheltered toys with too many issues – climate change, populism, waste, student loans, the survival of the fittest, the decline of print media – and doesn't give any of them enough air. And sadly none of its characters are interesting enough to breathe life into the whole. This isn't helped by the novel's structure of alternating chapters - in one we're in 2016, in the next we're in the 1870s – and neither storyline is given a chance to thrive. It's not even clear why the two have been placed side by side.
This is odd, because Kingsolver is usually good at conveying a political message and keeping things lively at the same time: in her last novel, Flight Behaviour, global warming and the plight of the monarch butterfly are juxtaposed with a brilliantly observed Appalachian community and an independent-spirited heroine. The Lacuna brought McCarthyism and the Mexican revolution to life, and her ground-breaking saga The Poisonwood Bible dealt with the America's role in the Congo in 1960s as told through the believable voices of five women.
The women – and men - in Unsheltered seem half-formed and their relationships sentimentalised and clichéd, especially the modern ones. There's Willa, a journalist whose magazine folded, though it's never clear what sort of magazine it was or her exact role on it, who is married to Iano, a sexy, funny (or so we're told, rather than shown) Greek-American prof of political science and one-time Cat Stevens lookalike who has been forced to take a non-tenured, temporary job after his college in Virginia went broke.
Hence the move to Vineland and the inherited house – huge, brick, outwardly substantial but with daylight showing through the cracks (you'd think Willa and Iano might have noticed before they took it on) which is fit only to be torn down. For a time, and here the two threads are joined, though not very successfully, Willa thinks the house may have been Mary Treat's, and she hopes to get a historic registry grant to rebuild it. And in this new normal of hurricane and flood, the house is even less equipped to provide shelter.
Willa and Iano's adult children have landed back home – Tig, short for Antigone, dreadlocked, woke, just back from Cuba and fired up by its culture of make-do and mend, and Zeke, her opposite, a high-achieving Harvard business-school grad who's working as an intern and looking for an investment start-up opportunity. He can't afford to go on a company pay-roll because that would mean he'd have to start paying back his crippling student loans. And his partner Helene has just killed herself. On top of that, there's Iano's disabled, racist, Trump-supporting father to be taken care of (mainly by the resourceful Tig, who knows the days of old white men are numbered and so can afford to be nice to him), plus Zeke's motherless baby. Even the dog is on her last legs. All the old certainties are crumbling, like the house. It's hammered home: our kids can no longer expect to do better than us. And yes, we've heard it before: a mother can be only as happy as her unhappiest child. Willa stockpiles tranquillisers in order to maintain a composed façade to present to Iano. Now there's an interesting plot-line, but Kingsolver doesn't follow it through, and their creepily chirpy marriage never manages to sound real.
Adapt and survive seems to be the message. 'Unsheltered' could have done with a bit more of that Darwinian clarity itself
In the 19th-century thread, Thatcher Greenwood, an enlightened Darwinist biology teacher, battles unsuccessfully with his Creationist headmaster. Vineland isn't ready for evolutionary truths. His marriage to his vain wife Rose is doomed, his house is falling apart (yes, even then) and his friendship with kindred spirit Mary Treat is his only solace. Here too the characters fail to come alive and the language is coy and clunky."I felt so bloated with envy I couldn't have drowned in a well," Greenwood tells Treat after she shows him a letter from Darwin. And Treat's real investigations into carnivorous plants and the mysterious fern Schizaea pusilla, which only grows in certain areas of the Pine Barrens, seem more of an exercise in efficient research than anything else.
The best scene, where you catch a glimpse of the book that got away, is in the doctor's office where Willa is attempting to get her father-in-law Nick on to the family health-insurance plan. It's taken her two months to find a doctor to see him, she's waited three weeks for an apppintment, and now they want her to take him home "to fill up his shoes with blood" because she doesn't have the right plan? Kingsolver captures the nightmarish bureaucracy and the robotic receptionists, with their arresting manicures, to perfection. "If he had the Medigap plan plus part A, B and D or maybe the Medicare Advantage plan, I'm still not sure about your family HMO as his supplemental." It turns out that Obamacare – anathema to "Make America Great Again" Nick - is the only affordable option.
In the end, it's hard to care much about the fate of Iano and Willa's house. The far-sighted but sanctimonious Tig, who teaches tai chi to her garage-mechanic Puerto Rican friends next door – "Those beautiful children seemed capable of generating contentment from the air," observes Willa, in one of her mawkish moments – and who grasps the severity of the mess the planet is in, has the last word. (She deserves it, as she's the only one who can work out how to fill in the Medicaid forms. She also takes charge of the baby.) "Poor Mama. I know it feels like the end of the world when you can't have the things you always wanted…But it's okay, because without all that crap overhead, you're standing in the daylight. What you have to do is look for blue sky." Adapt and survive seems to be the message. Unsheltered could have done with a bit more of that Darwinian clarity itself.