theartsdesk in Moscow: Nikolai Ge at the Tretyakov Gallery |

reviews, news & interviews
theartsdesk in Moscow: Nikolai Ge at the Tretyakov Gallery
theartsdesk in Moscow: Nikolai Ge at the Tretyakov Gallery
Landmark show of Russian artist reveals powerful religious element to his late work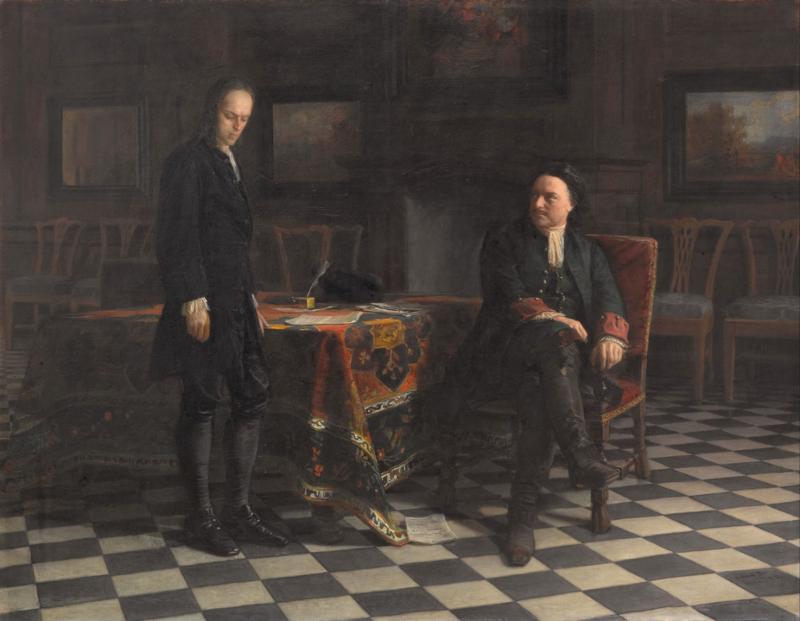 Nikolai Ge's 'Peter the Great Interrogating Tsarevich Alexei at Peterhof' (1871)
The Nikolai Ge retrospective at Moscow's Tretyakov Gallery marks the 180th anniversary of the artist's birth – not the kind of round centenary or bicentenary landmark that often brings such projects to fruition. But the show is literally a revelation – at its centre are the religious works from the last years of his life, many of which returned only this year to Russia from abroad.
A series of pencil drawings based on the Crucifixion show the artist working in a style that seems astonishingly ahead of his time.
The last time I visited these exhibition halls, part of the Tretyakov's "new" building on the embankment of the Moscow River (architecturally, it has to be said, not one of the greatest museum constructions in the world) was for a show of Ge's contemporary Isaac Levitan, the master of 19th-century Russian landscape painting. One of that show's features, highlighted by its curators, was the remarkable empathy between the worlds of the painter Levitan and his close friend Anton Chekhov, with whose short stories Levitan's apparent "slightness" of touch seemed to resonate. One of the remarkable and rarer pairings, I thought, between artist and writer, whose worlds overlapped not only through friendship, but through something deeply stylistic in their work.
Before the religious work, Ge had done little that really made him stand out from his contemporaries
That precedent has repeated itself now, so I am more than ready to eat my words. At the centre of the Ge exhibition is his spiritual affinity with Leo Tolstoy, with whom he became deeply close in the last decade or so of his life, and whose work he illustrated for book publication (though much of the works concerned, principally on Bible subjects, were censored and never published). It says much about the climate of the 1880s-90s in Russia that Ge's major late pictures, most notably his versions of The Crucifixion, were also effectively "censored" – withdrawn from exhibition on the instruction of Russia's procurator-general (whose relation to Tolstoy was equally confrontational), and consigned to effective oblivion and eventual exile.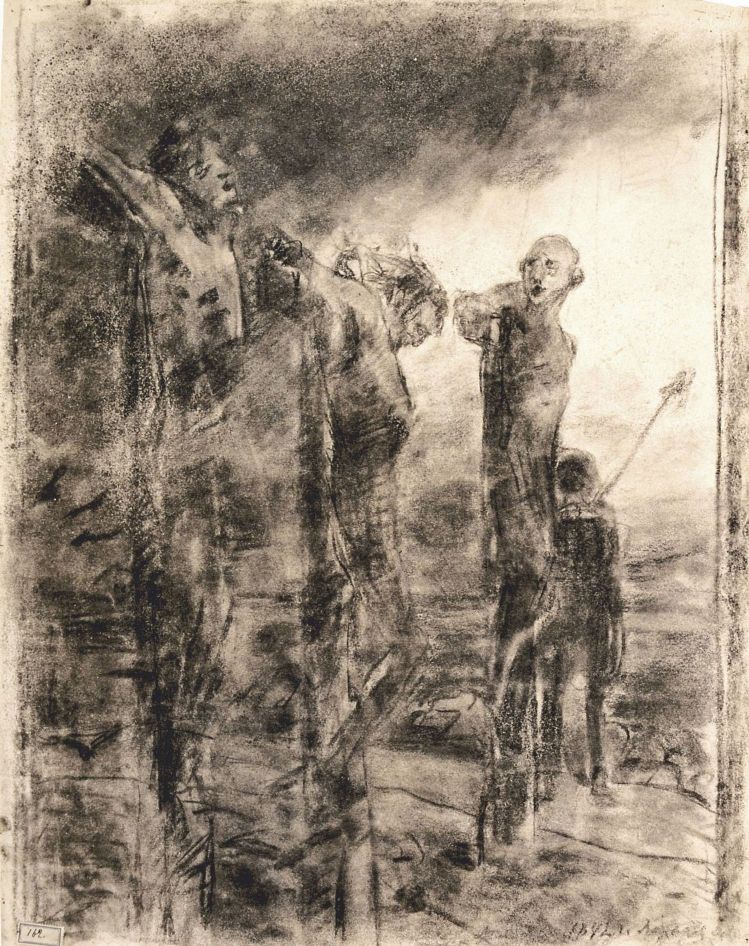 Out of a large series of pencil sketches for The Crucifixion (among the most powerful of them pictured right) came two full-size oil works – one of which arrived in Moscow from the Musée d'Orsay in Paris, while the other remains lost. There's an artistic sensibility here that marks Ge out as a figure who looks at least two decades ahead of his time. Much recalls the Expressionists. I was reminded, too, for the spareness of their line, and visceral emotional simplicity, of Henri Matisse's sketches for the chapel he decorated in Vence.
Before the religious work, Ge had done little that really made him stand out from his contemporaries: he was an artist who both followed and simultaneously created the artistic standards of his time. His formal training at St Petersburg's Imperial Academy of Arts was acknowledged as distinguished by that body, resulting in a stipend for further study and work in Europe, in Ge's case predominantly Italy (again, a standard path which he shared with many of his contemporaries). He moved to Rome in 1857, and would spend the next 13 years of his career largely in Italy – his works from there, mainly seascapes and landscapes, have considerable charm. Like many of his fellow Russian artists he loved the light of the South - but little looks especially original.
Back in St Petersburg from 1870, Ge was an initiator of the "Wanderers" movement of artists, the Peredvizhniki, or literally the "Society for Travelling Art Exhibitions", the defining force of the period that reacted against conservative Academy trends. It also moved the model of patronage away from commissioned work, particularly portraiture. Travelling exhibitions around Russia brought in both new clients and income. Ge painted his share of historical subjects, like Peter the Great Interrogating Tsarevich Alexei at Peterhof (main image, above), from 1871 (it would become iconic in Soviet textbooks), and was as distinguished a portraitist as any of his contemporaries. Pavel Tretyakov, the merchant whose collection was the foundation of the main Russian art gallery, started by commissioning portraits of the notable figures of his age – and beards there are aplenty to be seen in Ge's portraits, his sitters predominantly male.
But some sense of disillusion set in, which saw the artist moving his family to a small, rural estate in what is now Ukraine. Then he renewed his contact with Tolstoy (the two had met in Italy), and his diary account expresses the extent of the change in his life:
In 1882 a word of the great writer LN Tolstoy, "On the Moscow Census", happened to fall into my hand. I read it in a newspaper. In it I found words precious to me. Tolstoy, visiting cellars and finding wretched people in them, writes: "Our lack of love for the lowest is the cause of their wretched condition."
As a spark kindles inflammable material so that word set me aflame…
I went to Moscow to embrace that great man and work for him.
I arrived: bought canvas and paints, and drove to his house… I saw him, embraced him, and kissed him. "Leo Nikolaevich, I have come to do anything you like. Shall I paint your daughter?" – "No, in that case, better paint my wife." I did so. But from that moment I understood all. I loved that man unboundedly, he had revealed everything to me. I could now name what I had loved all my life – he had named it for me, and above all, we loved the same thing. For a month I saw him every day.
It's testimony to the profound bond that developed between the two, both increasingly out of tune with their times (there's a lovely painting Reading a Manuscript (Tolstoy and Ge) from 1893 by Leonid Pasternak (pictured right, above), himself an illustrator of Tolstoy's work, that shows something of the close atmosphere the two enjoyed, often at Tolstoy's estate home at Yasnaya Polyana). The Moscow exhibition showed studies for Ge's illustration to Tolstoy's condensed version of the four gospels that was refused publication by the censors. In 1890 Ge's "What is Truth?" Christ and Pilate was prohibited from exhibition (pictured above, left). How mild it looks today! Similar bans extended to his final work, including the two versions of The Crucifixion. A photograph survives of the artist in his studio posing on the cross for the painting (pictured below), that certainly shows he had a more than Tolstoyan devotion to his profession.
Like Tolstoy, Ge was clearly an uncompromising figure, though one who was devoted to any who came to him for a pupil-like relation. Even Tretyakov himself was sometimes a reluctant believer in Ge, often acquiring works only on the urgent recommendation of Tolstoy (with whom Tretyakov was also on friendly terms). The artist died in 1894, and posthumous donations of a considerable part of Ge's work offered by his son (also Nikolai) met with mixed reception, meaning that they were displayed for a while only when covered by drapes (allowing only those viewers who chose to see them to raise the covers). Eventually the younger Ge departed Russia for Switzerland, taking many of the drawings and paintings that had been temporarily entrusted to Tretyakov's gallery, but never exhibited there, with him.
While the son continued to do his best for his father's legacy, organising major European exhibitions in 1903, and publishing a full monograph, his own life was precarious. The works ended up on exhibition in the Swiss chateau of a friend and patron until the artist's son's death in 1938 (the surviving version of The Crucifixion was presented to a local church where a family member had been buried, before eventually moving to the Musée d'Orsay). When Ge the Younger's patron herself died in the 1950s, the works went to auction, and were acquired by a Swiss publishing house. Subsequently offered to the Soviet ministry of culture, the response was underwhelming – a collection of letters between Ge and Tolstoy were purchased, but there was no interest in the artworks, which subsequently ended up, somehow, at a Swiss flea market. There they were acquired by a young collector, Christoph Bolman, in the 1970s: he had no idea of their origin, simply recognising their value. Only some 15 years later, when he was visited during perestroika by Soviet acquaintances, did the attribution become clear. Negotiations for their acquisition and return to Russia – as a full collection, rather than sold off in parts – failed repeatedly during the 1990s. They were only concluded this year after the Tretyakov Gallery was able to arrange sponsorship from a Russian state bank to purchase them for donation to the gallery's permanent collection.
Tolstoy himself wrote: "True masterpieces, those that humankind needs, such as Ge's pictures, do not perish but win recognition following their own course." Neither Nikolai Ge, nor indeed Leo Tolstoy, were officially popular, neither in their own times, nor in the Soviet period – both figures whose personal convictions made them at least opponents, if not outright enemies, of the prevailing authorities. We can only speculate on where they would stand in Russia today. Which makes the fact that Ge's fullest ever retrospective in Moscow is happening now remarkable – for more than just artistic reasons.
Nikolai Ge at the Tretyakov Gallery, Moscow until 5 February, 2012
The show is literally a revelation – at its centre are the religious works from the last years of Ge's life, many of which returned only this year to Russia from abroad
Share this article