Richard Serra, Gagosian Gallery |

reviews, news & interviews
Richard Serra, Gagosian Gallery
Richard Serra, Gagosian Gallery
Hardly ever has a heavyweight operated with so light a hand
Saturday, 18 October 2014
Richard Serra, Backdoor Pipeline: light gleams at either end, yet nothing is steady
The septuagenarian American sculptor Richard Serra can treat the most massive sheets of steel as though they are handy pieces of paper for his version of origami; or he can decide to stack huge dense metal blocks as though they were children's play bricks.
He can playfully balance huge slabs of steel held just so by a perfectly judged tension, and he almost persuades us that one huffing breath might bring the whole thing down, particularly so in
London Cross,
which is just what it says it is: two huge elevated steel planks crossing each other at an oblique angle in a specially constructed gallery. There is no visible support: the walls hold the slices of steel in equilibrium. But there is an exciting whiff of danger in the apprehension that there is apparently nothing holding these great slabs in the air. What if?
His work is – as always – tense, frightening, alluring and tempting. Dare we walk through the rather startlingly sensuous Backdoor Pipeline (main picture), a freestanding steel tunnel, 50ft long, its walls billowing outwards? Light gleams at either end, yet nothing is steady; shadows fall and light changes, too, depending on where we are during our little ramble through.
Backdoor Pipeline is the oldest sculpture (2010) in the exhibition, left out for the steel to weather for several years before the work was thought to be completed. The weathering produces an extraordinary variety of tone – browns and reds in uneven ripples, and seductive textures, too. There is an intermittent accompanying roar in the gallery, oddly appropriate, the vibrations coming from the underground trains passing close by. It is a piece of atmospheric serendipity.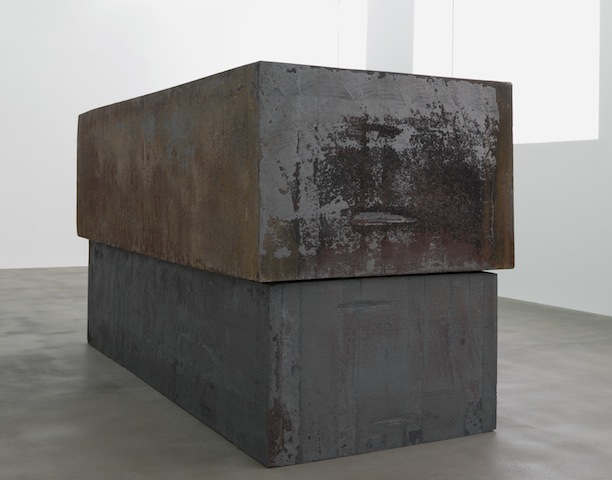 Dead Load (pictured left) is just that: one enormous solid rectangle of weathered steel atop another. But a sinuous unease is caused by the fact that unexpectedly, the upper rectangle is bigger than the lower, a frisson of something not quite right. It is an unbalanced balance. And Ramble is almost a punning joke: an irregular grouping of two dozen horizontal slabs of metal, ranged in asymmetrical rows, and seemingly each steel slice of varying height and width. The piece offers no straight way through, but varied choice as the best way to proceed: looking at it passively, walking around it, walking through the twists and turns of the varying passageways Ramble provides. The piece reminds us that the best art gives us choices, does not impose but suggests.
Gagosian's big gallery near King's Cross is an appropriate receptacle for these imposing pieces; the technical problem of just installing these unbelievably heavy works of industrial steel must be prodigious, and is part of the challenge Serra's work always presents. Yet hardly ever has a heavyweight operated with so light a hand.
The piece reminds us that the best art gives us choices, does not impose but suggests
Explore topics
Share this article