Paul McCarthy: The King, The Island, The Train, The House, The Ship, Hauser & Wirth |

reviews, news & interviews
Paul McCarthy: The King, The Island, The Train, The House, The Ship, Hauser & Wirth
Paul McCarthy: The King, The Island, The Train, The House, The Ship, Hauser & Wirth
From chainsaw violence to sex with sows, is this West Coast artist funny or flagrantly vile?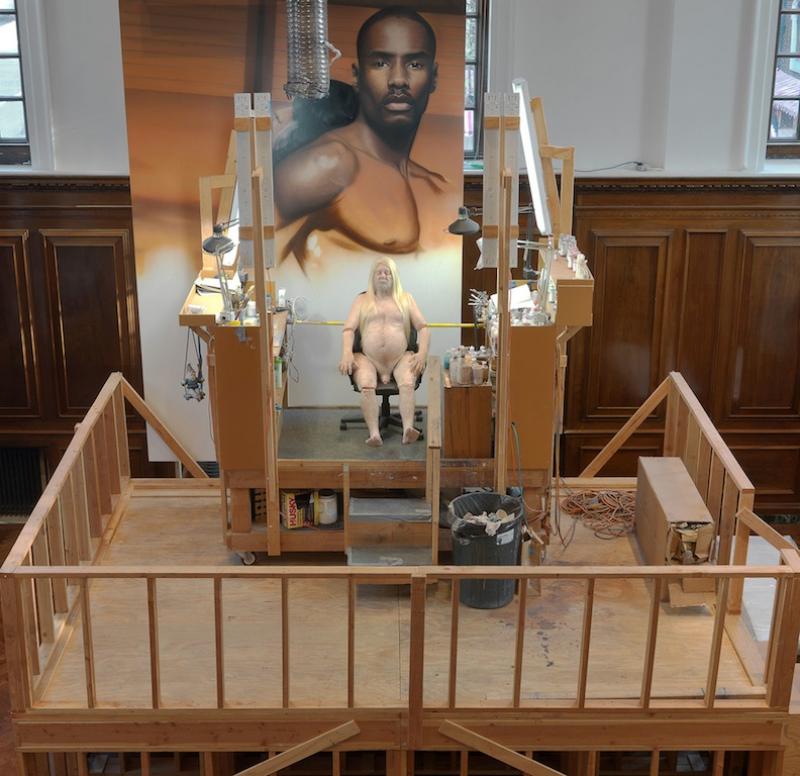 Seated on a throne, Paul McCarthy's 'The King' (detail) invites admiration but induces disgust
Until recently, on YouTube, you could watch Paul McCarthy and Mike Kelley's Heidi (1992), one of the funniest and most transgressive videos ever made. In a Swiss chalet, the children Heidi and Peter are being "educated" by their abusive grandfather, who freely indulges his propensity for bestiality, incest, onanism and scopophilia.
Played out with the help of masks, inflatable dolls and numerous props, life in this dysfunctional family reveals both childhood innocence and parental responsibility to be a myth. Recently, though, even a cleaned-up version of this black comedy has been deemed too offensive for public view and removed from the site. Despite such censorship, though, Paul McCarthy's current exhibitions pull no punches.
Hauser & Wirth's gallery in Piccadilly has been turned into a church. Rows of pews face an elevated throne where the West Coast artist sits holding court; or, rather, a rubber facsimile of his naked self sits on a crummy office chair surrounded by pots of paint – the artist as guru. It is not a pretty sight; his middle-aged paunch protrudes over distended testacles, his face is pock-marked and he wears a long blond wig better suited to Gandalf or the Wizard of Oz than the leader of a religious cult.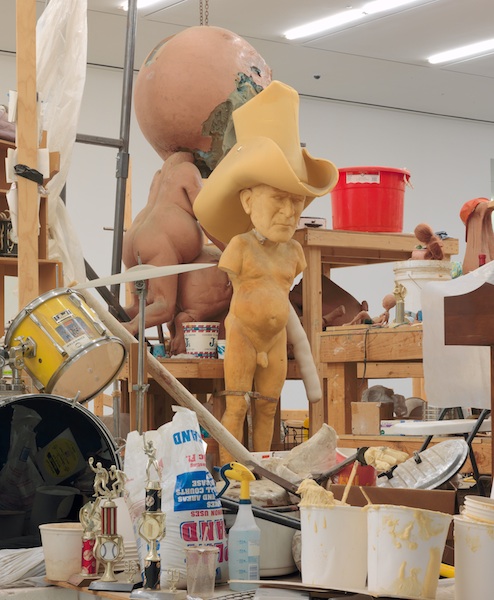 Although presiding over an imaginary flock, the figure does not return our gaze; eyes tight shut, he seems in a trance. Perhaps he is channelling the pictures of chiselled dudes and beautiful babes hung on the surrounding walls. Culled from adverts and glossy magazines, they exemplify the good life that we are meant to aspire to; airbrushed onto large canvases, the images are as slick and blandly desirable as a Jeff Koons. Has McCarthy, purveyor of all things abject and disgusting, flipped over to join the opposite camp – of artists in the business of making seductive commodities?
Down in the vaults, all becomes clear. Projected onto one wall is a rapid-fire succession of adverts promoting drinks, cars and cigarettes; collectively they build a picture of the American Dream as lived by bikini-clad lovelies and hip young hunks who enjoy perfect health in perpetual sunshine. This relentless bombardment of youthful wellbeing is enough to make anyone feel old, fat, ugly or unfulfilled and impel you to reach for any product promising release from your evident failings. The motor that drives capitalism is not desire so much as self-loathing – fear of falling short of the ideal.
In the next room is Cut-Up, a video of McCarthy assaulting his silicone facsimile with an electric saw. The dummy lies on its back, arms and legs rigidly outstretched; in order to make it sit in a chair, the legs will have to be sliced off at the hip and segments of "flesh" cut away from behind the knees and elbows so the limbs can bend. In one sense, the video is a simple record of studio activity, but given that video has long been central to McCarthy's practice, it can also be seen as a piece of video art.
Watching the artist attack the hapless figure reminds me of another McCarthy video shown in the same space nine years ago. I recall a performer wearing a George Bush mask being attacked by two others masquerading as the Queen Mother; assaulting their victim with chainsaws, they inflict hideous wounds.
Unlike the previous video, though, Cut-Up is not a black comedy; fake gore does not gush from prosthetic limbs and the narrative is not one of moral depravity and the abnegation of responsibility. The body being dismembered is, by proxy, his own and watching him saw round the sagging scrotum and slice through the soggy buttocks before standing back to assess the effects of this self-inflicted violence is extremely moving. Rather than escaping into the realms of aspirational desire or sordid make-believe, in this gallery the artist chooses to confront reality.
In Puppet various George Bush figurines are mired in pools of shiny muck that seeps from excitable groins to embody bad intentions
In Hauser & Wirth, Savile Row, though, we return to the realms of depravity and disenchantment. Filling one gallery is Pig Island (pictured above and detail above right), a ramshackle installation elevated on polystyrene blocks and surrounded by a sea of drab blue carpet, which you have to view from stepladders. Accumulated over seven years, this dusty assortment of studio clutter is the arena in which numerous figures of George Bush and Angelina Jolie took shape. A drum kit and piano have joined a shopping trolley, plastic chair, filing cabinets, trestle tables, cardboard tubes, boxes of latex gloves, brushes, tins of glue and resin and buckets of fast food. Part documentary, part installation, the piece sits between two genres, but unlike Cut-Up, gains little from the ambiguity except to stress that there's not much mystique to art-making.
In the second space, George Bush reigns supreme. In Train (pictured below), his animatronic double has been cloned to produce monstrous twins; as they each sodomise a sow, their mouths drop open, eyeballs roll, heads swivel and hips lunge in synchronised, robotic transport. Made of the same pink substance, man and beast are both swine, it seems. Nothing is left to the imagination; the message is obvious and the mechanism clearly visible.
You might find this blunt delivery shockingly funny, but for me the sculpture is as kitsch as Jeff Koons's Pink Panther (1988), a life-sized porcelain of a Jane Mansfield blonde cuddling a perplexed big cat. If Koons explores the beauty of banal popular stereotypes, McCarthy exposes the flip-side – the seduction and banality of evil. If Koons's message is that low-brow culture is OK, McCarthy's might be that all sexual fantasies can be accommodated.
Both artists evoke sticky substances. Koons ensnares you in a sugar-coated web of sexualised sentiment and McCarthy sploshes actual goo like ketchup, liquid chocolate, resin and expanding foam over video sets and sculptures. Joined together by steel rods rammed through eye sockets and brains, in Puppet various George Bush figurines are mired in pools of shiny muck that seeps from excitable groins to embody bad intentions. The heavy-handed metaphor of Train gives way to something altogether more circumspect, a form of moral degradation that is vaguer and more universal. Satire is replaced by subversion of a less immediate and more interesting kind.
A rubber facsimile of the artist's naked self sits on a crummy office chair surrounded by pots of paint – the artist as guru
Share this article