Mixed Media, Haunch of Venison |

reviews, news & interviews
Mixed Media, Haunch of Venison
Mixed Media, Haunch of Venison
An overview of the best sculpture has to offer today
'Igloo' by Stuart Haygarth is humane without humans
Group shows can be strained: the rubric can be so narrow that it has to be stretched to accommodate the artists at hand. That is one reason why Haunch of Venison's new show, Mixed Media, is so pleasing: it features contemporary sculpture with an emphasis on the varied materials in use today, a capacious but not unlimited mission. The other reason is that the work is just damned good.
The gallery, which has just extended its premises from Haunch of Venison Yard through to Bond Street, where its new entrance sits, inaugurated this engorgement with some of its most revered and freshest artists. The opening rooms have the masters, perhaps austere but nonetheless still modern. Richard Long created two semicircles from rectangular pieces of slate especially for the show which, in their simple shape and unobtrusive beauty, immediately heighten your awareness of scale and presence, setting up a dialogue with the other works in the show about the necessity and relevance of shape.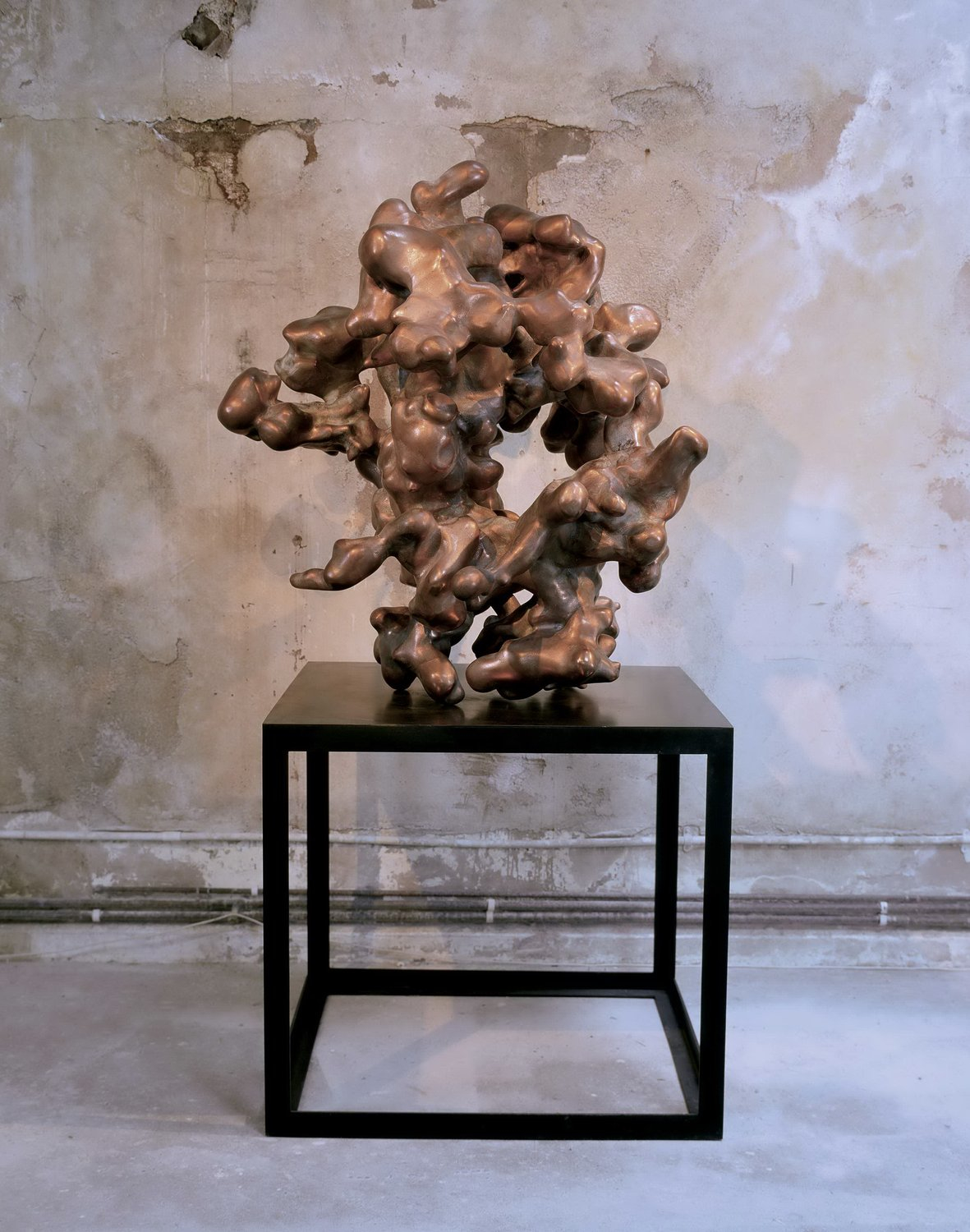 It might seem odd to talk about the "relevance" of shape, as if sculpture can be without shape, but Alex Hoda's method of creating his works questions this. He drops molten copper into water, which solidifies into shapes which look like… well, they're impossible to describe because the point is that they don't look like anything familiar (pictured left). If you imagine dozens of pelvic bones jammed together at random intervals and angles, you'll be some of the way, but the randomness is the point. This is natural sculpture, without human intervention dictating a regular shape, whereas Long has always made human intervention in nature the point.
The best piece in the show is a human intervention in the human world. For Igloo (pictured top), Stuart Haygarth has assembled hundreds of items of clear crystal glassware, mostly the sort of patterned and etched Victoriana/Edwardiana you find in your grandparents' house. There are decanters with that familiar rough raised diamond cut, vases, candy dishes, jam pots, platters, wineglasses - domestic glass from a bygone era. Instead of making a statement solely about kitsch, Haygarth has arranged them on tiers of perspex and lit them from within, so their coldness yet beauty are enhanced. By creating a futuristic sculpture with found antiques, Haygarth brings out the missing humans. These relics simultaneously hide and reveal their owners' lives, humane even in their scientific set-up.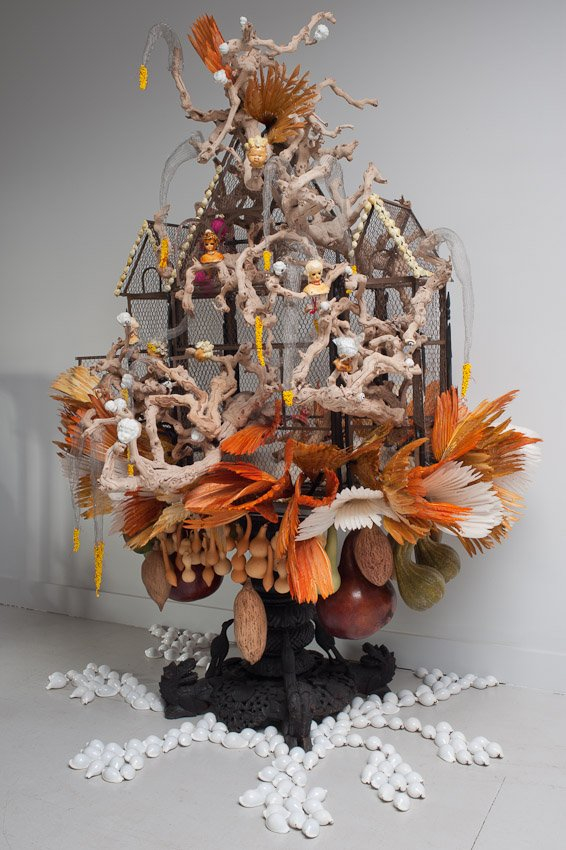 There is plenty of bright, present humanity elsewhere. Rina Banerjee has made a family tree/tree of life/Disney castle out of an Anglo-Indian pedestal, a Victorian birdcage, shells, feathers, dolls' heads, apple gourds and Kenyan tourist sculptures (pictured right). The piece deals with her own transcontinental history and our colonial past with great wit, yet also with a certain amount of horror: the dolls' heads are impaled on the end of branches, little lifeless reminders of the cost of colonialism within a vibrant, perhaps ironic, recollection of it.
Another piece which suggested to me a colonial tinge was Jaume Plensa's two alabaster sculptures, Irma I and Nuria II, perhaps the most formally "traditional" in execution. These are girls' faces carved into six-feet high blocks, and their expressions are moving, but as moving for me was the suggestion of the Bamiyan Buddhas of Afghanistan, blown up for being un-Islamic in March 2001, shortly before the West began to pay attention to the Taliban. These faces - as those of the Buddhas - show a pacific state which the sculpture suggests will endure, but moods and sculptures can be altered - or destroyed.
Attempting to draw a theoretical thread around all of these sculptures may not bring decisive results, but they do have one thing in common: they are fine works by some of today's best sculptors. If you want to know what's going on in sculpture today, you shouldn't miss this show.
Mixed Media is at Haunch of Venison, 103 Bond Street, until 4 April

These relics simultaneously hide and reveal their owners' lives, humane even in their scientific set-up
Share this article