Milton Avery: American Colourist, Royal Academy review - from backward-looking impressionist to forward looking-colourist |

reviews, news & interviews
Milton Avery: American Colourist, Royal Academy review - from backward-looking impressionist to forward looking-colourist
Milton Avery: American Colourist, Royal Academy review - from backward-looking impressionist to forward looking-colourist
A slow reveal of the painter dubbed the American Matisse
Little Fox River, 1942 by Milton Avery
I've always been bemused by the American painter, Milton Avery. Not having seen enough of his paintings together, I couldn't gauge if they are quirkily naive – lodged in a cul de sac aside from the mainstream – or hyper-sophisticated harbingers of things to come.
The Royal Academy's retrospective, the first of its kind in Europe, reveals that, in a way, he was both. He went from being an impressionist whose landscapes look positively 19th century to making glorious abstractions that anticipate the colour field paintings of Mark Rothko and Barnett Newman. But it was a long haul.
Avery was already 60 when, in the mid 1940s, he began transcribing people and places into areas of flat colour on canvas; and there's a whole room of earlier explorations to plough through before arriving at his more radical forays into semi-abstraction.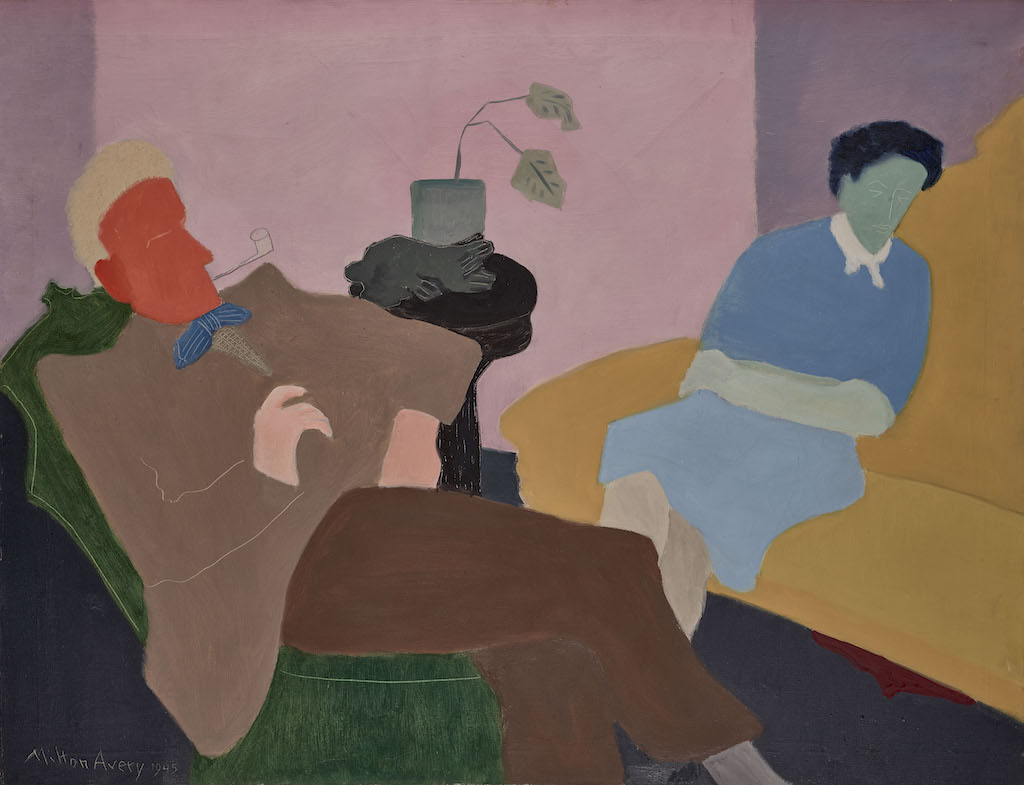 The first painting you see is Little Fox River, (main picture) a seascape from 1942 in which his tentative moves towards abstraction look more whimsical than progressive. The vantage point is a grassy knoll covered in black scribbles suggestive of trees. In the bay below, the waves are indicated by black squiggles over ripples of blue, while clustered on the arc of grey sand are spindly black and white shapes that could be buildings or cattle. With its flattened space, the picture looks more like the charming efforts of a naive artist than a serious foray into the language of abstraction.
Avery later became known as the American Matisse, but at this stage you'd never guess he was even aware of Les Fauves. His breakthrough came in portraits such as Husband and Wife, 1945 (pictured above) in which the artist translates the figures and their surroundings into areas of colour that are emphatically flat yet suggestive both of space and atmosphere. The couple sit on a green chair and yellow ochre sofa, respectively, offset by lilac, pink and lavender walls; she is dressed in shades of blue, he in brown. What makes the picture so delightful are daft anomalies like his red face, yellow hair and transparent pipe and the grey plant wilting on the table between them. Although it was an important development for him, when compared, for instance, with Vanessa Bell's Studland Beach 1912, the picture is by no means a radical departure. Her abstracted figures predate his by more than 30 years.
In 1949, the artist suffered a major heart attack and, during a slow recovery, he began experimenting with monotypes – spreading ink onto sheets of glass from which to make one-off prints. The experience was a revelation. 200 monotypes later, he was ready to translate the fluency and translucence of ink on paper into oil on canvas with much diluted paint. It's a great shame that none of the prints is included in the show.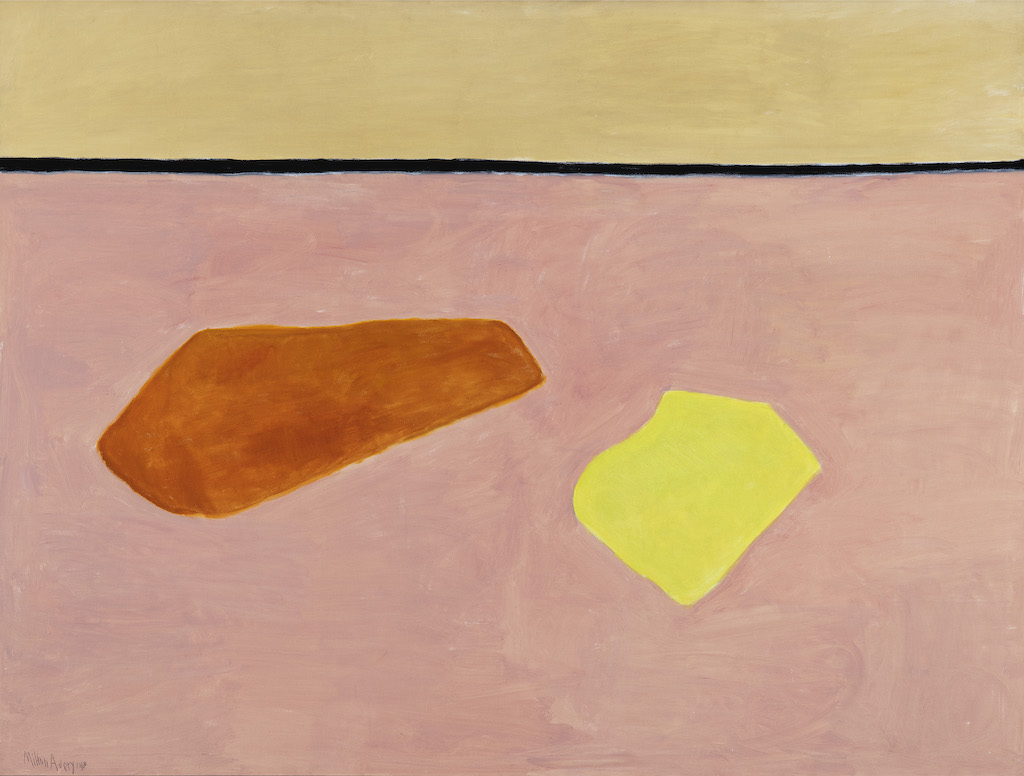 Over the next 15 years he translated his sketches of sand, ocean and sky into bands of pure colour that were to influence his friends Mark Rothko and Barnett Newman, with whom he shared many summers by the sea, and equally were a response to their more abstract work.
In Beach Blankets, 1960 (pictured above) two rugs – one rust, one yellow – lie on pink sand awaiting the return of bathers who have ventured into the sea, which is visible as a dark strip beneath an ochre sky. The heat is almost palpable. Completely abstract yet full of drama, the picture conjures up a story with minimal means.
And that's where Avery's work differs from that of his younger friends. While his paintings always refer to things seen, the next generation used colour to evoke thoughts and feelings rather than to describe the visible world. The influence went both ways, though, and this makes me see Milton Avery less as a pioneer than an independent spirit who dipped his toe in the mainstream yet remained determinedly to one side of it.
With its flattened space, the picture looks more like the charming efforts of a naive artist than a serious foray into the language of abstraction
rating
Explore topics
Share this article