Kara Walker: Fons Americanus, Tate Modern review – a darkly humorous gift |

reviews, news & interviews
Kara Walker: Fons Americanus, Tate Modern review – a darkly humorous gift
Kara Walker: Fons Americanus, Tate Modern review – a darkly humorous gift
A subversive fountain that flips history on its head
Thursday, 03 October 2019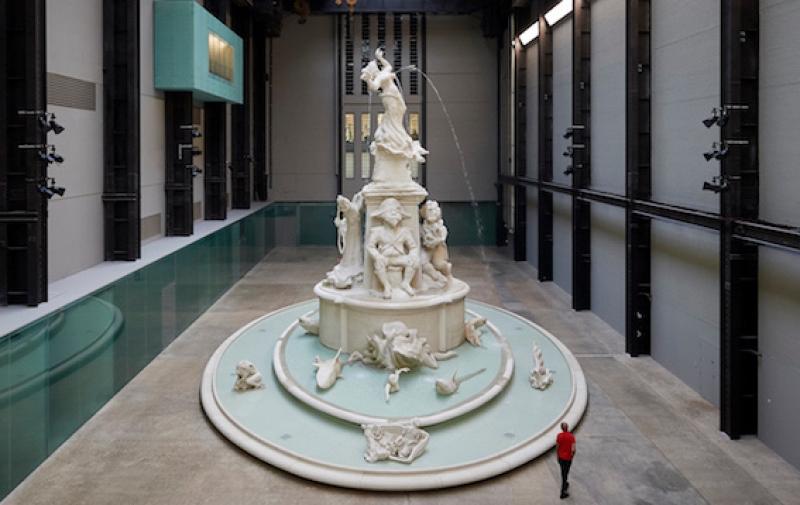 Fons Americanus by Kara Walker
Soaring some 40 feet up towards the ceiling of Tate Modern's vast Turbine Hall, Kara Walker's Fons Americanus looks ludicrously out of place – like a Victorian interloper within this cathedral to contemporary art.
Resembling those monuments you walk past without giving a second's thought to what they represent, this intruder isn't just in the wrong place, it is broadcasting the wrong messages.
If history is told by the victors and the function of public sculpture is to enshrine their version of events, the American artist turns the tradition on its head to expose some of the dirty dealings underpinning the might and main of Empire. She describes the fountain as a gift and introduces it with a tongue-in-cheek message writ large on the gallery wall: "It is with an Overabundance of Good Cheer And Great Enthusiasm that We Present to the Citizens of the Old World (Our Captors, Saviors and Intimate Family) A Gift and Talisman Toward the Reconciliation of Our Respective Mother-lands Afrique and Albion." Telling how things look from the viewpoint of the vanquished, her ironic tour de force is laced with references to the oppression of black people and their portrayal in art history.
One inspiration was the Queen Victoria Memorial outside Buckingham Palace; but the gilded figure of Victory has been replaced by a black woman, her arms raised in anguish rather than triumph (main picture). Dramatic jets of water spurt both from her erect nipples and a gash in her throat. She is the source, and her lifeblood is being endlessly spilled.
The English artist Thomas Stothard painted a black Venus skimming over the waves from Angola to the West Indies on a scallop shell pulled by dolphins. She is surrounded by cupids as though, instead of being transported in chains, she is sailing across the Atlantic for her wedding. This obscenely hypocritical image became the frontispiece for a nineteenth century book extolling the virtues of slavery in the British colonies. Walker has turned the shell into an emblem of the slave trade by placing it on the gallery floor as a free standing sculpture. Inside is a black child drowning in his own tears.
And she has replaced Stothard's dolphins by sharks; they patrol the waters in the basin below, where they threaten the life of a loan swimmer, possibly a slave making a dash for freedom. A black man adrift in a small boat without a mast or rudder (pictured above) is also at their mercy. This hapless mariner first appeared in Gulf Stream 1899, a painting by American artist Winslow Homer. Threatened by a gathering storm in a sea full of hungry sharks, he may be an allegory for the desperate plight of America's slaves.
Other figures refer to the routine oppression of black people. Wearing a crown that makes her look like the Mad Hatter, Queen Victoria looms over a black man who cowers beneath her skirts in terror. The noose hanging from a dead tree nearby is a chilling reminder that his fears are justified. A white man decked in a wig and frock coat prays to heaven, as though seeking absolution for his role in this sorry saga. The seated buccaneer is a more ambiguous figure; he could be a Toussaint Louverture-style revolutionary or simply an opportunist making a quick buck.
One thing is certain; whereas the figures on the Victoria Memorial represent virtues such as courage, constancy, charity, truth and motherhood: "qualities that made our Queen so great and so much beloved", Walker's caricatures are suggestive of vices like greed, deceit, self-interest and hypocrisy. In place of the marble and bronze of the Memorial and the confidence and stability they convey, she modelled her figures in clay, to make them look deliberately hand made, before translating them into cork coated in jesmonite, a cement and acrylic composite resembling Portland stone. It may look solid and durable but, to acknowledge the instability of the narratives we create to explain our actions, this alternative version of history is light, portable and easily dismantled.
Fons Americanus should be installed in Trafalgar Square as a subversive and darkly humorous riposte to the self-aggrandising pomposity of Empire builders.
Fons Americanus should be in Trafalgar Square as a riposte to the pomposity of Empire builders
rating
Explore topics
Share this article