Inventing Impressionism, National Gallery |

reviews, news & interviews
Inventing Impressionism, National Gallery
Inventing Impressionism, National Gallery
A fresh take: the commercial story behind the success of an avant-garde movement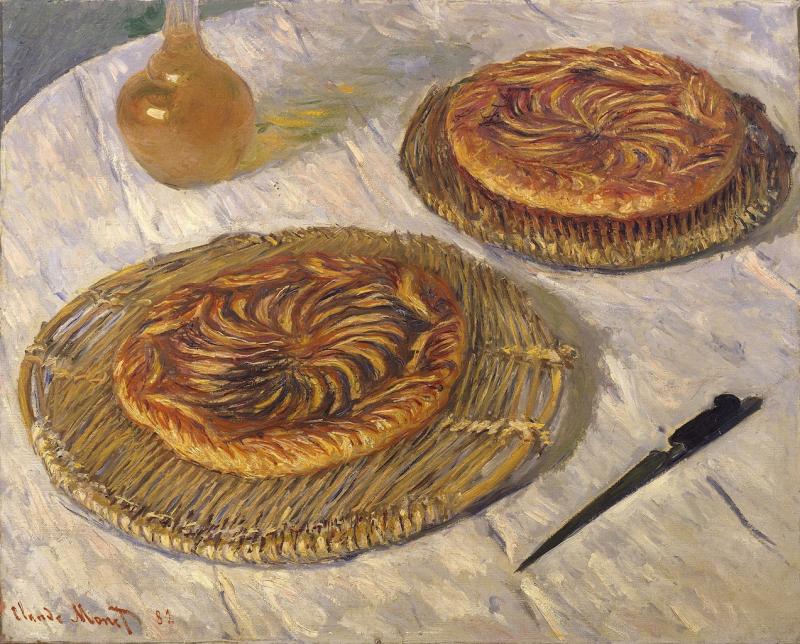 Claude Monet, 'The Galettes', 1882
Here is an exhibition that tells us how something we now take totally for granted actually came about: how our love affair with the Impressionists was masterminded by an art dealer, Paul Durand-Ruel (1831-1922). He was a prime mover in inventing the way art is dealt with by commercial galleries and even museums, and is credited as the inventor of the modern art market.
It is to Durand-Ruel, we discover, that we owe the parade of public retrospective monographic exhibitions devoted to single artists and accompanied by catalogues, publicity, private views, critics, and general furore and hubbub. His way of presenting his artists, it is suggested, even allowed Monet to produce his celebrated series – from haystacks to waterlilies – and on view here is a ravishing quintet of Poplars on the Epte, at all times of day and night, aglow with the sun and dusted by light at dawn and sunset.
Durand-Ruel also invented the notion of having ample stock – some 12,000 paintings passed almost literally through his hands. He also payed stipends to artists, and even helped to ease loans their way. Indeed, he is cited by the National Gallery as the man who sold 1,500 Renoirs and 1,000 Monets. He worked with others, too, to finance purchases, including bankers, and sought backers. He was eventually to move beyond Paris, selling widely in Europe as well as the USA, and opening galleries in London, Brussels and New York (which only closed in 1950; the Paris gallery carried on until 1974).
Durand-Ruel's encouragement went beyond the practical to the emotional, a supporter of psychological as well as financial need. He himself weathered several economic crises, but did not desert his artists. As Monet said, without Durand-Ruel "we" would not have survived; and as Paul Durand-Ruel said, without America, he would have been ruined. (Pictured below: Monet, The Artist's Garden in Argenteuil; National Gallery of Art, Washington DC)
Intellectually we react to Impressionism now by describing the ways in which they changed the world of art, individually and collectively: the dark fervour of Manet, the rock of Cézanne (Durand-Ruel sold the first one ever to enter a German public collection, although Cézanne was not a favourite of his), the revolutionary perspectives of Degas, the charm of Renoir, the politics of Pissarro, the skies of Monet, to name but a few. We respond emotionally to the idea of their struggles and the way the popular myth has it that their art was both reviled and misunderstood (not entirely true by the way, since it was appreciated, at least critically, very early on). And we really fall for the subject matter: the family scenes, the village roads, France in winter and summer, and perhaps above all Paris.
And the Brits can chastise themselves for their slow response. The American collectors, with all that new money and anxious to stake their cultural credentials, got there first, hence the best collections outside France as a whole and Paris in particular, are across the pond and particularly on the East Coast – Boston, New York, Philadelphia, and finally, with Mellon money speaking among other things, in Washington and Virginia – and on into the rich manufacturing cities of Pittsburgh, Cleveland, Cincinnati, Chicago.
The story narrated now at the National Gallery is in a sense clarifying a new take on the Impressionists' success, intertwining the commercial acumen of the dealer with the aesthetic innovation of the artists. Yes, in the 21st century what we have here is an assemblage of extremely agreeable, beguiling, attractive, charming pictures which it is now difficult to see as anything but top-of-the-pops favourites, with marvellous subjects – but the subjects, so quotidian and down-to-earth, were at the time unusual. Here are the domesticities of the middle- and upper-middle classes: the parties and cafés, the country pursuits, the countryside near Paris, within reach by rail – and of course there was a love of railway stations – city scenes, and holidays at the seaside.
But we love the back story too, that these 19th-century painters were the revolutionaries of the day, reviled and often struggling, those very struggles providing much material for the myth of the misunderstood artists who finally triumphed when all understood their genius. (It is an unfortunate subliminal corollary that so many of us now equate the struggle for success with lasting artistic achievement: by definition the overwhelming majority of great artists were appropriately successful in their lifetime.)
Impressionism is now a sure-fire label that spells "blockbuster" for the museum and "delight" for the visitor. But here there is a different twist: it is the journey of these artists seen through the man who supported them (and himself) through thick and thin, the visionary dealer Paul Durand-Ruel. Everything on view here, more than 80 paintings, passed through his galleries.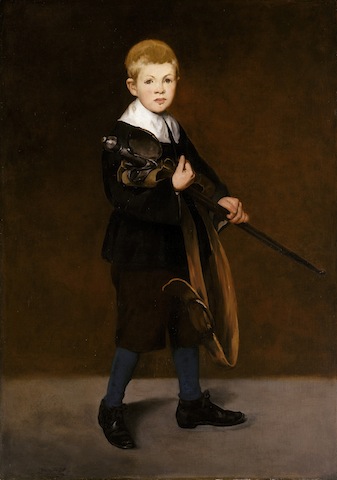 We are given here of course but a taster, but what delights: two very fine dance rehearsal scenes by Degas, and, highly unusual, a darkly primitive scene of young women bathing, a kind of pre-echo of Gauguin, as well as the artist's study of the orchestra playing for the ballet scene at the opera; women putting out laundry to dry by Berthe Morisot; a boy with a sword by Manet (pictured right: Boy with a Sword, 1861; Metropolitan Museum of Art, New York); two scenes in strikingly varying mood by Monet of the Normandy coastal village of Varengeville, and his garden at Argenteuil, vividly blooming. Much is unfamiliar, or rarely seen, or here re-united (the Renoir paintings of people dancing: pictured above left: Dance in the City, 1883; Musée d'Orsay, Paris). Usually hanging at the Musée d'Orsay, and perhaps overwhelmed there with more familiar images, is Monet's tender Meditation, his wife in London, wistfully pensive as she rests in her light-filled room, her deep blue patterned dress against the floral patterned sofa and the patterned carpet: a fascination with contrasting pattern to rival Matisse, and a real surprise. Mary Cassatt, the American Paris resident, is represented by a tender portrait of a mother bathing a child.
Durand-Ruel made it all seem so accessible, and in a coup de théâtre the show opens with a series of finely tender family portraits of the Durand-Ruels by Renoir (the dealer's wife died when she was 30, leaving five young children; two sons were to enter the business). The family is accompanied, as it were, by a huge blown-up photograph of the grand salon of his Paris apartment, its walls jammed with triple-hung paintings, the better to show off the domestic adaptability of Impressionist art. He even had his door panels decorated with charming still-lifes by Monet – one with flower and fruit studies is on view here. You could buy off the walls, of course, but as Durand-Ruel said, he found it very difficult to sell the art he liked. He built up an enormous personal collection, and even bought back paintings he decided he could not bear to part with.
London was not the best selling-ground, although he mounted a legendary show in 1905 of 315 Impressionist paintings (pictured below), the largest there has ever been, in the great Grafton Galleries (bombed during the war); many were from his own collection, and only 13 sold. Yet the Grafton Galleries exhibition, accompanied by its catalogue, set the framework for Impressionist history that holds to this day.
It was also in London that, while he and his stock were sheltering from the ravages of the Franco-Prussian war and the Commune (Durand-Ruel was advanced in aesthetic taste, conservative in politics), he met Claude Monet and Camille Pissarro, who were introduced to him by another artist he represented, Daubigny, from an older generation, And it is perhaps, among all the artists he supported and showed, Monet and Renoir with whom he is most identified.
Durand-Ruel's encouragement went beyond the practical to the emotional, a supporter of psychological as well as financial need
Share this article