Edward Weston, Chris Beetles Gallery |

reviews, news & interviews
Edward Weston, Chris Beetles Gallery
Edward Weston, Chris Beetles Gallery
Perfectionism works, from toilets to cabbages to nudes
Tuesday, 14 September 2010
Edward Weston was once obsessed with photographing "toilets" (his word) and did it repeatedly in pursuit of the perfect image. "That gloss enamelled receptacle of extraordinary beauty" is how he described the scuzzy lav at the Gold Circle Mine in Death Valley, and seemingly near-orgasmic with excitement, said it was "an absolute, aesthetic response to form". That statement wasn't about toilets alone, of course; this legend of American photography was, understandably, a perfectionist in every thing he photographed.


But he was also, during the early years of this collection of 37 prints (1920s to 1945), heavily influenced by the ideals of Modernism, and stuck close to its mantra, "Form follows function". The lavatorial subject was not typical; he is best-known for the exquisite – and perfect – nautilus Shell, 1927 (pictured below), the erotically deformed Pepper, 1930, vast pictorial landscapes of Arizona and the female nudes.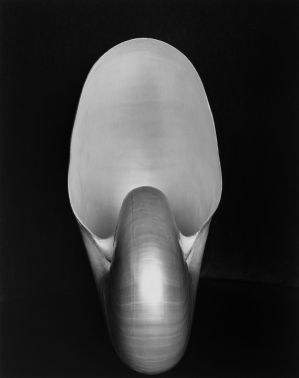 Weston's criterion of beauty is fascinatingly extreme. From toilet to nautilus is a giant leap. Shooting the shell "face" on using, as always, natural light, he captures a beam reflected back off the curved surface and convincingly revealing its hard, brittle texture. The eye is drawn over the curved hump, down towards the interior which radiates an almost celestial light. Apart from its textural beauty, the shape and form is perfection (a vintage print sold for over $1 million in 2007) but of course, that's nature's skill. It's tempting to suggest that had Weston not fallen for photography, he would have been a sculptor (he admitted inspiration from photographs he saw of Brancusi's work).

His depiction of other natural objects included the elegant Cabbage leaf, 1931, whose fanned out, velveteen folds connect to classical painters' compulsion to represent form through richly textured, folded fabrics. He seems to link that to the undulating waves in rock formations and sand dunes, most perfectly captured at Zabriskie Point, 1938, in a scene of geological poetry.

On the other hand, the famously erotic pepper is unsubtle. Printed under sultry lighting, it possesses a musky sensuality and is imitated by a nude model bent over so that stomach, breast, arms and thighs are squashed together in imitation of the plump, curvaceous vegetable. Headless and impersonal, it is an object study compared to the human connection with the full-figure nudes.

The magnificent Nude on Sand, Oceano, 1936 (pictured below), sees the young woman sprawled on hot sand which fills the frame. Eyes closed in private reverie, she is inaccessible to the staring lens and photographer's eye, making her, in terms of "the male gaze", more desirable. Nude, New Mexico, 1937, shows a suprising hint of sexual symbolism: the same model lies on a dark blanket, hands covering her eyes, the darkness repeated in her pubic hair and in the gaping mouth of a cave behind her.
Weston was known for his many model-lovers and he saw the erotic everywhere, long before that was the norm in our sexualised world. His most significant, the Italian photographer Tina Modotti, suggested that his photographs possessed "an erotic quality" but he denied seeing it when selecting or shooting the subjects. And actually, his approach was heavily theoretical whilst creating some of the warmest, most sensual - and erotic - imagery of his day. But their honesty and sometimes profundity proved that he succeeded in depicting what he searched for, "the quintessence of the object or element before my lens". The quest, of course, continued in the dark room, and these second-generation prints from the original negatives, are no less perfect - produced by Cole Weston according to his father's dictation.

For the final years of the show, Weston took deeper journeys into America's near empty landscapes, and produced some very different works. Iceberg Lake, 1937, comes close to abstract painting, and the eponymous Abandoned Shoes, Alabama Hills, 1937, alludes to a human presence and hints of the fading Depression not far from home. Weston was a dreamer, floating on his art, while Dorothea Lange documented human tragedy. But that was his choice, and the results are there to prove the value of someone so dedicated to perfection. The exhibition's closing image, Winter Idyll, 1945, sees a young nude woman on a swing against a landscape resembling Tuscany – an idyll marking the end of the War.
Explore topics
Share this article