Bruce Nauman, Tate Modern review - the human condition writ large in neon |

reviews, news & interviews
Bruce Nauman, Tate Modern review - the human condition writ large in neon
Bruce Nauman, Tate Modern review - the human condition writ large in neon
How to make great art out of almost nothing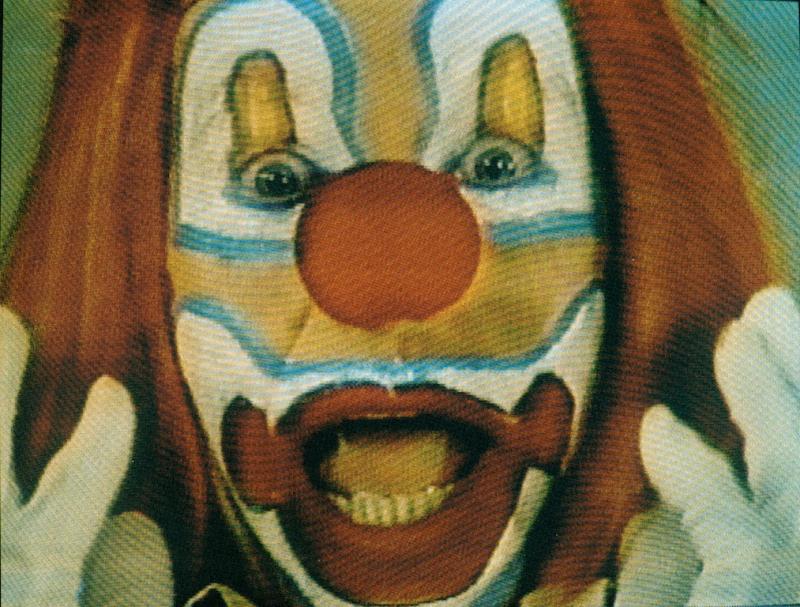 Still from 'Clown Torture', 1987, by Bruce Nauman
"The true artist helps the world by revealing mystic truths" reads the neon sign (pictured below right) welcoming you to Bruce Nauman's Tate Modern retrospective. The message is tongue-in-cheek, of course. How on earth could an artist cope with such a ludicrously unrealistic expectation?
Born in 1941, the American artist has had a huge influence on recent British art. In the late 1960s, he filmed himself messing about in the studio – performing silly walks or repeatedly bashing his back against the wall – thereby ridiculing the need to have something significant to say. He made it all right to use unorthodox methods that lay focus on the activity instead of the outcome. And it allowed Damien Hirst to remark: "I sometimes feel that I have nothing to say and I want to communicate this."
The first room of the show is dedicated to the artist's studio, a place where one might expect important revelations to occur. It's akin to exhibiting the artist's palette and brushes or a photograph of their hands, as though they held the key to understanding the creative process.
Needless to say, those hoping for a manifestation of genius will be disappointed. The walls are filled with footage of Nauman's New Mexico studio filmed with infra-red at night; some frames are upside down, others are tinted magenta, blue or grey, which creates an eerie atmosphere that prevents you feeling at ease. Nothing much happens; insects fly about, a black cat chases a mouse and the artist stomps around with a torch. Meanwhile, you are left contemplating the studio clutter and experiencing the frustration and ennuie of waiting.
It's an odd opening for an exhibition, but it provides a glimpse of what it's like for an artist, bereft of ideas or inspiration, to confront the void of a blank canvas and the bare walls of an empty studio – "the place," says Nauman, "where you make yourself insecure." If you feel you have nothing particular to say, where to begin? is a question he addresses repeatedly, often with mordant black humour. And while scratching at this annoying itch, ironically, he frequently touches on big issues, such as the meaning of life, and makes work that is profound as well as profoundly disconcerting, while also being darkly funny.
Some of the early films are on view in the second room (pictured below: Walking in an Exaggerated Manner Around the Perimeter of a Square, 1967-8). We see him exaggeratedly swaying his hips while walking round a square marked on the floor, or maintaining a series of awkward poses between floor and wall. Kneading the flesh of his neck and face as though it were clay, he also creates deadpan grimaces unconnected with an emotion.
Communicating emotion or, rather, the stifling of expression is explored in an early sculpture, in which a tape-recorded scream is buried in a block of concrete, and in the film series Clown Torture, 1987 (main picture). His face painted in patterns so exaggerated they resemble an expressionist painting, a clown tries with increasing desperation to communicate genuine feeling. Since his appearance mitigates against being taken seriously, he becomes ever more hysterical as he tries to convince us that "No" really does mean "No". In his role as an entertainer, the clown is doomed to repeat a children's joke: "Pete and Repeat were sitting on a fence. Pete fell off; who's left? Repeat"… etc etc ad nauseam. Watching him is as excruciating as it is funny. Although not explicitly political, these films have serious implications, politically.
The abuse of power and our inability to escape it's reach is a recurring theme. On video, we watch a female mime endlessly obeying a man's orders, such as "Play dead, lie down, roll over, stand up, sit down." Nauman also alludes to the ubiquity of power through sculptures like Double Steel Cage Piece, 1974. One cage is housed inside the other and between them is a corridor just wide enough to allow you to shuffle along it sideways. This claustrophobic scenario is like a Kafkaesque metaphor for the limited space we get to manoeuvre through life; unfortunately, though, because of Covid restrictions, we are not able to enter and experience the full, stifling paranoia.
Nauman's most chilling exploration of life's options comes in his two-screen video piece Good Boy Bad Boy, 1985 (pictured left: detail). As though they were teaching English as a foreign language. two actors, a white woman and a black man, run through the gamut of human behaviour. He speaks with gusto, she with greater restraint; he seems to relish the possibilities, she to endure life's vicissitudes. "I'm alive, you're alive, we're alive. This is living," they each intone, as if explaining declension. "I love, you love, we love. This is our love… I like to eat, you like to eat, we like to eat. This is eating… I don't want to die, you don't want to die, we don't want to die. This is fear of death." Is that it? And, if that's all life boils down to, why do I cling onto it so tenaciously, one is prompted to ask?
In the final room, we watch a man on video slip on a banana skin and crash to the floor in dramatic slo-mo. Then he gets resurrected, only to pitch over once more in an equally spectacular fall. Every detail of the mishap is repeated as though to analyse his mistakes and learn from them; but the most anyone seems able to achieve is damage limitation. In art you can resurrect people, but in reality this is not on offer; you might do well, then, to focus on changing your attitude to the inevitable.
The cheerily coloured neon letters of One Hundred Live and Die, 1984 (pictured below) spell out various options. One after the other, the phrases light up as though offering a new flavour of ice cream. You can choose to "Smile and Live" or "Smile and Die"; "Kiss and Live" or "Kiss and Die"; "Try and Live" or "Try and Die". Finally, the whole wall lights up to reveal a glorious rainbow of options that all seem as saccharine as candy floss and as hollow as the American dream.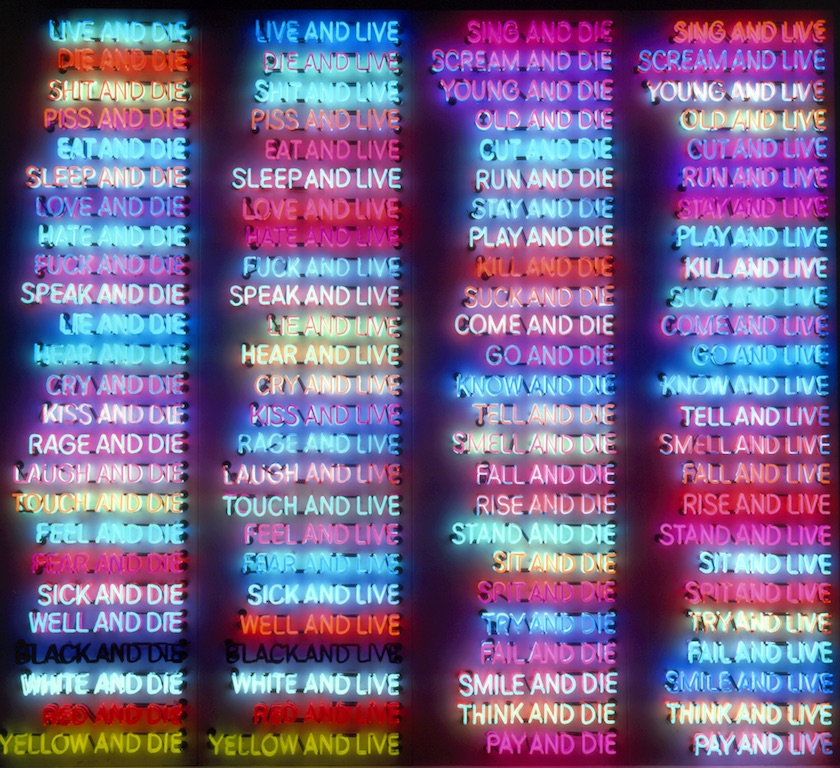 I love Nauman's work; his sardonic fatalism may be chilling, but his wicked humour still lifts the spirits. Take courage, it seems to say; all is not lost until the very last. We may be doomed, but we''ll go down laughing. The timing of the show gives the work a darker edge, though. For instance, the pandemic makes One Hundred Live and Die seem coldly dispassionate rather than airily provocative, and showing at the foot of the escalators as though reminding visitors about health and safety, his 1996 video of obsessive hand washing is changed from being a light-hearted provocation into something resembling a public health warning.
Placed near the top of the escalators, Good Boy Bad Boy gets almost drowned out by noise from the cafe. On the other hand, the voices from his 2004 Turbine Hall commission cast a ghostly spell right down the length of the staircase. It's worth taking the lift to the top floor and following them down to get an audio resumé of his career. Whispered urgently into your ear, they provide an especially intense and individual experience of Nauman's amazingly prescient and multifaceted work.
Nauman's sardonic fatalism may be chilling, but his wicked humour lifts the spirits. Take courage, it seems to say; all is not lost until the very last
rating
Explore topics
Share this article