Art Under Attack: Histories of British Iconoclasm, Tate Britain |

reviews, news & interviews
Art Under Attack: Histories of British Iconoclasm, Tate Britain
Art Under Attack: Histories of British Iconoclasm, Tate Britain
The nation that spent 100 years or so destroying beautiful art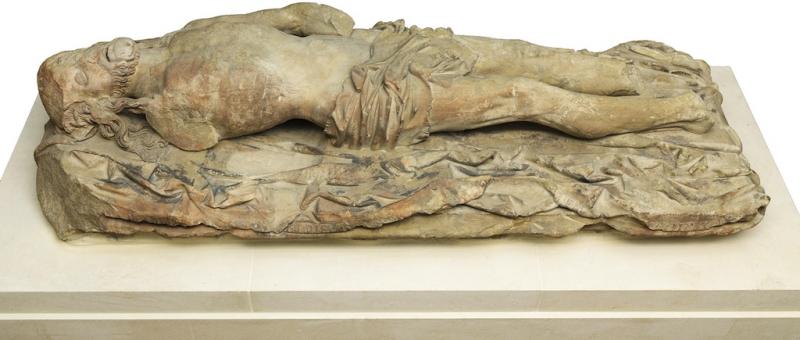 The badly mutilated 'Dead Christ' 1500-1520
Seeing the statue of Saddam Hussein toppled in Baghdad in April 2003, I felt a rush of euphoria despite deep reservations about the American invasion. My (misplaced) optimism was shared by the Iraqi student, Ayass Mohammed. '"Suddenly I felt freedom," he told reporters; for him the fall of the statue symbolised the end of tyranny and the arrival of hope.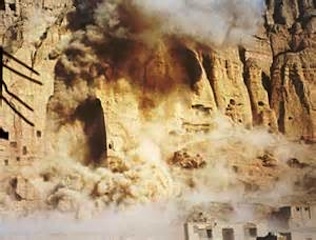 The destruction of the Buddhas of Bamiyan (pictured right) by the Afghan Taliban two years earlier was a similarly emotive affair. In the west, it provoked a wave of disgust; citing the historical and artistic importance of the sculptures, commentators denounced their destruction as an act of barbarism.
For many, of course, such responses were reversed; they perceived Hussein to be a wise ruler whose image was sacrosanct, while the Buddhas were dangerous symbols of idolatry that had to be destroyed. One's assessment of a work of art is influenced, it seems, by what it represents and, throughout history, artworks have born the brunt of rage directed not at them directly but the values they embodied.
Art Under Attack: Histories of British Iconoclasm deals with the damaged goods rather than the anger that provoked their destruction, though, so it is a melancholy affair. Since the passion that fired the destruction has long since subsided, there is nothing to engage with except the sad, surviving relics. I didn't realise we had such a long history of dedicated iconoclasm. Henry VIII broke from Rome in order to consolidate his wealth and authority; the dissolution of the monasteries (1536-40) was motivated as much by a desire to get his hands on the riches sequestered in them as to cleanse the Catholic Church of supposed corruption.
Rather than indulging in a frenzy of indiscriminate destruction, items were systematically valued and useful materials such as lead, glass and stone carefully removed for sale or recycling. The stained glass at Rievaulx Abbey, for instance, was graded to be kept, sold or smashed and the leading was smelted on the spot in furnaces fuelled by church books and furnishings. On show is a pathetic heap of glass fragments and a lead roundel in which the shape of the missing Virgin and Child is clearly visible.
The destruction of "idolatrous" artefacts remained official policy throughout the reigns of Edward VI and Elisabeth I, with a brief pause during Mary's rule; after the Civil War, the protestants renewed the policy with an enthusiasm the Taliban would be proud of. In 1643 and '44 acts were passed by Cromwell's parliament ordering the "utter demolishing" of all "monuments of superstition and idolatory"; after 100 years or so of zealous enforcement, I'm surprised there was anything left to destroy (pictured above left: The Presentation in the Temple from Canterbury Cathedral, damaged in the Civil War but later restored).
Demolition in Suffolk and Cambridgeshire was overseen by William Dowsing, a diligent bureaucrat whose accounts make for chilling reading. In Ufford, for instance, he noted: "we brake down 30 superstitious pictures and gave direction to take down 37 more; and 4(40) cherubims to be takeing down of wood; and the chancel levelled." The roof bosses still miraculously decorated with winged angels in many Norfolk churches give one an idea of the cherubims Dowsing destroyed.
Over the following centuries, indignities continued to be heaped on artworks mainly for political reasons. When it comes to the Suffragettes, responses are complicated by sympathy with their aims, but horror at their methods. One of the most fascinating exhibits is a 1961 BBC interview with Mary Richardson. In 1914, she took a meat cleaver to Velázquez's Rokeby Venus to draw attention to the plight of Emmeline Pankhurst who was mouldering in jail. She recalls how she "got five lovely shots in", which lacerated the canvas.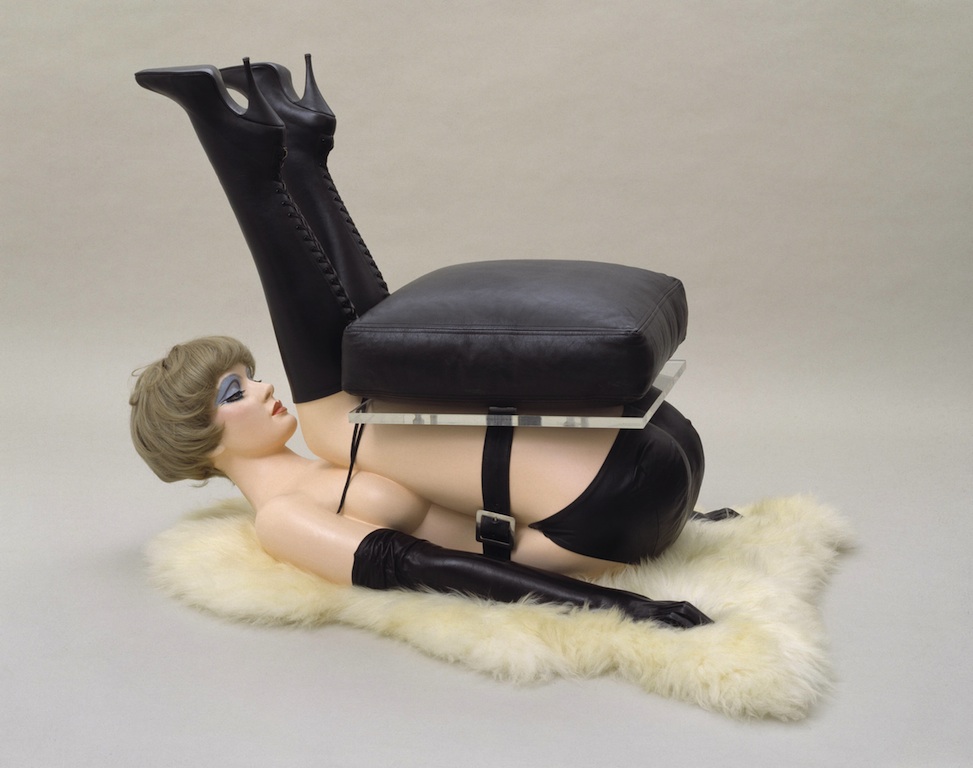 In the 1960s things changed; attacks on art were motivated not by religious zeal or political affiliation but fury at the work itself. Allen Jones's Chair (1969) (pictured right) was accused of being "nothing more than kinky pornography" by the woman who doused it with paint-stripper. Nicknamed "the Tate bricks", Carl Andre's Equivalent VIII (1966) came to symbolise the idiocy of contemporary art. A press campaign denouncing it as worthless rubbish culminated in a man splashing blue dye over the bricks.
The exhibition could have charted subsequent attacks, since there's no shortage of examples. You may remember how, on the Southbank in 1983, the tyres in David Mach's sculpture Polaris were set on fire by a man who was killed in the subsequent explosion; eggs and ink were thrown over Marcus Harvey's portrait of murderer Myra Hindley in the Sensation exhibition of 1997 at the Royal Academy.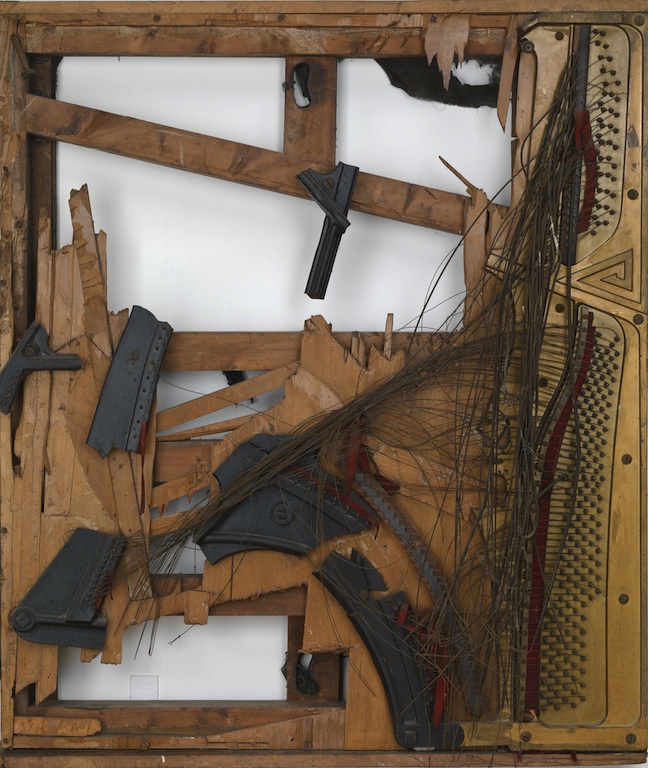 Instead, the show changes tack to discuss destruction as a creative device. The artists include Gustav Metzger who set up the Destruction in Art Symposium of 1966 and Raphael Montanez Ortiz who demolished a piano during the month-long event (pictured left). Jake and Dinos Chapman are notorious for defacing a suite of Goya etchings; here they show junk shop portraits embellished with signs of decay.
Rather than inflaming passions or encouraging vandalism, as well it might, the exhibition leaves one with a profound sense of loss. And it made me wonder if our national distrust of contemporary art stems from our history; spending 100-odd years destroying beautiful artefacts suggests a deep-seated fear of the power of images. The frustration makes you want to smash something up.
Destroying beautiful artefacts suggests a deep-seated fear of the power of images
Explore topics
Share this article