Anselm Kiefer: Finnegans Wake, White Cube Bermondsey review - an awe-inspiring show |

reviews, news & interviews
Anselm Kiefer: Finnegans Wake, White Cube Bermondsey review - an awe-inspiring show
Anselm Kiefer: Finnegans Wake, White Cube Bermondsey review - an awe-inspiring show
Germany's greatest living artist draws from Joyce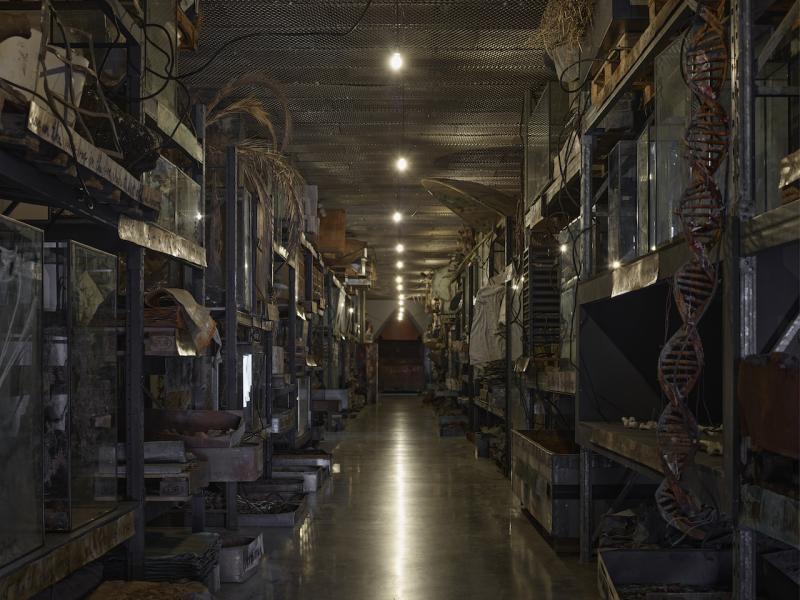 Anselm Kiefer "Arsenal" (1970- 2023)
As a child, Anselm Kiefer tells us, in a bombed out German city, he would play in the rubble, creating life out of ruin and destruction. As an artist who is remarkably consistent, without being predictable, he continues to play in the ruins, breathing new life into the detritus of the world as well as his own collection of found objects, waste materials and other elements from which life appears to have been sucked out by time and history.
Kiefer's latest exhibition at the White Cube Bermondsey, a space with which he's developed an intimate relationship, is inspired by James Joyce's Finnegans Wake – a work of art whose labyrinthine form and poetic deconstruction of language has been a source of inspiration for the German artist for many years, although this is the first time he's consciously made work directly connected to the avant-garde masterpiece.
The dark entrance passage way, now a staple of Kiefer's Bermondsey installations, works as a kind of initiatory pathway, an entrance into the Underworld, evoking ghosts, dreams, corpses and the often strange magic of discards. This is part of what Kiefer calls his "arsenal", his lifelong accumulation of resources which both inspire him and provide fuel for his work: there are heavily spray-painted clothes, hanging in sinister rows, displays of human and other bones in glass cases, abandoned suitcases that could contain filth or treasure, boxes full of stones, some of them silver and others gold – as in much of his work, a great deal of lead, an allusion perhaps to Saturn, the god of Time and constraint, the artist's fetish dried out palms, sunflowers and poppies, recurring double helixes and slithering snakes, objects of many shapes and sizes, amulets used perhaps in rituals as yet un-invented, or perhaps long-forgotten. The display evokes the dusty reserves of an imaginary museum, as well as the otherworldly alleyways of the Palermo catacombs. This is a place that echoes with the limitations of mortality, as well the flights of the artist's own imagination. A place of life as well as of death. A space in which to be startled and moved, as well as entertained.
There are hand-painted signs and captions drawn from Finnegans Wake. Joyce's playful and punning use of language often matches the seemingly haphazard display on either side of the alley and in one of the adjoining galleries, in which larger objects and three-dimensional assemblages are piled up to the high ceiling. A row of slim mushrooms are labelled "seedy ejaculations", some rubble "failure". There is a vertical row of displays featuring bent sheets of metal ("best intentiones"), shards of thin plaster, with an upended toy chair ("fresh horrors from Hades") and, at the bottom, trays of malformed gold nuggets ("crocodiles tears").
Kiefer has taken a text in which logic is replaced by imaginative juxtaposition, and used it to fuel his own tendency to create non-linear resonances, a constantly shifting anti-system of free associations. As with Joyce's masterpiece, Kiefer's work has always drawn on the uncertainties of myth, a timeless history. Finnegan's Wake, a book that starts with the end of the sentence with which it begins, evokes a circular vision of time. Kiefer may reference history, but sets it in a mythical context, the eludes conventional interpretation but delights the imagination.
There is a fascinating continuity in Kiefer's work. His journey is informed by reading and study. It's perhaps not surprising that his last major show, at the Grand Palais Ephémère in Paris (2021) was a dialogue with the Czernowitz-born poet Paul Celan, whose re-invention of the German language after the Holocaust, parallels the Irishman Joyce's own re-enchantment of the English language. Celan's later poems are as hard to decipher as Finnegans Wake, and yet elevate words beyond the dull and reductive literalism of so much verbal discourse. Celan, Joyce, Kiefer, all of them are dedicated to the freeing of the human imagination, to creating language, verbal or visual, that communicates something of the elusive mystery of experience.
There are plenty of breath-taking moments in the show. This is hardly new for an artist whose gigantic scale is never held back by considerations of tastefulness or humility. Kiefer isn't into the shock value of Damien Hirst or the Chapman Brothers. The sensations he provides are enriched by a good deal of mystery, and rooted in a wide-ranging knowledge of myth and poetry, languages of rich indeterminacy that fed Joyce's imagination as well. There are references in the Bermondsey show to alchemy – a psychological journey, as CG Jung imagined it – the Zurich psychoanalyst and author influenced Joyce as well, not least in Finnegans Wake.
But politics are not far away– in a poetic way rather than reductively ideological. One gallery features a large pile of sand, in which a number of supermarket caddies have been beached, like dead creatures from the sea (pictured above). The effect is jaw-dropping, and enhanced by words from Joyce, written on the wall: "making a venture out of the murder of investment / Marx my word fort /Our bourse and politicoecomedy are unsafe with good jet shepherd". Along with the battered trolleys, there are dried out poppies as if to remind us of the recurring evocation of memory and forgetting in the whole of Kiefer's work. One of the caddies, tumbled over, is weighed down by mysterious large objects, covered in dull silver foil, with an ironic comment from Finnegan's Wake, "the dairy days of buy and buy". Might this detail provide a way into the giant painting on the wall opposite? An almost faceless human mass, consumers perhaps, enslaved to base matter and shopping, arising out of a miasma of thickly applied and almost sculptural paint. Behind them an explosion of a sun, or perhaps something more catastrophic. As so often with Kiefer, creation and destruction, life and death, as with the Hindu god Shiva, are inseparable, containing each other. The rubble, ever-present in Kiefer's recent installations, is not just ruin, but ground for the new life of the imagination.
Walking through the Bermondsey space is not a classic gallery experience, for Kiefer, with his all-embracing and immersive installation inverts the cliché of the white cube, turning the art gallery into something more like a temple of a cathedral. The work inspires awe and a great deal of emotion. I found it difficult to hold back the tears in a room (pictured above) that contains ten works unlike anything Kiefer has done before. Somewhere between expressionist abstraction and landscape, they evoke expanses of water, trees and sky. There's a little more colour in this room than in the rest of the show, which is predominantly monochrome. The effect is numinous: the skies are in gold leaf, in the manner of icons or Italian primitive painting. With large books made of lead, once again a familiar Kiefer presence, the dull metal discoloured by various chemical reactions, so that that each leaf feels like a painting itself, the room has a sacred feel to it, as if reverence were the only possible reaction. This space is the culmination of the journey with Joyce, reunited with the image of water that flows through his labyrinthine novel. The immersive feel of the installation evokes Monet's monumental Nymphéas, but in a darker version, imbued with the accumulated tragedy of the 20th century, but no less inspiring for that.
This is a show not to be missed. I was indeed so taken by it that, having left the gallery for some lunch, I felt impelled to return a couple of hours later. I didn't regret it. The exhibition is so rich, almost a small museum or vast cabinet of curiosities, overflowing with images and allusions and redolent with mystery, held together by the perverse logic of dreams. As I walked around a second time, I was drawn to different objects, different texts from Joyce, and their endlessly inspiring juxtaposition. There are few artists alive today who make art with as much depth, resonance, and soul. The apparent darkness in Anselm Kiefer's work is bathed in light. It inspires emotion in a way that high-flying work relying on the sharpness of the intellect, stimulating as it may be, just does not.
The work inspires awe and a great deal of emotion
rating
Explore topics
Share this article