The Tony Blair Interview with Andrew Marr, BBC Two: The Twitter Review |

reviews, news & interviews
The Tony Blair Interview with Andrew Marr, BBC Two: The Twitter Review
The Tony Blair Interview with Andrew Marr, BBC Two: The Twitter Review
Our live Twitter response to the ex-PM's grilling/book promo
Wednesday, 01 September 2010
Kennard Phillipps, 'Photo Op', 2005
JasperRees Not long now till Tony Blair faces interrogation by A Marr. GraemeAThomson and I tweeting a live review
GraemeAThomson Nice to see they've scheduled it straight after Restoration Roadshow. Someone at the Beeb with a GSOH?
GraemeAThomson Marr's gone with the orange tie. Provocative
JasperRees Are you prepared to speculate about the timing of the Hague twin-bed allegations? Who wins? Who loses?
GraemeAThomson I admired the directness of Hague's statement earlier on. May make everything Blair says seem a bit evasive by comparison
JasperRees Can't quite tell if he's really slagging off Gordo for "departing from the New Labour programme"
GraemeAThomson Wouldn't it be great if he just said, "Gordon broke my heart, ALL RIGHT! Just drop it."
JasperRees A fiver says they never shared twin beds in a hotel room Team Hague style
GraemeAThomson Bunk beds?
JasperRees Ah. The destiny question. "I thought it was going to fall to me" before Smith died
GraemeAThomson Quite extraordinary story that, about foreseeing Smith's death
JasperRees Well he did see himself as a prophet. I just started transcribing a sentence
GraemeAThomson Fairly straight answers so far. Nursery slopes before Iraq looms, though...
JasperRees Gave up when the main verb refused to show. Whose shade of blue suit are you favouring in the early rounds?
JasperRees I think I need to adjust the colour. Blair's sunlamp epidermis not working with the hot pastel backdrop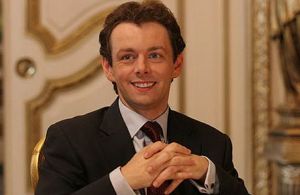 GraemeAThomson I hope Michael Sheen has a sunbed... (pre-sheen Sheen as Blair in The Queen, pictured right)
GraemeAThomson Big stuff: foxes...
JasperRees You could have laid a million quid on him conceding fox hunting as his one mistake in government.
GraemeAThomson Yep. Classic bargain. "I'll admit I'm wrong on foxes, but not on the war..."
JasperRees Someone recently told me that at Oxford he was amazingly funny. And no one ever sees it (evidence circled below).
GraemeAThomson Marr bowls a googly on spin. "I never lost faith in the British people." Thanks Tone
JasperRees I think that counts as a dead bat. And here comes Iraq. And Dubya.
GraemeAThomson Here we go
JasperRees Oh no. Ireland first. I sniff a contractual obligation. Nice little mention for Mo whom he fired for Mandy
GraemeAThomson Open goal for TB, Ireland.
JasperRees "You pushed a truth beyond breaking point" "Occasionally it was stretched pretty far" Sadly not a dossier question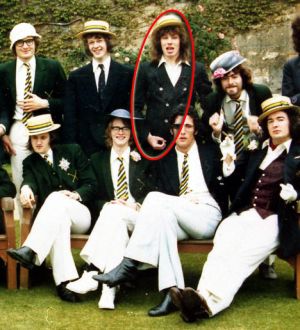 GraemeAThomson Yes, cheeky. Paxo would have drawn blood by now.
GraemeAThomson 9/11 "altered the calculus of risk". A bit shifty about his alliance with Dubya...
JasperRees I always wonder who minted that phrase. He's used it before.
GraemeAThomson Saddam & WMD. First signs of TB getting a little edgy.
JasperRees "I've always apologised for the fact that the intelligence was wrong." Think I missed that announcement.
JasperRees Could a non-barrister have led us into war through the slippery byways of equivocation and casuisty?
GraemeAThomson Good for Marr; getting stuck into the nitty-gritty & nuts and bolts of the war issue.
JasperRees "FO lawyers didn't think it was clear" "Other lawyers DID think it was clear" One is reduced to firing off exclamation marks
GraemeAThomson Ultimately, he still comes to that argument: the world is better off without Saddam. Yes, but...
JasperRees The non-link between Al Qaeda and Saddam has not been examined unless I missed it in the flim-flam
GraemeAThomson You're right. Flipped straight from 9/11 to Saddam & WMD. Presumably it's all explained by the "axis of evil"
JasperRees A phrase he doesn't quite have the stupidity to use. Waiting for the divine inspiration thing to come up.
GraemeAThomson Marr plugging away for The Big Apology. Ain't gonna happen.
JasperRees "Look, I'm sorry but I'm not sorry." He's just said "evil" for the first time
JasperRees For those not watching, he didn't actually say "Look, I'm sorry but I'm not sorry" btw
JasperRees Easy for us couch potatoes and barroom philosophes to barrack after the event, of course. So let's carry on...
GraemeAThomson So, where do you think Blair is right now? I picture him watching from the hollow volcano in You Only Live Twice (pictured adjacently)
JasperRees On Cliff Richard's private island karaoke-duetting on "Summer Holiday".
JasperRees Actually I cycle past his house quite often. Not Cliff's. Coppers out front and back
GraemeAThomson Afghanistan reduced to - "Is it us or them who are the baddies? That's the big debate for the West"
JasperRees But not for this interview. Onto the economy. Hoping for questions on binge drinking: Gordo drove him to it
GraemeAThomson "Some politics is Right vs Left, and some is right vs wrong." Never did like the soundbites, did he?
JasperRees Just clocked Marr's tie. A very eager shade of orange. Not that I'm superficial or anything as we move to economic matters
GraemeAThomson Mentioned Marr's tie right at the top. "Provocative".
JasperRees Apols. "Even if it's Diane she'll have my 100 per cent support" Wish he'd asked about wrecking Balls, Gordo's pitbull
GraemeAThomson TB's hand gestures are still designed to be seen from the back of the hall
GraemeAThomson Rousing, Kevin Keegan-style team talk for New Labour there.
JasperRees Keegan as in the curse of King Kev? I would love it if we beat them in the next election.
JasperRees Stones alert: 'You can't please all the people all the time.' But you can always get what you want.
GraemeAThomson "The worst thing you can do is have someone who used to do the job popping up.." Oh
JasperRees Re-donating book money, the joke is there will be no royalties for his book. It'll never earn out its advance.
GraemeAThomson Marr digging away about money like a dog with a bone.
JasperRees Not sure how many houses he owns? He wouldn't have said that on the stump. McCain did. And look what happened to him
GraemeAThomson Legacy time. History will be my judge... 15 years, still hard to work out how much is an act and how much is real.
JasperRees And so concludes probably the last grilling he'll ever face. Did he come through unscathed?
GraemeAThomson The TV adaptation of A Journey. Blair heads off to the helipad
JasperRees Buy the book and, as Mandy said of his own apologia, "read it in the round". Or alternatively don't.
GraemeAThomson I think Blair escaped without any major wounds. Might have been more interesting had it been b/cast live
Share this article