The Other One, BBC One review - entertaining odd-couple sitcom |

reviews, news & interviews
The Other One, BBC One review - entertaining odd-couple sitcom
The Other One, BBC One review - entertaining odd-couple sitcom
Two women discover they're half-sisters when their dad dies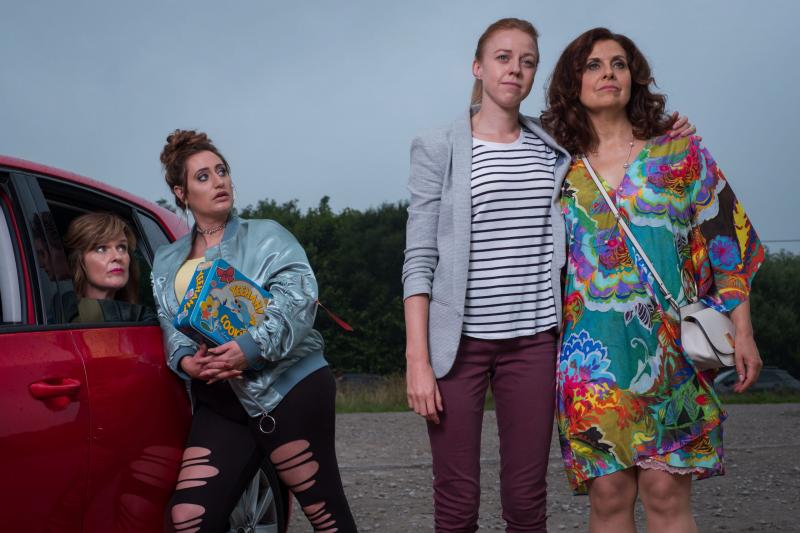 Double-family comedy: from left, Siobhan Finneran, Lauren Socha, Ellie White and Rebecca Front
This engaging sitcom created by comedian Holly Walsh has had a long gestation: this, the pilot episode, was first broadcast back in 2017 but Walsh's pregnancy meant that the six-part series commissioned at the time was filmed last year.
The show was prompted by a chance remark a friend made to Walsh about a man whose double life was discovered only when he died, and the pilot begins with Colin Walcott's family gathering in a crematorium for his funeral after his death from a heart attack when his double life was exposed. It's not his bigamy that Walsh and co-writer Pippa Brown focus on, but the effect his death has on the four women devoted to him.
Sitting across the aisle from his widow, Tess (Rebecca Front), and daughter Cathy (Ellie White) are his mistress, Marilyn (Siobhan Finneran), and his other daughter Cat (Lauren Socha). To avoid confusion, he named both his daughters Catherine. As Tess says in her excoriating funeral speech: "I've heard of men buying their wife and mistress the same perfume but this is much worse."
And so starts a classic odd-couple comedy, as the only thing the daughters have in common is their name: the buttoned-up Cathy works in insurance, has a fiancé and a pension, while Cat has a pay-as-you-go phone and is a Deliveroo driver. They're chalk and cheese, and before they can get to know each other there's the tricky issue of who gets their dad's ashes.
It's culture-clash comedy, too: the "legal" family are middle-class and rather snobbish, the secret one working-class and down-to-earth. And earthy, too, much to Cathy's consternation; Marilyn talks frankly about her and Colin's sexual attraction, while Cat, when asked if she has a boyfriend, says: "Well, this summer I finally completed Tinder so I'm just taking a bit of a breather."
The mothers also follow the odd-couple trope: Marilyn and Colin had a very active sex life, while Tess and Colin's had petered out. Furious that she believed Colin's many lies (he was always playing golf, it seems), she throws herself into internet dating (Guardian Soulmates rather than Tinder, of course) the minute the funeral's over. Front almost steals the show with a bravura performance of anger, regret and pent-up frustration given its release, culminating in an awkward fumble in a car park with Neil Pearson as her first internet date.
Yet while there are some very broad gags to flag up the differences between the two families, there are some subtler observations, too: Marilyn isn't just a chain smoker, but she lights up in Cathy's car without asking first and Cathy, while agonised, is too polite to ask her to stop.
The Other One is funny (often laugh-out-loud so), witty and knowing, and has believable characters writ large but given measured performances by the four leads. The series continues in the same vein.