Line of Duty, Series 2 Finale, BBC Two |

reviews, news & interviews
Line of Duty, Series 2 Finale, BBC Two
Line of Duty, Series 2 Finale, BBC Two
Gruelling police corruption thriller keeps spines tingling to the end
DI Lindsay Denton (Keeley Hawes), having difficulty seeing the joke
If nothing else, this second series of Jed Mercurio's brutalist police thriller has done wonders for Keeley Hawes. Not that she was in much need of a career pick-me-up, but the way her haunted portrayal of the much-abused DI Lindsay Denton has brooded over the story like a funeral shroud deserves to land her a few gongs and is doubtless already bringing in heaps of job offers.
Arriving as it has in the midst of continuing revelations about the murky innards of real-world British policing, LoD2's depiction of murder, corruption and conspiracy within the force has gained additional horrific impact from the sense that it might not be as far-fetched as all that. Mercurio has devised a world in which all conclusions are provisional and all evidence is at best ambiguous. Just when it seemed that (for instance) Denton had been proved innocent of the murderous assault on police officers escorting protected witness Tommy Hunter, some malign new scrap of information (paint scrapings on a bugging device, for instance) would be dragged into the daylight to sow more doubt. When you thought the real bad guys had been unmasked, it turned out they were just the front for even worse guys.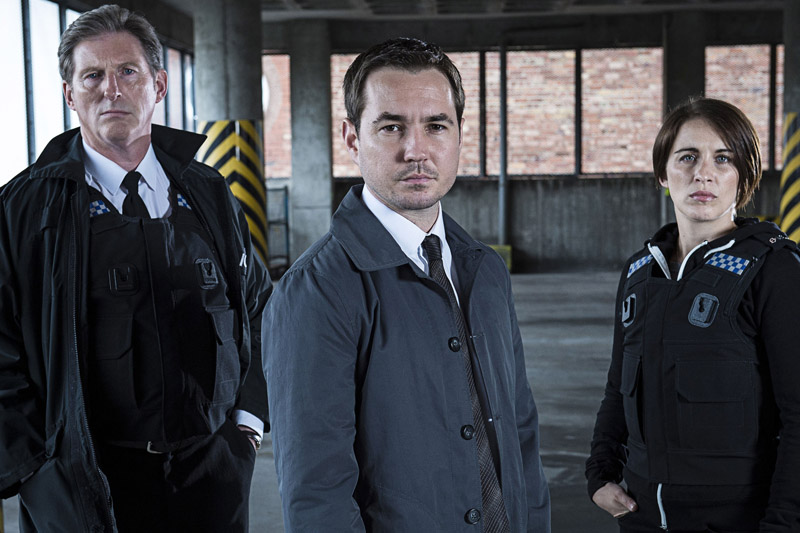 Shows in which all the characters are despicable are playing a dangerous game with the viewer's affections, and Mercurio took it as close to the wind as he dared. Blimey, he even threw all caution to the winds by having the nation's sweetheart Jessica Raine thrown, screaming, out of a high window. Whatever suspicions may have continued to lurk about Denton, and lurk they did right up to the conclusion of the final episode, she could hardly help being more sympathetic than the anti-corruption unit who were investigating her. Led by the cynical careerist Ted Hastings (Adrian Dunbar), ably abetted by his conniving underlings Kate Fleming (Vicky McClure) and Steve Arnott (Martin Compston), this lot (pictured above) were odious enough to make you want to see them trapped in a fatal shoot-out with the evil Prasad (Sacha Dhawan) and his team of rogue vice squad mafiosi. The closest we got to some vengeful satisfaction was when Denton crushed Prasad against a wall with a high-revving Audi and squeezed a confession out of him. But of course, he was able to use his insider knowledge as leverage to gain immunity from prosecution.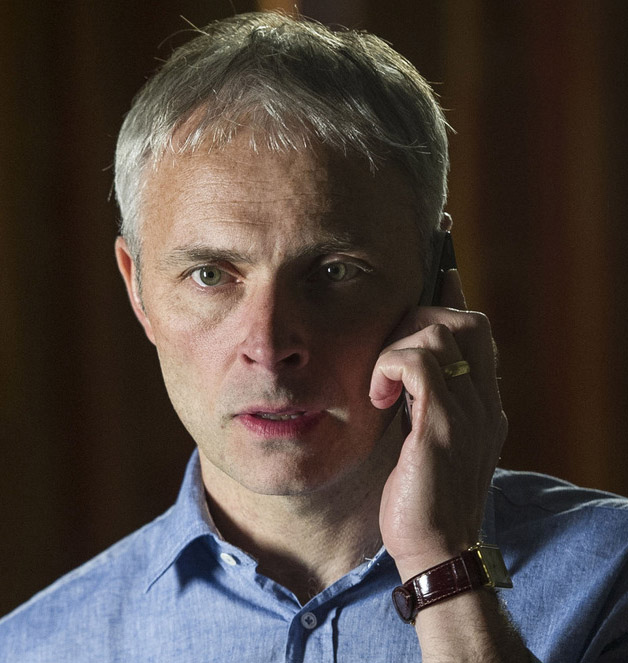 Still, you couldn't fault the performances, repellent as most of them were. A special nod to Mark Bonnar as DCC Dryden (pictured left), whose facade of condescending senior-officer rectitude was steadily eroded by escalating evidence of moral turpitude. First it was merely fiddling a motoring offence in Chris Huhn style, then it was possible involvement in the murder plot, and finally sleazy sex with the abused underage runaway Carly Kirk. Dryden's callous use-and-abuse of Denton was another of the evidence-landmines laid by Mercurio to muddy the waters of her motivation. It was thanks to Dryden, apparently, that she'd been left a depressed, lonely woman nursing a dying mother and with only a cat for company. No wonder she was prone to playing lachrymose Einaudi-style music on the piano.
But while booby-trapping his narrative with devious clues and perplexing relationships, Mercurio was canny enough to leave us with a few loose ends to fret over, perhaps to blow up in our faces in series three. Like that "Dot" Cottan, for instance - what's his game, then?
THE MANY SIDES OF KEELEY HAWES, DRAMA QUEEN

Ambassadors, BBC Two. Mitchell and Webb and Hawes pack their bags for Tazbekistan to star in a diplomatic comedy drama
Ashes to Ashes, BBC One. Hawes's Eighties copper goes back to the future in Ashley Pharaoh's follow-up to Life on Mars
Identity, ITV1. Keeley Hawes and Aidan Gillen on the trail of ruthless cyber-criminals
The Casual Vacancy, BBC One. Hawes peddles erotica in JK Rowling's Cotswold village
The Hollow Crown: The Wars of the Roses - Richard III, BBC Two. Hawes's first stab at iambic pentameter opposite Benedict Cumberbatch chilly crook-backed king
The Missing, BBC One. Hawes plays a grieving mother in misery-drenched odyssey
Upstairs Downstairs, BBC One. Hawes is the lady of the house as Rose Buck returns to 165 Eaton Place after 35 years