Imagine Becoming Cary Grant, BBC One review - contemplative portrait of a star |

reviews, news & interviews
Imagine... Becoming Cary Grant, BBC One review - contemplative portrait of a star
Imagine... Becoming Cary Grant, BBC One review - contemplative portrait of a star
Beautifully rendered depiction of the troubled life of a consummate actor
Wednesday, 31 October 2018
'I pretended to be somebody I wanted to be until finally I became that person. Or he became me'
Mark Kidel has made a beautiful, ethereal film projecting his version of Cary Grant and as such it's destined to be picked over by the actor's legions of fans, each of whom will have a different version. But what would the man himself have thought if he'd lived to see Becoming Cary Grant?
Notoriously protective and ambivalent about his image, one can only hope that he'd approve of the
documentary
's sympathetic, melancholic tone.
One of the biggest stars in Hollywood's golden age, Grant appeared in over 70 films before retiring at 62. Kidel makes generous and judicious use of scenes from his movies, particularly his best roles directed by Hawks and Hitchcock, but it's Grant's own 16mm footage from the 1930s and readings from his unpublished autobiography that makes this documentary stand out from previous portraits.
A dialogue is swiftly set up between polished film clips and grainy home movies and between the assured charm of the movie star and the troubled man off screen. Born in working-class Bristol in 1904, Archie Leach came to America after tumbling into theatre in his teens. He travelled with the Pender vaudeville troupe to New York and did not come back to England until Hollywood had changed his name and made him famous. The great film historian David Thomson observes that "he was never American but he was not English. He was something else, something in between". The man himself was aware that "Hollywood icon" was another role he was playing. He famously quipped, "Everybody wants to be Cary Grant. Even I want to be Cary Grant."
It certainly looked preferable to being Archie Leach. Elsie, his mother, was haunted by the death of her first son in infancy and overprotective, keeping Archie in "baby dresses and curls" for so long that he wasn't sure if he was a boy or a girl. She then disappeared without warning when he was 11. His father Elias sent him to live with his neglectful paternal grandparents while he started a new family in another city. Archie felt profoundly rejected and haunted the docks of Bristol, watching the ships and wondering where Elsie had gone.
It was only after Elias's death some 20 years later that Grant discovered his mother had been committed to the Bristol Lunatic Asylum by her husband and was still alive but frail. Grant visited, bought her a house, ensured her lifelong care and they exchanged loving letters, but there was a distance between them whenever they met. That childhood trauma wasn't easy to repair and his latest biographer, Mark Glancy, speculates that it led to trust issues with women throughout Grant's life, which included five marriages. Kidel chooses not to focus on the widely rumoured romances Grant had with men, although acknowledging that he appealed to both genders; doubtless this omission will rile the star's gay fans.
Instead it's Grant's quest to understand himself better through LSD in the 1950s that becomes the documentary's narrative backbone. Jonathan Pryce reads extracts from Grant's memories of his acid trips over Mad Men-inspired scenes in the therapist's room. It's a little too art-directed (mannered shots of his shrink smoking Winstons while a Grant lookalike writhes on the couch), but the recreations are intricately and atmospherically edited together with allusive scenes from feature films and home movies. Grant himself was transformed by the experience, speaking openly about LSD's benefits to Good Housekeeping magazine in 1960.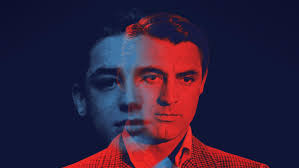 Kidel works alchemy in the edit with an atmospheric soundtrack commissioned from Portishead's Adrian Utley and fellow musicians which helps weave together the feature film extracts, archival footage and Grant's home movies. Rather than the conventional career run-through and gushing tributes from fellow thespians, Kidel relies on a handful of insightful interviewees. Their observations combined with readings from Grant's unpublished autobiography mean that little stodgy commentary is necessary. It's an unusual Imagine... as it barely features Alan Yentob (one has to hope that licence fee cash wasn't spent flying him to LA just to deliver a 30-second intro in front of the Hollywood sign). A lovely, contemplative documentary, well worth catching on iPlayer if you missed its late-night broadcast.