The Hitchcock Players: Cary Grant, Notorious |

reviews, news & interviews
The Hitchcock Players: Cary Grant, Notorious
The Hitchcock Players: Cary Grant, Notorious
Hitch's favourite actor revelled in the opportunity to show his dark side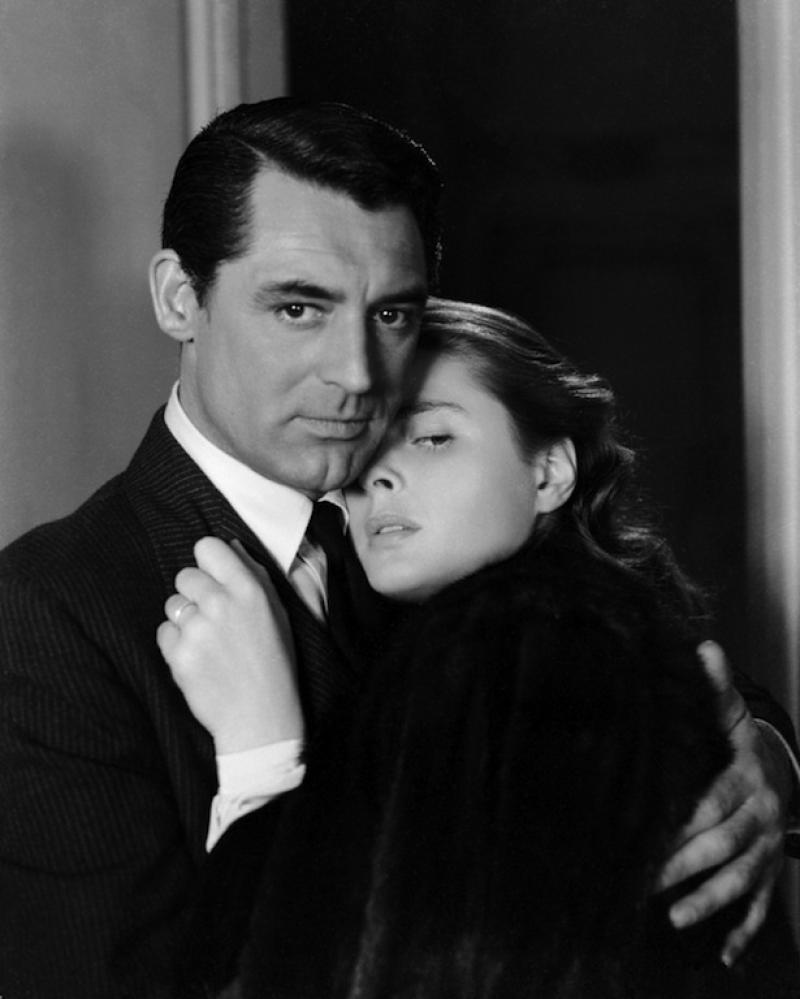 Grant and Bergman
Like his great contemporary Jimmy Stewart, Cary Grant not only gave some of his best performances for Hitchcock, he also grabbed the opportunity to darken his screen persona. It was never the case, with either of them, of simply playing "baddies". Far more significantly, they revealed the dark psyches of average, even good men, in performances that leave the audience with the bitter aftertaste of familiarity.
In Grant's case, there is no better example of this than in Notorious. Released a year after World War II, on the surface the film is a spy yarn about Nazis conspiring against the US, which capitalises on America's post-war paranoia. As usual, though, Hitchcock is interested less in the genre than in the twisted psychological war between men and women.
Grant's American agent Devlin enlists the daughter of a Nazi traitor, Alicia Huberman (Ingrid Bergman), to spy for Uncle Sam. By the time they've landed in Rio for the assignment the pair are smitten, only to learn that Alicia's specific task is to be one of Mata Hari, seducing her former suitor and Nazi ringmaster Alexander Sebastian (Claude Rains). In effect, Devlin is pimping the woman he loves.
There's no doubting his torment, torn between love, duty and jealousy. But he doesn't handle it well at all, failing to see the hell of Alicia's own situation. She at least voices her true feelings; he contains them, emotionally impotent, preferring to treat her like a tramp. One of the scenario's delicious ironies is that Rains's villain is the much more attentive and cooing lover.
The film was written by Ben Hecht, whose play The Front Page spawned His Girl Friday and one of Grant's greatest comic roles (for his other key director, Hawks). Whereas his performance in that film is fuelled by machine-gun delivery, in Notorious he is taciturn, brooding, all sly glances and sulks; no-one played wariness quite like Grant. Devlin will eventually admit to being "a fat-headed guy, full of pain", a condition that the actor conveys with marvellous subtlety.
Grant felt that with the advent of the Method, his style of acting had become redundant; but he did himself an injustice. His performance here is extremely naturalistic, in fact, born of boldness and the instinctive understanding that less is more. Incidentally, he is as dishy and debonair as ever. "Don't you need a coat?" he asks Bergman when they first meet, to which she answers, "You'll do."
Watch an extended clip from Notorious