Heston's Marvellous Menu: Back to the Noughties, BBC Two review - ghost of food trends past |

reviews, news & interviews
Heston's Marvellous Menu: Back to the Noughties, BBC Two review - ghost of food trends past
Heston's Marvellous Menu: Back to the Noughties, BBC Two review - ghost of food trends past
An overindulgent but enjoyable romp through the 2001 restaurant scene
Heston Blumenthal revisits his first ever Michelin-starred meal in Provence
Heston Blumenthal, of triple-cooked chips fame, is a mad food scientist. Well, that's how we're introduced to him in Heston's Marvellous Menu.
Tonight's
BBC Two
programme had a rather theatrical premise: a chef recreating the complete dining experience (menu, team, decor, diners) from a pivotal year in their restaurant's history. What's unclear is if this show was intended as a one-off
documentary
or the first episode of a series. What's certain? It was a wacky time capsule.
The programme opened with Blumenthal and Giles Coren, The Times' restaurant critic, choosing a year to recreate. The verdict was 2001, the year that Blumenthal began his experiments with "multi-sensory cooking" — food that toys with your senses as well as your expectations. They find the old team, reunite them and rehash a historic menu. They invite a list of erstwhile A-graders to dinner and make the restaurant look exactly how it was 18 years ago. In between kitchen scenes, the team reflect on old memories. The programme ends with one big feast.
For the most part, Heston's Marvellous Menu is an enjoyable romp. Blumenthal's highly-engineered food is zany at times, fascinating at others. It's fun to revisit his influential hits, like the delightfully tricky (golden) beetroot and (blood) orange jelly. But food science is only an appetiser for the main meal: nostalgia. With its focus on reuniting and looking back, the programme serves up a heady mix of wistfulness, gratefulness and frustration. It's a strange but recognisable cocktail — it feels like a school reunion (Blumenthal, Coren and the chefs, pictured below).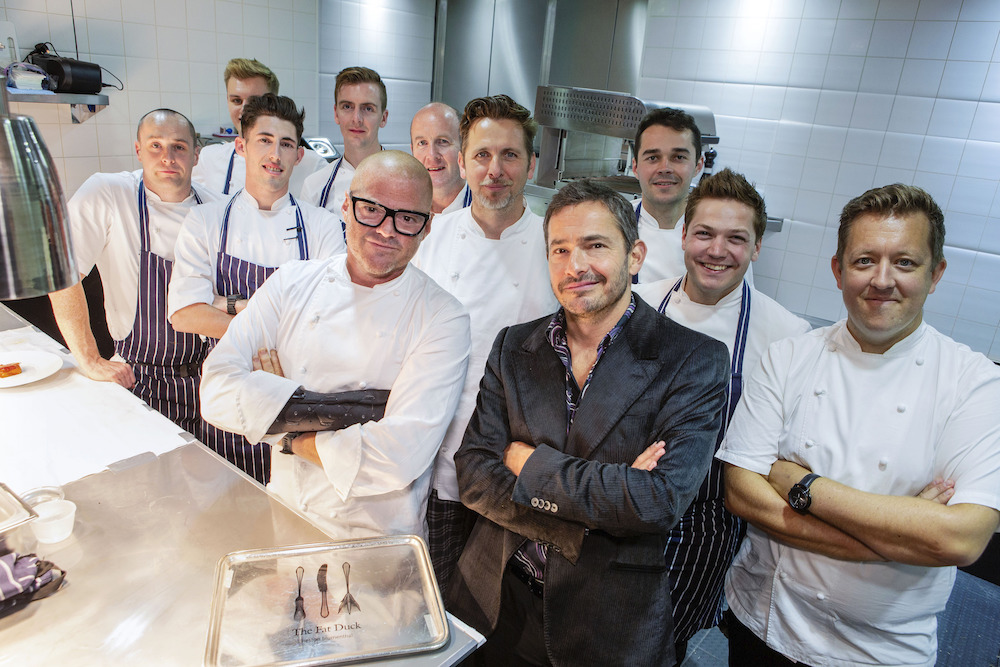 Predictably, there's a bit of idolatry here. Michelin stars are raised like clockwork. There's an interview with a chef, who was three-years-old in 2001, reverently describing how his boss made sous vide mainstream. ("It's mental to think that that's because of him and [his] sleepless nights looking through catalogues and calling up laboratories.") The idolatry is combined with some old codger antics. In The Fat Duck's kitchen, Coren slaps red signs ("NOT 2001") on state-of-the-art appliances, then enjoys watching the young chefs squirm at the idea of using, like, a normal oven. "But that's fine," Coren insists, "I cook my dinner on that."
There are some charming moments — like Derek Creagh gesturing nervously at the fire alarm while Blumenthal sets a bowl of hay on fire. Or Garrey Dawson demanding a pencil (two pencils) to tuck behind his ear as he cooks. But other scenes are more complex, like when Blumenthal unboxes his Order of the British Empire. It's enchanting but estranging. Just like the food, I guess.
Although Heston's Marvellous Menu is entertaining, there is a feeling of wastefulness. So much effort and money is poured into the 2001 charade. But as the maitre d' says, "[Heston's] looking back at something that's all broken. Square tables? Wrong. The lighting? Wrong. The painting? Wrong." Clips of a furniture maker (rebuilding old dining chairs to specification) and a reinstallation (to make the kitchen smaller and worse) seem like an overindulgent investment in what is, essentially, a bit of fun. But the theatrics are the point. They're helped along by a weird soundtrack, which can only be described as In the Hall of the Mountain King blended with suspenseful muzak.
If you're interested in the evolution of the UK restaurant scene, this programme is worthwhile. But as the TV producer Ash Atalla notes, while waiting for his meal, there is a peculiar dynamic here. The highly-staged revival of the 2001 restaurant and its 2001 clientele has the effect of suggesting that this food and these people are no longer relevant. It's a strange backhanded compliment to Blumenthal and all involved. If the programme is pushed forward as a series, I'm unsure if any other iconic British chefs will fit the bill. Marco Pierre-White retired last century, Fergus Henderson's menus stay successfully the same, and Jamie Oliver's empire is no more. Meanwhile, the food scene in the UK only seems to get better. So, why go back?