The 12 Drinks of Christmas, BBC Two |

reviews, news & interviews
The 12 Drinks of Christmas, BBC Two
The 12 Drinks of Christmas, BBC Two
Knowledgeable drinkers Armstrong and Coren give hiccups of insight despite an insistently gimmicky format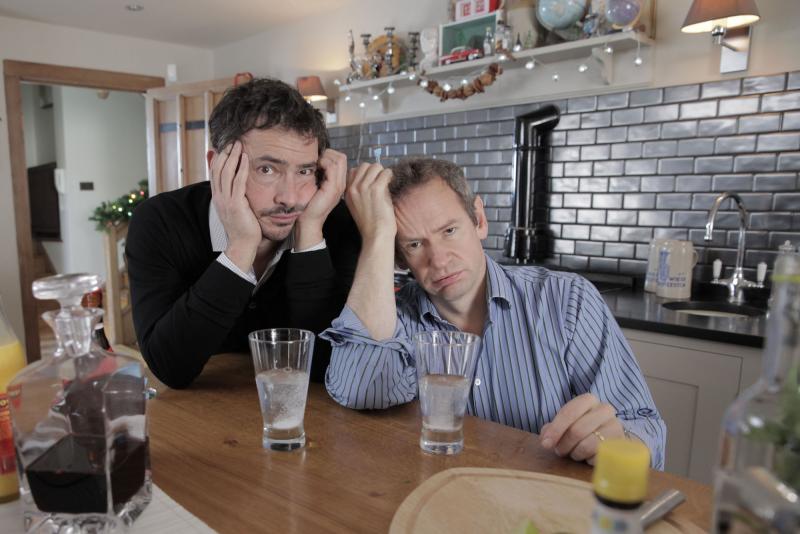 Coren and Armstrong: drink-related food tips
Most people know the basics of making a cocktail. Take two ingredients: one palatable and widely consumed, to make up the body of the concoction; the other, pungent and often bitter, to cause the lips to pucker and the throat to flinch.
So it was that BBC Two set about this festive aperitif of a programme, with Alexander Armstrong, serial guest chair of
Have I Got News for You
and presenter of
Pointless
, as the part that slips down nicely, while Giles Coren, knowledgeable about food and drink, and at his best very witty, but not everyone's glass of duty-free Advocaat, was the racy counterpart.
The programme's concept, to share some bright ideas about the festive beverage, was excellent. Despite the bombardment of seasonal cookery books, Christmas lunch is still, for many, a joyless confection of dried-out turkey and sulphurous sprouts, having been improved far less than our everyday dining by the supposed increase in our gastronomic skill. The drink, the one thing nearly everybody needs to get through the day, fares even worse: the same sticky, dusty bottles come out of the cabinet, just a little bit staler, flatter and emptier than last year.
Twelve drinks was too many to get through in the time available, allowing for expedient pranks, and the format was something of an amateur, chuck-it-all-in Christmas punch. It began with a couple of Apprentice-style challenges, in which Armstrong and Coren were sent off on competing buying missions. Instead of that programme's witless posturing, however, the banter from the purring, nonchalant Armstrong was quite lovely, and there was no soft-pedalling on the bro-in-law-mance going on here between the pair we came to know as Xander and Giley (who presented himself well, and appears to have lost the arrogance for which he became known a few years back).
Coren dropped exasperatingly scanty hints at his expertise
The mission to buy champagne was excellent. While Armstrong chatted informatively with the buyer at an exclusive wine merchant, Coren visited a Kentish vineyard for some home-produced brut, which was resoundingly preferred to Armstrong's branded champagne.
The wine mission, similar in format, yielded much less. Both presenters seemed to be knowledgeable about wine, but were stuck with a script that insisted on gimmicks. Coren dropped exasperatingly scanty hints at his expertise, such as that wines from the Languedoc are good value and much better than they used to be. But much of his section was spent in a tediously contrived scene at a plastic picnic table in a French supermarket car park, spitting three-quid plonk onto the tarmac, as if we should be surprised it was disgusting.
Armstrong, meanwhile, faffed about as a wine waiter in a London restaurant, testing his £50 bottles on random diners who had nothing of interest to say. The pair concluded that Armstrong's expensive bottles were extravagant and Coren's cheap ones disappointing. Who'd have thought.
Where there was nothing to learn, it could be demeaning, such as the sequence in which they experimented with the lighting of the Christmas pudding. So, pudding burns better with 80 percent rum than stale brandy. Well I never. Presenters, brandy, pudding, and the fireman, standing by looking understandably bored, were all wasted. It was so gimmicky I half expected Jeremy Clarkson to burst onto the set and burn Armstrong's house down with the blowtorch.
Yet when Xander and Giley had the chance to show what they knew, they bubbled away like the finest Bolly. Or even a Kentish brut. Armstrong's recipes for cocktails, mulled wine, and eggnog set up a fearsome thirst. More of Coren's drink-related food tips would have been welcome, too. He certainly knows his smoked salmon.
If they had been bothered, and clearly neither lacks for the means or opportunity to drink in each other's company without a camera in his face, this would have made a great three-parter. So many of these drinks, from the claret to the hedgerow-foraged sloe gin, need time to steep and come to fulfilment. The programme, like Coren's cheap wine, needed more time to mature.