Fresh Meat, Channel 4 |

reviews, news & interviews
Fresh Meat, Channel 4
Fresh Meat, Channel 4
Another sure winner from Peep Show creators, this time about students
Thursday, 22 September 2011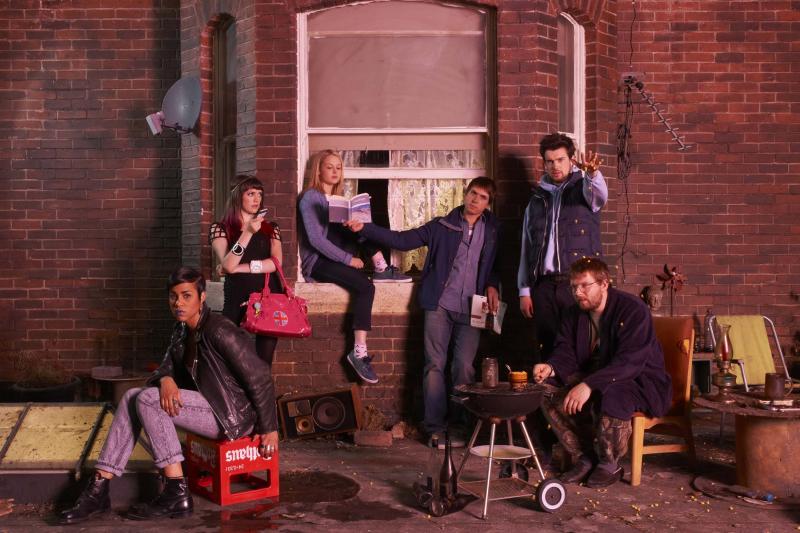 Fresh Meat, set in a shared Manchester student house full of freshers
How could you not immediately warm to a new comedy series that has almost as its first line, "Maybe you should tuck your cock away while I make us a nice cup of tea"?
And so begins
Fresh Meat
, set in a shared freshers' student house in Manchester (the line's speaker had just come across a chap wearing a jumper but no trousers), a sort of
The Inbetweeners
and
Skins
grown up a couple of years with a
Peep Show
aesthetic.
That aesthetic is due to Fresh Meat being the latest from Peep Show creators Sam Bain and Jesse Armstrong, who readily admit they are long past their own experiences of university. They wrote last night's wonderfully funny, embarrassing (and poignant) opener and have storylined the rest of the series, but have brought in a bunch of younger writers to work on the scripts.
Director David Kerr has assembled a terrific cast. Joe Thomas from The Inbetweeners here plays the perpetually nervous Kingsley, who has to fill every silence with a moronic observation - "So you like coffee?" - nerdily academic Josie (Kimberley Nixon), who wants to know which A-Levels everybody in the house took; habitual liar Oregon (Charlotte Ritchie); huge caner and lazy sod Vod (Zawe Ashton); social defect Howard (Greg McHugh); and, making an acomplished acting debut, Jack Whitehall as JP, a public-school wanker who wants everybody to think he's a super-cool, drug-toting dude who gets a lot of action, a "vagina miner".
There's lots of sex talk, and indeed a little sex action, but as in life there's more talk than walk
The script was full of laugh-out-loud phrases like that, which are destined to be repeated in school playgrounds as well as college bars over the next few weeks, and deservedly so. There's lots of sex talk, and indeed a little sex action, but as in life there's more talk than walk – let's hope that shy virgins making their college debut this month and next may take heart at the mundane reality that most of their confreres talk about sex more than they will actually have it over the next three years.
Parents waving off their offspring to uni in the next few weeks will also be delighted to know that safe sex is observed at all times in Fresh Meat – to the extent that last night's humping scene took place with both a Femidom and condom in place - a beautifully and knowingly observed social nicety, that.
The developing stories are being nicely set up; Josie and Kingsley, who fancied each other from the off but think they want to play the field, are clearly going to be star-crossed lovers; the differently vulnerable Oregon and Vod are surely moving into a mutually dependent relationship; while serial saddo JP, who seemingly has it all in terms of looks and money, buys his friendships. When Kingsley objects to him staying in the house, he is easily bought by JP's offer of Sky + HD – with sport, of course.
This was a funny opener, introduced some engaging characters well and set up the series nicely. It certainly looks worth staying with.
The script was full of laugh-out-loud phrases destined to be repeated in school playgrounds
Explore topics
Share this article