Downton Abbey, Series 3, ITV1 |

reviews, news & interviews
Downton Abbey, Series 3, ITV1
Downton Abbey, Series 3, ITV1
The threat of bankruptcy, Bolshevism and Shirley MacLaine cloud the nuptial horizon
Monday, 17 September 2012
Bally good: 'Our escapism depends on their entrapment'
Mid-September: the nights are drawing in and, to quote that well-known costume dramatist John Milton, the period detail is as "thick as autumnal leaves that strew the brooks in Vallombrosa". Downton – praise be! – is back. However, before the third series even gets into its penguin-suited stride it seems that paradise is about to be lost all over again. Lord Grantham has blown most of his wife's fortune: the Canadian Trunk Line Company has hit the buffers and gone bust.
While the crusty aristo refuses to be a failure his dependents have far more important things on their tiny minds. Lady Mary is about to marry cousin Matthew but should her sister Lady Sibyl, who – quelle horreur! – ran off with Branson the chauffeur, bring her hubby to the wedding? Tom's arrival not only raises another question – who paid the happy couple's fare from Ireland? – but also creates another pickle: Branson refuses to dress for dinner. Violet, Dowager Countess of Grantham, is not amused and likens him to the man from the Prudential. She is even less amused when one of Sibyl's former suitors slips the Republican a Mickey Finn which causes him to harangue his nation's oppressors over the family silver.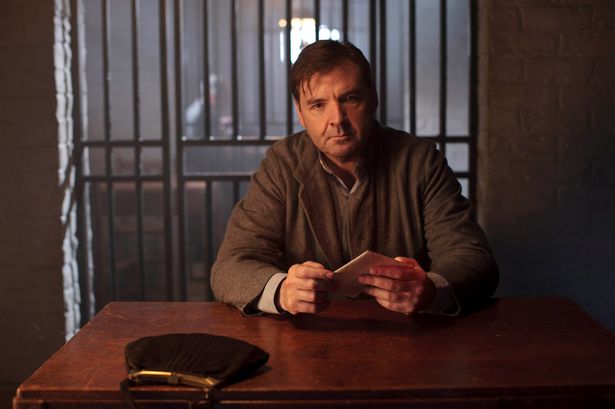 This being Downton such ripples round the table, like creases in a cloth, are quickly smoothed over. The countess confesses she sent Sibyl the money and, refusing to take no for answer, soon has Tom dressed in black. Meanwhile, downstairs, everything – walls, furniture, light – is browner than ever. The evil valet Thomas – whose homosexuality seems to have been forgotten – is browned off that a gigantic new footman has been employed. "Are you really that tall?" asks the Countess. "I thought you might be walking on stilts." When O'Brien the lady's maid – whose kiss curls look more and more like devil's horns – asks Thomas to help the new footman (her nephew) he refuses. Instead he advises Daisy, the disgruntled kitchen maid, to strike. Thus the "Bolshevik menace", glimpsed on a newspaper billboard, is ticked off the list along with the Irish Question. The date – 1920 – is just as lightly brushed in: cue cocktails and Marcel waves.
So what else is new? Mr Bates, his Lordship's valet (pictured above right, Brendan Coyle), is still in chokey for murdering his wife (he's innocent). Matthew stands to inherit a fortune from the late Lavinia's father but, hampered by middle-class morality – and guilt over his ex-ex's fatal dose of flu – proposes to give it away even though it could save Lord Grantham's bacon. He hankers after a simple life. His bride-to-be accuses him of not being one of them – a creepy Crawley – and, for a moment, it appears the wedding of the year is off but – don't panic – Mary is as pretty as a picture in her wedding dress.
The cast, of course, is as magnificent as ever. They bring the stunning costumes to life. Maggie Smith as the Dowager Countess still has the best lines – "like all lady's maids she lives for intrigue" – but her long-anticipated encounter with Lady Grantham's American mother, played with sparkling cynicism by Shirley MacLaine (pictured above left) – a clash of battle-axes – is curiously muted: "She's like a homing pigeon," sighs the Countess. "She finds our underbelly every time."
The Crawleys, stuck in the past, refuse to let go of the dead hand of history – and that's the way we like it. Our escapism depends on their entrapment. We smile when writer Julian Fellowes succeeds in getting such words as "hobbledehoy" and "wagonette" into the script. Downton may only be posh tosh about dosh and nosh but – gosh! – it's bally good.
The Crawleys, stuck in the past, refuse to let go of the dead hand of history – and that's the way we like it
Explore topics
Share this article