Dancing on the Edge, BBC Two |

reviews, news & interviews
Dancing on the Edge, BBC Two
Dancing on the Edge, BBC Two
Stephen Poliakoff's bloated epic ain't got that swing
Tuesday, 05 February 2013
Matthew Goode and Chiwetel Ejiofor in 'Dancing on the Edge'
There is a sequence – quite a long sequence – in the first episode of Dancing on the Edge in which the main characters are all guests on a train. The passengers are curious to know their destination, only it turns out there isn't one. This is a pleasure trip with no particular place to go. An hour and a half into Stephen Poliakoff's latest portrait of English manners and mores, boy do you know how they feel.
It's impossible to fault Dancing on the Edge for ambition. Given five episodes to tell of a black jazz band bringing swing to London's upper echelons in the early 1930s, Poliakoff has been granted the keys to the schedules like few other television auteurs this side of Alan Bleasdale. Yes, this is ostensibly a period drama based partly on research, but as Britain frets about fresh waves of immigrants, Dancing on the Edge itches to hold up a mirror to the present day. And along the way there is quite a bit to enjoy. Adrian Johnston's original music is a blast. The costumes are simply divine. It is all atmospherically shot (by Ashley Rowe). And yet, and yet... something profound has gone AWOL. Thus far at least, Dancing on the Edge is basically The Paradise with a hip brass section.
We start promisingly, with the immaculately togged Louis Lester (Chiwetel Ejiofor) calling one night on old chum Stanley (Matthew Goode). He's in need of help, but no sooner does the whiff of a friendship gone sour waft across the nostrils than we spool back to the pair's first meeting. Stanley, it turns out, is a crafty glottal-stopping larrikin who runs a music rag and, hearing of an exotic combo called the Louis Lester Band, helps champion them into a gig at a smart hotel. The doddery clients in tiaras and floor-length crinoline aren't quite ready for (period terminology alert) "coloured" musicians setting off a fearful racket, but a group of bright young flappers (pictured above right) swiftly adopt them. An emollient cove (Anthony Head) is also on hand to oil the wheels, and soon they are playing for royalty – first the Duke of Kent, and by the end of the episode the Prince of Wales.
There are hints of darkness along the way. The band's manager (Ariyon Bakare), apparently American but claiming to be Welsh, is one of those querulous types (contrast with the unflappable Lester) and is threatened with deportation. The hotel owner (Mel Smith, would you believe) is a hard-nosed sceptic, while in the background a shady American billionaire (John Goodman) trashes hotel rooms and throws his money at underwritten young squeezes. One does hope Goodman opens his mouth at some point, because currently he looks like a very expensive extra.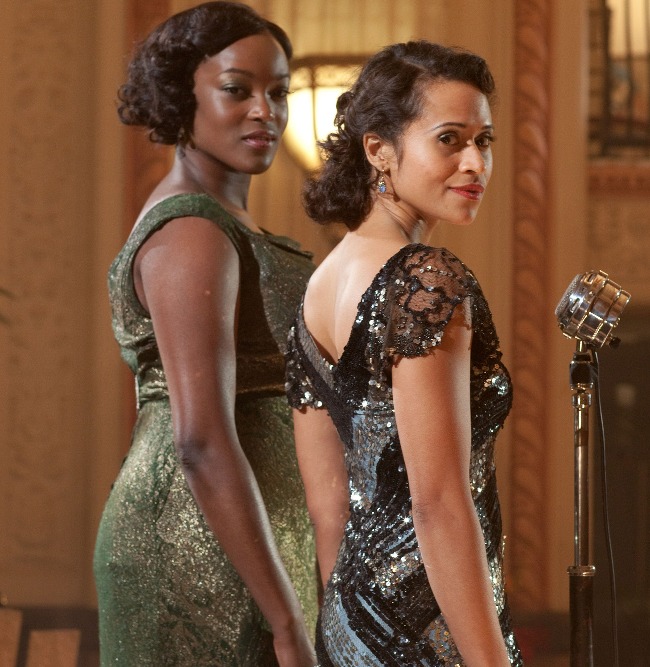 And yet for all the teeming canvas, from bosomy secretaries to stiff-necked officials, this is very far from being the post-Dickensian panorama it thinks it is. Having set up a promising mise-en-scène, Poliakoff seems to have nothing original to say either about the ruling classes or the position of black people in Thirties England. And with so many nice white chaps behave so jolly tolerantly, the script feels fundamentally mendacious about the ingrained racism of the era. Most characters appear fashioned from a compound of balsawood and tissue paper – Joanna Vanderham's vampish nonentity Pamela, Tom Hughes's nice but dim Julian, the two female singers (Wunmi Mosaku and Angel Coulby, above pictured left) the band is encouraged to take on after a scrupulously hackneyed audition scene. Even the hotel ballroom lacks character.
Throw in photography, Russian émigrés and royalty, and it's as if Poliakoff is simply rifling through old obsessions. The result feels gruellingly bland, bizarrely uncurious and often plain cloth-eared. It says everything that Poliakoff's phobic approach that he reports a nefarious masonic gathering but shows only brief glimpses of it through a spyhole.
Somewhere inside this bloated, slow-coach colossus, a taut and intriguing smaller drama has been throttled. It stars Goode's unreadable Svengali, who is shaping up to be a treat, and Ejiofor, who could bring weight and integrity to the phone book. Hey, it may warm up. The characters may acquire flesh and blood and things to say. But for now, Dancing on the Edge don't mean a thing.