Catastrophe, Series 4, Channel 4 review - final series starts strongly |

reviews, news & interviews
Catastrophe, Series 4, Channel 4 review - final series starts strongly
Catastrophe, Series 4, Channel 4 review - final series starts strongly
Another deft mix of funny and serious from Sharon Horgan and Rob Delaney
Wednesday, 09 January 2019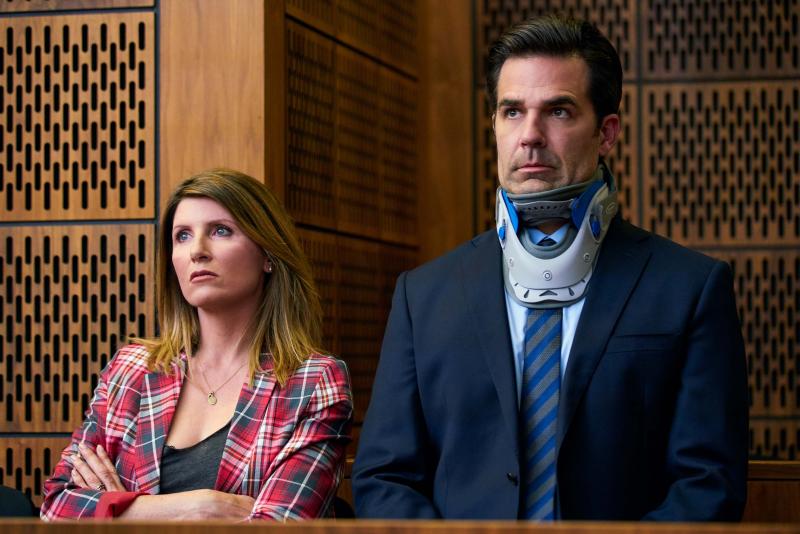 Sharon Horgan and Rob Delaney find themselves in more trouble
Some may have thought that Catastrophe (Channel 4) had neared the end of the road with the third series, but I disagree. It was still managing, with some deftness, to pull off the difficult trick of mixing broad humour with serious themes of love, attraction and the difficulties of parenthood.
So it's sad news for fans that the
sitcom
's fourth series is to be the last – although there have been hints that a film may some day hit our screens.
Catastrophe started with a beautifully simple premise: Sharon, an Irish teacher living in London (Sharon Horgan), meets American businessman Rob (Rob Delaney) and they become pregnant after a one-week affair. Now, married and two kids in, the fourth series began where the third had left off; Rob, back on the sauce after a long period of abstinence, had crashed the family car and was appearing in court to face a drink-driving charge.
Much of the show's appeal has been in the even-handedness with which both the funnies and the personal deficiencies are applied to the characters, who are all ghastly in their own way, and this episode started off in the same vein. Rob, in court wearing a neck brace, threw his wife off a cliff to save himself from a prison sentence, claiming that he had been drinking because of Sharon's infidelity.
"I thought I could deflect some of the stink on to you," he told a miffed Sharon later, with her withering response: "A criminal in a neck brace. What a fucking catch." Two zingers within seconds of the opening is really not bad. Those lines sound like the sort of things normal people say (if only we were as quick-witted or cruel), and are part of recognisable lives, albeit with motives and in situations played for maximum comedic effect.
Rob's sentence was community service, which he performed in a charity shop, and he was back at AA meetings, where he met the awkward but friendly Amanda (a great turn by Julie Hesmondhalgh). As the episode progressed we saw just how weird she really was, but it led to a rapprochement of sorts between Rob and Sharon.
Talking of warring couples; the supporting cast is as strong as ever: Mark Bonnar as Rob's cynical, dry-as-a-bone friend Chris, Ashley Jensen as his no-social-filters ex-wife, Fran, soon to be reunited with her past amour, plastic surgeon Douglas (Douglas Hodge on great form), all have expanded storylines as the series progresses. Those of a delicate constitution may have to avert their eyes as Fran and Douglas's public displays of affection play out...
There are five more episodes before Catastrophe ends, and it promises to be a bittersweet goodbye, as new characters join the fray – among them Rob's sister who visits from the States, full of newfound religious fervour, and we say goodbye to their mum, played by the late, great Carrie Fisher, who died in December 2016. Enjoy it while you can.