Best of 2017: TV |

reviews, news & interviews
Best of 2017: TV
Best of 2017: TV
The ones that did and the ones that didn't - we pick the good, the bad and the ugly from 2017
The Ken Burns and Lynn Novick series 'The Vietnam War' was a documentary milestone
Young people will laugh incredulously when you tell them that once upon a time, there was only one television channel in Britain. Now we've lost count, and as even the Queen pointed out in her Christmas broadcast, many of her subjects would now be watching her (no doubt hoping for a walk-on by Meghan Markle) on phones or iPads.
And comparing Her Maj with Claire Foy in
The Crown
, the second series of which is every bit as good as the first.
In our omni-channel, multiplatform present, it has become almost impossible to keep track of everything that's happening. Consuming the output of Netflix alone could easily occupy the rest of your life, and that's before you get around to Amazon Prime, NowTV, iPlayer and crumbling old institutions like the BBC and ITV. Nonetheless, theartsdesk's TV critics have burned the midnight oil to bring you their picks from 2017, both good and bad. Oddly enough, what are still occasionally referred to as "terrestrial channels" have fared pretty well overall.
HITS
It was a tight race – medal contenders included Patrick Gale's Man In An Orange Shirt and Mark Gatiss's shorts season Queers – but in the Olympics of lesbian and gay programming that was the BBC's Gay Britannia, Fergus O'Brien's outstanding Against the Law nabbed the gold. It could have been earnest. After all, what did anyone expect of a docudrama about Peter Wildeblood, the Daily Mail journalist imprisoned in 1954 for homosexuality who wound up being instrumental in changing British law for gay men? But Brian Fillis's economic yet eloquent script and a career-best performance from Daniel Mays were riveting. Riskily, the drama was interleaved with a succession of real-life testimonials from now-elderly men who lived through the horrors. It paid off: the combination was heartstopping. David Benedict

Intrigue, sex and betrayal in the Weimar Republic. Who knew post-WWI Germany could be this much fun? Sky Atlantic's latest import was a triumph of high-stakes noir. 1920s Berlin became a living beast, poisoning all who lived there. Everyone was connected by a complex web of moral ambiguity; even leads Gereon Rath (Volker Bruch, pictured right) and Charlotte Ritter were complicit in the city's corruption. Every frame dripped with art-deco opulence; unsurprisingly, this was the most expensive non-English language TV show ever produced. The risk paid off, creating Germany's first bona fide international hit. If you missed it, the first two series are still available on catch-up. Owen Richards
From the most underwhelming of scenarios, Mackenzie Crook has weaved something glorious with the Detectorists. Lance (Toby Jones) and Andy (Crook, who writes and directs) lead quiet, for the most part disappointed, Middle English lives that are the quintessence of the humdrum. Their time detecting in the gentle landscapes around the suggestively-titled town of Danebury is not only a beautifully observed model of male friendship (as so often, conducted through gadgets), but, even more remarkably for a sitcom, a meditation about our place in history, through the discoveries made while detecting, and the cycle of the seasons. It's like a distillation of an early Thomas Hardy novel. And you can't say that about TOWIE. Not only are Jones and Crook both excellent, but the project is also assisted by a superb supporting cast, including a mother-and-daughter appearance from Rachael Stirling and Diana Rigg. Crook has called it a day after three series: he's mined the concept thoroughly now, before having to scrape the bottom. What on earth will he do next? Matthew Wright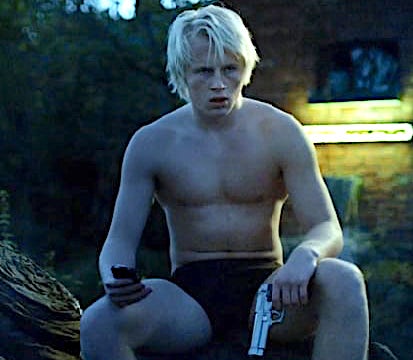 Eyewitness, All 4 / Walter Presents
It was a golden year for US crime drama. Snowfall (BBC2), The Deuce (Sky Atlantic) and – above all – the third season of Fargo (C4) showed what can be done with decent budgets, top-class writers and sheer artistic ambition. They made most British productions seem cheap, derivative and comically PC. However, it's a Norwegian drama that has stayed with me most. Eyewitness tells the tale of two teenage boys, Philip (Axel Bøyum) and Henning (Odin Waage, pictured; Jostein in Black Lake), who are making out in a forest cabin when a massacre takes place outside. The killer, realizing he has been seen, is not a man to leave any loose ends. The scared young men come under intense pressure from their families, the cops and themselves. Philip falls deeply in love with his schoolmate while Henning retreats into callous heterosexuality. It is rare to see such sensitive performances within the three-ring-circus of a thriller. Mark Sanderson
The Western has been a wildly over-exploited genre, but it's still possible to make another great one. For proof there was Scott Frank's seven-part Godless, a multi-stranded fable based around the town of La Belle, New Mexico. This is almost exclusively populated by women, all the menfolk having perished in a mining disaster, and Frank uses it to examine themes of loss, search, race, self-determination, vengeance, and even pioneering frontier feminism in the character of Mary Agnes (Merritt Wever). Everybody acts their socks off, especially Jeff Daniels (horrifyingly good as the outlaw Frank Griffin), Scoot McNairy (the sheriff with failing eyesight) and Michelle Dockery (sharp-shooting single mom Alice Fletcher, pictured left). This was Dockery's second triumph of 2017, following her bravura role as con artist Letty Raines in Good Behaviour (Virgin Media). Adam Sweeting
The Handmaid's Tale, Channel 4
The TV adaptation of Margaret Atwood's novel The Handmaid's Tale hit a global nerve. The first three episodes, directed by Reed Morano, were particularly great, with the beautifully choreographed gathering of handmaids in their red gowns and white hoods and the intense claustrophobia of life in totalitarian Gilead, where June/Offred (a haunting, forceful Elizabeth Moss) is raped every month by a Scrabble fan, Commander Fred (Joseph Fiennes). Episode 10 saw June being bundled into a black van. Has driver Nick, who seems to be an Eye, betrayed her? Will she escape to Canada? Rescue her daughter? We won't know until season two, due out in April. Blessed be the fruit. Markie Robson-Scott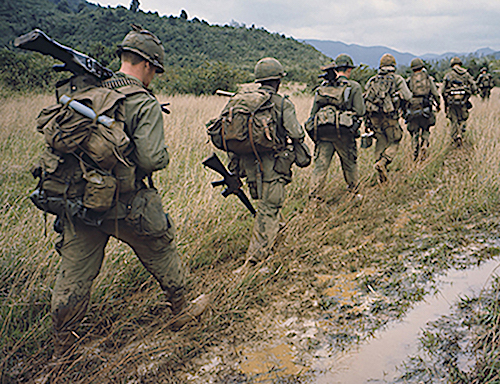 The Vietnam War, BBC Four

Jointly created by Ken Burns and Lynn Novick, this series was an unmissable triumph. Ten years in the making, it hovered high above the narrative like a US Army chopper, then swooped down to spend time among the grunts who had the very worst time of it throughout the long unfortunate adventure. Novick conducted searing interviews with participants on all sides of the line, while archival treasure was relentlessly exhumed and matched to a soundtrack that parachuted you back to the world of campus peaceniks. It should be required viewing in the Oval Office, especially the tapes exposing several previous occupants as bare-faced liars. BBC Four showed the shortened international edit, but The Vietnam War was still the overwhelming documentary history of this year and many others. Jasper Rees
American Gods, Amazon Prime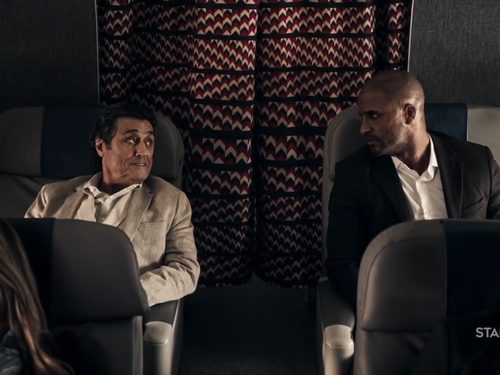 There are certain things television can do that film simply cannot. Translating Neil Gaiman's vast and sprawling tale of gods at war is one. A film, even an extravagantly long one, would have had to simplify the story, where the TV series, spread over eight parts, could linger over detail, be ambitious in its scope and, crucially, offer viewers time to work things out for themselves. The acting was superb across the board: Ian McShane settled well into his role as the dark and duplicitous Wednesday – Odin reduced to cheap-trick hustles and street-corner cons; while former Hollyoaks regular Ricky Whittle was a revelation as confused convict Shadow Moon who finds himself in Wednesday's employ. Elsewhere, Emily Browning brought a convincing sense of conflict as Shadow's wife, Laura, for whom death proves no barrier to forging an ill-tempered double act with Pablo Schreiber's high-octane leprechaun, Mad Sweeney, as they search for love and redemption in the shadows. Barney Harsent

Russia with Simon Reeve, BBC Two
Simon Reeve must long count as one of those "professional" TV travellers, but his three-part journey across the world's largest country impressed. No attempt to stop everywhere and no standard route, though some usual sights were taken in – the tigers of the Far East (he never saw one, but the people looking after them were worth the detour) and majestic Lake Baikal. Episode One saw him and crew receiving distinctly hostile attention from local FSB (ex-KGB) presence, and it wasn't played up for effect. But it was a stop in a dead-end town on the road to St Petersburg in the third film – and its story about a community doctor trying to keep his clinic open for a diminishing number of local residents – that convinced me that Reeve had "got" a bit of real Russia.
In the same neck of the woods, Channel 4's From Russia to Iran: Crossing the Wild Frontier was a good journey, too. Levison Wood may count as "Explorer", but his four-part Caucasus journey, a fair amount of it on foot, from Russian to Iran, via Azerbaijan, Georgia and Armenia, took us into a little-known part of the world, and Wood – not to mention some of the company he found en route – was more than engaging. For reservations on that one, see "Misses", below. Tom Birchenough
MISSES
The dramas I enjoyed best in 2017 all explored women and/or girls attempting to break out of spaces into which they had been cornered by society: The Handmaid's Tale (Channel 4), Murdered For Being Different (BBC Three), and Three Girls and Howards End (both BBC One). But there was a lot of dross about too, careless scripts which flagrantly tested the audience's credulity, among them Doctor Foster (pictured), China Girl: Top of the Lake, Bancroft and The Last Post. Great drama makes it look easy. The other stuff reminds you how very hard it is to pull off. Jasper Rees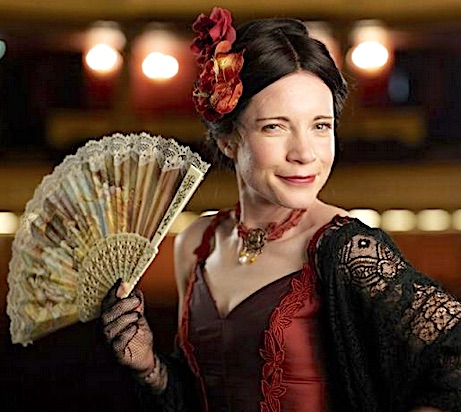 Lucy Worsley's Nights at the Opera, BBC Two
The BBC has a fetish for picking its pets and ramming them down our throats – Mel and Sue, Gary Lineker, Claudia Winkleman etc – but Lucy Worsley is in a class of her own. The Corporation's inexplicable infatuation with Worsley's pantomime versions of history, all gurgling, gurning and giggly dressing up, reached its nadir with this children's-tea-party survey of opera, which revealed only the scope of Worsley's self-regard. It's time this donna was immobilised, telly-wise. Adam Sweeting
It's hard to remember what made Sherlock so refreshing when it launched. The basics are still there: same cast, same presentation, same complexity. However, after last year's mediocre special The Abominable Pride, Series 4 proved the show has run out of steam. Toby Jones's sinister Culverton Smith was an underused and lonely highlight in a series which swapped logic for bombast. The final nail was Sherlock's long-lost sister Eurus, in charge of her own Fort Boyard, boasting the rare talents of teleportation, hypnotism and video mixing. One hug from Sherlock and all those deaths were forgiven. It was a real slog, and a true shame. Owen Richards
The biggest question arising out of the BBC drama three-parter The Replacement was: did no-one actually read the script before shooting? Hurtling from intriguing premise of female office rivalry to a motherhood, murder and madness melodrama that screamed implausibility, it made the (dire) second series of Doctor Foster look like Anne of Green Gables. Lesson: good casting – Morven Christie, Vicky McClure – isn't everything. David Benedict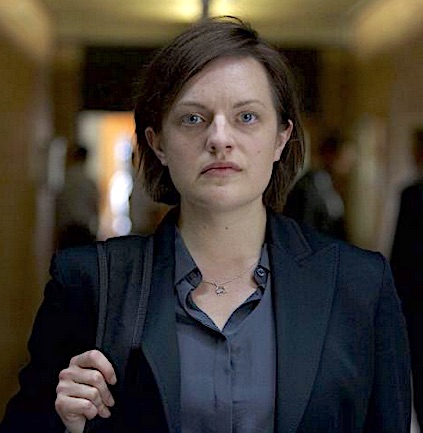 Top of the Lake: China Girl, BBC Two
As for the worst crime drama of the year, the dishonour goes to Australia and in particular Jane Campion. Top of the Lake: China Girl was cheesy, sleazy and showed zero respect for the viewer. A great cast was squandered by a writer-director hell-bent on a bonkers feminist crusade. It should never have been made. Mark Sanderson
Iron Fist/The Defenders/The Punisher, Netflix
Now, while Netflix Marvel shows were demonstrably not the worst thing on TV this year (that honour goes to execrable Nordic Noir Black Lake), they were, for me at least, the most disappointing. After the initial high expectations following the first season of Daredevil and Jessica Jones (both 2015), Hell's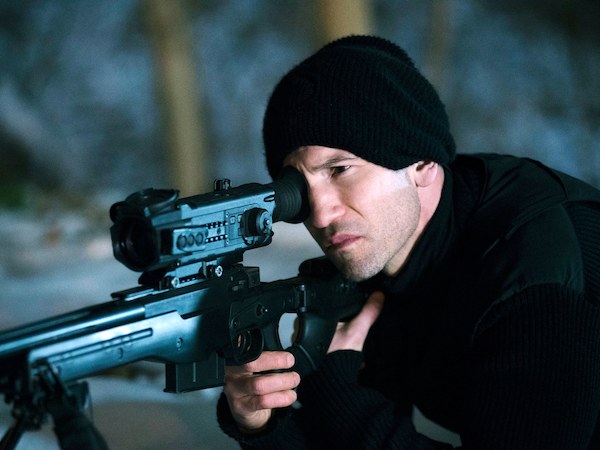 Kitchen has proved a punishing lesson in the law of diminishing returns. Iron Fist was, by some distance, the worst of the three, but the source material has always been deeply suspect and the series went nowhere near addressing this. A captivating cameo from Sigourney Weaver meant that The Defenders wasn't the car-crash it could have been, and its shorter run fitted the insubstantial story. The real disappointment however was The Punisher. John Bernthal's Frank Castle had been the best thing about series two of Daredevil, but here, given a whole series, the writers drew the character out of himself, turning a silent, cold killer into one half of a touchy-feely buddy double-act. It might make for a more complex take on modern morality, but one thing's for sure – it ain't Frank. Barney Harsent
Your critic's life is just too short to expend on Let It Shine and Make or Break?, so worst here is taken to mean most disappointing. In EM Forster's state-of-England novel Howards End, a country house and its progress through the generations of inheritance represents the progress of English society. In 1992 Merchant Ivory made an excellent film version with Anthony Hopkins, Vanessa Redgrave and Emma Thompson. Unfortunately, despite having more time, this BBC adaptation gutted the script of all subtlety, leaving the two tribes of Wilcox and Schlegel, neither sympathetic, posturing at one another like participants in a particularly shrill Twitter debate. Matthew Macfadyen appears to have modelled his performance as patrician capitalist Henry Wilcox on David Cameron at his most flimsy. His wife Margaret (née Schlegel, played by Hayley Atwell) is admittedly excellent. But Helen Schlegel has an insufferably naive lack of self-awareness, like of one of Momentum's most valiant social media warriors. Imagine Emily Thornberry taking on Jeremy Hunt at PMQs. Over three hours. Perhaps this tells us more about the spirit of England than we really wanted to know? Matthew Wright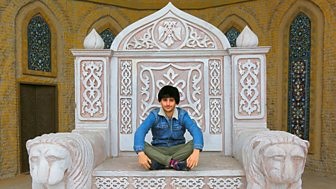 Dictatorland, BBC Three
Do you get tired of travel presenters making such a big deal of the unique risk of their independent journeys, as if the arrival of an obvious outsider (complete with crew) in a strange location can really be a spontaneous surprise? It was a reservation I had with Levison Wood in From Russia to Iran: Crossing the Wild Frontier. It's the persuasive skill and contacts of those organising the journey in getting the traveller anywhere near a contentious location – Grozny City Day, anyone? – that deserves praise. (Not to mention that journeying anywhere off the FCO "tip-top" list involves lengthy assessments for risk insurance, off-camera, of course.)
So, here's wondering how Dictatorland managed... That offering had aggressively yuff presenter Ben Zand getting inside three of the ex-USSR's sad sack nations – Tadjikistan, Belarus, Kazakhstan – claiming he was making a tourist guide rather than the kind of current affairs stuff that Reggie Yates does so much better. Dictatorland, ha-ha, unless you have to live there. Okay, quite funny when he made a pilgrimage to the ludicrous birthplace museum of "Batka" Lukashenko of Belarus. Rather less so, when you learnt that one of the opposition activists he interviewed in Kazakhstan was arrested not long afterwards. If you're going to go undercover, do it for a reason – not for a cheap chuckle for BBC Three. Tom Birchenough