Women Beware Women, Shakespeare's Globe, review – wittily toxic upgrade of a Jacobean tragedy |

reviews, news & interviews
Women Beware Women, Shakespeare's Globe, review – wittily toxic upgrade of a Jacobean tragedy
Women Beware Women, Shakespeare's Globe, review – wittily toxic upgrade of a Jacobean tragedy
In the #Metoo era, the exploitation of the female characters is particularly resonant
Wittily toxic: the cast performs one of the added musical numbers
This raunchy, gleefully cynical production takes one of Thomas Middleton's most famous tragedies and turns it into a Netflix-worthy dark comedy. Where the themes of incest, betrayal, cougar-action and multiple murder would be spun out over several episodes these days, Amy Hodge's production compresses them into a tart, wittily toxic two and a half hours.
Hodge, by her own admission, has sheared off one third of the text to produce a sharply outlined drama of devices and desires. At the same time she has introduced music and songs that tip between jazz and blues, so that Middleton's seventeenth-century cynicism translates into the kind of sultry lyrics that would sound at home in the smoke-and-seduction atmosphere of a nightclub.
The action kicks off as Paul Adeyefa's optimistic fly-by-night Leantio prepares his dubious mother (Stephanie Jacob) to meet the wealthy, beautiful Bianca (pictured below), who he has stolen from her husband. In a production marked by several stand-out performances, Thalissa Teixeira quickly distinguishes herself as a tall elegant woman who one moment is clearly swept away by her physical attraction for Leantio and another moment comedically collapses like a deckchair to embrace his mother. With pristine diction, she manages simultaneously to convey both her infatuation and her regret as she talks of the "friends, fortunes and [my] country" that she has abandoned for her new love.
There are plenty of signals that this affair is doomed from the start, but they are nothing compared to the second prospective new couple to whom we are introduced. The virginal Isabella is played with grit and integrity by Olivia Vinall, while the doltish Ward, to whom she is betrothed, is an unashamed public-school arsehole with an unhealthy relationship with his polo mallet. Helen Cripps gives an unashamedly scene-stealing performance as she conveys Ward's crass idiocy, galumphing through their engagement like a bull in a vagina-shop.
In the #Metoo era, the sexual exploitation of the female characters is particularly resonant, not least in the scene where Bianca displays her horror during her seduction by a much older aristocrat. Yet one of the satisfyingly complex aspects of the play is that – as the title suggests – women also exploit here.
From the moment we meet Tara Fitzgerald's scheming, ingeniously complicated Livia (pictured in sunglasses, above centre left), we realise we have encountered the play's dark heart. Fitzgerald completely owns the part, whether she's dabbling in incest with her brother Hippolito (played by Daon Broni), or lying to her niece Isabella about who her father is, so that Isabella can begin her own incestuous affair with Hippolito. Fitzgerald paces the stage in high heels, with all the poisoned self-possession of a broad from a film noir. Like the devil she has many of the best lines, but there's a depth to her performance too that provokes us to wonder what has made her this way.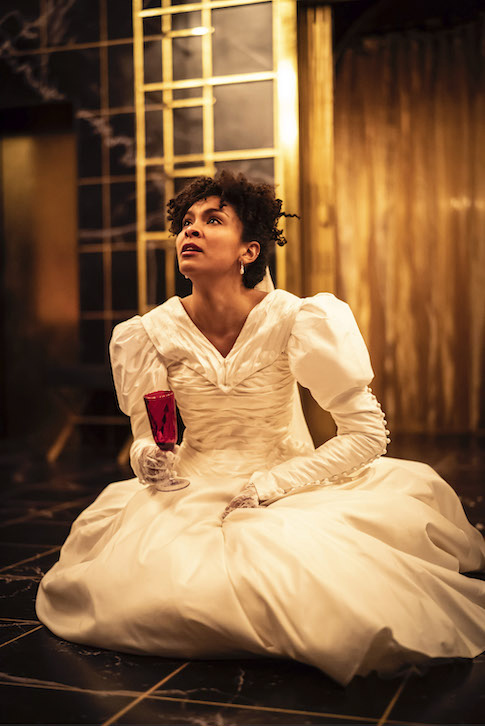 According to the programme, the production makes a nod to the Eighties, but the music and many of the costumes seem to date from earlier in the century. As composer, Jim Fortune has put together a seductive jazzy score that deploys instruments including the lute, the xylophone and the double bass. It brilliantly amplifies the action throughout, whether it's in the crooning procession in which Bianca is first seen by the Duke, or – most strikingly – in a fatal brawl for which the sultry sax-dominated accompaniment emphasises the connection between sex and death.
There are many highlights here, not least the staging of the chess scene that's so famous it was referenced by TS Eliot in The Wasteland. Here, cleverly, the whole stage becomes the chess board, on which Livia manipulates the human figures to serve her own ends.
The stylish comedy does not let up as the play hurtles towards its bloody final scenes. Even as we are sucked into the horror of Middleton's vision, the ultimate sense is of a cast having a complete blast as they take the cynicism and disillusionment of late Jacobean Britain and plant it with aplomb into our own utterly deluded era.
Like the devil Tara Fitzgerald has many of the best lines, but there's a depth to her performance too
rating
Explore topics
Share this article