The Wind in the Willows, London Palladium review - an effortful slog |

reviews, news & interviews
The Wind in the Willows, London Palladium review - an effortful slog
The Wind in the Willows, London Palladium review - an effortful slog
Kenneth Grahame-inspired musical starring Rufus Hound is at once overly perky and dramatically weightless
Oh Bennett, where art thou?: Rufus Hound (centre) heads the cast of 'The Wind in the Willows'
An enormous amount rides on a musical's opening number. Without explicitly expressing it, a good opener sets tone, mood and style. Take The Lion King, where "Circle of Life" so thrillingly unites music, design and direction that nothing that follows equals it. "Spring", the opener of The Wind in the Willows, repeatedly announces the warmth of the season, and precious little else.
Animals dance perkily, but with nothing to dance about, the flatly staged song goes nowhere. Sadder still, the second song, "Messing About in a Boat", compounds the felony, stating the happiness of the title and the instant friendship of its characters, and repeats. This inertia, alas, is a sign of things to come.
There's a (tiny) moment of jeopardy in the first act, where, in an unexpected burst of stage business, Craig Mather's Mole (pictured below) opens a picnic basket and runs about trying to catch belongings thrown to him by Simon Lipkin's Rat. It's remarkable because it's just about the only moment of tension and release throughout a first half that lasts 70 minutes or so, but feels much longer. This is unquestionably the fault of book writer Julian Fellowes, whose adaptation makes Downton Abbey seem like The Cherry Orchard.
Kenneth Grahame's beloved children's classic is not an easy prospect for adaptation. The gently told riverbank tale of friendship between sensible Rat and naive Mole, wise Badger and devil-may-care Toad, was long ago turned into theatrical favourite Toad of Toad Hall, but even that was high on atmosphere and strikingly low on plot. That difficulty notwithstanding, there is simply no excuse for writing as lazy as this.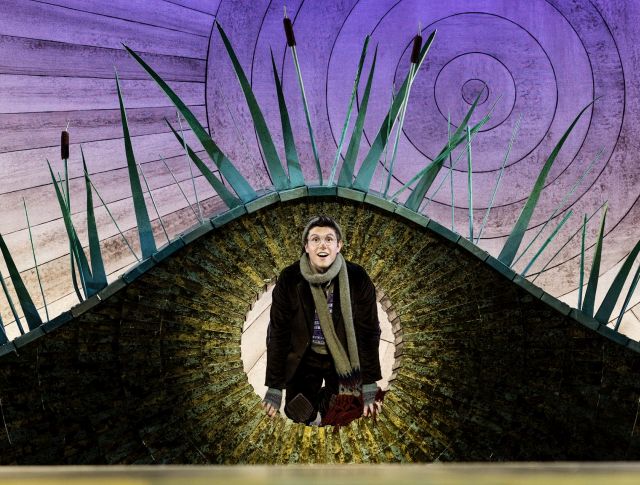 Fellowes merely brings characters on, saddles them with exposition concerning themselves and their situations, hands them a line of plot, steps aside for a song, and moves on. As a result, almost all his characters swap convincing detail for a regional accent ranging from hedgehogs from Birmingham to Mole's all-purpose yokel. Energetic Rufus Hound manages not to overplay Toad's bumptiousness but even with his restraint, it's hard to fathom why the characters are friends. (Hound pictured below by Marc Brenner)
It's one "and then..." scene after another, all with the same dramatic weightlessness. To rebalance the all-male original, Fellowes adds a no-nonsense Geordie, Mrs Otter (Denise Welch), and her daughter, Portia (Emilie du Leslay). The latter's abruptly stated longing for the dangerous wild wood leads to the kidnapping that drives what passes for a plot. But as with the teenagers in the equally lamentably underwritten (and soon to close) musical The Girls, their characters are so flimsily one-note that it's impossible to care about them. Nor does it help that Fellowes writes subtext-free dialogue that has to be delivered in over-bright, effortful, children's TV-presenter voices. Has no one seen War Horse or The Curious Incident of the Dog in the Night-Time?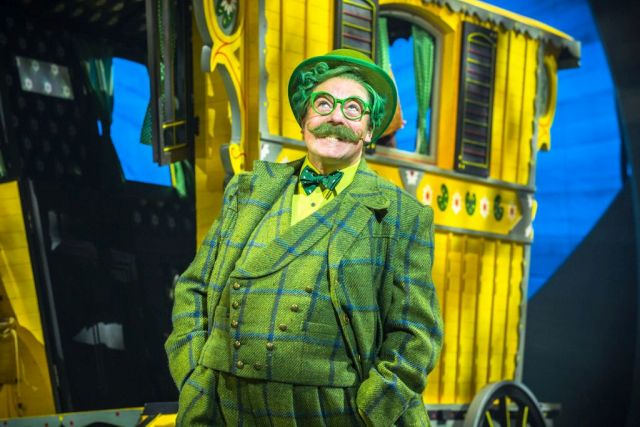 George Stiles's music and Anthony Drewe's lyrics aim to supply the charm so egregiously missing elsewhere, and in a bouncy number like "The Open Road", as the friends set off in a beautiful gypsy caravan drawn by a sweetly tap-dancing horse (Natalie Woods), they succeed. Stiles writes in the programme about wanting "to draw on all the things we love about the last 150 years of British music". Thus, we have shades of Gilbert & Sullivan and Flanders & Swann via Vaughan Williams and even a touch of glam rock for the wicked weasels. But the songwriters hoist themselves by their own petard: beyond Stiles's bursts of uplifting choral harmonies, their songs lack personality. Even the would-be touching song about friendship is sung loudly in order to achieve anthemic uplift. Would it have killed anyone to have a moment of quiet and genuine tenderness?
Matters aren't helped by Aletta Collins's choreography, which individualises animals but fails to heat up either the space or the audience. Her moves are illustrative rather than dynamic, so that her numbers never build. Instead of acknowledging real excitement, audiences applaud the dancers' efforts, thanks in no small part to lighting designer Howard Harrison. He and director Rachel Kavanaugh and orchestrators Christopher Jahnke and David Shrubsole work hard to put a button on every number – that's to say, a combined snap lighting change and orchestral "sting" on the end of a song to win applause.
Elsewhere, Harrison deploys saturated colours to create the tonal contrast the writing lacks. He's an ideal support for designer Peter McKintosh, whose wood-toned sets are the unquestionable star of this large, costly show. In a theatre with perilously little depth or wing space, he works wonders creating weeping willow branches, riverside homes, car crashes and the towering emerald green spectacle of Toad Hall.
You needn't have heard the still-available recording of Alan Bennett reading Grahame's original, or be old enough to remember Nicholas Hytner's heartstopping, nostalgia-tinged National Theatre production of Bennett's suggestive adaptation (from 1990), to appreciate how depressingly brash this is. Running the gamut from jolly to jocular, it never entertains the risk of real emotion.