10 Questions for George Stiles and Anthony Drewe: 'we are optimistic people' |

reviews, news & interviews
10 Questions for George Stiles and Anthony Drewe: 'we are optimistic people'
10 Questions for George Stiles and Anthony Drewe: 'we are optimistic people'
The makers of quintessentially English musicals on heading back to the Edwardian era for 'The Wind in the Willows' at the Palladium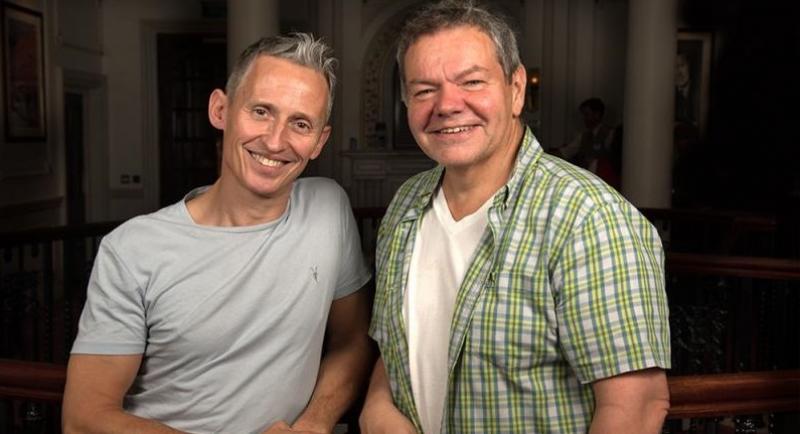 The full English: composer George Stiles and lyricist Anthony Drewe
George Stiles and Anthony Drewe – Stiles and Drewe, as the songwriting partnership is universally known – are responsible for one of theatre's most memorable acceptance speeches. Their show Honk!, staged at the National Theatre after an initial run in Scarborough, won the Olivier for best musical in 2000.
Among the defeated
musicals
was Disney's all-conquering juggernaut also featuring a menagerie of animals. A shocked Drewe said, "I guess the judges couldn't get tickets for
The Lion King
."
Their extraordinarily prolific partnership has lasted nearly three and a half decades. It began when, as students at Exeter University, they determined to write a musical based on the discovery of Tutankhamun's tomb. Stiles wrote the music, Drewe the words. Honk! remains their signature show, an enchanting collection of songs about recognisable humans who happened to be barnyard fowl clad in orange Dr Martens and peaked caps. It has been seen by more than six million people in over 8,000 productions.
In one sense it's atypical of their oeuvre: the source was Hans Christian Andersen's The Ugly Duckling. Every other major production of theirs has had an English theme or source: not just Mary Poppins, the transatlantic mega-hit they wrote in collaboration with the brothers Richard and Robert Sherman, but also Just So based on Kipling, Betty Blue Eyes adapted from A Private Function, Graham Greene's Travels with My Aunt and HG Wells's Half a Sixpence (pictured above, Charlie Stemp at the Chichester Festival Theatre, photo by Manuel Harlan).
This quintessentially English CV is now enlarged with their musical adaptation of The Wind in the Willows at the London Palladium. Adapting Kenneth Grahame's 1908 novel reunites them with Julian Fellowes, who wrote the book for Poppins and Half a Sixpence, but on this collaboration they are not having to budge up and share house room with a previously existing songbook. They talk to theartsdesk about paying a musical visit to Toad Hall.
JASPER REES: What do you get from working with Julian Fellowes?
ANTHONY DREWE: George and I both love collaborating. When we were thrown together with Julian it was post-Gosford Park, pre-Downton Abbey. We knew who he was and that he had a certain penchant for a period of Edwardian literature and history, has a great sense of the class system which worked for Mary Poppins and worked again for Half a Sixpence, and indeed for The Wind in the Willows. He is one of those generous writers who is prepared to say, "Pinch whatever you need." It's very two-way process. We respect his work and he respects ours.
On this collaboration you're not working with other composers, either living or dead. Does that make a difference to the process?
GEORGE STILES: In truth, less than you might imagine, in that the dynamic between the three of us is always story first. That might sound odd coming from the composer. That's why I love writing music for theatre. In musicals, stories is what we're all doing. We had agreed that we would like to have a completely blank canvas next. Half a Sixpence went into production first but we wrote nearly all of Willows before. The process is the same. We brainstorm the story, the themes, why we think it's going to work well, why the characters are going to enchant the audience more by singing than by speaking. The most fun is when we go, "This moment could be a song." (Pictured below: Rufus Hound in Toad of Toad Hall, photo by Marc Brenner)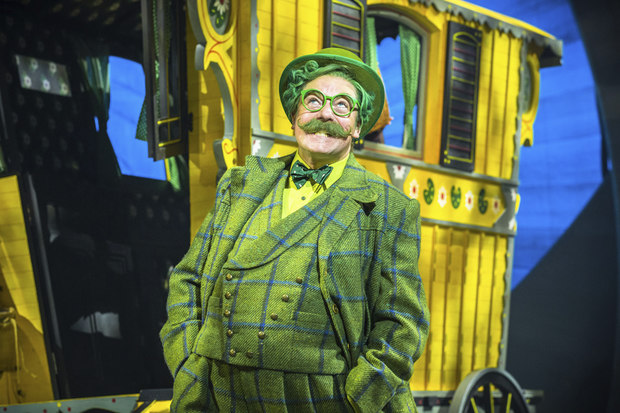 The songs are a tribute to old song styles from Gilbert and Sullivan to Flanders and Swann, and in the "One Swallow Does Not a Summer Make", sung by three actresses from the chorus, the programme suggests that there's even a nod to Vaughan Williams. Is the show strategically a history of English song, or has that just come about organically?
STILES: It was organic. Very early on we loved the pagan parts of the book that surprised us when we reread it. In the section where the baby otter goes missing, in the original he's taken by the god Pan. This spiritual world that Kenneth Grahame paints is the most powerful piece of prose as he describes this moment when Rat and Mole wander into this clearing and effectively lose their memories. We wanted to try and get some sense that, yes, this is a charming story about friendship, home and community, which couldn't be more relevant, but it has this slightly more pagan feel.
Does Grahame's prose impact on the way you write the lyrics?
DREWE: I do go back to Kenneth Grahame to source vocabulary, certainly. Mole's song, "A Place To Go Back To" is a line from the book which sprang out at me. I put a circle round it.
Can you explain how it is that you have alighted on such English subjects?
DREWE: We're English. It's what we know and love. We grew up with the songs and poems of Spike Milligan, Flanders and Swann and The Two Ronnies. I know that I learned how to land a lyrical gag in that way. We love to draw on that British slightly sick sense of humour. (Pictured below: Patricia Hodge in Travels With My Aunt at Chichester Festival Theatre, photo by Tristram Kenton)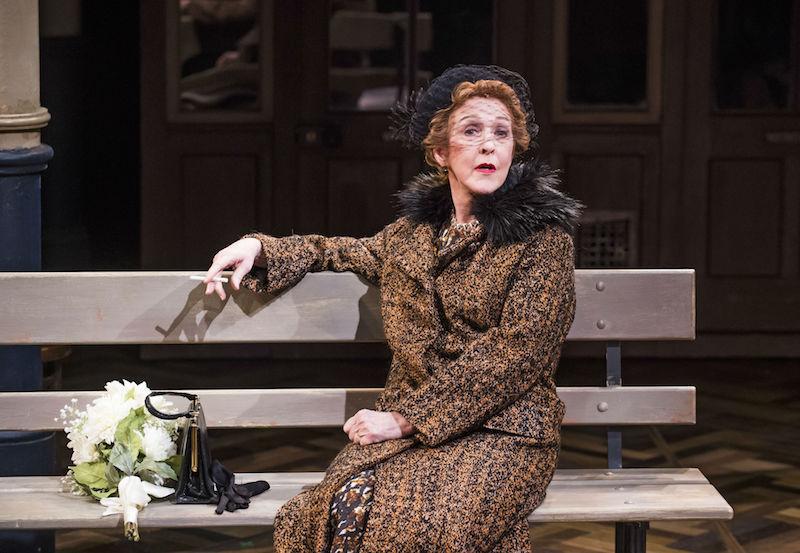 STILES: I do think that we still have a different relationship with musical comedy in this country, in comparison with America for example. Hamilton is a completely brilliant piece of musical theatre and paves the way in terms of bringing a modern musical landscape to a story from the past. Most US musicals don't do that. In our own very different way we wanted to do a version that didn't just give you a score full of Edwardian songs, where you could have Mr Toad get so excited that he raps about his car and celebrate the pop rebellion of the stoats and weasels. The English always been good at being eclectic and we've always lived in a melting-pot culture. Think what Madness did with ska music. That stuff we listened to when we were growing up. Pop has always been brilliant at grabbing stuff, chewing it and spewing it out. This production celebrates that as well.
Not for the first time you're doing a show about animals. (Pictured below: Betty Blue Eyes, photo © Charlotte MacMillan)
STILES. It's all Anthony's fault.
DREWE: I have a degree in zoology. The Just So Stories happened to be animals but they're not really animals: they're human stories with animals. And we always described Honk! as a soap opera that takes place on a pond. There's something about anthropomorphic stories of childhood that I think you can reinvent in a modern adult way.
STILES: The problem, as it were, is you write a piece of work, people enjoy and then you're asked to replicate it in different forms. Poppins was a fantastic success. Does one really want to go there again? But when somebody offers something as delightful and iconic like The Wind in the Willows, all you can do is look at the story and say, "Can we make something fun out of it?"
Most of your hit shows are about innocence. Is there a temptation to write about darker adult themes of sex and betrayal?
DREWE: You get known for doing a style of musical and you become pigeonholed. The fact is that our musical Soho Cinders is a gay love story about a young orphan is in a relationship with a Mayor of London has much more adult themes. Our new show coming up is more adult: Soapdish is about a mother who gives up her child at 16, and at 21 the child comes searching for the mother.
STILES: Cinders is about a loss of innocence. It's a different anthem and so is Becoming Nancy, which we're off to do as a workshop with Jerry Mitchell in New York. That's a tale of a boy in 1979 who is growing up and coming to terms with who he is. It's very funny and essentially optistmic. That's the thing about us. We are drawn to telling optimistic stories as we are both largely optimistic people. For us the evenings we've enjoyed most in the theatre are those that make you come out feeling it isn't all necessarily shit and derision. There is hope and there is joy, and musicals do that pretty damn well if you let them.
You've been writing together for 34 years. How on earth do you keep it fresh?
STILES: I keep him in a box and he only comes out to write lyrics.
DREWE: We love doing what we do and every project is different. George constantly surprises me with the style of music that he writes. That's what he brings to the party – the flavour and temperature of the piece. I just write words. I can put lyrical gags in and when George gets the lyric it can become something completely different. So long as we keep finding new topics that we're both interested in, we keep inspiring one another.
How much of a difference did that Olivier for Honk! make?
STILES: It changed our lives. Awards are a very mixed bag. They can be iniquitous and divisive. They can also shine a light on a project that really needs it. We got lucky. The judges were very divided in our year. Some weren't fond of The Lion King or Mamma Mia! The vote was split. But they could all agree that they could enjoy Honk! It was the first British musical at the National, rather scandalously. I don't think we'd have done Mary Poppins had we not won the Olivier Award, and I don't think Honk! would have gone all over the world. For us there was no looking back.
How is the search for the next productive partnership going?
DREWE: We know how important the pats of the back that we got back in the Eighties. We won the Vivian Ellis prize in 1985 for which the cheque was £500 but the most important thing was that it introduced us to Tim Rice and Andrew Lloyd Webber and Don Black and Mike Batt, who then started to support us. There wasn't that much around then for teaching young writers or showcases for young writers. That's improved over the last 10 years. But George and I wanted to instigate a prize to acknowledge a single person or a partnership for a best new song. We've now extended it into a mentorship award. George and I, along with a judging panel, select a new musical and mentor the writer(s) over the course of 12 months. They get two progress labs, a writers' retreat and a full professional workshop at The Other Palace. You learn so much by putting your words into the mouth of an actor and from putting your work onstage.
STILES: What we want to encourage is a new generation of British writers, to shine torches on what our world is now and help them find a way to tell stories about it.