The White Factory, Marylebone Theatre review - what price dignity in hell? |

reviews, news & interviews
The White Factory, Marylebone Theatre review - what price dignity in hell?
The White Factory, Marylebone Theatre review - what price dignity in hell?
Dazzling Russian production finds fresh relevance in the Lodz ghetto massacre
Thursday, 21 September 2023
Everyman: Mark Quartley as Kaufman, the upright Jewish citizen who loses his soul in The White Factory
This powerful play's immediate backstory, with Moscow sentencing its author to eight years' jail and its director going into forced exile, is not its immediate theme – and all the better for it, for how can anyone yet make any authentic dramatic reflection on Putin's war on Ukraine?
But there's no doubt of the current war's absolute relevance to Dmitri Glukhovsky and Maxim Didenko's address of a hideous episode of World War Two, the murder of some 200,000 Polish Jews from Lodz by the SS, with help from Jews themselves.
Normally Glukhovsky's reputation rests on his bestselling Metro2033 science fiction, worlds he can wholly control, not the deranged world that his Jewish grandparents experienced, and to which he had turned for his debut play shortly before the invasion of Ukraine. No doubt there is much parallel subtext for Glukhovsky's unperturbed compatriots, yet The White Factory is fully about the specific moral maelstrom of Lodz, and the Jewish leader at its centre.
Set dazzlingly, hauntingly, in a clinical white box blasted clean with LED one moment, plunged into blackness or a fiery glow the next, the "white factory" refers to a church-turned-workshop where the Elder of the ghetto's Judenrat attempted to make his community so indispensable in producing Nazi essentials – from uniform buttons to freshly stuffed pillows – that the Nazis would spare them from Auschwitz.
Above, Adrian Schiller's Chaim Rumkowski meets James Garnon's Obergruppenführer Koppe
An insane power delusion on the part of the Elder, Chaim Rumkowski? Or an essential facing up to the monstrous challenge to try to take some fragmentary control, some dignity in hell, rather than be chaotically and randomly crushed, as he insisted? Rumkowski's argument for a measure of collaboration held up, more or less, for a couple of years until he notoriously appealed to his fellow Jews to hand over their small children and grandparents for suspected slaughter, to satisfy a hellish bargain struck with the SS commandant, Obergruppenführer Wilhelm Koppe, to spare the rest.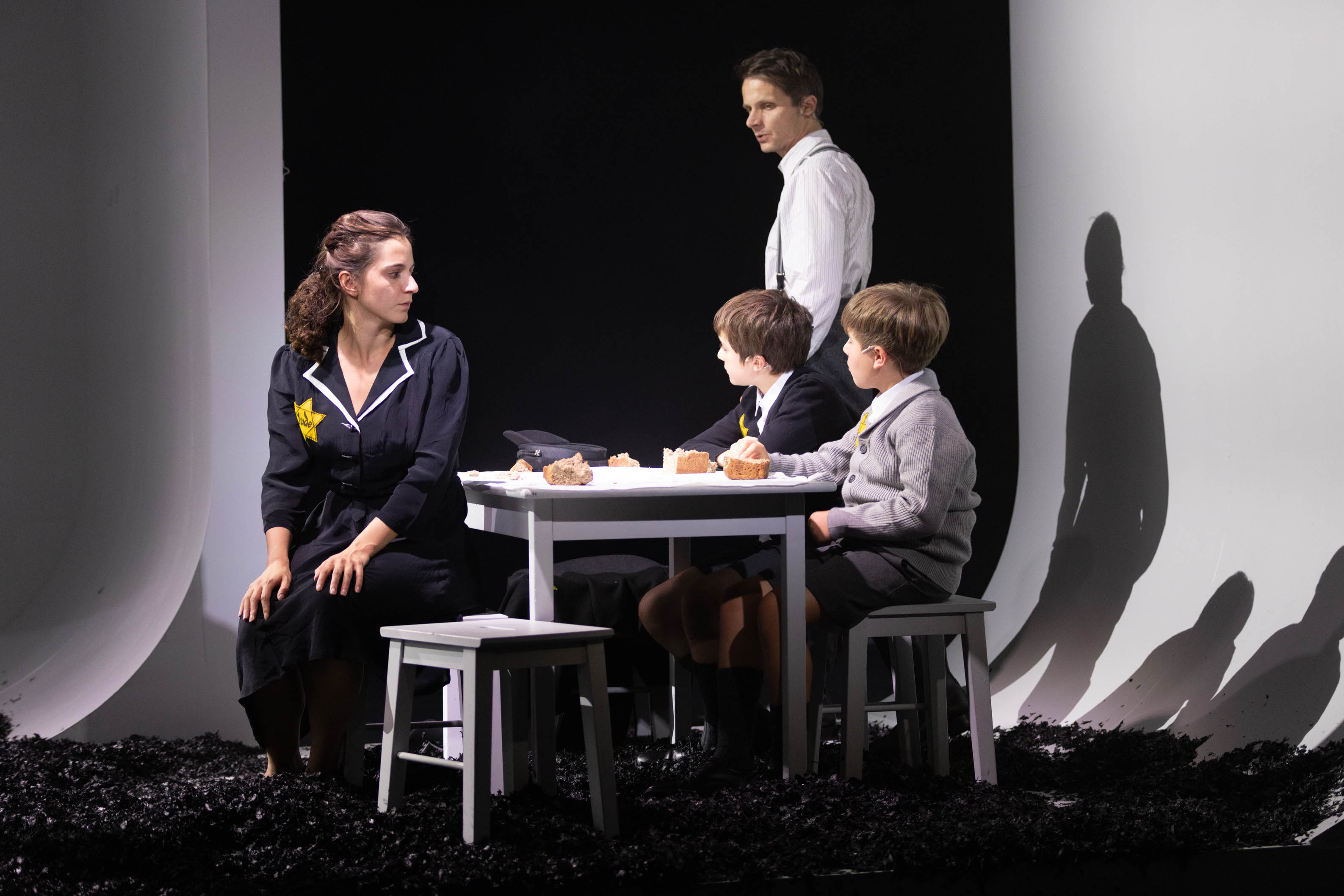 This atrocious sequence of events is seen through the eyes of Yosef Kaufman, a young polyglot lawyer and "atheist Jew" (Mark Quartley), whose responsibility is to his wife Rivka (Pearl Chanda), her infirm old dad and their two young boys (pictured right). His gift for languages lures him into interpreting for Koppe with the Yiddish-speaking Lodz Jews, and then much, much worse.
Glukhovsky's translated script, rich in themes, is plain in delivery, even sometimes ploddingly expository. That is okay - the words should be plain here, no embellishment, no evasion. An unsettling, unclear opening scene set in 1960 introduces Koppe, the Nazi who got away, but he is a stock character. The tough part to write is the discomfiting and complicated Rumkowski (Adrian Schiller), who assaulted women and perhaps children in his exercise of power over life and death, but who some later historians have considered might just have proved justified in the drastic strategy, had the war progressed differently.
The icing-white stage box is pure and bright, until blood stains it, until ashes pour onto it
What delivers the connection between then and now is Didenko's extraordinary staging. The icing-white stage box is pure and bright, until blood stains it, until ashes pour onto it. Cameramen shadow the players, closing in on faces to identify them, for Nazi files, or perhaps for posterity.
But there is also brilliant use of live green-screen and animation, when the Kaufman family tell stories to each other, enabling vivid outbreaks of Monty Python-like cartooning, as the storyteller - grandfather or dad or kid – flies into carefree fantasies entirely their own.
Didenko's Russian career overflows with distinction, including a spell as a member of the immaculate, great, existential Russian clown troupe Derevo, which is a clue to the elegance and unsparing sadness of his depicting of Glukhovsky's theme that nothing is clear, except where an individual stands or refuses to stand. Is it possible to be a little bit collaborative, but not too much? Is it possible to resist, without risk?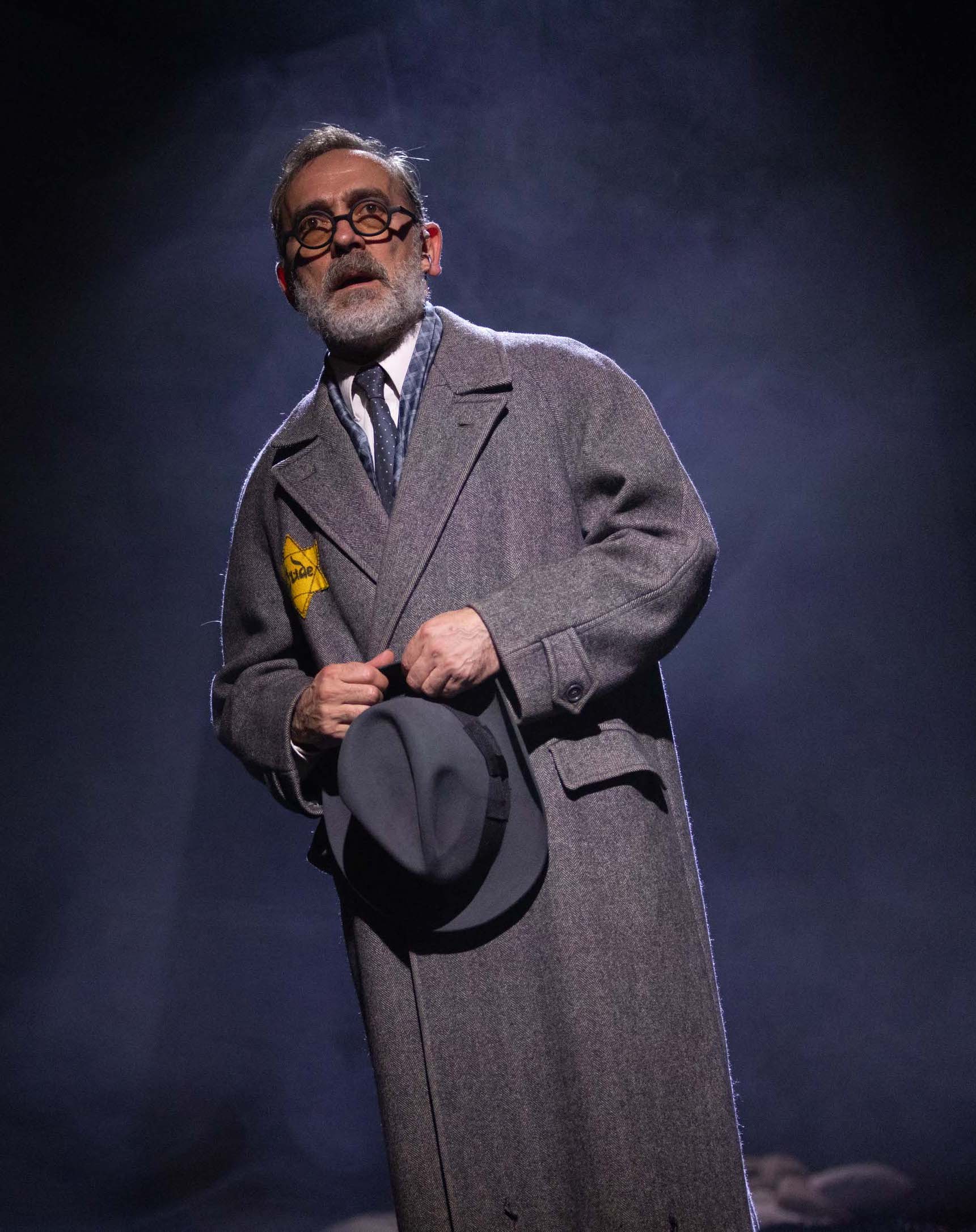 "They're making me a murder weapon," Rumkowski tells Kaufman (Adrian Schiller as Rumkowski, pictured left). "Am I a murderer? No, I'm just an extra. Yes, my hands are stained with blood, but if I do this I can save 100,000 people. I have just saved the lives of 4,000 children. I am not afraid to take responsibility. Have you got the stomach for it? I want to hear you say it, clearly and distinctly."
Kaufman hasn't the stomach, because his own family is full of unproductive Jewish units. His version of taking responsibility to save them means joining the Jewish Police Force, who are the Nazis' stooges in the massacre, while knowing he has lost his soul. It's to Glukhovsky's credit that he shows everybody in an utterly impossible position.
And that understanding rises unspoken around the millions of Glukhovsky's and Didenko's compatriots today, and of course us too. At what point does a Rumkowski merge into an SS Obergruppenführer? At what point does a Kaufman become a Nazi hireling? And what price dignity in hell?
Primo Levi, who survived Auschwitz, found that there might just be the extenuating circumstances for such collaboration, but that the innate corruption involved could only be resisted by someone with great moral strength, which Rumkowski did not have. What we can't doubt is Kaufman's moral collapse, and he is more or less most people under pressure.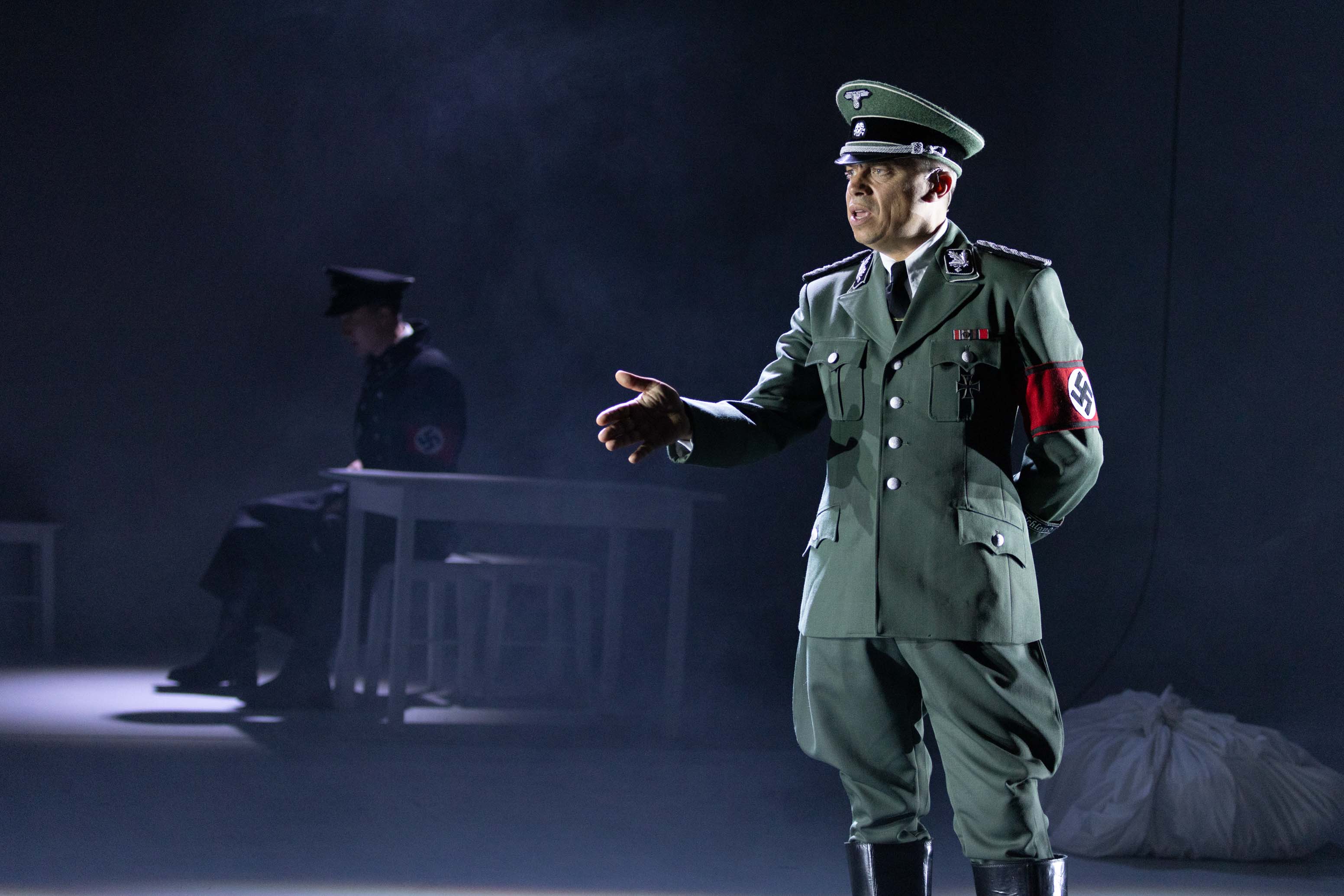 The ensemble of British actors rises with welcome understatement (if occasional inaudibility) to this constantly shocking material, doubling multiple roles, with Schiller dominant as both the self-pitying old granddad and the opaque Rumkowski, and James Garnon portraying Koppe (pictured right) with a matter-of-fact cheeriness.
The cheery Koppe later became a manager of a chocolate factory, and (in Glukhovsky's version) walked free from his 1960 trial for when prosecution witnesses from Lodz, his victims, were deemed to be too tarnished by their own involvement. He died in 1975. His grave is apparently regularly plastered with signs saying "Never accountable!" But nor, after all, was Kaufman, which I take to be Glukhovsky's true, hard message.
I am not afraid to take responsibility. Have you got the stomach for it? I want to hear you say it, clearly and distinctly
rating
Explore topics
Share this article