A View from Islington North, Arts Theatre |

reviews, news & interviews
A View from Islington North, Arts Theatre
A View from Islington North, Arts Theatre
Satirical swipes at politicians, plotters and prophets are only fitfully funny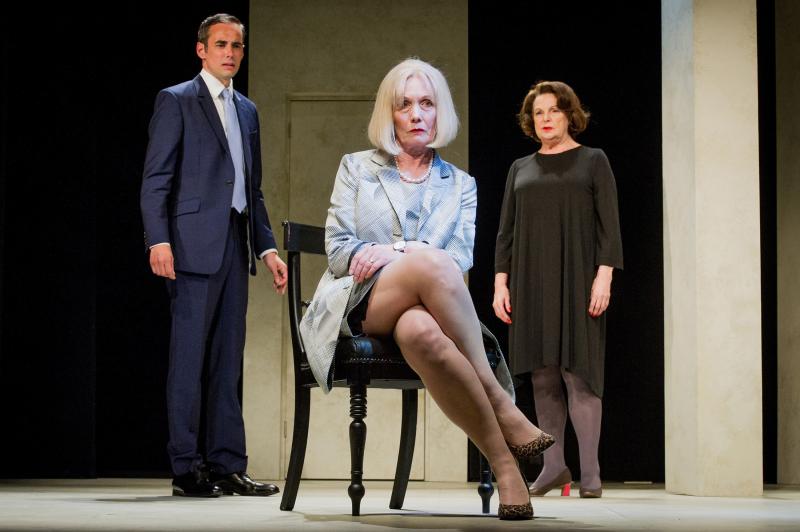 Bitter pill: Steve John Shepherd, Jane Wymark and Ann Mitchell in 'A View from Islington North'
Is there any point to political satire? The great thing about the glory years of this genre in, say, the early 1960s was that the jokes punctured people's deepest held beliefs in a deferential society, or that, as in say the 1980s, they had a target that was an unbearable person, Maggie Thatcher.
But today, when cynicism about politics is widespread and nobody trusts any authority, reality often seems to be more crazy than any satire: Donald Trump, the Brexit campaign... Director Max Stafford-Clark would doubtless disagree, and his evening of five short playlets makes the case for laughter as a political weapon.
Its dark humour is at the expense of a working-class woman
This entertainment's title refers to the Labour leader, Jeremy Corbyn, who is MP for Islington North, and the short pieces by some of our most political playwrights comprise premieres by Alistair Beaton and David Hare, plus previously staged pieces by Mark Ravenhill, Stella Feehily and Caryl Churchill. First up is The Mother by Mark Ravenhill (pictured below), which was originally part of his 2008 Shoot/Get Treasure/Repeat epic, and it shows two army officers paying a visit to a depressed and aggressively foul-mouthed mother to tell her that her son had died in action. Although it mocks the language of military bureaucracy, and has a couple of moments of tenderness and pain, its dark humour is also at the expense of a working-class woman. Not very funny.
Next is the shortest playlet, Caryl Churchill's Tickets Are Now on Sale, in which a young couple argue for about five minutes and their awkward conversation morphs quickly into corporate language and political clichés. Gently humorous, its targets snap into focus in a short, sharp shock. This is followed by Alistair Beaton's The Accidental Leader, in which Jim, a backbencher, plots against Corbyn, but is defeated by Nina, a member of the grassroots Impetus (Momentum) group. There are some nice astringent lines, but the only problem is that it's not very funny.
At least Beaton's target is middle-class politicians, and the culture of spin and manipulation, but by the time of the completely unnecessary interval my verdict on the evening had dropped to the two-star mark. Luckily, Ayn Rand Takes a Stand by David Hare is the next offering, and it's the best of the lot. It shows how Rand – Russian-born novelist and neo-con philosopher – returns from the grave to encourage our current Chancellor and Home Secretary to put their trust in the market. With impeccable logic, she argues in favour of unrestricted migration – to the horror of Theresa May.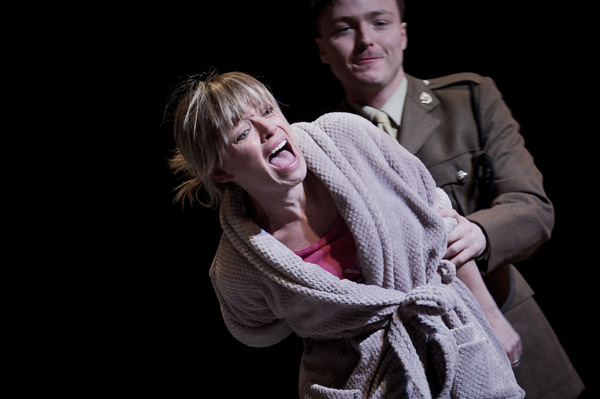 This piece is highly intelligent, brightly written and thought-provoking. It ranges across issues about free speech, economic liberty and the power of individuals to change their destiny. It's funny and it also features a fine performance by Ann Mitchell as Ayn, complete with a maniacal laugh. Then with Stella Feehily's How To Get Ahead in Politics we are back to more familiar ground in Westminster, as a government whip tries to cover up a potential embarrassing case of sexual harassment. The evening ends with the cast performing Billy Bragg's "No, Buddy, No".
Put together and directed by Out of Joint supremo Max Stafford-Clark, on designer Tim Shortall's functional set, this more of an entertainment for north London lefties than an abrasive example of political satire. Much of the fun comes from debunking the language of politics, but the ideas never feel really dangerous. While Hare's piece is by far the most intelligent and well-imagined, the others feel as if they are squatting a bit too complacently on familiar ground. The cast — Sarah Alexander, Bruce Alexander, Jane Wymark, Joseph Prowen and Steve John Shepherd — successfully bring the material alive, but sadly there's little evidence here of the joyous laughter of real revolt.
Much of the fun comes from debunking the language of politics, but the ideas never feel really dangerous
rating
Explore topics
Share this article