theartsdesk Q&A: Playwright David Hare |

reviews, news & interviews
theartsdesk Q&A: Playwright David Hare
theartsdesk Q&A: Playwright David Hare
The loneliness of the long-distance playwright
Saturday, 10 October 2009
David Hare: 'isolation lies ahead for the older playwright'
David Hare (b. 1947) has had three distinct phases to his career as a playwright. In the 1970s he was a satirist of the agitprop movement whose plays (Slag, Knuckle) smacked of youthful belligerence.
From
Plenty
(1978) onwards, he devoted two decades to writing ambitious, wide-ranging plays about the state of the nation, most notably with the trilogy comprising
Racing Demon
,
Murmuring Judges
and
Absence of War
(1990-1993). Meanwhile, in
Skylight
(1995) and
Amy's View
(1997) he pondered the nature of love (following marriage to his second wife, the designer Nicole Farhi). But when New Labour assumed power his work veered towards a more direct focus on the forces that shape the political landscape, particularly Iraq in
Stuff Happens
(2005) and
The Vertical Hour
(2006).
A brilliant talker, he has never been shy of putting his face as well as his voice before an audience. In Via Dolorosa (1998) he took to the stage himself to investigate the Palestinian question. Acting Up was the diary of his experience. His more recent forays into performance were the linked pieces about divided communities in Berlin and Wall. The Power of Yes is a response to the global financial crisis. His screenplays include Damage, The Hours and The Reader and, for television, Page Eight and Turks and Caicos (which he also directed). Skylight is to return to the West End this year starring Bill Nighy and Carey Mulligan. Hare was knighted in 1998. Here he talks frankly and extensively about the forces that have shaped his career.
JASPER REES: Why as a Cambridge graduate did you head straight into theatre?
DAVID HARE: Because I loved it when I was young. I think it's a provincial boy's thing. The 60 miles between where I was brought up and London seemed a fabulously long way so I'd get on the train or I'd go to the rep at Bexhill-on-Sea and then I got on the train to London and would go and see a matinee and an evening performance and I loved it. I'd go to West End plays, the Royal Court, the Old Vic. It's still incredibly glamorous. I still find it incredibly exciting. Tom Stoppard said that the reason he wrote Arcadia was because he went to the National Theatre and thought, "I'd like to have a play on here." I have that feeling. It excites me. I think, "Oh good, I'll have a play on soon." I love watching them go in and I love listening to them and hearing their reaction. I like the audience. I like the process of rehearsal very much, and I like the scrutiny of a whole group of people testing your stuff in a way that a novelist can't know. Because you learn about what they're thinking.
You never wanted to act?
I'm useless at it.
Did you act at school?
I did some acting. We did A Man for All Seasons, with Nigel Andrews [film critic of the Financial Times] as Thomas More and I played Cromwell and Christopher Hampton played Richard Rich. Tim Rice was more concerned with running a band called the Aardvarks. He was always much more interested in music than in theatre. In retrospect it was a very liberal humane school where we had a couple of exceptionally good literary teachers, and they did what good teachers are meant to do, which is inspire you to love literature. The generation of writers that came out of that school, I don't think it's a coincidence. I think it came out of being taught very well.
That play that Christopher Hampton wrote about his own childhood, he has always had a core of certainty which I didn't have. In the play, when he's 11 he decides he wants to be a writer. And Christopher's always been very very calm at his centre whereas I was always very turbulent. Just lack of confidence, feeling out of my depth. I was a scholarship boy; also that was just my personality. I was chronically insecure. I'm still a depressive, I think, but then very few writers are not. There are very few writers with sunny dispositions. They do exist, but almost by definition you're worrying away about something that concerns you.
What form do your depressions take?
Oh, a chronic sense of failure: gloom, failure, worthlessness, all those things. All the things I write about. I can't write about them without knowing about them. I've been much much happier since I've remarried. I've been personally terribly happy since I met Nicole and so my private life... I've felt much more at peace with myself than I did all the years I was living alone. But that doesn't remove what you're writing about. I know these are the things that make other people angry, but a contemporary of mine said, "Oh, you are still willing to go on writing plays." He said to me, "I'm just not up for it any more. I'm not up for the emotional effort that's involved in writing a proper play." And it is, it's horrendous, it's absolutely ghastly. You can't write a play like Amy's View without confronting the ugliest in yourself and scouring it. It's a huge emotional effort, and then there is the humiliation of listening to the audience. The humiliation of putting yourself in a position of being judged by eight or nine hundred people is very very undignified as the years go by, and it gets more and more undignified, because you never achieve any kind of sanctuary, you never achieve any peace, any safety, there's never a moment where you say, "Well, this one's secure." You have to listen to them judge it, and it's horrible.
Why do you?
Because I'm addicted now. And I would miss it if I didn't do it.
And yet you did give up writing plays for four years after Plenty in 1978.
I think it was just I was exhausted. It was the end of my first marriage and it was a very difficult time and I also lost faith. I was very very disappointed by the reception of the play which while we worked on it we all believed in it so passionately. And it got not particularly good reviews and then Peter Hall was asked to take it off by the board because it wasn't doing any business, and he said, "If we can't keep on a play we believe in, what's the point of having a National Theatre?" I always think that this was the decisive moment in my life as a playwright, because he showed faith.
And yet you still didn't write for four years?
But I'd reached the end of that way of formulating things. I mean crudely the early plays are all about the failure of idealism, aren't they? They're all about a young man's view of anger at what he regards as selling out, and so by the time I'd written Plenty which is, like Amy's View, 16 or 18 years of British life, I was aware writing Amy's View that it was the old man's answer to the young man's play. That it is a twin play with Plenty. So then I changed my material. It took me time. I started writing about the Third World. (Pictured above, Judi Dench and Samantha Bond in Amy's View)
What did you do in those years?
Suffer, mostly. We tried to live oh, everywhere. We went everywhere and it was just terrible. We had terrible years. It was just an awful, awful time. What happened was I forced myself to write a play. I thought I wouldn't write a play again, and the Adelaide Festival asked me to write a play and I was so anguished, I said, "OK I'll write a play for Australia because no one will follow me to Australia and if it's a disaster no one will know." We got to the first preview and standing in the foyer were Michael Billington and Michael Coveney. And I thought, "I'm 12,000 miles away and they're still going to follow me." And so I realised then there's no escape. There's nowhere to hide. But it was a willed play. It was a play that I write in order to break a period of my life. I made Wetherby, Paris by Night and Strapless. That was a period when I thought I could do both and I realised I couldn't. People devote their whole lives to it. If it takes me a year or two years to write a play, so be it, I'm completely at peace with that.
How about those early experiences of writing film scripts?
I was aware that if I spent more than three months on a film script, I didn't ultimately believe that the investment was worthwhile, because I hated the lottery of whether people would go and see it or not. It just seems to me such a matter of chance whether they do or don't, and how it turns out. By and large, when you're working in the rehearsal room you know you're on something good or something bad, and although nobody says so you sort of sense this is going to work or not work. What I hate about film is that it's entirely unpredictable. You can be having a wonderful experience while you make it and the film turns out to be a total dog. Or you can have a terrible experience and it turns out all to work at the last minute. There wasn't an actor in the world who didn't want to be in Damage when the script was going round Hollywood. Every studio wanted to finance it and every actor wanted to be in it. And actually I know this would be laughed at by your readers but it was much the best screenplay I had ever written and the fact that the film didn't turn out entirely as we hoped is something else. But I didn't feel it was the screenplay's fault. By and large, thanks to these wonderful conditions I've been working in, it's like a little rep in which of course you're not in control because finally the audience arrives to shatter your allusions but you're artistically in control of the process and that is not available in the film business unless like Mike Leigh or Ken Loach you have the courage to work outside the system. But it has taken them years not to be victims of the system.
Everything about the performing arts, from the point of view of a child in Bexhill in the early 1950s, seemed preternaturally glamorous and exciting
When you first began writing plays, was it in any sense a fashionable thing to be doing?
It was always unfashionable. All my friends were into rock music and making films. The theatre, in so far as it existed, it was environmental, experimental, non-textual, visual theatre, performance art that people were interested in. It was only me and Tony Bicât that were still going around the fringe flogging text. We were the only text-based company. This love of words and text was even then anomalous. Even if you read Tynan in the 1950s it was exactly the same. It's thought to be a golden age, and yet Tynan says, "I have to apologise to all my friends that I'm interested in theatre. All my trendy friends are interested in the movies. They want to be Ingmar Bergman."
What made you a playwright?
Just circumstance. I was running a small theatre group and somebody didn't deliver a play. The impulse was political in that we were running this company in a van called Portable Theatre. And the idea was to shake people up and shock them, anger them, by taking theatre to places where they didn't normally go. When somebody failed to deliver a play then I wrote one, wham, four days, a one-act play, a typewriter on my knee in a van. And I discovered straight away that I had a gift I didn't know, which is a gift for writing dialogue. And so from then on I at once was asked to write plays. It in fact takes a terribly long time to learn how to write a play but on the other hand the ability to write dialogue is a sine qua non. But once I found I had that, then it was the pleasure of that discovery. I think it took me a long time to find a subject, because all I was doing at the beginning was showing off.
For about 10 years?
Plenty is where I would say …
You wrote the first David Hare play?
Yeah, I think it's the first David Hare play. When Plenty was revived somebody said to me, "You know you haven't written anything better than Plenty." I said. "No, nor has anybody else." It's the famous Joseph Heller line. It's true that Plenty just fixes the sensations of its time exactly as I felt them. When I saw it I felt the same heat coming off it.
Why did it anger people?
The waywardness of the woman's will, and the power of her will.
The anger that all men feel …
Yes, and people who hate the play feel that it's … they find its politics incredibly provocative. The idea that the English were caught out in this action at Suez and that this was some crucial conscience point for the English ruling class and it was a test that the English ruling class failed still has its power to provoke. It still drives people absolutely mad when you lay out the facts of what happened. And also the sense that the war was for nothing, that the legacy of the war was betrayed, I think is still an incredibly powerful idea and still provokes people.
What gave you the ability to write?
An extremely vivid fantasy life that was to do with a provincial English childhood of a kind that I don't know if it still exists. So that everything about the performing arts, from the point of view of a child in Bexhill in the early 1950s, seemed preternaturally glamorous and exciting. There wasn't an aspect of performance that wasn't fascinating to me from early in childhood.
How much theatre did you see?
Well the local rep to see the Penguin Players. I wasn't taken. I went. I went to local amateur drama school to learn to speak, and all that. And then when I was at school I was taken to Chichester, and then started going up and would every time I possibly could go to the West End and see every play I possibly could. Crammed it all down. I think it's true to say that probably when I was about … I'd seen hundreds and hundreds and hundreds of plays by the time I was 20. I did see Olivier's Othello because I was an usher at the Old Vic at the time. Nobody now believes us but a great many of us thought it was completely ridiculous at the time, and did say it was ridiculous. It was racist in a way that would now be completely unacceptable. One or two people said it at the time. Of course it made you, if like me you watched it many times, think about what acting was. Whatever acting was, it didn't seem to me that that was it.
How boring was Bexhill?
Incredibly. It was unbelievably dull.
Did you have siblings?
My sister, yeah. Four years older, which seemed hugely older.
Did you share your childhood?
No. I'd say that I had vivid friendships which were full of longing, just charged with longing for another way of life. Nobody can now imagine how dull things were and how respectful people were and how dead they were from the neck up. The cause I only later understood when I did Plenty (pictured above, Meryl Streep in the film version) and Licking Hitler. We knew we were in the trauma of some great event but had missed the event that explained the behaviour. And that was that everyone wanted a quiet time. Everyone wanted peace and quiet, and the rigidity of suburbia was beyond anything Dennis Potter ever wrote about. In all those plays of his about the petit bourgeois, I knew everything that Dennis was trying to write about. Indeed there was this argument Alan Bennett advanced: we were all condemned as snobs, the people who were anti-Thatcher, and Alan like me said exactly what I would have said. I came from exactly the class that Margaret Thatcher comes from. What on earth would give me the reason to think I was superior to her? I was far from condemning her for her class background, which is what the right's charge was against all anti-Thatcherites.
Alan Bennett has mined the same sort of childhood - truffled and trowelled endlessly through the soil. Why haven't you?
Because there wasn't any way of writing about my childhood that isn't hurtful.
Was it also that it was Sussex?
No I think it's a different approach to dialogue, which is that I've only once written a line which is something I've heard somebody say. Then when I said, "I'm terribly sorry I'm about to use that thing you said to me," they denied they'd ever said it to me. A friend of mine's wife had had an affair with a sheep farmer. This friend of mine had said to me, "I mean I just can't understand what she's doing. If you want wool, go and get it in a fucking shop." I thought this was terribly funny. A year later I said, "I'm afraid I've used this line." This friend of mine turned to me and said, "My wife has never had an affair with a sheep farmer." He denied it. And actually he got very upset. So I thought, "I'm absolutely hopeless as Alan Bennett."
Were you cleverer than those in your surroundings?
No because I don't think I was. I didn't feel remotely cleverer than anybody, but I felt all those things. Angry.
How well educated were your parents?
My mother was Scottish so she had that Scottish respect for education and self-advancement and genuine improvement. You know, interested in ideas.
Was she the driving force for you?
Yeah, I think my parents thought that education was the means by which you advanced through society. But they still wanted me to stop education at 15 and become a chartered accountant. And so they to be fair offered me that. But what they really wanted me to do was to join Marks & Spencer's as an actuarist, as a posh accountant. They were perfectly open. By then I was at public school and was very much under the influence of some very inspired liberal teachers. I'd discovered the arts and literature in some profound way and they accepted that. They understood that I wasn't going to live my life in Bexhill.
Was there ever a time when it would have been evident to them that you were itching to get away? Floating away like a balloon?
You must remember my father was a sailor. So he never had an immense interest in his children in the first place. You can't have children and be away from them for eleven months of the year. My father had no particular interest in us, to be honest. And I think I kept a fantastically romantic idea of my father till he died. And it was very painful for me to accept that he didn't… he had been perfectly happy to be absent. It had suited him fine. Modern parenting would be a total mystery to him.
Did he come to see your plays?
Just a few. My mother brought him to Slag. She said a wonderful thing. "Yes, I enjoyed it very much but your father having been in the Navy understood rather more of it than I did." I think it was very very shocking and upsetting to them. I don't mean bad language. Particularly because I wrote a lot of sexual stuff. Teeth'n'Smiles and Slag are both fairly sexually extreme, and I think this was embarrassing to them. It was embarrassing to have to go down the street, particularly when they were on television. Brassneck was a difficult thing for them to have on television, from the neighbours' point of view and stuff like that.
Did you feel creatively shackled by them?
I think it's true to say that for other writers their background has been their feeding place, hasn't it? Dennis Potter mined a fantastically rich and complicated and interesting vein about his own childhood and youth, and I've always felt that I couldn't. I always thought, "Well I will one day write the Bexhill play," and I think the moment has gone.
By shutting off that avenue, that has turned you into the playwright you are.
Plainly the plays which everyone has observed pulse with some sort of romantic energy, need, belief in the power of romance and love of the adventure of romance, and of course that need for romance has something to do with feeling that my childhood was not necessarily full of that.
A character in Amy's View says of his job as a critic, "If I write something praiseful, they feel sort of grateful." Is that true of you and critics?
The man in the play is realising that the relationship between journalists and the people they write about, well it's complicated, isn't it? He says, "I'm going to abandon this English modesty about journalist's role, and instead I'm going to accept the fact that writing is power." Most of us disdain the subject of power, unlike Americans: Mamet's subject is power. Most English playwrights don't write about power, and are embarrassed by it, so you've got a phenomenon of journalists who actually say, "Yes, journalism is about power and I like that, and I like using my power and I want to change the climate of opinion or the climate of ideas and that's what I'm a journalist for." No member of the public came out the play saying, "My God, that was a powerful indictment of arts journalism." The subject of arts journalism is approximately ten minutes in a two-and-a-half-hour play. Any normal person came out of the play saying, "This is a play about a mother and a daughter over an 18-year period."
Why in the 1990s did you not give an interview for five years?
Because I learnt from doing it myself how easy selective quotation is to make anybody look an idiot. All of us say very stupid things every 15 minutes. When I was doing the election column for the Telegraph [in 1992] there were a couple of candidates whose chances I could have made trouble for by the incredibly stupid things they said to me. It became obvious to me how easy it was to stitch people up. There was somebody who was being used by racists, really. If I'd described what had actually said to me on the record I would have made real trouble for these particular candidates. There was one Tory who was surrounded by people who were using her cynically, who were racists. And another candidate who was just inexperienced who said desperately silly things to me. Anybody says stupid things. Of course you always say, "I was misquoted" or "It was out of context", but actually most people's conversation is full of inanity, mine as much as anybody else's, and so that's why I stopped. People were coming in bad faith, and when they came in bad faith determined to write the story they wanted to write before they met me then there isn't any point in doing it.
Was this because of the perceived grandeur of the trilogy of plays, Racing Demon, Murmuring Judges and The Absence of War?
That's right, and so there's the whole "I'm not impressed by this" school of journalism, which is a very powerful school these days, isn't it? Also inevitably you do feel that what you're writing about is very very complicated and the way in which you're writing about it can't be reduced and so the only honest position is to say therefore I'm not going to say anything about it and let it find its own audience and let its audience interpret it in the way it wants.
So why did you start again?
Because I wasn't bored by my own answers any more. I also felt that I was going through rituals where I knew what I was going to say in advance, and that was very boring.
The fall of the Wall, which is said to be such a horrendous event for political writers, has never bothered me, because the desire for justice is never going to go away
Some critics suggested that Esme, the actress in Amy's View, hasn't seen the good side of the journalist character, Dominic. Did you accept that?
Enough people said it for me to feel that it must ... I suspect they must be right if they say so. A play takes time to settle down and so with Skylight there was a shift in tone which didn't work and then it took me a few months and then I quietly changed them. You hear things said and if you hear them often enough the chances are it's your fault. With The Absence of War, I was saying it's a fictionalised version of the 1992 election with a completely different set of characters. Enough people had trouble with that idea, so that then you have to start saying, "It can't be the audience's fault, it must be my fault that I haven't got it far enough away." But it takes time for that kind of criticism to shape itself.
In a sense there's a line of these parts. It's very like Tony Ferris, the young vicar in Racing Demon. As my French and American friends used to say, "We don't see what's wrong with this man, he's got lots of energy, and in England one is always grateful for energy." And Dominic similarly was not a totally one-sided portrait. I think it was oversensitivity on the critics' part that they felt he was being presented as exclusively the bad guy.
How integral to your work at the National Theatre in the 1990s was your collaboration with Richard Eyre?
Particularly with the trilogy I felt he didn't get the credit he deserved. Murmuring Judges was much the weakest of those three plays and his production was so beautiful, and yet when you do new plays you rarely get noticed as a director. It was just assumed that the whole thing went on for nine hours and all the acting was great and it looked fabulous.
Have there been other plays that have not met your own standards?
Yeah sure. There are plays that you know are better than others, as you might say. And there are plays that you're aware that they are carpentry. But you have to do those plays, because that's the only way that you learn. What a writer needs is a producer. I've been fortunate to have producers who've stuck with me. Peter Hall and Richard have wanted me to go on writing. They've known when a play wasn't as good as other plays. Murmuring Judges - the legal system is about power. It isn't about whatever it is I write about - it isn't about nuance of emotion, passion, idealism, principle, all those things that are my natural subjects. When you see a criminal in a police cell and a policeman locking the door it's just about power, and I've never really been comfortable with power as a subject and I found it very hard to be robbed of all the stuff I usually do.
And yet writing is power.
I can see that a lot of people believe that life is about power, and because I want to write about the canvas of how people live today, I do constantly go back. The best thing I ever wrote about power was with Howard Brenton when we did Pravda. That was about a universe in which there was nothing but power. But that was with Howard's help, and as farce, because we can't take power seriously.
The 1980s were the power decade.
I always thought it would blow over. I didn't go into the panic that I think some writers went into of feeling, "Oh life is changed forever and the changes that are being made are actually going to alter the character of life" - and in some way, I think a lot of writers felt, make writing irrelevant, because the philistinism was so aggressive that they felt intimated by it. I never felt intimated by it because it never seemed to me the subject of social justice was ever going to go away. It never will go away. The fall of the Wall, which is said to be such a horrendous event for political writers, has never bothered me, because the desire for justice is never going to go away, and the argument about how to organise societies is going to go on. The idea that it's going to come to some kind of stop just seems to me absurd. The reversal we've had in the last few months is a very dramatic reversal in the climate of the country and is an answer to people who say history has stopped. It hasn't.
If I've been writing more and more confidently it's because I've jumped from writing about ideology to writing about the victims of ideology. I always feel from Racing Demon that because I went to see these strange priests and saw what it was like day by day practically trying to do good in the inner city, and they were essentially people who were victims of ideology - ie there were a bunch of people in Downing Street who said, "Let's change society in this way, tally ho" - and the people who were left trying to clear up the pieces were the people on the ground, the priests, police, the doctors, the nurses, and as soon as I tried to write about them, clearing up the mess as a theme, then I felt very comfortable.
Do you share Amy's view about the power of love?
That's a very difficult question, that. I've thought about this a great deal, about where this all came from and why does this character say these things. It's very hard to talk about, this. I don't really know how to talk about this. I really don't know what to say that won't be glib and silly.
I am completely stumped when people ask, "'Who are your literary influences?'
Is it hard getting older as a playwright?
Yeah, terrible. I think it's terrible because in my profession, it's professionally very tough. Every generation of playwrights arrives iconoclastically and it's a very good impulse in an artist - "This is all bollocks, I stand for this, I believe that" - and for a long time you think of yourself as replacing a generation of playwrights, not being a generation of playwrights. And there's also a feeling of making haste.
What about the average age of the National Theatre audience?
It is true for the Cottesloe. It used to be our despair. Michael Gambon always used to say that he wanted to advance down to the footlights and say, "Since none of you here fuck any longer this play's of no interest to you." The problem is they're all on the leaflet, and the leaflet base is aging at the National. Whereas the Lyttelton, because it's a larger theatre, there's more mix. There's no doubt that the theatre lost a generation of people of your age. I think because there weren't any playwrights of their own age to speak to them. Every theatre-going generation is shaped by the writers of the day. John Osborne plainly speaks to his age. People went to Caryl Churchill's not just as to other plays. They went with a special urgency because they felt she spoke for them. There was a problem which was with the generation behind me there were not the writers who the audience felt that relationship with. There's a missing generation because the talented writers like Hanif Kureishi, who would and should have been such a playwright, went off into the novel and writing films.
My Zinc Bed is set at least in part in the milieu of the internet boom. What drew you to the subject?
I think all internet businesses depend on credibility rather than achievement. They are all about the promise of things rather than the achievement. There is a theory that none of them are actually profitable so far. The important thing in an internet business is to create confidence and credibility, as well to provide whatever service you're seeking to provide. That's what it's about. The play is about an entrepreneur in the internet business. It's about confidence creation. It was a very fascinating phenomenon to watch entrepreneurs who are supposedly hard-headed to be seduced by the prospect of things rather than by things. When we did Pravda I think both Howard and I enjoyed writing someone who was refreshingly different from our own world. When I wrote the business man in Skylight he released something in my writing that I liked very much.
I love research. Every time that my work has been refreshed it's been refreshed by going back into the world. I am rather mystified by this question of literary influence and completely stumped when people ask, "Who are your literary influences?" because every time that my work has taken a new turn it's mostly been because I went out into the world and found that something was different from what I was expecting. It obviously happened when I went to India and wrote A Map of the World. It obviously happened when I went to the Synod and wrote Racing Demon. And then crucially it happened again when I went to Israel and then to Palestine. That visit shook me up. It changes everything in your world when you just open the door again.
You have said that after writing and performing Via Dolorosa, a play about the Palestinian question, it would be hard to write about Jimmy and Timmy again.
It wasn't me that said that. It was a waiter. There was a boy who was a waiter in the bar that I used to go and get mineral water from. He was a rather sardonic young Scotsman in London and he came one Saturday matinee without telling me and all he said was, "Interesting, it's going to be very hard for you to go back to writing plays with characters called Tim and Jim." And it was just a brilliant thing to say, and it expressed the dilemma.
Was it true?
Yeah. I think formal innovation… what happens if you write plays over huge long periods of time, as I have, then there are periods in which you're consolidating form, and necessarily when I did the trilogy it was essential that the three be crudely in the same style. Then there are periods when you want to experiment with form again and so if you've read Acting Up, what it describes is the frustration of knowing that for a little while you are holding the playwright's elixir, in that for a while people believe what you say. And whatever the formal experiment was, and it was as much Stephen Daldry's as mine, through that you had that feeling that a new form was making the audience believe you in some profound way. And so you think, "How do I make them do that again? How do they once more believe that what I'm writing, not that it's true, but there's nothing between me and them?" It wasn't entirely to do with my being on the stage.
Continued overleaf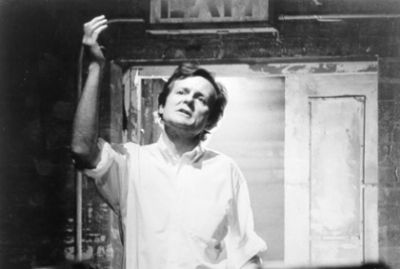 An actor couldn't have done it in the same way.
No but there was a purity about the thinking, about the form, which was I go, I come back, I say the only way to do it is thus, and then Daldry works out how to present me in a way which makes the audience believe that I am just doing it spontaneously for them. In fact as the book makes clear a huge amount of preparation had gone into the creation of this apparently spontaneous thing, to a point where things that I did in the performance intentionally are taken to be unintentional because they are so spontaneous. And so that obviously set me thinking, "Why do the audience trust this in a way they haven't always trusted me in other plays?" That presents an immense challenge to a playwright.
Presumably it's something to do with the formal differentiation?
I don't know. I've had the feeling once or twice. I think with Racing Demon people felt nothing between them and the characters. They didn't feel me in the way of them receiving the people, and I don't think they felt me the playwright in the way of them receiving the ideas about Israel and Palestine.
In interviews you don't tend to talk about the play in advance. Is that superstition?
I personally so much prefer going to the theatre without knowing what I'm going to see. It seemed to me that I was reminded that the pleasure of the theatre was as much character as meaning. I've always thought that "What's the play about?" is the first question. At a trivial level you can say well I know that Via Dolorosa is about. It's about belief, or about the Middle East. But that wasn't actually what people took away from it. People took away from it the impact of meeting somebody.
The Court doesn't get the best of write-ups in Acting Up. And yet you gave them My Zinc Bed. Was that an act of emollience?
I was describing what the Royal Court is like from an actor's point of view. I think that probably if I'd been an actor in any theatre… It was about the shock of powerlessness. It was about the realisation that all sorts of things happen in theatres over which actors have no control.
The failure of the book hurt me more than anything I've been involved in for years
Do you regret writing parts of Acting Up?
No, I regret the whole book.
Why?
Well, because it failed in its primary purpose, which was to interest the general public in the theatre. I didn't write for theatre specialists. I didn't write it for people who want to work in the theatre. I wrote it for the general public. And when Christmas came to Borders and Waterstones and it flew straight onto the theatre shelf and could only be found at the back of the bookshop, then I was incredibly upset and disheartened, because my purpose was to try and make a form which fewer and fewer people know or understand or are given the chance to understand anything about available to the public at large. And what's infuriating is that those members of the general public who read the book say, "Oh I now understand something about theatre which I've never understood." And yet we totally failed to get it out to them.
Is that a reason for regretting the actual publication of the book?
Well it broke my heart. I mean it was one of the most painful things I've been involved in. And the fact that the profession reads the book isn't a consolation to me, because I deliberately did it for people outside the profession and they won't read it. So in a way I feel it was all for nothing. You know all about this. This is problem of the theatre. An exact comparison is if I'd written a book about angling or poetry or vintage cars and it is not to be read by other vintage car enthusiasts. It is to explain to the world at large the pleasure of vintage cars and while we think it's devoting our lives to it. And that I missed. And whether it's my fault, whether it's the book's fault, I don't know, but it hurt me almost more than anything, the failure of the book hurt me more than anything I've been involved in for years. Every representation of the theatre has always seemed to me so wrong in terms of what the actual experience of it is, that to be given the wonderful privilege of a contemporary diary that lasted a year through a very extraordinary experience and then not to see it reach the public was heartbreaking. What annoys me is that people I know who have nothing to do with the theatre enjoy it and understand something about the theatre from it, and so it's been a killer.
I understood more about you as well. Were you aware of how much you were putting in, or was it a purely intellectual exercise? You really do expose yourself.
There didn't seem any point in doing it unless I was going to be true to the feelings that I'd had. The feelings were of paranoia and discomfort. What surprised was that in a way my American producers were very upset by the book - much to my surprise. I had not foretold who would be upset and who would not be upset. People who I had intended to insult were absolutely delighted with the book, and just said, "I am so thrilled with this passage." And I would think, "But I am so horrible about them. How can they be thrilled with this passage?" On the other hand my American producers said, "But you seem to have been in agony throughout. Has the whole thing been unendurable for you?" And I said, "Talk to most actors. I don't think I am unusual." Dozens and dozens of actors have since said to me, "You have brought back to the surface feelings which for reasons of survival we bury. And that's actually what we feel all the time. But we don't let ourselves admit to each other that's what we feel because if we did our lives would be so painful. Whereas you come in with no defence mechanisms and no ability to repress these feelings." But of course all the feelings that I've described are swimming around in actors all day.
And in playwrights?
There are playwrights with a great deal more self-confidence in their own mission than I have. I know that self-confidence to be genuine. There are playwrights who have a different attitude to the audience. I've tried to keep faith with the audience. I want to believe in the wisdom of the audience and I want to believe in theatre as a form which is some sort of collective search for the truth. But if you believe that it leads you down all sorts of difficult paths. And I would love to be one of our revered prophetic playwrights who simply says, "This is what I have to say. Take it or leave it. If you don't like it, stuff it. It's you that's wrong, not me." That would be a wonderful attitude to be able to have for your own peace of mind, but I'm not sure that it makes you a better playwright. I'm not saying you have to follow the audience, far from it, but on the other hand some sensitivity to how the audience hear you and what they choose to hear and what they don't choose to hear, and considering the possibility it may be your fault not theirs - these are things that in my view make you a better playwright.
Does it surprise you that you're still writing plays?
I sort of resolved my struggle about theatre. I had a crisis about theatre and about wanting to make my life in theatre.
What caused it?
All the things that you would expect. That it was the like-minded speaking to the like-minded. And that it was an unreal world. That the British theatre was a very small pond. This stuff about crisis and theatre, in my certain memory one of those crises with which we live all the time bubbled up at the end of the 1970s. Just in the theatre at large there was one of those crystalline moments in which everybody says, "This is all going nowhere, this is getting smaller and smaller, it's less and less significance, it's not reaching people, television and film are the mediums that are reaching people." Once the burst of energy that came out of fringe theatre died, which was the mid to late 1970s, then that feeling was very very common in theatre. And that's when Thatcher arrived and all those things. So or course that brought on a sort of philosophical period in which you found yourself asking, first of all having been wrong about a whole lot of political stuff that you had misdiagnosed – crudely, none of us saw Thatcher coming – and then secondly after that, do I want to spend my lifetime in a form which is likely to be less and less central to the culture? To which the answer is a ringing yes. But it took me a long time to decide that is what I want to do with my life.
Has that storm been weathered?
It's more, isn't it, that theatre isn't an end in itself. It's a means to an end. If theatre is an end in itself then you can measure it but if it's a means to an end, meaning it's a form in which we can effectively examine not just why we're here but where we are, then it's still there but it's weakening through its own irrelevance. In other words, if all we do in theatre is put on musicals and reiterate the same ten Shakespeare plays and play the four Chekhov masterpieces endlessly and revive Noel Coward then it will die as it deserves to die. But if on the other hand we can write about now in a way in which the young and the lively still find interesting and important, then it will live as it deserves to live. But the evidence of it wanting or needing to do that is less and less, and that is very dismaying. It's another thing that not only did the book fail to reach the public that I wanted to reach but also plainly the kind of theatre for which I have stood, or which has meant so much to me, could not be more out of fashion. And so a theatre that first asks what kind of society people live in, before asking what kind of people are these, is completely without influence. And so it's hard to think of a playwright who has been more performed with less influence than me. Of course that makes you wonder. As I say in the book, when I see a play like the Stephen Lawrence enquiry and see the effect that it has on the audience, you simply ask yourself, "Why are working in a form in which so few people seem to realise what it is the audience wants?" And it mystifies me. And when you see the directness of the response of the audience to that material, why doesn't everybody go off and do it?
What drew you to write about the Labour Party in The Absence of War?
The reason I tend to be drawn to the subjects I'm writing about is because they have a tragic dimension. So I wrote about the Labour Party when I wrote about Kinnock because Kinnock seemed to me to have a tragic dimension. There was an extraordinary dimension of a man who was plainly torn apart by the changes he had to make to accommodate the world that was changing around him. And that made him a figure of incredible figure of dignity and depth as far as I was concerned. Whereas Blair followed a path that was exactly the path he told us he had set out on. That's very hard to make drama from. Much easier to satirise. But it isn't specifically contemporary politics I'm talking about in terms of the kind of the theatre that I love being out of fashion. The lack of a passion for ideas in the theatre I wouldn't say was disheartening to me because it doesn't stop me. But it bewilders me.
If all we do in theatre is put on musicals and reiterate the same ten Shakespeare plays and play the four Chekhov masterpieces endlessly and revive Coward then it will die as it deserves to die.
Is there a process you go through in order to write good parts for women?
I always say the same answer because I don't know the answer. The answer to me is that it's stimulating to guess and I have absolutely no desire to write about people like me. So the leap of imagination is what gets me going.
Might it stem from the fact that your father was absent from your childhood?
No I think it just came much more out of the time. It seemed to me so clear that what was wrong about the British theatre was the lives of half the human race went unexplored. Just as today they are just beginning in the American film industry to let women direct films. Not to let women have control of these things is ridiculous. People in 100 years time will look back and say, "What, you mean only five films a year were made by women? Was this a rule? Were there laws against women being allowed to direct?" And you'll say, "No no no, that was just the convention." In the same way it seemed to me just absurd that most plays were about men. It seemed so obvious that you had to put that right. It wasn't a mission. It just seemed a balance in my head that most human affairs concerned both sexes so you had to show both sexes on the stage.
Is it no coincidence that your trilogy of plays about love turned up after your second marriage?
I suppose that's true.
Could you have written about love in the same way when you were on your own?
I thought I could but probably I was wrong. And there's no question that … Michael Gambon used to sit in the dressing room of Skylight and when people came in and said how much they'd enjoyed the play he'd sit there and say, "Yeah, it's his missus, you know. It's all down to his missus." Which I was always thought was terribly endearing. Of course it was thanks to her in the sense that my life was changed by her completely, and only for the better, but it combined with a point at which I was exhausted with creating enormous plays for the Olivier stage and almost of necessity in the Olivier it's very hard to create the intimate atmosphere that you need to discuss these subjects. So I was thirsty to write about these things.
Events in your life turned on the tap.
It's certainly true that I'm less embarrassed, because Nicole made me so happy.
Did you determine when you became a father that you would do fatherhood differently?
I did but of course the irony was that I divorced very soon after I had the children. So that all the intentions I had to be with my children every moment of their upbringing became impossible. But obviously I'm much much closer to my children than my father was to me, and I would hope that the quality of love I've given them is different from the quality my father gave me.
How young were they?
Very. My son Joe was old enough to know what was happening. But I had twins and they were not old enough to know what was happening. So it was a catastrophic time. I went to live in America partly because … it's not fair to say that it was entirely an act of pique but it was a period of crisis. I had a sustained crisis for about four years in which everything in my life got thrown out. And perhaps I was young to have it. Perhaps other people have it at different times. But I felt totally out of contact with myself, with who I was, I hadn't the slightest idea with who I was, and I also had a raging dissatisfaction with the prospect that I was as it were battening down the hatches for a life in the British theatre. I just couldn't grow up enough to accept that my future was going to take a certain form. I felt these are the most impossible constraints. As it happens, I would say that creatively the decision some years later to stick with the theatre and give everything I could to the theatre has for me been rewarding in a way that people who have been more promiscuous about going off to Hollywood or television or films … I think it's a personally much more rewarding way of life. The way of life is less cruel than if I had fulfilled the American fantasy.
Did you try?
I was in such a state.
What did you do there?
Nothing. We tried to live in California for a while and then we moved to New York. We lived in Soho in a loft and everything I wrote I threw away. It was a sustained nervous breakdown really, over a long period. I was just terribly terribly unhappy, and making the people around me unhappy too. I now look back on it with horror.
At the person you were?
Yeah.
Are you completely different now?
No plainly you can't be, can you? But on the other hand I don't think I am either as ruthlessly selfish as I was then, but I think that unhappiness made me terribly terribly selfish. That's the effect of unhappiness. It makes you selfish.
Did you marry too young?
Yeah. Far too young. No question.
Did you know that at the time?
I don't think so. We were in love. My mother said we were too young. I don't know why we got married. In fact after we got married we both thought this is the most peculiar thing to have done. It was a totally unnecessary thing to have done. We were already living together. I think we did it because we were deeply in love. I married when I was 23.
Do you think it was you who was responsible for the end of the marriage? That trauma you were going through?
Well, I wasn't a fit person to be with.
Do you have continuing links to your native county?
I wouldn't say I did. If you say to me, "Have I consciously chosen not to write about that?" it's true that I have. That Philip Roth remark about when you have a writer in the family you can forget privacy - I just don't see why that should be so. I do think you have some responsibility. And so what am I meant to do? But beyond that I wouldn't say that I've used direct autobiography in my work anyway. It just isn't my style. And I've always sought to transform events. The advice – "write about what you know" - is very very good advice, except you'd add, "Write about what you know and then make it into something else." If you don't do that act of imagination then it's not real creative writing. If I'm cagey about it it's not because of myself, it's because of other people.
Are you unapologetic about being educated privately?
I didn't have any choice, did I? One of the things that I can see that was so annoying about me when I first went into the theatre was that I was obviously an ex-public schoolboy in the theatre at a time when the theatre was very demotic.
Did you sink into the background?
I sought to sink into the background but I don't think I succeeded. I would now say in retrospect and I also felt at the time that I was getting an exceptionally good education. Meaning that I had inspired teachers and they made me interested in literature and a world apart from the concerns of the English ruling class. It wasn't a ruling-class school. It wasn't like that. It was a church school. It was an education in spirituality and politics and literature. Well, this to me is a fabulous introduction to life, and a much better introduction than more Establishment-minded schools.
Evelyn Waugh also went to Lancing. Did he cast a shadow?
Much discussed. It's very rare for a school for their most distinguished old boy to be a writer. Very unusual. The twin figures were Evelyn Waugh and Trevor Huddleston. I can remember masters speaking of the possibility that Trevor Huddleston was a saint. And he was held up to us all as an example of the good life on earth. Naught for Your Comfort is an incredible book to have written in the late 1950s. There is no doubt that he was a heroic antagonist to apartheid, and analysed the situation far more quickly and more profoundly than any politicians did. Just as in the 1980s "Faith in the City", the church report on the effects of Thatcherism, was much stronger meat than anything the Labour Party offered. And so that strand in me resurfaced in Racing Demon. There is no doubt that when I went back to the Synod I felt myself back among the people I'd been educated among. A lot of them were. Some of the people at the Synod I'd been at school with.
If you were as I was chronically shy and not really with the slightest clue who you were then sex was the quickest way of getting to know people.
Was it easier to blend in at Lancing than at Cambridge?
I love this opposition - that John Osborne somewhere opposed curiosity to opinion. At Lancing it was educational in the sense that your curiosity was being fed the whole time. By the time you get to Cambridge it's all about opinion. And basically opinion is boring. To this day I watch people... great educators, people whose conversation is inspiring, are people who open up conversation. I went to dinner and a well known novelist said to Ralph Fiennes, "I think Richard II and Coriolanus are the two most boring plays Shakespeare wrote." And you instantly think, "That's opinion, and it's terribly uninteresting." It doesn't advance us at all. It's like closing down discussion. That's what I call opinion, whereas curiosity is someone who can tell you something about Coriolanus or Richard II which you didn't know, which instantly interests you.
Were you opinionated at Cambridge?
Well, yeah, but I knew nothing. It was all defence, I'm sure.
What did you get out of it?
I got a sustained exposure to the organised left. Raymond Williams was my tutor. In other words I encountered orthodox leftist thinking as it was in 1965 to 1968 and by and large I reacted against it quite violently. I also met Tony Bicȃt who knew the films of Godard frame by frame and who was au fait with what was going on on the continent - Marcuse and foreign intellectuals who at that time English folk didn't know anything about. I was learning about Derrida and all these people. What I got out of it was exposure to all sorts of things I otherwise would have missed.
Did you enjoy the 1960s in the conventional sense?
No, because I don't actually like drugs. You had to like drugs.
Did the sex pass you by as well?
It was exactly as I imagine things are now. There was a huge amount. There's a wonderful line in The Hours by Michael Cunningham about being young enough to have sex without wondering either what it means or what implications it has, just as an act, which is something that is only possible when you're young. It doesn't mean or shadow or prefigure or imply. Nothing. It's just what it is. Frankly, if you were as I was chronically shy and not really with the slightest clue who you were then that was the quickest way of getting to know people. I think sex was value. It's marked in the people of my age. We thought sex was value in itself. And the idea that you would not be tied down in a relationship represented intense … it was a positive ending. It was a belief that by being free and flitting around at dizzying speed it would be possible to be… A character in Plenty says something about the possibility that sexuality could be light and easier and witty, and I think that's what we all wanted. Whether it's possible or not I don't know. I can remember the shock of meeting Germaine Greer. She certainly leapt out of the 1960s landscape. You just suddenly went, "My God, I've never met anyone like this." And she influenced a whole lot of people around her.
Now that you are married to a designer, has your dress sense changed?
Of course. I've had to. It's certainly eliminated shopping as a complete waste of time, so I'm thrilled that shopping's gone. Nicole always thought that I dressed perfectly well, but slowly it's true that I've … But wearing her clothes is such a delight anyway that it's not a great handicap. Her play-going changed too. She always did go. She just never used to go to my plays. She provided the clothes for the leading lady and that's how we met. In an emergency, because the leading lady's clothes were so awful originally, Bob Crowley went to Nicole and got the clothes and in return she got two first-night tickets. She turned on the television the night before and saw me on the television and decided to come. I think it was the big row where I talked to Ignatieff about Dylan and Keats.
Having had such a fruitful relationship with Richard Eyre, why did you decide to direct your own play with My Zinc Bed?
When you write plays you get more and more isolated and I think that it isn't … it's not a surprise that Alan Ayckbourn, Harold Pinter and Edward Bond all direct their own work. As years go by, as you refine what you want to say, then fewer and fewer people want to go along the path with you. I think it gets really difficult, and I feel that probably that year acting accelerated the process of isolation for me to a point where I now feel … When you're young you have collaborators very easily. Directors say, "I'll do your play." Generally if you have the luck, as I did, to be part of a time at which there is a common purpose – I ran a theatre company; I had Snoo Wilson, I had Howard Brenton, Trevor Griffiths wrote for it - we all felt ourselves not that we were doing the same thing on the stage, but we felt ourselves setting out together on something.
As you get deeper you also get narrower, and isolation lies ahead for the older playwright. And it's not a very nice feeling. I don't know any other playwright who's comfortable with that feeling. I don't know Edward Bond but I am sure sitting in Cambridgeshire that he feels the English theatre has rejected or misunderstood him. If you are not interested in the theatre as a way of life but are interested in the theatre to say things, then it is harder and harder to find people who want to say those things with you. It's not that you quarrel with people, though I have quarrelled with an awful lot of people, but you just find subtly that where you want to take your argument or your meaning is not where anyone wants to go. There is a phrase of Tennessee I was reading in his letters, where he says, "I shall have to make a religion of endurance." It's an irony that the theatre is apparently a collaborative art and yet at the centre of it is some kind of personal expression, which makes collaboration harder and harder as the years go by.
The humiliation of putting yourself in a position of being judged by eight or nine hundred people is very very undignified as the years go by
Share this article