Twelfth Night, Royal Lyceum Theatre, Edinburgh - a touch too sweet |

reviews, news & interviews
Twelfth Night, Royal Lyceum Theatre, Edinburgh - a touch too sweet
Twelfth Night, Royal Lyceum Theatre, Edinburgh - a touch too sweet
Psychedelic Shakespeare feels rather too charming for its own good
Thursday, 27 September 2018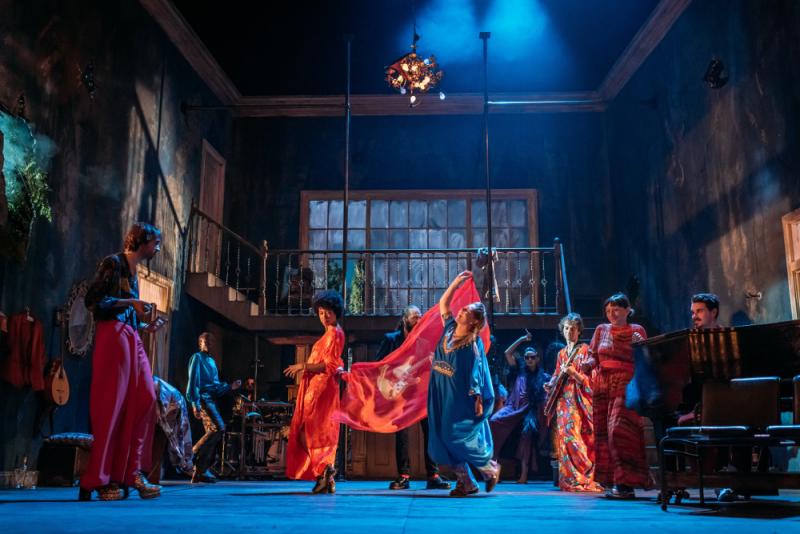 Bohemian excess: Wils Wilson's trippy, hippie Twelfth Night is a visual feast
"Well, that was really sweet," one young audience member in front of me remarked on his way out of Edinburgh's Lyceum Theatre.
And yes, there's no denying that director Wils Wilson's colourful, psychedelic, summer-of-love-set
Twelfth Night
, the Lyceum's season opener in a co-production with the
Bristol
Old Vic, is warm and generous, lovingly crafted, and – yes, touchingly sweet.
More interestingly, perhaps, it's enjoyably playful – and gently provocative, too – in its approach to gender. Shakespeare's original sets the gender-fluid tone – with Duke Orsino falling for the aloof, recently bereaved Olivia, who finds herself strangely attracted to the Duke's messenger Cesario, who's the alter ego of shipwrecked Viola, who has her own eyes on the Duke.
But Wilson runs much further with the gender-fluid theme. Her Sir Toby Belch is transformed into Lady Tobi, a lairy, worn-out party girl straight out of Ab Fab, and played with exuberant physicality by Dawn Sievewright. Viola's long-lost brother Sebastian is a trouser role (given a focused performance by Joanne Thomson), which puts a nicely ambiguous spin on the devoted affection s/he elicits from Antonio (Brian James O'Sullivan on strong form). Even the Duke is a woman (a powerful, towering Colette Dalal Tchantcho, looking appropriately androgynous here), though in the context his/her sex seems to matter little. It makes the gender disguise of Viola/Cesario (a compelling, energetic Jade Ogugua) the least of our confusions.
Wilson's sex-swaps are beautifully done, however, and in the end only add to the constantly shifting fluidity of her storytelling. Her conceit, all the same, is that we're in a decrepit country pile where a group of loved-up hippies, having exhausted their earlier entertainments, attempt a Shakespeare read-through (though it's a conceit that's largely forgotten by the play's second half, it has to be said).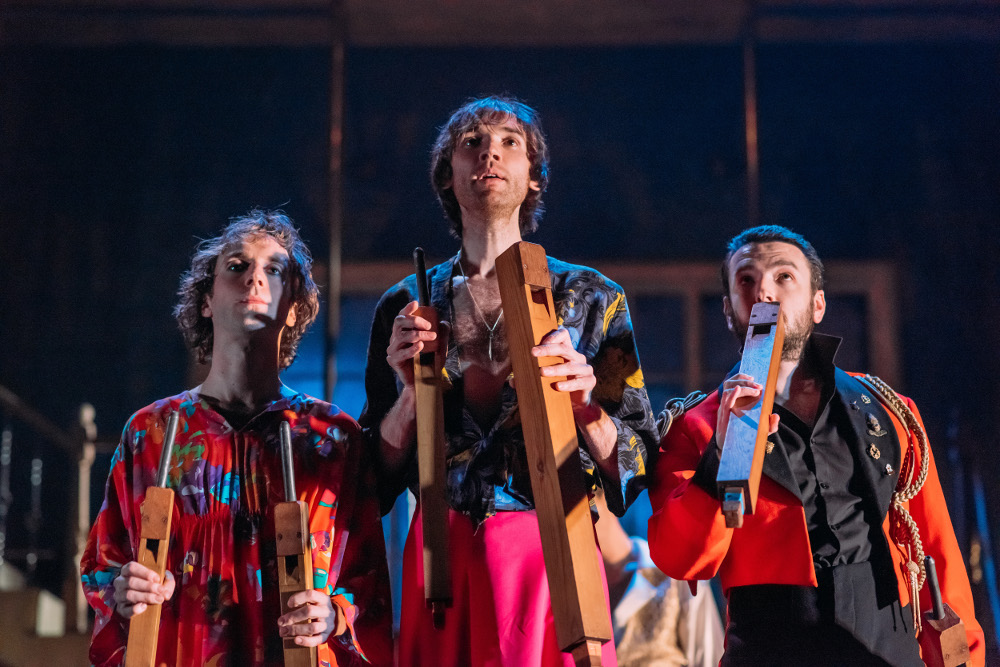 Visually, it's a sumptuous, opulent production, with mists drifting across the crumbling architecture of Ana Inés Jabares-Pita's towering set, lit with sepulchral elegance by Kai Fischer, and costumes of gaudy wigs, platform heels and billowing pantaloons. An original score by Welsh songwriter Meilyr Jones – performed live by Jones himself with cast members doubling up on piano, drumkit, dulcimer, mandolin, sax, flutes and more – plays a central role with some authentic-sounding glam anthems, one particularly effective tune employing individually blown organ pipes (pictured above).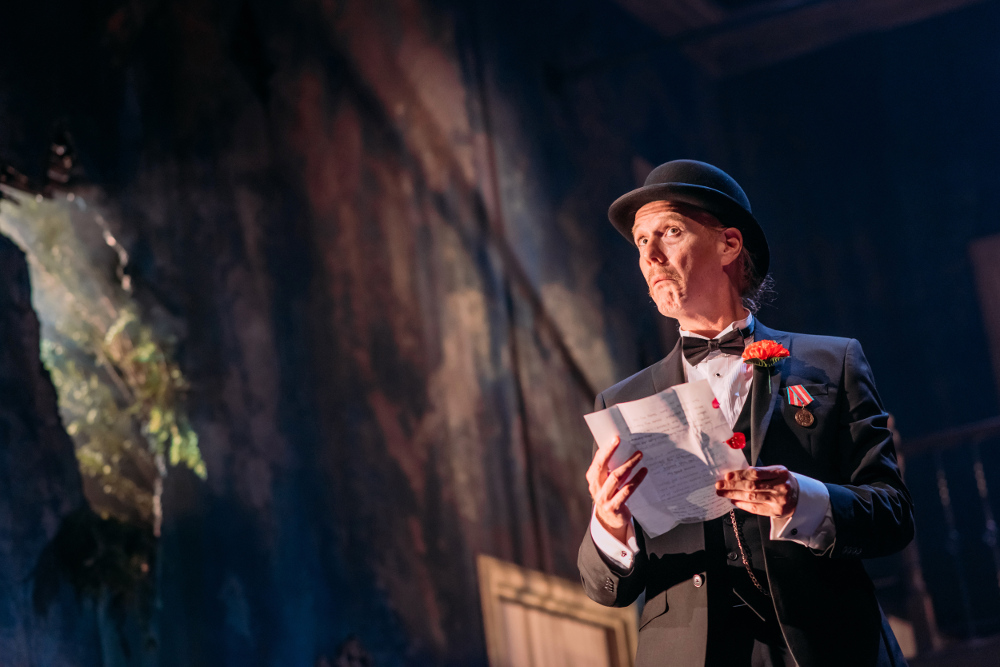 And yet, despite all its provocative blurring of the sexes and its visual exuberance, it feels like there's a distinct lack of comedy here. Indeed, the show's overall emotion is one of melancholy rather than joy, of love yearned for rather than achieved. What laughs do come are indulgent chuckles rather than guffaws. That's perhaps, ironically, partly down to Wilson's determinedly upbeat approach across the play, one that allows little room for malice or threat. The arrival of Malvolio (a pernickety, preening, bowler-hatted Christopher Green, pictured above) in extravagant yellow bondage stockings – plus outrageous codpiece – is a nicely comic setpiece, but ironically, it's robbed of dramatic impact because his earlier disapproval of Belch and Aguecheek's partying feels so tame. Indeed, it's hard to feel much emotional investment in any of Wilson's characters, charming though they all are. Maybe too charming.
This trippy Twelfth Night is a visual and musical feast that gratifyingly blurs sexual and gender boundaries – but it's one that seldom moves, as the guy in front of me remarked, beyond being simply sweet.
Sir Toby Belch is transformed into Lady Tobi, a lairy, worn-out party girl straight out of Ab Fab
rating
Share this article