Twelfth Night, National Theatre |

reviews, news & interviews
Twelfth Night, National Theatre
Twelfth Night, National Theatre
The party's over in Peter Hall's production laced with intimations of mortality
Thursday, 20 January 2011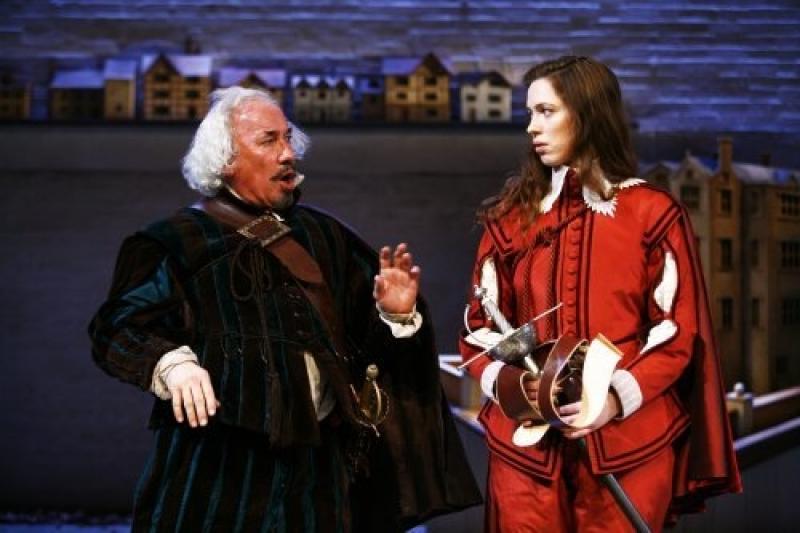 Simon Callow as Sir Toby Belch and Rebecca Hall as Viola
Set at a pivotal point in Shakespeare's canon, Twelfth Night is a glass-half-full kind of play. Is it a joyous, clear-eyed, compassionate comedy of human foibles by a writer reaching maturity, a wild and crazy ride through a season of carnival misrule and role reversal? Or, on the other hand, an ominous harbinger of the troubling, darkening work still to come?
It will come as no great surprise that this production, directed by Peter Hall who turned 80 in November, inclines to the latter view and the play's repeated references to the fleetingness of youth, love and life itself blast across with wintry clarity.
Yet the production got off to a ropey start. Duke Orsino, unprepossessingly played by the New Zealand actor Marton Csokas in a wig that looked like an overgrown mullet, barked his way through the great opening speech - "If music be the food of love..." - as if already suffering from acute dyspepsia. It was followed by Viola's equally awkward and static post-shipwreck scene (it didn't help that one of the supporting actors dried up last night).
You can almost hear the audience heave a sigh of relief as Twelfth Night's trio of drinking buddies lurch on for their first session. Finty Williams's Maria, Simon Callow's alarmingly rubicund Toby Belch and a funny, gawky Andrew Aguecheek, played by Charles Edwards as a silly ass a few pats short of a buttery bar, briefly lift the spirits - until, that is, Feste skulks in for one of his depressing songs and they all fall back into a despondent silence.
In his 1960 essay on the play, Hall had already homed in on the jester as the play's most important character. And he doesn't seem to have changed his opinion much on this particular count in the intervening half-century. Dressed all in muddy, funereal black, a green and purple cap and bells and a few coloured buttons his only, half-hearted attempt at motley, David Ryall's creation is a scrofulous, sardonic individual, the spectre at the feast, more festering than festive.
Toby Belch sported, incidentally, the same green and purple colours, suggesting, perhaps, his character's bleakness beneath the bluff pink exterior. And the "mad" scene of Simon Paisley Day's neurotic, gangling Malvolio, crumpled in a cage like a wounded stork, was genuinely disturbing.
You'd have thought Viola was the main role. She's played, of course, by Hall's daughter, Rebecca, with her singular brand of watchful, intelligent, slightly diffident reserve as often seen onstage as well as in films such as Starter for Ten, Frost/Nixon, Vicky Cristina Barcelona and Please Give.
It's well suited to a character who through most of the action is standing aside, observing and dissembling, though Hall (pictured above right with Amanda Drew as Olivia) also holds her own in the physical comedy of the duel with Aguecheek. But the actress is less successful at putting over Viola's sense of mischief - though perhaps she'll grow in confidence as the run continues. And the erotic sparring with Orsino has no sexual spark at all.
The production in the Cottesloe is simply and elegantly staged with a golden autumnal set and lovely music (by Mick Sands). It all has a valedictory feel, rather than a celebratory one. At the end, as Feste treats us to one last melancholy song, a canopy of dead leaves descends upon him slowly like a shroud.
Viola is played by Peter Hall's daughter, Rebecca, with her singular brand of watchful, intelligent, diffident reserve
Share this article